These popcorn and candy movie night bites are a fun, indulgent way to enjoy movie night at home! They're the perfect combination of salty and sweet, too!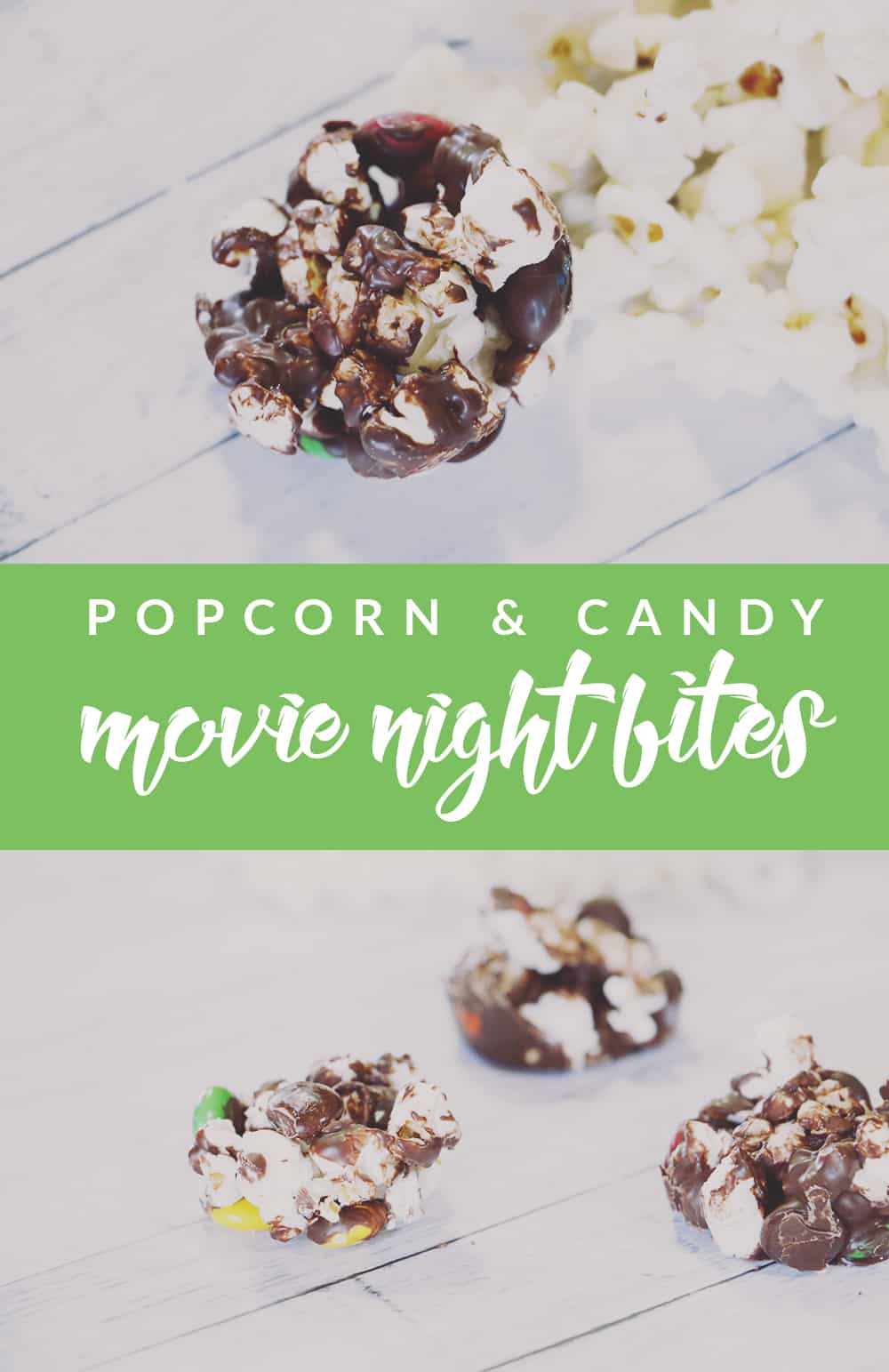 A couple years ago, a movie night for us meant heading out to dinner and going to a new movie at the theater. But with our move to the
middle of nowhere
, being a minimum of 45 min away from a movie theater,
me being pregnant
, and trying to manage
Meg's cancer
– movie night has changed.
Long gone are the nights spent outside the home, spending what now feels like a crazy amount of money for a few hours of entertainment. Instead, our movie nights are spent on the couch with homemade snacks, extra cuddles with our pups, and movie marathons that make me laugh until I cry. Or sometimes even in our backyard. And to be honest, I'm more than okay with that.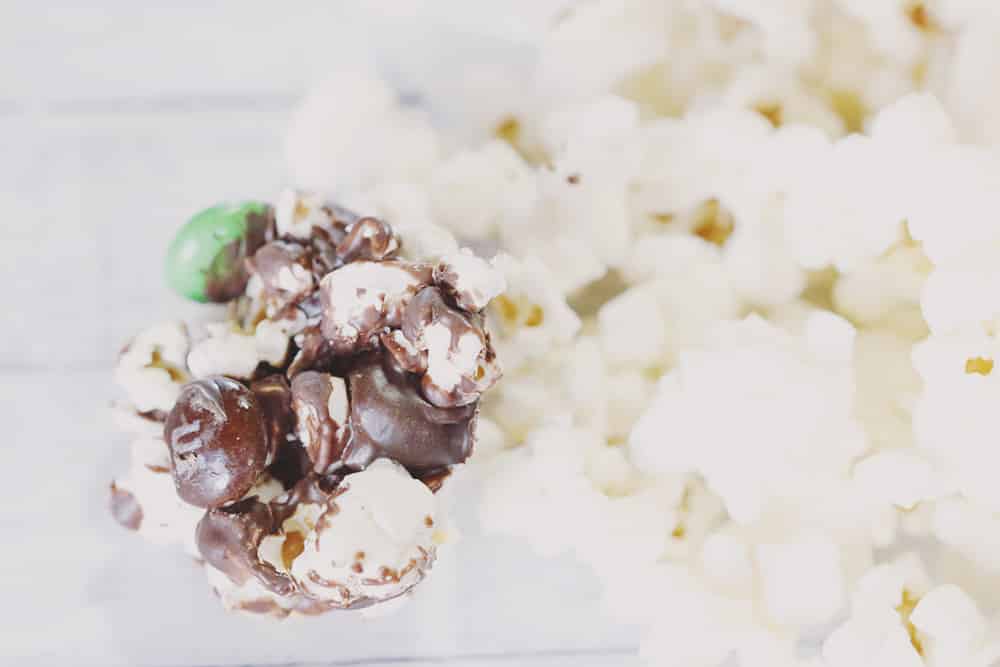 Moving to the outskirts of a national forest has made me appreciate a lot of the little things in life. Sometimes it's a walk to get ice cream at the local ice cream shop in the Summer. Or going to our grocery store to grab supplies to make our own sundaes or banana splits. Or a trip to a nearby candy shop for a mini-indulgence. Or even these homemade popcorn and candy movie night bites that are the perfect combination of salty and sweet for our movie nights. (Can you tell I love food?!)
And these popcorn and candy movie night bites pretty much sing to the depths of my food-loving soul. They are the most amazing combination of salty and sweet which, even before I was pregnant, was pretty much the key to my heart. These delicious morsels ensure you never have to pair your handful of popcorn with a few pieces of candy again. The work is already done!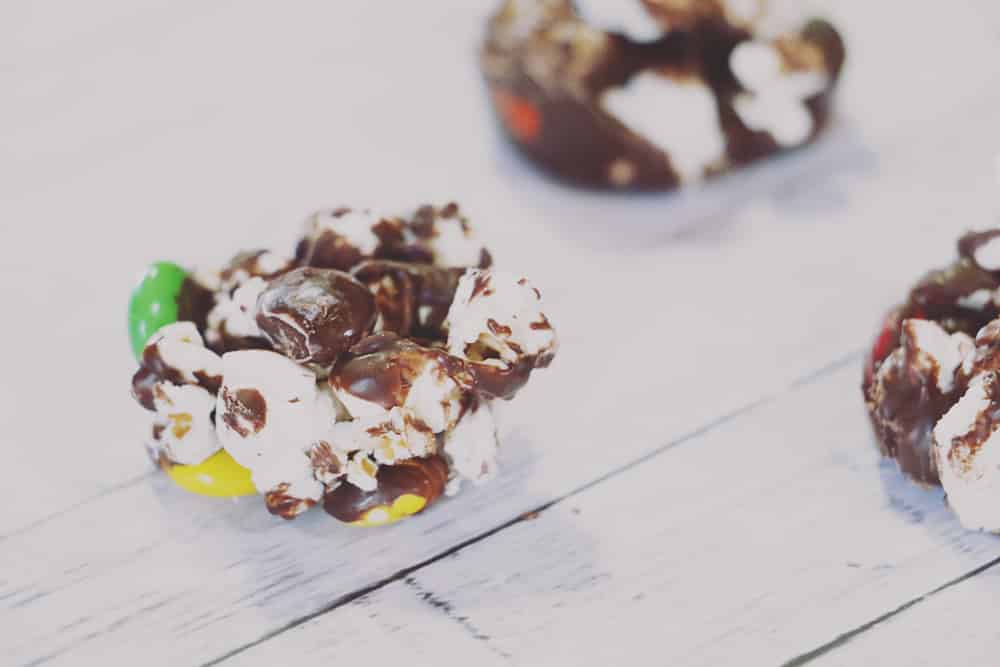 popcorn and candy movie night bites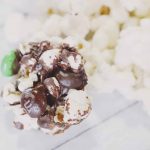 Popcorn and Candy Movie Night Bites
Ingredients
2

Cups

Popped Popcorn

Lightly Salted

1 1/2

Cup

Chocolate Melting Wafers

1/2

Cup

of Your Favorite Movie Theater Candy
Instructions
Put a heaping tbsp of popcorn (slightly crushed) into a mini muffin pan. Repeat until the tin is full.

Fill each one with a tsp of candy.

Melt the chocolate wafers according to the directions on the package.

Pour 1 tsp of chocolate in each spot, stirring it immediately with a toothpick to coat everything in chocolate and to allow it to all stick together.

Let harden by placing in the refrigerator for 10-15 min.

Take a knife around the outside of each spot and pull out to enjoy!
Recipe Notes
For easier removal, use cupcake liners.
Whether it's food related or not, we've come to really appreciate the little moments that are filled with happiness and fun. Which is why I was super surprised to read a recent survey that Americans are experiencing a fun gap. Nearly all Americans want more fun in their lives (who wouldn't?!) – but only half are having enough of it, revealed the Chase Freedom Unlimited Card survey.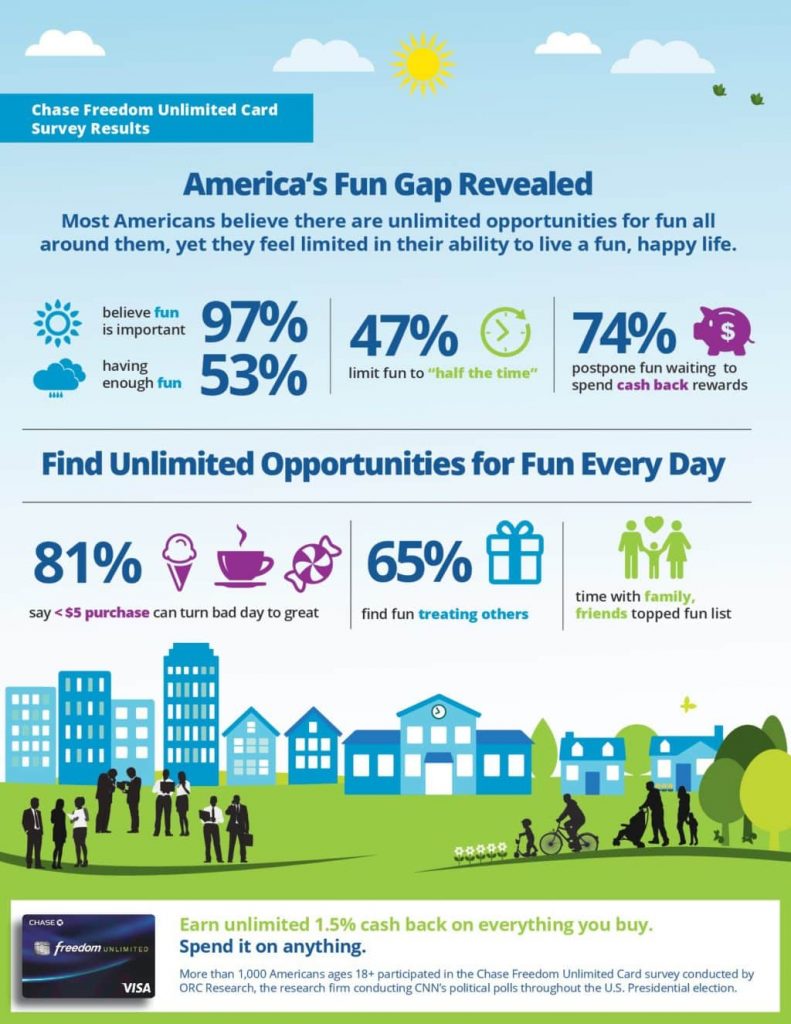 And Chase wants YOU to have more fun which is why the Chase Freedom Unlimited card offers 1.5% unlimited cash back on every purchase. There's no minimum to redeem for cash back—cardholders can redeem any amount, any time. The Chase Freedom Unlimited card is a simple and smart way to remove limits on finding fun in daily life.
Let's chat!
I want to know how you find the fun in your daily life! Do you enjoy movie nights at home like we do? Indulge a little bit in treats? Visit a museum or park? Share how you make the every day more fun in the comments!