I was provided a portion of these products free of charge by Oriental Trading. No other type of compensation was received for this review. This review is based strictly on my opinion. Others may have a different opinion or experience with the products listed in this post.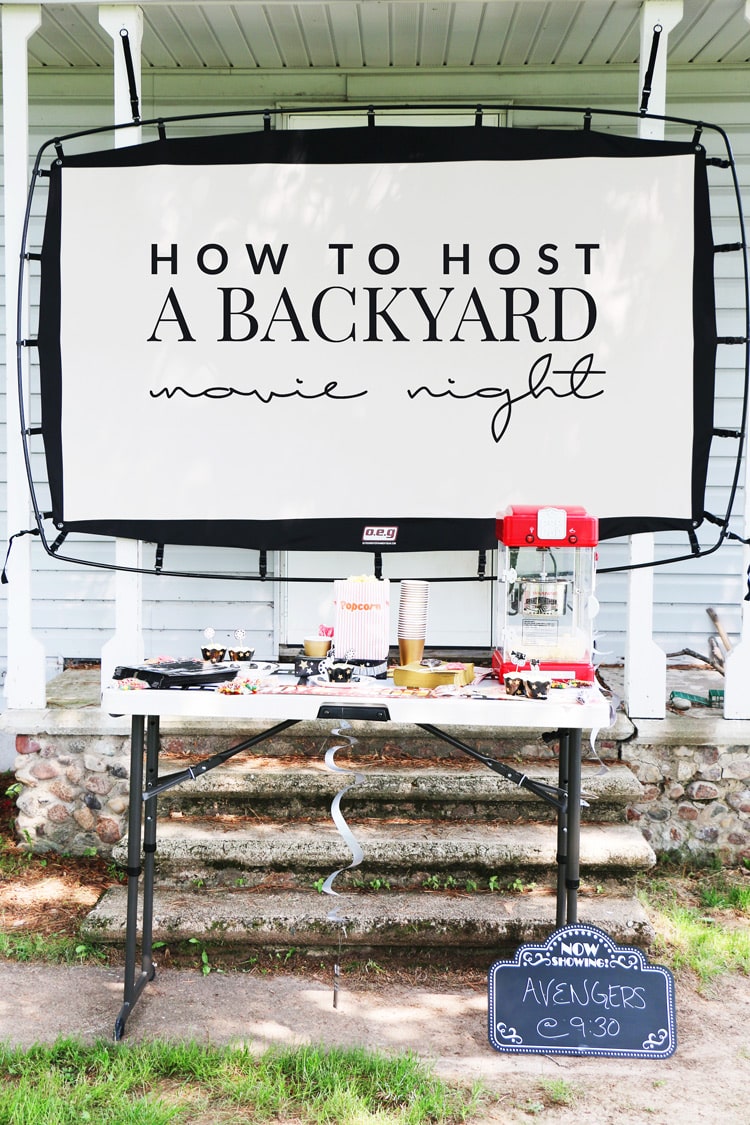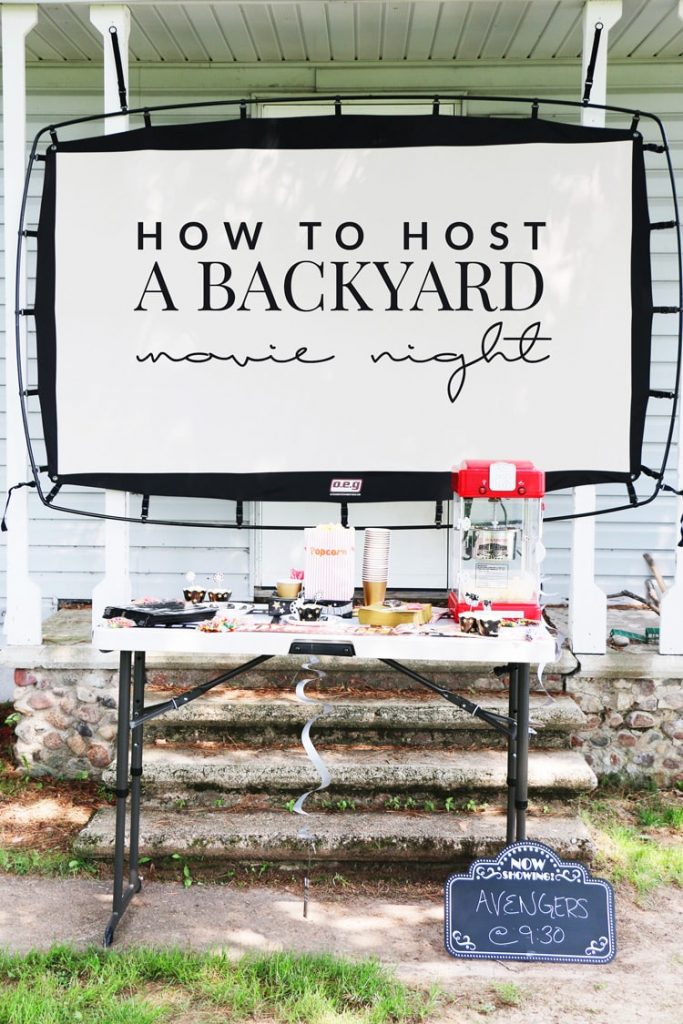 When we moved here, we didn't realize how much we'd miss simple things like going to the movies from time to time. The closest movie theater to us now is 45 minutes so adding an hour and a half to the movie time means it's usually a half day even at least for us to go see a movie. Which means having a backyard movie night? A new must for us! Especially with the hot Summer days that tend to yield cooler, much more enjoyable Summer nights.
The great thing about backyard movie nights? They're suitable for all ages! Adults, teenagers, children and even babies who you aren't quite comfortable bringing to a quiet theater yet. We have a lot of family visiting us this Summer and their age range is pretty extensive. Backyard movie nights are going to be a staple of our Summer entertainment because of this.
So today, I thought I'd share some of my top tips for an awesome backyard movie night! I've split this into two parts, Before Dark and After Dark, because of how much I have to share with you on this! In the next part, I have a fun DIY for lighting when the sun has gone down along with some awesome seating tips!
SNACKS
The snacks and treats are one of the reasons backyard movie nights are so fun! No need to sneak candy into the theater – it's already there! And they're even better than the treats at the theater.
My go-tos for backyard movie nights are simple: sweet + salty. And something to wash it down with. That usually means cupcakes, chocolate (sixlets are my favorite!), popcorn, soda, and something sweet like these fun mustache shaped suckers (these are great for photos, too!) If you're looking for a delicious cupcake to go with your backyard movie night, I highly suggest these Lemon Lime Soda Cupcakes – SO good!
If you're looking to really up the wow factor of your table setting, Oriental Trading has got you covered! For the cupcakes, I used these awesome cupcake wrappers. These movie night snack trays were perfect for serving the popcorn and beverage while these dessert plates held the cupcakes. Add in some popcorn bags, gold napkins, gold cups, this fun premiere night table runner and your table is set! I also added in these movie night cutouts (also great for photos!) along the table to fit the movie night theme. Want to keep your beverages cold? Use this inflatable buffet – it's perfect for some ice, soda, and water!
DECOR
When it comes to decor outside of the table setting, we kept it pretty simple. This movie night chalkboard sign is great to let everyone know when the movie will start though. We generally play our movies right around dusk. Be sure to find out the sunrise and sunset times so you know when you'll be playing your movie ahead of time!
We also added a few of these premiere night hanging swirls to the table as well as the trees for some added fun. If the bugs are bad, I'd also recommend adding some of these layered citronella candles.
MOVIE SUPPLIES
You'll obviously need a way to show the movie so you'll need a projector and a screen. Be sure to set up everything where you'll have access to power as you'll need to plugin the projector and player for the movie.
For the setup of the projector and the screen, you'll have to play around with the distance between the two and the angle of the projector to make sure the image fits fully on the screen. Also, be sure to set it up with seating in mind. Avoid people needing to walk or sit right in front of the projector. Also, avoid having people sit directly behind the projector (especially little ones!) as it may block their view of the movie.
FOR THE SCREEN | We opted for an outdoor screen that you can break down and take with you. This way, movie night doesn't always have to be at our house (movie night while camping anyone?!) and I don't have to pull out the iron for the screen every time we want to watch a movie in our backyard. If you'd prefer to make your own, you can easily make a screen out of an ironed white sheet that's attached to a frame or fence. For even better viewing, attach a black/dark sheet to the back for a crisper image.
FOR THE PROJECTOR | We got a pretty versatile projector that hooks up to nearly anything (Xbox, laptop, desktop, dvd player, Playstation, etc.) Just connect it to whatever you're playing the movie from and connect an audio signal to a soundbar or set of speakers. (Simple computer speakers work just fine.) Once it's hooked up, you can adjust the output of the project to fit the screen.
In the next part, I'll share my go-to seating arrangements along with some easy DIY lighting for when the sun goes down and it's time to start the movie!
have you had a backyard movie night?