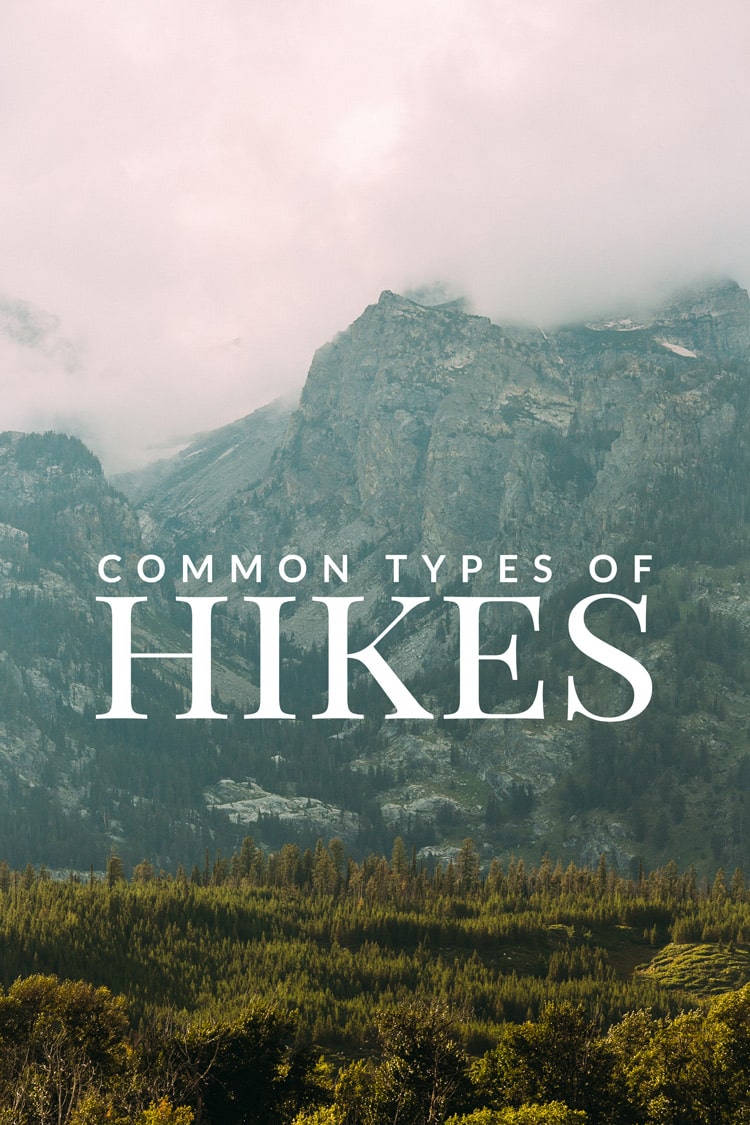 Part of getting started backpacking for me is all about learning as much as I can about it. I'm not a planner and definitely far from a know-it-all, but I don't like to be unprepared. And I love learning new things so feeling ready to tackle this is something I'm eager to do.
When I first started really embracing the idea of backpacking, I was so thrown off by some of the lingo honestly. Base camping? Section hiking? Thru-hiking? I just want to go for a hike! Why do I need different names for different types of hikes?! You don't. But it is fun to learn them anyway. Especially because we plan to work our way through the different types of hikes, hopefully ending with the thru-hike!
In case you're like me and had no idea there was more to hiking than, well, hiking – here are a couple of the most common types of hiking.
Day Hiking
Day hikers are hikers/backpackers that go hiking for the day – that's it. Nice and easy! Day hiking is the perfect place for beginners to start hiking without a ton of gear.
Base Hiking
Base campers are hikers/backpackers that set up a basecamp to return to. Base camping is the next step for day hikers that are looking for a bit more time in the great outdoors. The basecamp is set up and you travel to and from the location for day hikes. Base camping prevents you from having to regularly haul as much gear and is great for those looking to camp in a more rustic atmosphere than a campground.
Section Hiking
Section hikers are hikers/backpackers that are attempting (or have completed) a trail in multiple trips over a period of years. Section hiking allows you to set a slower pace, spend time to enjoy each section of a trail, and spread your expenses out over a longer period of time. However, transportation can be more expensive as you're traveling to and from the trail. You'll also have to regularly get into shape as you'll start being fit when it's time to head home and then have to start over again.
Thru Hiking
Thru-hikers are hikers/backpackers that are attempting (or have completed) an entire trail, end to end, in a 12 month period. Thru-hiking is also referred to as "end to end hiking" and is often associated with longer trails such as the Pacific Crest Trail, Appalachian Trail, and the Continental Divide Trail. Thru-hiking is very involved and requires much more planning, especially when it comes to restocking your supplies along the way. nearby towns) overcrowded or full on the southern end of the Trail. ATC encourages hikers to consider alternative starting dates and locations to help alleviate the impacts of so many hikers concentrated in certain areas of the Trail. More information on thru-hike intineraries can be found in the When & Where to Start page of this section.
By the end of Summer, we plan to have the first three under our belt. We've already done a few days hikes and have a location we plan to do some base camping at soon. We're relatively close to sections of the Ice Age Trail that we plan to start section hiking by the end of Summer, too. I hope that some day we're able to do a thru-hike because there is something truly captivating about that idea for me.
what type of hiking do you do?