This blog post has been compensated by Collective Bias, Inc. and Pure Protein. All opinions are mine alone. #KeepOnTrack #CollectiveBias
Hiking for the day? Be sure to print off this day hiking checklist before you go outdoors to make sure you bring all of the essentials!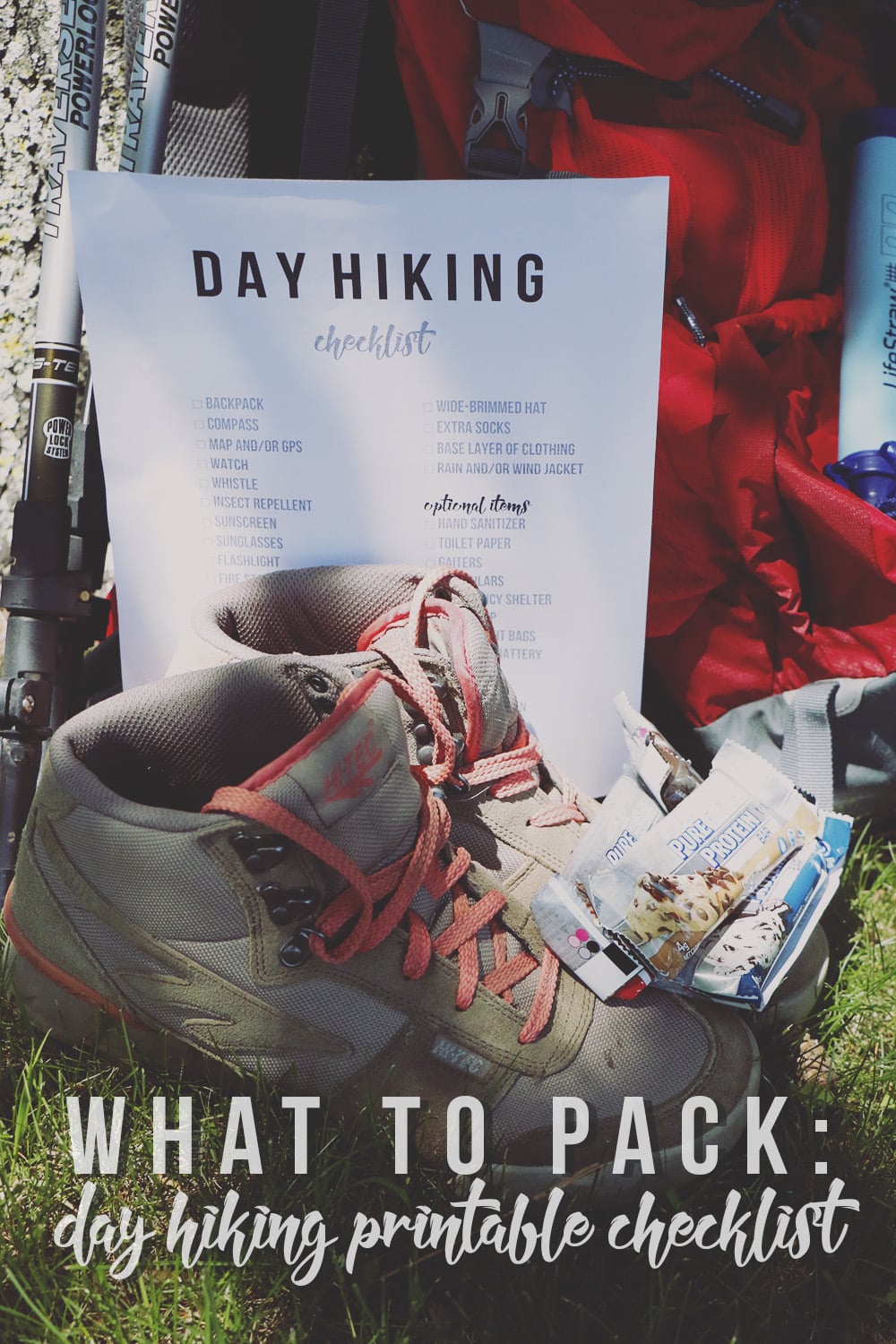 One of the reasons I love hiking is that it's pretty much the perfect outdoor activity for everyone. You can go for just a few hours, a full day, or even multiple days on end. You can choose flat trails or opt for steeper treks. You can hike mountains or through your local forest. It's SO versatile. On top of that, you don't need a ton of gear – especially if you're just spending a few hours enjoying a hike.
Related reading: Common Types of Hiking
This has been incredibly helpful this year since I've starting to have less energy with our baby girl due next month! It's made the pregnancy so much more bearable this Spring to have something that I loved doing before that I can still do now, even if it's a slower and shorter version of it.
We've gone hiking enough now that I feel pretty confident that every time we go, we have what we need. We've had a few surprises here and there, but overall, we come prepared. It helps that everything around us is pretty similar and we tend to go hiking in the same kind of weather for the most part. Even if your hiking destination varies every time and even if the weather is changing every day, there are still a few easy basics to make sure you bring along with you every time
I've compiled a list of things that we always bring with us regardless of the length, destination, or weather into an easy to use day hiking printable checklist. It makes getting ready for our trips SO much easier! Depending on your climate, the length of your hike, and who is coming along (we have other gear that we always bring for Sookie!) – this list is a great way to get your gear together for your hike.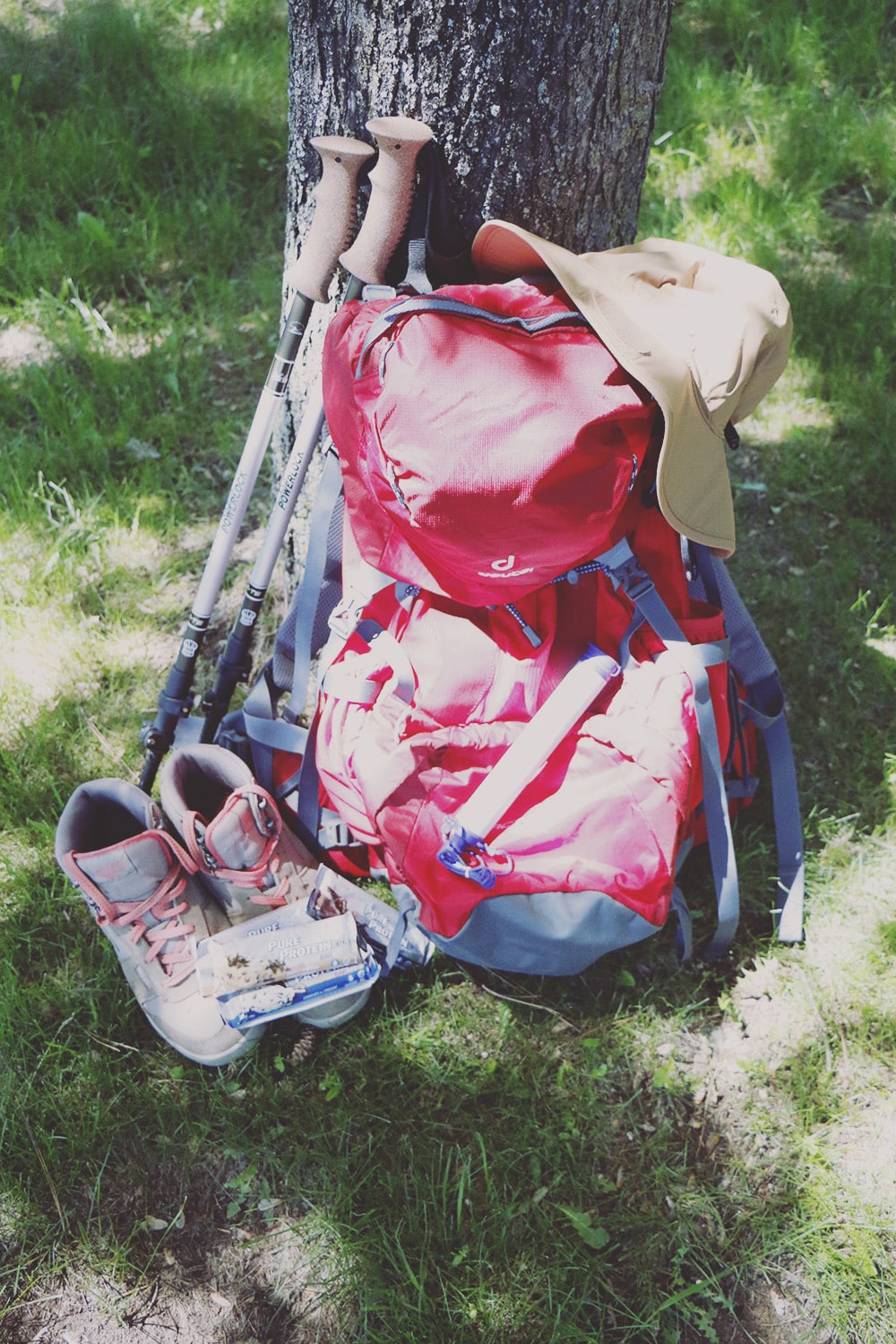 day hiking checklist
---
☐ backpack
☐ compass
☐ map and/or gps
☐ watch
☐ whistle
☐ insect repellent
☐ sunscreen
☐ sunglasses
☐ flashlight
☐ matches
☐ first-aid kit
☐ personal medications
☐ water filter or life straw
☐ water/hydration pack
☐ plenty of food
☐ broken in hiking boots
☐ extra socks
☐ base layer of clothing
☐ rain and/or wind jacket
Related Reading: Nature Scavenger Hunt Printable
OPTIONAL ITEMS
☐ hand sanitizer
☐ toilet paper
☐ gaiters
☐ binoculars
☐ headlamp
☐ watertight bags
☐ camera & battery
☐ bandana
☐ cell phone
☐ notebook & pen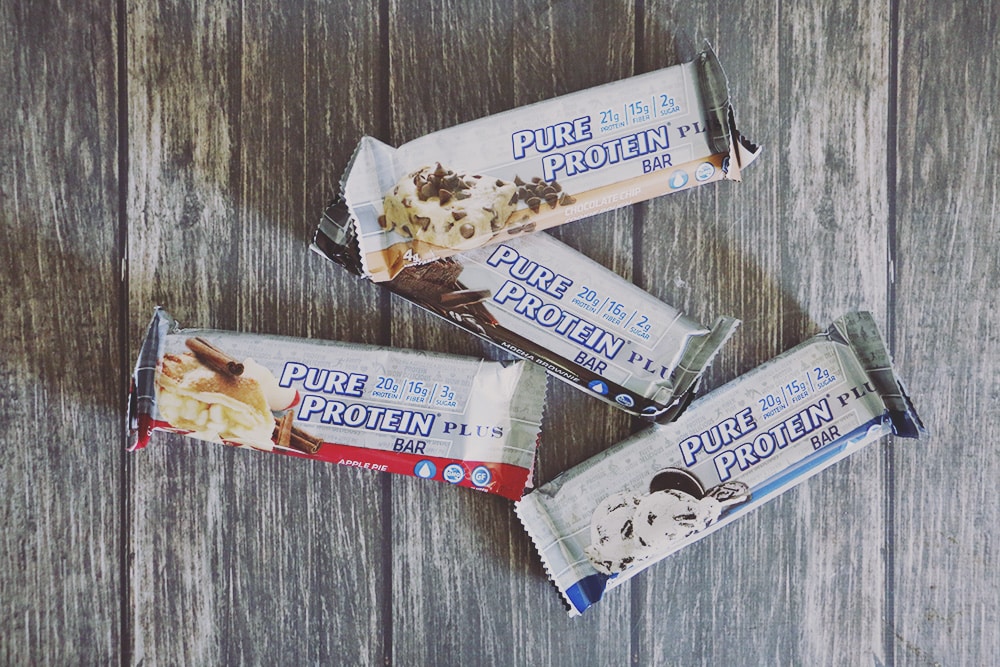 One of the things I mentioned above was plenty of food. Always bring enough for how long you'll be gone and more. This has been so helpful for us if we end up staying out longer or we take a longer trail than we anticipated! If you're ever stuck, even temporarily, not having to worry about having enough food is a bonus as well!
If you're looking for good snacks that are easy to bring along with you for your hiking trips, I absolutely recommend the new Pure Protein Plus Bars. But before I go into why these brand new bars are so good, I want to talk a little bit about protein bars.
Related Reading: How to Prepare For Your Next Outdoor Adventure
All protein bars are not created equal! I am insanely picky about the protein bars we purchase. They need to:
Taste good. Many of them are jam-packed with various forms of sweeteners that just do not combine to form a decent tasting bar.
Be low in sugar. Going back to what I said above, many protein bars are filled with various sugars to make the taste even somewhat edible. This doesn't do well when you're trying to keep on track with a healthy diet.

Have decent texture. I'm not sure what it is about protein bars, but the texture of a lot of them is SO off-putting. So many of them lose their appeal before I even really get to taste them because of a weird texture.
So between the taste, ingredients and the texture – a lot of protein bars are doomed to fail from the start. But not these.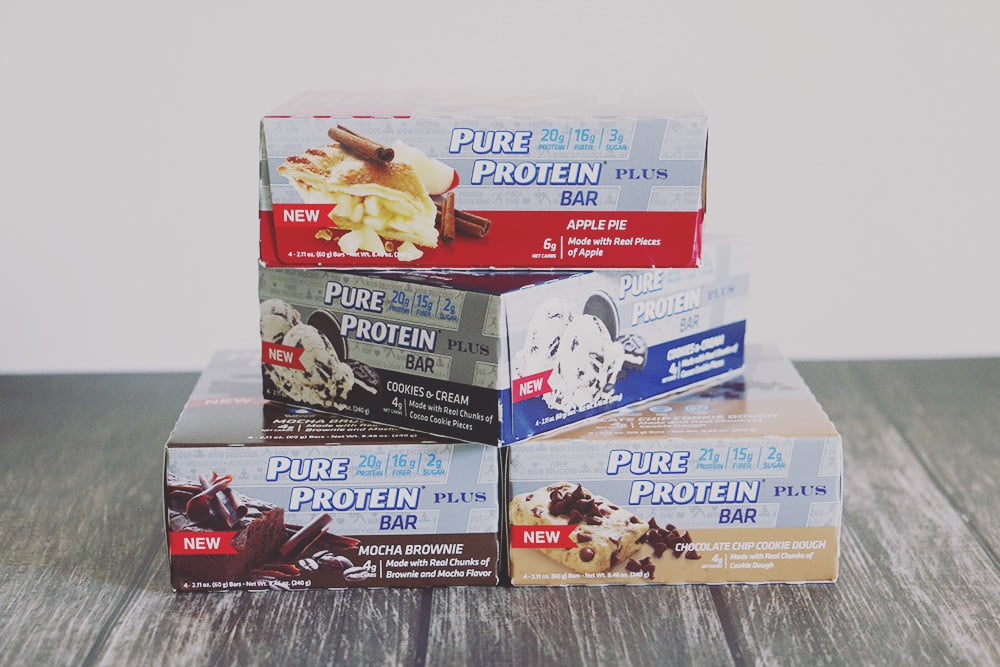 This is why I am so smitten with these Pure Protein Plus Bars. Seriously, they're amazing. If someone had me taste them out of the package and asked me what they were, I'd never once tell you that they were a protein bar. Going back to my mini-checklist above, let's see how they match up:
Pure Protein Plus Bars have actual real food bits mixed inside of them so the taste is actually decent! Plus, they come in so many delicious flavors including: cookies and cream, mocha brownie, apple pie and chocolate chip cookie dough. YUM.
Real food = real texture. Simple and delicious.

Not only are the Pure Protein Plus Bars low in sugar, but they also don't contain any artificial sweeteners. They're also high in protein (20-21 grams) and high in fiber (15-16 grams.) On top of that, they're GMO and gluten free.
Finally! A protein bar created with real people in mind. Real food, real energy, and a really easy way to power an active lifestyle. Plus, these bars are pretty magical after a long hike where you just want to rest your legs and indulge a little bit.
For more Pure Protein Plus Bars inspiration, visit this website.
PIN ME↓
You might also like: