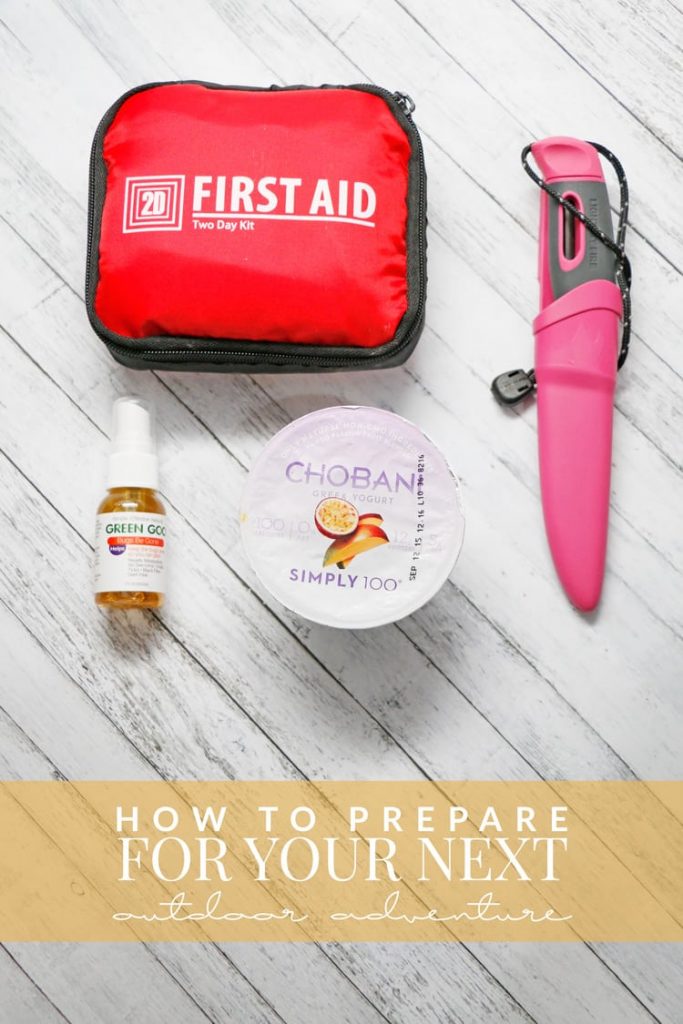 I used to think that going out for a hike, heading to a ifeocal campground for the weekend, or taking our kayaks out for a half day weren't things you really had to prepare for. I figured we just need to plan for the day(s) we're going, grab our gear and head out. Easy peasy!
I couldn't have been more wrong. While there's not a whole lot that has to be done ahead of time, there are some crucial steps to making sure that you enjoy your outdoor adventures. Things that will make you prepared for the worst and be able to handle them much easier than if you did what we used to do. So today, I have five easy tips (along with a simple bonus one for those that travel in larger groups!) on how to prepare for your next outdoor adventure. These five steps are must-dos for me now, regardless of where we're going or how long we'll be gone.
LET PEOPLE KNOW WHERE YOU'RE GOING | This one is such a simple thing to do and you may even question if you really have to do it. While the answer is no, you don't have to – it's a really good idea to do it. Depending on where you're going and what you're doing, you cell service may not be easy to obtain. So if you sprain an ankle, get caught in a storm, get lost in the woods, your car breaks down, or any other trip disaster – you may not be able to easily call for help. But if you tell someone that you'll be gone, where you're going to, and when to expect you to return – they can ensure that help is on it's way.
PREPARE FOR THE UNEXPECTED | This one is the toughest for me because I either under-pack and forget a crucial item or over-pack and haul way more than I need to. Either way, a first aid kit is a great staple to have. We keep items that work for us and our pups in it as 90% of the time, they're with us. Depending on your destination and adventure, different things may be better to prepare for. Consider things like rain jackets, extra water, extra snacks, bug spray, sunscreen, FireKnife, dry socks, a change of shoes, a life straw, compass, knives, and fire starters.
PACK ACCORDINGLY FOR THE WEATHER | Be sure to check the weather at your destination, but also the route you plan to take. Pack clothes that are great for the weather predicated, but any other typical weather for that time of year as well. Bring clothes that breath if you'll be on a kayak under the sun all day along with a hat. Or extra layers and rain gear if you're going to be hiking in the woods when it's cooler in the Fall and Spring. Dry clothes are a necessity, especially in rain, so be sure to bring extra clothing if there's a even a slim chance of rain!
REVIEW THE ROUTE + DESTINATION | Knowing where you're going is a must-do for all outdoor adventures. It's easy to get lost on big lakes or on unmarked trails in the forest so reviewing it ahead of time is crucial. Also, be sure to check for any issues such as flooded trails/roads or low water levels ahead of time so you can avoid them when you're trying to enjoy the great outdoors.
EAT A PROTEIN PACKED MEAL | This is something I try to do every single day, regardless of whether or not I'm preparing for an adventure. But it's even more important when we're headed outdoors as I hate to have to stop and eat something when we're barely just started a hike or kayaking. Or even worse, on the way there. So I try to pack as much protein as I can in my breakfast since we're normally out the door shortly after we eat.
One of my favorite ways to do that is with Greek Yogurt. It has great flavor, pairs well with other good for you foods like fruits and nuts, and keeps me satisfied for a long time. Which is why I love the new Chobani Simply 100® yogurt, especially the delicious Mango Passion Fruit flavor!
Chobani, America's #1 Greek Yogurt brand, is kicking off a new season and saying #HelloSummer with 15 new product varieties. The Simply 100® yogurt is the first, and only, 100-calorie authentic strained Greek Yogurt. Not only is it a great way to fuel-up before or after a high-energy activity, it's also packed with protein and an excellent source of fiber. It is definitely 100 calories worth counting. No matter the variety, each and every cup of Chobani Greek Yogurt is made with fresh milk from cows not treated with rBST and proudly contains no artificial sweeteners, preservatives or flavors.
Bonus Tip: If you're traveling in a group, be sure to plan for everyone's skill level ahead of time. You may need to adjust your plans if someone is more likely to fall behind or has restrictions that prevent them from completing a portion of your adventure.
I'd love to know: how do you prepare for your outdoor adventures?
and what's your favorite yogurt flavor?
I was selected for this opportunity as a member of Clever Girls and the content and opinions expressed here are all my own.