Every winter, we struggle with the same thing in Wisconsin: the cold months seem to drag on. By mid January, I'm itching to start our garden Or stop by a local farm stand to get some fresh fruits and vegetables. Luckily, we found a few cold-weather friendly garden themed things to do to make January, February and even March more tolerable!
These simple winter garden activities for preschoolers make getting through the cold months so much more fun. Plus, you'll be able to garden year-round regardless of where you live!
Most of these activities don't require a ton of supplies. They're a great way to spend the day if you're feeling the winter blues, too. Keep reading to find the perfect easy winter garden activity for you and your preschooler!
Winter Garden Activities for Preschoolers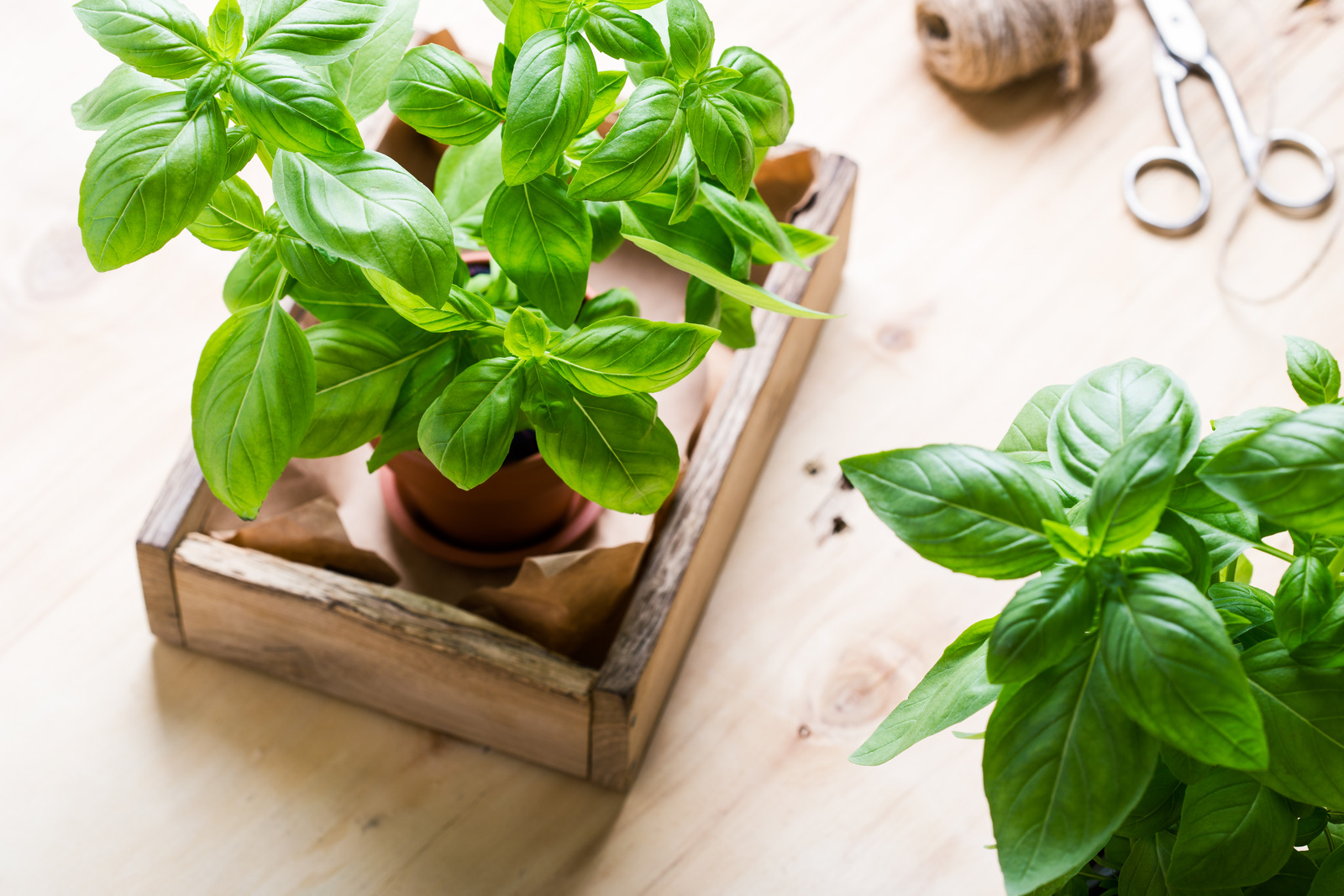 Create a Windowsill Herb Garden
Windowsill herb gardens are such a delicious way to garden in the winter. One of the reasons we love indoor herb gardens so much is because it can help us teach gardening skills in a much smaller setting. This way, our daughter is able to help us with our outdoor garden a little more.
Don't let not having the perfect windowsill for your garden stop you, either! You can easily create an indoor herb garden that can be moved with the sun throughout the day.
Learn how to make an indoor herb garden so you can enjoy fresh herbs all winter long.
Create a Garbage Garden
If you're looking for a fun experiment to try in the winter, try regrowing plants from fresh produce. It's a cool way to see what can grow in soil, water, or even just pebbles.
You can also grow a leafy garden with the tops of beets, carrots, turnips, celery bases, or other root vegetables. Check out this guide to garbage gardening to get details on growing everything from apples to pears, lemons to limes, parsnips to radishes and more.
Read Garden Books
One of our favorite ways to spend days where we're stuck inside because of the temperature is to read spring themed books, especially garden ones. It's a temporary escape from the gray days of winter and it gets us excited for planning our garden.
Check out these gardening books for toddlers for some ideas. A few of our favorite gardening books for preschoolers are listed below.
Sale
Sale
Sale
Make Seed Bombs
Can't wait to plant flowers in the spring? Make a seed bomb! Seed bombs are an easy garden activity that can be done in winter and saved for spring.
With just a few supplies, you'll be able to make seed balls that are ready to be tossed in your backyard in an hour or two. Learn all about how to make seed bombs.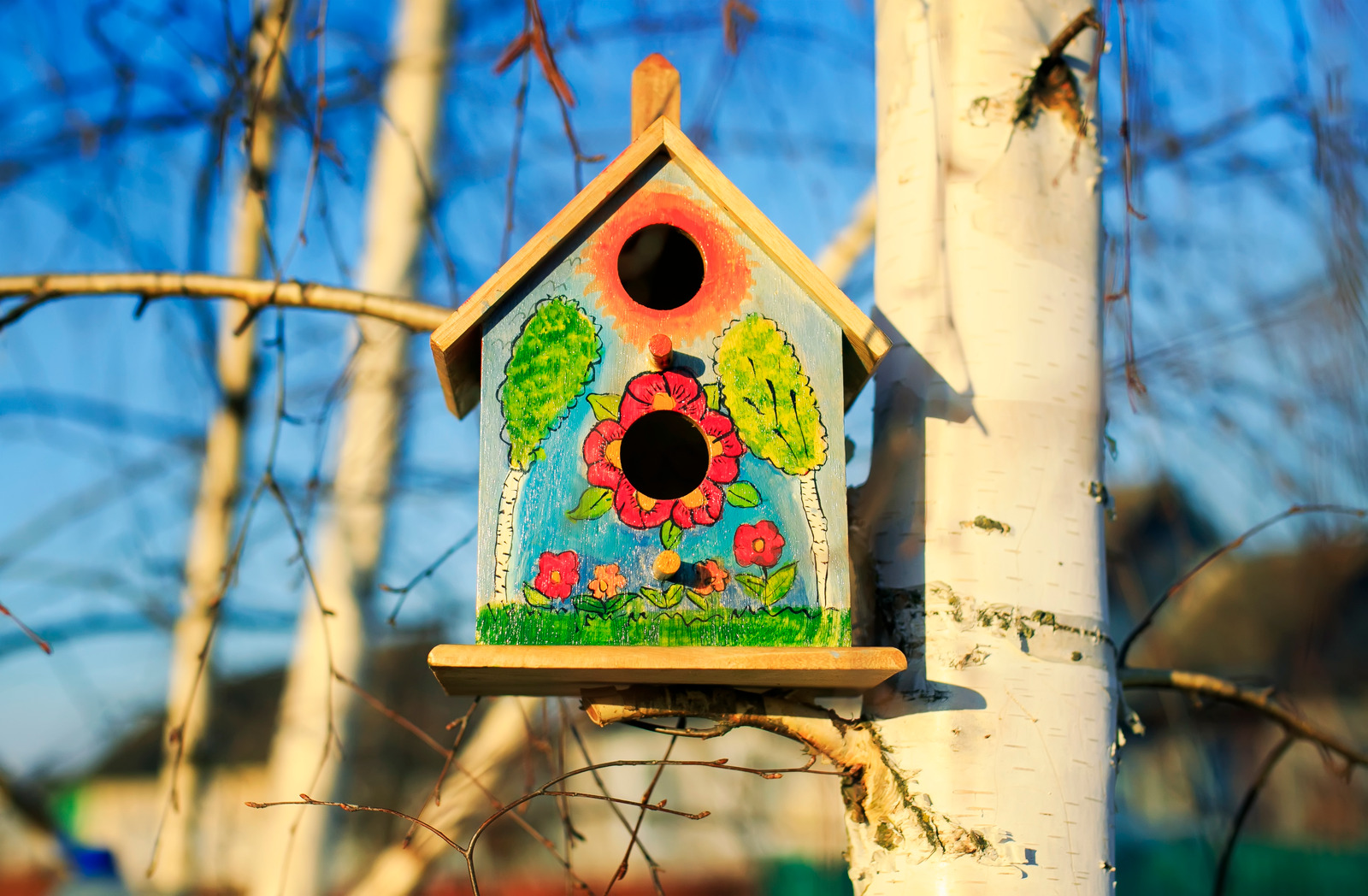 Build a Birdhouse
Building a birdhouse is a great indoor and outdoor winter garden activity for preschoolers. With a some help cutting the wood and assembling, kids have a blank canvas for them to decorate with paint. If you don't have the tools available for cutting the pieces for a birdhouse, consider this birdhouse kit that comes with everything precut.
Sale
Toysmith Beetle & Bee Build A Bird Bungalow - DIY Kid Art Craft Outdoor Birdhouse Kit, 6" x 4" x 6", Hardware & glue included- 4 Paints, 1 Brush, 7 Wooden Pcs, Chain for Tree Hanging, Age 5+
Build and paint A classic 6" Tall bird house bungalow using the parts In this kit
Welcome Birds to the backyard with a colorful new home
Made using safe and high quality materials and FSC Certified wood products
Includes wood pieces, chain for hanging, 4 paint pots, paint brush, nails, glue and instructions
Recommended for ages 5 years and up
If you'd prefer to build a bird a super simple feeder, here's a few ideas that you might be able to make with things you already have at home:
Cover a pine cone in peanut butter and roll it in bird seed
Smear peanut butter on a bagel or a piece of toast and cover it in bird seed'
Hollow out an orange peel and fill it up with bird seed
Then just tie these homemade bird feeders up so they can hang from the tree. You can also make your own birdseed that can be formulated to attract more of your local birds. This is a fun way to teach kids about the birds that are native to your area.
Make a Terrarium
These are so many DIY terrarium ideas out there that this alone could keep you busy all winter long. If you're missing the ocean, consider this beach inspired terrarium. Embracing winter or looking for a cute Christmas gift? Try this winter wonderland terrarium.
Or grab a terrarium kit that has everything you need to get started:
Bestseller No. 1
Creativity for Kids Grow 'N Glow Terrarium Kit for Kids - Science Activities for Kids Ages 5-8+, Kids Craft Kits and Creative Gifts for Kids
TERRARIUM KIT FOR KIDS: Explore the wonder of nature and science with the Creativity for Kids Grow 'N Glow Terrarium; this indoor activity for kids allows you to craft, plant, water and grow your own mini ecosystem, just add water for endless fun
SCIENCE KITS FOR KIDS: Includes everything a young botanist needs to plant and grow their terrarium twice; This science kit features: plastic terrarium jar, potting mix, USA organic chia and wheat grass seeds, glow-in-the-dark forest figurines and more
GLOW YOUR OWN WAY: Grow by day, and glow in the dark at night; Light up your DIY terrarium at night with colorful glow-in-the-dark sand, star and constellation stickers; hold your terrarium up to the light and watch it GLOW
ACTIVITIES FOR KIDS: Combine the fun of arts and crafts with science for a creative and screen-free activity for kids; Create your own terrarium while learning responsibility and nurturing; Your terrarium kit will start to grow in as little as 3-4 days
GREAT GIFTS FOR KIDS: Have fun while building creative confidence; Since 1976, Creativity for Kids has proudly made fun and creative experiences today to nurture children's confidence for life; this craft kit for kids is recommended for ages 6-8+
Bestseller No. 2
Cute Farms Terrarium Starter Kit | Moss, Vermiculite, Soil, Pebbles, Plant Food, Finishing Tools, Build and Care Guide | DIY Succulent Terrarium Kit for Adults and Kids (Large Kit)
Large Kit – 12 oz. Moss (Reindeer Moss, Forest Moss & Lichen), 32 oz. Potting Soil Blended with Activated Charcoal, 12 oz. Gardening Vermiculite, 8 oz. Pea Pebbles & River Stones, 1 oz. Plant Food, Finishing Tools, Miniature Dinos
Build And Care - Includes a bamboo stick and natural hair brush finishing tools, plus helpful tips on building the perfect terrarium or planter
Quick Start – Just add your own plants and container
Value – Save when compared to buying individual materials
Create - Make your own unique terrariums from glass or containers you already have at home. This quick start kit includes a guide to help you get started, as well as the materials needed to make healthy environments for small plants that you add yourself. Perfect for kids, adults, family projects, team events, or as a gift idea.
Sale
Bestseller No. 3
TerraGreen Creations Succulent Planter Kit - Terrarium Kit with Succulent Soil, Gravel, Pebble, Moss, Horticulture Charcoal, Terrarium Supplies For Fairy Gardens, or Cactus - Create Your Own Terrarium
Complete Terrarium Starter Kit: Comes With All The Hard To Find Ingredients That Normally Must Be Bought In Bulk, Gravel, Moss, Charcoal, River Rock, Soil, Just Buy A Succulent Or Cactus And Your Ready To Go
Custom Soil Mix: Perfect For Succulents And Cactus. High Mulch Content, Ph Balanced, Fast Draining.
Our Premium Custom Soil Uses U.S. Pumice. Pumice Provides Minerals Unlike Perlite. Superior Ingredients Nearly All Our Competitors Don't Use.
Our Pea Gravel Has Gem Like Qualities. Use It For Drainage And Decoration. Hardwood Charcoal In The Perfect Amount. No Need To Spend Extra Money. Sheet Moss Is Great Accent Decoration.
Satisfaction Guaranteed. We Are Sure You Will Love Our Kits! If Not Contact Us And We Will Make Sure You Are Satisfied. We Have Had Thousands Of Happy Customers.
Sale
Bestseller No. 4
Large Glass Plant Terrarium – House Succulent Glass Terrarium Kit with Lip Glass Greenhouse Terrarium for Plant (Black 1)
This large glass terrarium is a house shape plant terrarium with swing lid, have beautiful black accent and ventilation.
Glass greenhouse terrarium great for raising succulent, moss, fern, cacti,venus fly trap.
Large plant terrarium motivate your imagination to creat a dreamy world at home.The bottom part of the terrarium is not waterproof to allow excess water to be discharged in order to avoid rotten root appearing.
Perfect unique design make this Glass Terrarium nice for eye-catching, with your small potted plants Creates a Relaxing and Poetic Environment.
Size: 8.65x6.30x7.10"inches,this glass terrarium tabletop planter made of reinforced glass, super sturdy,great decor for office desk, window, balcony or as a housewarming gift
Bestseller No. 5
Sale
Bestseller No. 6
Air Plant Terrarium Kit with Purple Amethyst Crystal / 4" Round Glass Pedestal /Shabby Chic Pedestal
TERRARIUM KIT HAS EVERYTHING YOU NEED INCLUDING THE PLANT. MAKES A GREAT GIFT
INCLUDES THE FOLLOWING: 1 - 5" x 4" Round Pedestal Glass 1 - Air Plant 'Ionantha' 1 - Purple Amethyst Crystal 1 - Bag of Mini White Rocks 1 - Dried Thistle Flower - Juniper (preserved) - Cream Reindeer Moss (preserved) - Assembly Instructions/Plant Care Sheet.
EASY FOR BEGINNERS IN GARDENING. NO SOIL REQUIRED
FAST SHIPPING FROM OUR DESIGN CENTER
Bestseller No. 7
Sale
Bestseller No. 8
Light up Terrarium Kit for Kids with Colorful LED on Lid- Kids Birthday Educational Gifts for Boys Girls Mini Garden in a Jar Great Science Kits- Gardening Gifts for Children- Kids Toys
[KIDS TERRARIUM KIT] Explore the exciting world of growing things and green grass, and create a mini garden in your home. Our light up terrarium kit includes a sleek, jar with colorful led , brightly colored supplies, detailed miniatures plus decorative sand and rhinestones that personalize your creation!
[LUMINESCENT TERRARIUM] This beautiful tabletop garden transforms into a mesmerizing sight during the nighttime hours. A small switch on the light-up jar illuminates the terrarium with a spectacular glow and is easily rechargeable with the included Micro-USB.
[EDUCATIONAL AND FUN] For anyone that's curious about the world around them, this kids' science kit is the perfect activity that rolls education and play into one package. From when you pour the first bit of sand into the jar until you watch the grass peeping through; every step is an experience to remember.
[FOR ALL AGES] Makes the perfect gift for boys and girls, ages 5, 6, 7, 8, 9, and 10 year old. An ornamental bow on the jar makes the terrarium and exciting gift to receive, and the tactile experience of sand, seeds and, realistic figurines keeps everyone entertained and interested throughout the creative process.
[LET US START] Both boys and girls alike will love the science behind this gardening adventure and hands on experience that comes from this educational arts and crafts kit.
Sale
Bestseller No. 9
Bryte Little Growers Unicorn Terrarium Kit for Kids with Rainbow Fairy Lights & Paintable Figurines - Plant and Grow Light Up Garden - Science and Craft Kits for Girls & Boys - STEM Age Gifts & Toys
CUSTOMIZE - Little Growers Unicorn Garden is the terrarium kit for kids that lets them create any way they want! From projects beginning to end, your child chooses how their living Unicorn garden will look and feel. Unlike other terrariums that come with pre-painted figures and a small plastic jar, our DIY Terrarium craft kits provide your kid with high quality materials, paintable figures and a large 9X6 inch terrarium dome that gives them the freedom to plant and design any way they want!
CREATE AND GROW A MINI ECOSYSTEM - The fun doesn't stop after building your terrarium. Now comes the fun part...caring for and cultivating your very own mini ecosystem! Your child will be learning the science and skills of planting and nurturing their garden. Using the soil and seeds provided, your child will be planting, watering, gardening and growing in no time. Your wheatgrass seeds can begin to sprout within 2-3 days! It's the perfect STEM toy or gift for girls and boys any age
ALL INCLUSIVE KIT - Comes with everything needed to create, grow and cultivate your very own mini unicorn habitat. 1 Terrarium Dome (bowl and lid) - 2 Unicorn figurines - 1 Castle - 1 Rainbow - 1 Soil Disk - 1 Pack of Wheatgrass Seeds - 2 Colors of Acrylic Garden Stones (Pink and Blue) - 1 Acrylic Paint Set with 6 different Colors - 1 Fine Tip Paint Brush - 1 Medium Tip Paint Brush - Sparkly Star Glitter - 1 Set of Rainbow Colored Fairy Lights
RAINBOW FAIRY LIGHTS - Light up your magical unicorn habitat! Each kit comes with its very own enchanted string of rainbow colored LED fairy lights, allowing your child to sprinkle their imaginary world with light, while illuminating the real world around them. Let the imagination of your girl or boy shine bright through the night with the Little Growers light up terrarium kit for kids
SATISFACTION GUARANTEED - If you're not completely satisfied, you can send it back for a full refund. Every Little Growers Terrarium Kit is sourced from the highest quality materials and is 3rd party tested to ensure long lasting fun. All Little Growers terrarium crafts include non-toxic materials and conform to CPSIA and ASTM F963-17. Rest easy knowing that you're getting quality educational toys and gifts for kids of all ages. When it comes to quality, nobody beats Little Growers!
Bestseller No. 10
Succulent Terrarium Planter Kit, DIY Set with Soil, Pumice, Horticultural Charcoal, Sphagnum Moss, Red Lava Rock - Create Your Own Terrarium - Supplies for Fairy Gardens, Cactus and More
COMPLETE STARTER KIT - This DIY Terrarium Starter Kit is complete and comes with the following ingredients - Pumice, Long Fibered Dried Moss, Horticultural Charcoal, Soil, and Red Lava Rock.
INSTRUCTIONS INCLUDED - Perfect Soil Mix for Succulents, Cactus and other carnivorious plants. Kit Instructions included!
DECORATIVE TOP - Top off your pot mix or terrarium with red lava rocks and dried long fibered sphagnum moss to give that nice decorative top.
CUSTOMER SATISFACTION - Soil Sunrise is all about customer Satisfaction! If not, please contact us and we will make any issues right! Note, Plants, Terrarium jar, or pot not included just the mixes to create!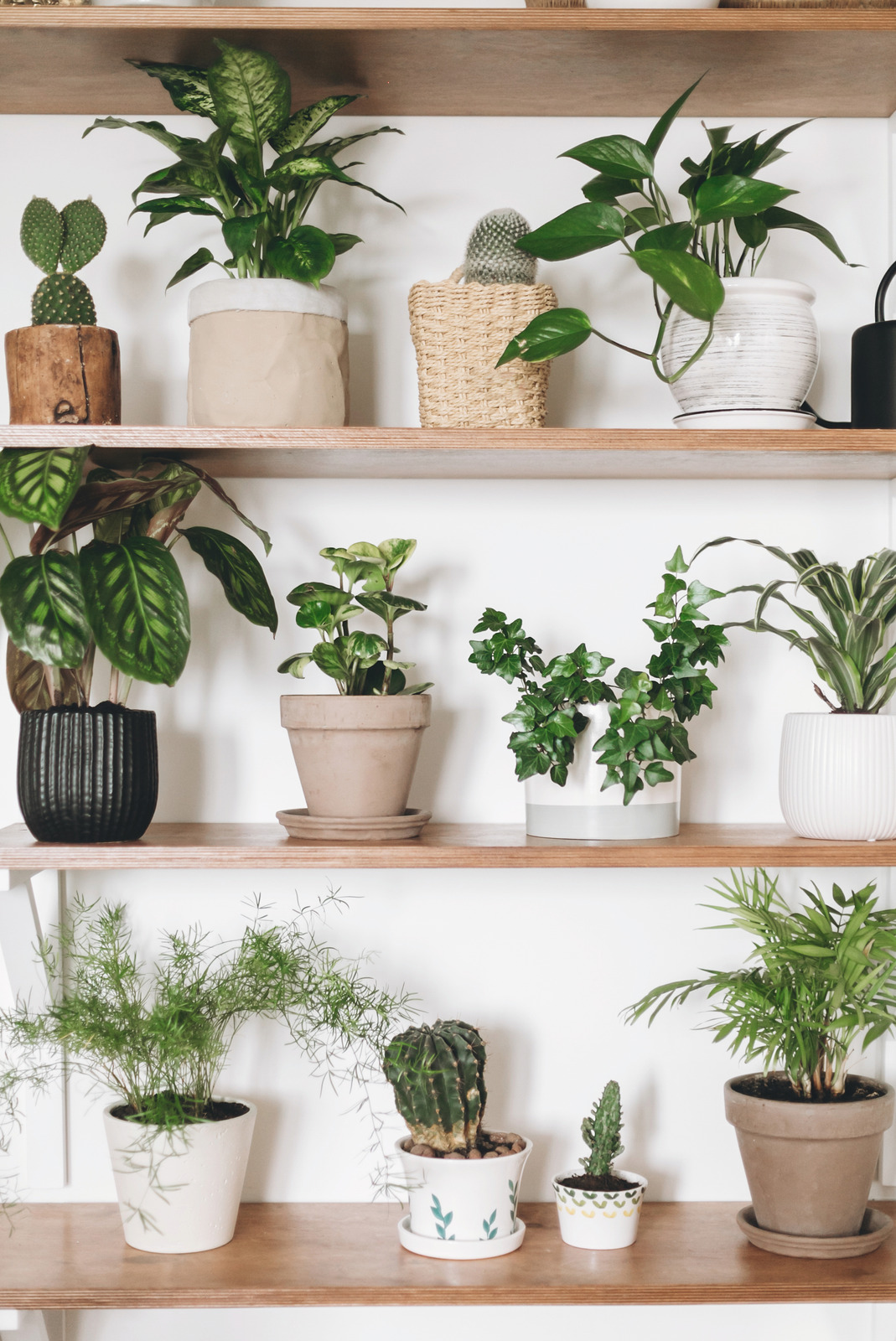 Grow Houseplants or Succulents
Houseplants can turn a home into a tropical paradise – even in the middle of winter. There are tons of plants that you can grow with your preschooler that can help teach them the importance of proper plant care.
You can also grow succulents if you're looking for a slightly more forgiving plant for your family. If you already have one or two, consider learning how to propagate or regrow succulents.
Paint Garden Stones and Pots
Painting garden stones or pots is a great way to get preschoolers interested in gardening. After they paint their items, they'll get to appreciate their artwork all garden season long.
While you're at it, you can paint some watermelon coasters out of the bottoms of your terra cotta pots.
You can also try making a handprint stepping stone out of air dry clay or grab this kit to easily create your own.
Midwest Products Co. Milestones Decorative Mosaic Leaf Stepping Stone Kit for Flower Beds, Gardens, and Walkways - 901-11455
Milestones Stepping Stones are the perfect decoration for your garden, yard, flower bed, or walk path
Spend quality time with your kids or grandkids; create a beautiful decoration that will last for years to come
Easy to follow step-by-step instructions guide you through the hands-on activity
Each kit makes one 12 inch leaf shaped stepping stone; ideal for a Mother's day or Father's day gift
Kit includes 7 lb bag of Stepping Stone Mix, one 12 inch reusable plastic leaf mold, 12 oz mosaic glass, 2 oz glass gems, letter and number stamps, wooden mixing paddle, and writing tool; glass and gem colors may vary
Make Your Own Seed Markers
Seed markers are easy to make and can be done in so many ways. Popsicle stickers, rocks, clothespins, paint sticks, etc.
If you're looking for something that won't fade in the sun, check out these clay stamped seed markers.
Vermicomposting
We have yet to try Vermicomposting, but this is a great indoor winter garden activity. Vermicomposting uses worms to decompose waste, similar to regular composting. This makes a worm manure that can be used for a fertilizer. Learn more about vermicomposting or try out this Vermicomposting kit:
Plan Your Garden
This is probably my favorite winter garden activity for preschoolers because I love seeing what our daughter wants in our garden. Not only is it a great teaching opportunity, it also allows for a ton of creativity. We learn about spacing, measuring, plant needs, the garden season and more. But we also get to have fun with what we'd plant in our dream garden if we had all the space and resources.
We use our garden planner to plan ours out which helps us keep a record of everything we need to do throughout the harvest season.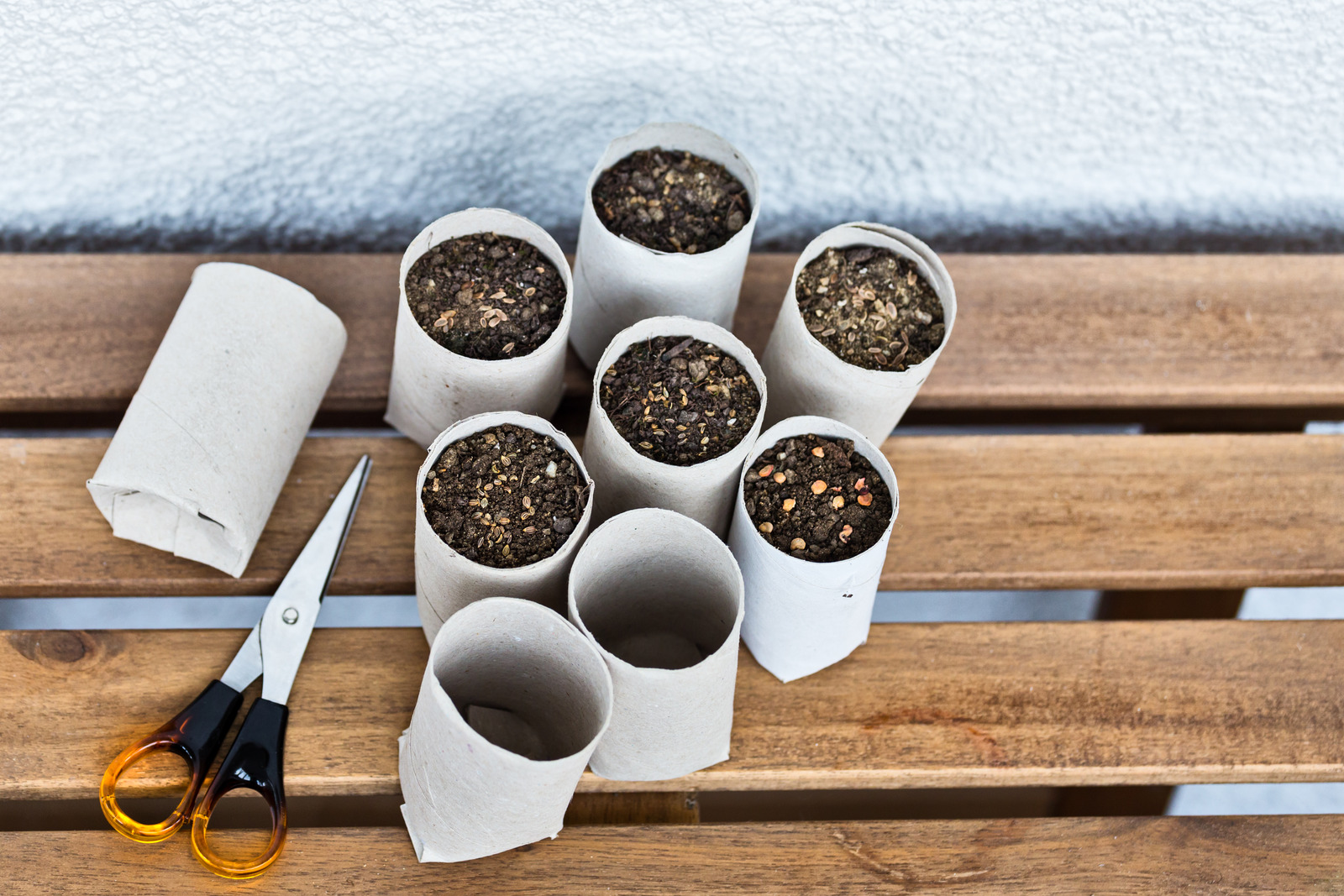 Start Your Seeds
What better way to get through the colder months than to start your seeds for the garden? There are multiple benefits to starting your seeds indoors, but my favorite is that we can usually get our harvest even a little sooner.
This activity is great for preschoolers because they get to easily see the transformation from seed to plant. Plus, it's a great activity to spend even a few minutes on every day.
Play Garden Games
Board games are one of our favorite things to do in winter so it only makes sense to add gardening board games for kids to the mix! Check out a few ideas below:
Books That Can Help With Winter Gardening
If you're looking for some more ideas for gardening during the winter or with you kids, check out these books.
Sale
Sale
Sale
Sale
I hope these ideas for winter garden activities for preschoolers help you make the most of long winters! If you have any other garden activities that you like to do in the winter with your young kids, I'd love to hear about them in the comments!