We're all dreaming of warm sunshine and our toes in the sand this time of year. Over the Summer you may have taken a vacation to the beach and collected seashells. It's one of my favorite things to do when I visit the Jersey Shore! This beach inspired terrarium allows you to capture your vacation memories in a unique, contained beach scene.
Terrariums are popular, low maintenance home decor. They can be customized to fit your personality and most of the plants used to build a terrarium require minimal care. Take my personal favorite, the air plant. These alien looking plants can be displayed in a variety of ways that don't require soil. They're perfect for terrariums! Just choose a container, add rocks and/or sand, a few personal touches and your plant! Or try some succulents! Learn how you can easily propagate succulents, too.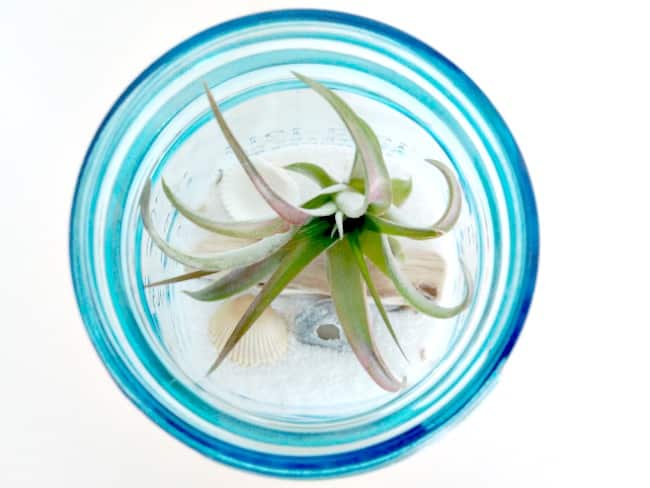 SUPPLIES
Pint-size Mason Jar or other glass container
Small white rocks and/or white sand
Seashells and/or a small piece of driftwood
Small air plant
STEPS
If you're using rocks, add a small layer on the bottom of your jar.
Next, add sand a little less than halfway up the jar. This can easily and neatly be done by pouring sand in a funnel over your jar.
Carefully add your air plant.
Decorate the sand with seashells and/or a small piece of driftwood.
Display.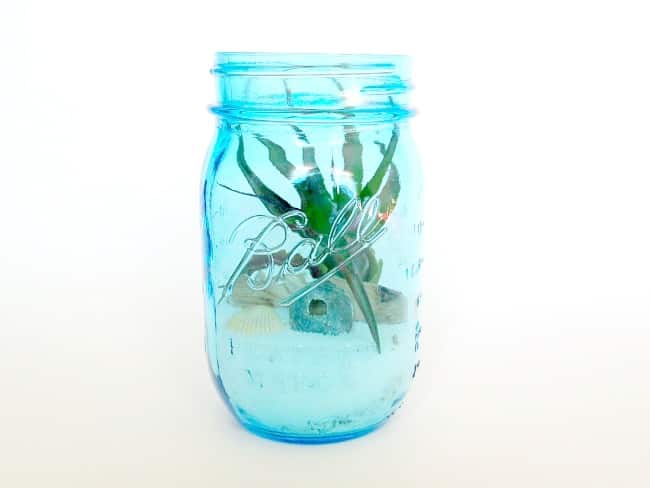 If you're new to air plants, they can be found on a variety of websites. Ask your local greenhouse if they carry them, as well. Caring for your air plant is easy. I soak my plants every week or so in a bowl for about an hour. When you remove your air plant from their bath, gently shake them off to avoid any rotting. On a towel or paper towels, allow your air plant to dry completely before placing them back into your terrarium.
If you keep your air plant in a humid room, such as the bathroom, you might get away with watering it every other week or more. They do especially well in the Summer so take extra care of them during the Winter when the air is dry. If your air plants look dried out, it might be time to soak them again. Use your better judgement!
Have fun reliving your vacation memories while creating a beautiful, beachy indoor garden!
Need some more beach & terrarium inspiration? Try these: