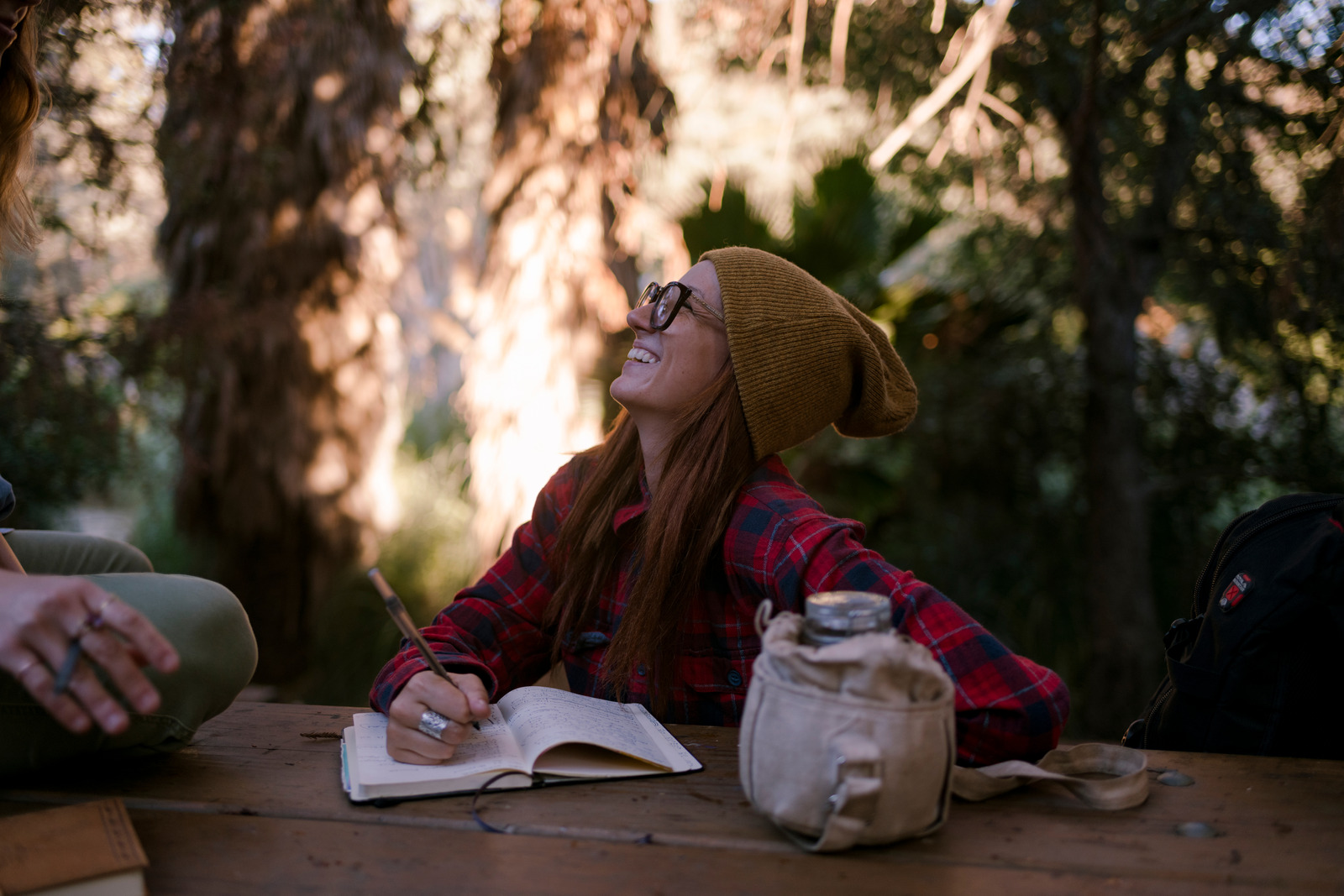 One of my favorite things to do when camping is journaling, It's one of the easiest times for me to write because I'm surrounded by nature. And I love capturing the moments we experience while camping. But sometimes, if I'm a little out of practice, I need some help.
Using camping journal prompts can help get the creative juices flowing and spark other ideas to fully capture your camping trip. These prompts can be especially helpful when trying to journal about a family camping trip as there are some for everyone.
Ready to get writing? Read through the list of camping journal prompts below and then grab the printable so you can get some ideas at the campsite when you're unplugged!
Camping Writing Prompts
Use the camping words in bold before or go a little further with the prompts under each word. Whatever helps get the words flowing!
Adventure:
What is your favorite adventure that you've gone on while camping? Least favorite?
Animal:
What is your favorite animal to see while camping? Why?
What animal do you never want to see while camping? Why?
What would be the best animal to share your campsite with? Why?
Backpack:
What should you always keep in your backpack while camping?
What is something you would never put in your camping backpack?
If all your gear had to fit in a backpack, what would be left behind?
Places to go backpack camping
Cabin:
Why do you prefer to (or not to) stay in a cabin while camping?
Best things about cabins
Camping
How does the weather affect your camping trip
What is your favorite thing to do while camping? Least favorite?
Best games to play while camping
The best season to camp during
Campfire:
What is your favorite food to make on the campfire? Least favorite?
What do you like to do most when you sit around the campfire?
Is a morning or an evening campfire better and why?
Camping cookware: every day utensils or roughing it with sticks?
Smores: the best way to make them
Campsite:
What makes the best campsite?
Talk about the qualities of one of your favorite campsites you've stayed at
Favorite scents at the campsite
Best/worst campsite neighbors
Campground:
Big versus small campgrounds
Best campground amenities
Canoe:
Having to paddle a canoe to your campground/campsite
Compass:
Do you use a compass while hiking? Why or why not?
Surviving in the woods with a compass
Forest:
Favorite sounds in the forest
Scary things in the forest
Forest or mountain
Gear: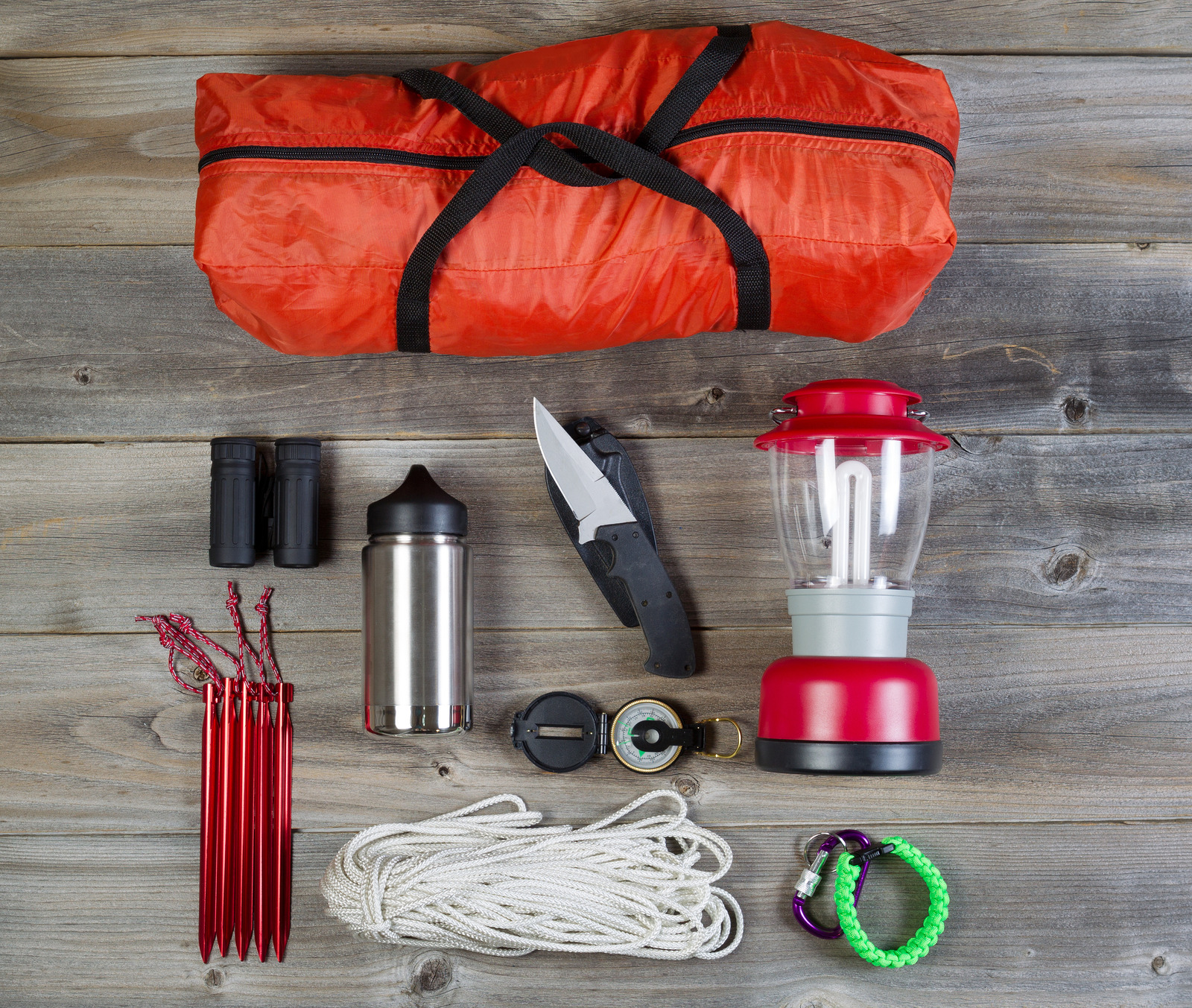 Glamping:
What are your thoughts about glamping?
Glamping versus roughing it
Hammock:
Do you like to sleep in hammocks? Why or why not?
Favorite things to do in a hammock
Hiking:
Long hikes or short hikes? Why?
Hiking solo or together? Why?
Hike or swim
Insect:
What is your least favorite insect? What about your favorite insect?
Lake:
Have you ever camped by a lake?
Sounds by the lake
Lantern:
Lantern light or starlight
Map:
Do you use a map while camping?
Reading a map
Moon:
What does the moon look like when you go camping?
Mountain:
Would you rather camp by the mountains or the beach?
Have you ever camped in the mountains?
Outdoors:
Favorite outdoor activity
Ways to spend rainy days outdoors
Best time to be outdoors
Favorite place to explore outdoors
Park:
What is your favorite thing to do at the park?
Rope:
What do you use rope for while camping?
Sleeping Bag:
Why do you like (or dislike) sleeping in a sleeping bag?
Stars:
Have you ever slept directly under the stars?
How do the stars look while camping versus when you're at home
Sun:
Shaded or sunny campsites
Tent:
What makes a good tent?
How do you spend a rainy day in a tent?
What are the advantages or disadvantages of a camper versus a tent?
Tree:
What types of trees are around you?
The tallest/shortest/prettiest/ugliest tree
Walk:
Would you rather walk, run or bike around a campground?
Do you prefer to walk in the woods or on the road?
Night walks versus day walks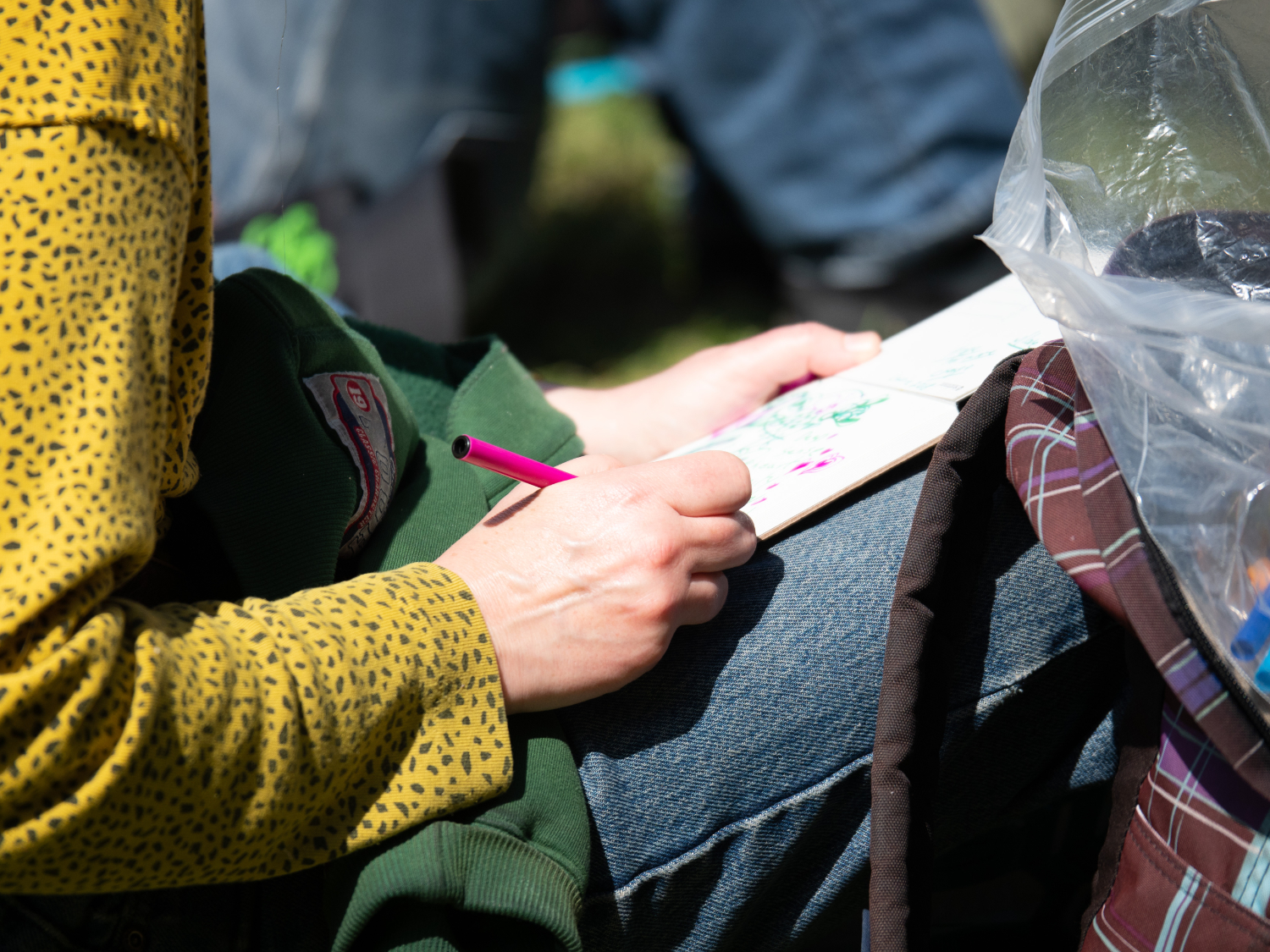 Camping Story Prompts
If you're looking for more in depth camping journal prompts, use a handful of the camping words listed above to make a story around (fiction or non-fiction.)
An example:
Adventure
Backpack
Kayak
Stars
Now write about a time where you took an adventure with a kayak under the stars and the gear you had in your backpack. If you haven't taken that trip, write about what you'd do if you did.
Extra Activity Idea with Storytelling:
Use this to help kids use their imagination, too. If you're telling stories around the campfire, have everyone pick a word and then have someone start the story around their word. The next person continues the same story but adds in something about their word. Continue until everyone has gone to see how silly your story has gotten!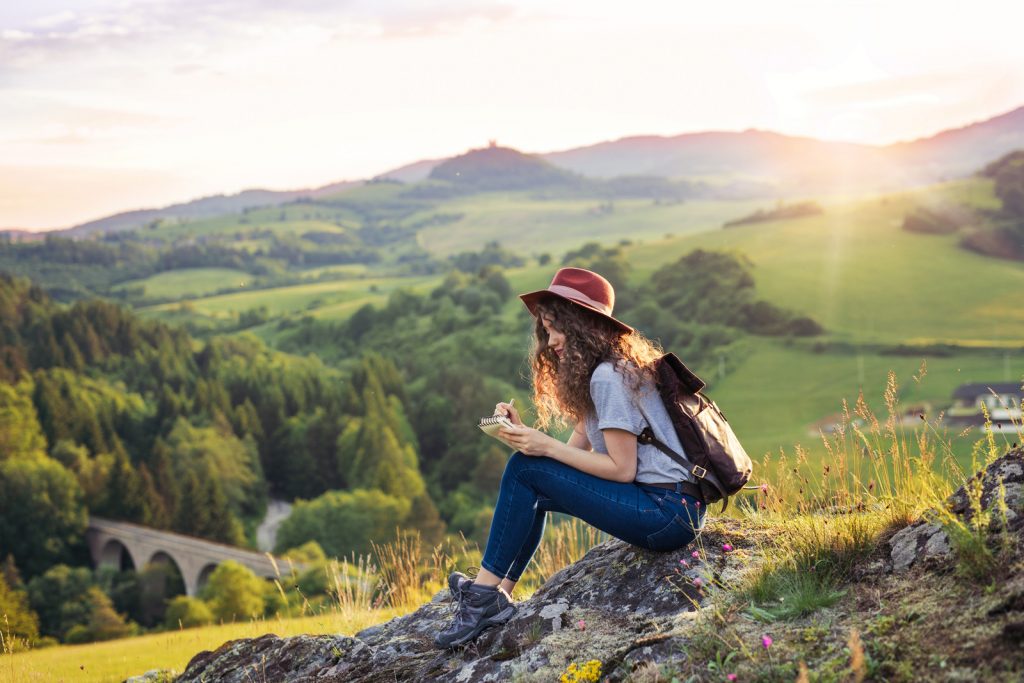 Camping Poem Prompts
Use any of the words above to create an acrostic camping poem. Learn more about acrostic poems or check out the example of one below.
C camping with my family
A animals all around
M moon and stars above us
P poking sticks in the ground
F fire burning brightly
I ignoring technology every day
R reading in the hammock
E enjoying how much we get to play
If you're struggling writing the acrostic poem, just write a poem inspired by one of the camping journal prompt words above.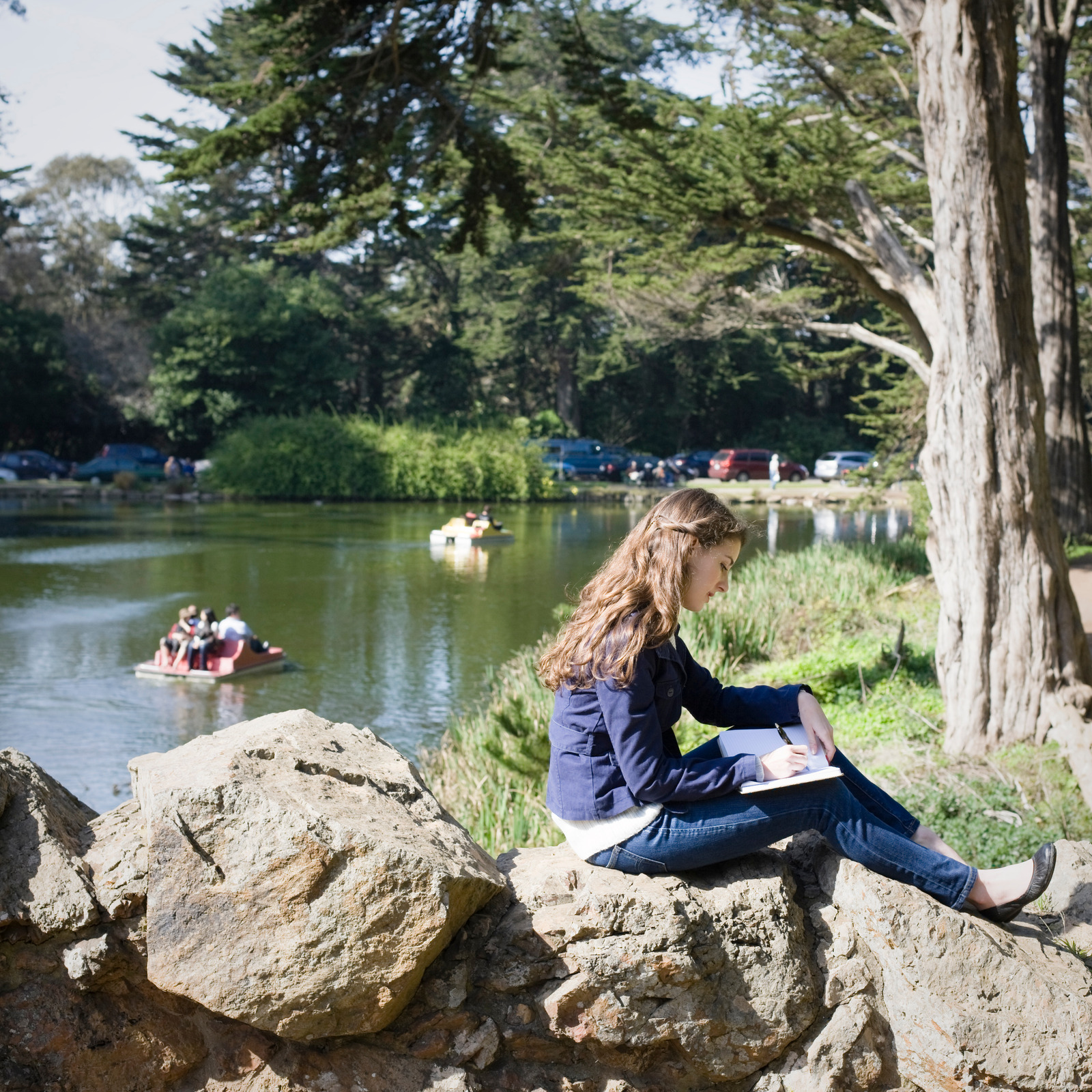 Camping Drawing Ideas
No one says that camping journal entries have to be in written form. If you're looking for camping drawing ideas for your camping journal, use these ideas for things to sketch.
Backpack
Beach
Camper
Campfire
Campsite
Flower
Food
Forest
Insect
Lake
Morning
Mountain
Night
Sky
Tent
Tree
Water
Wildlife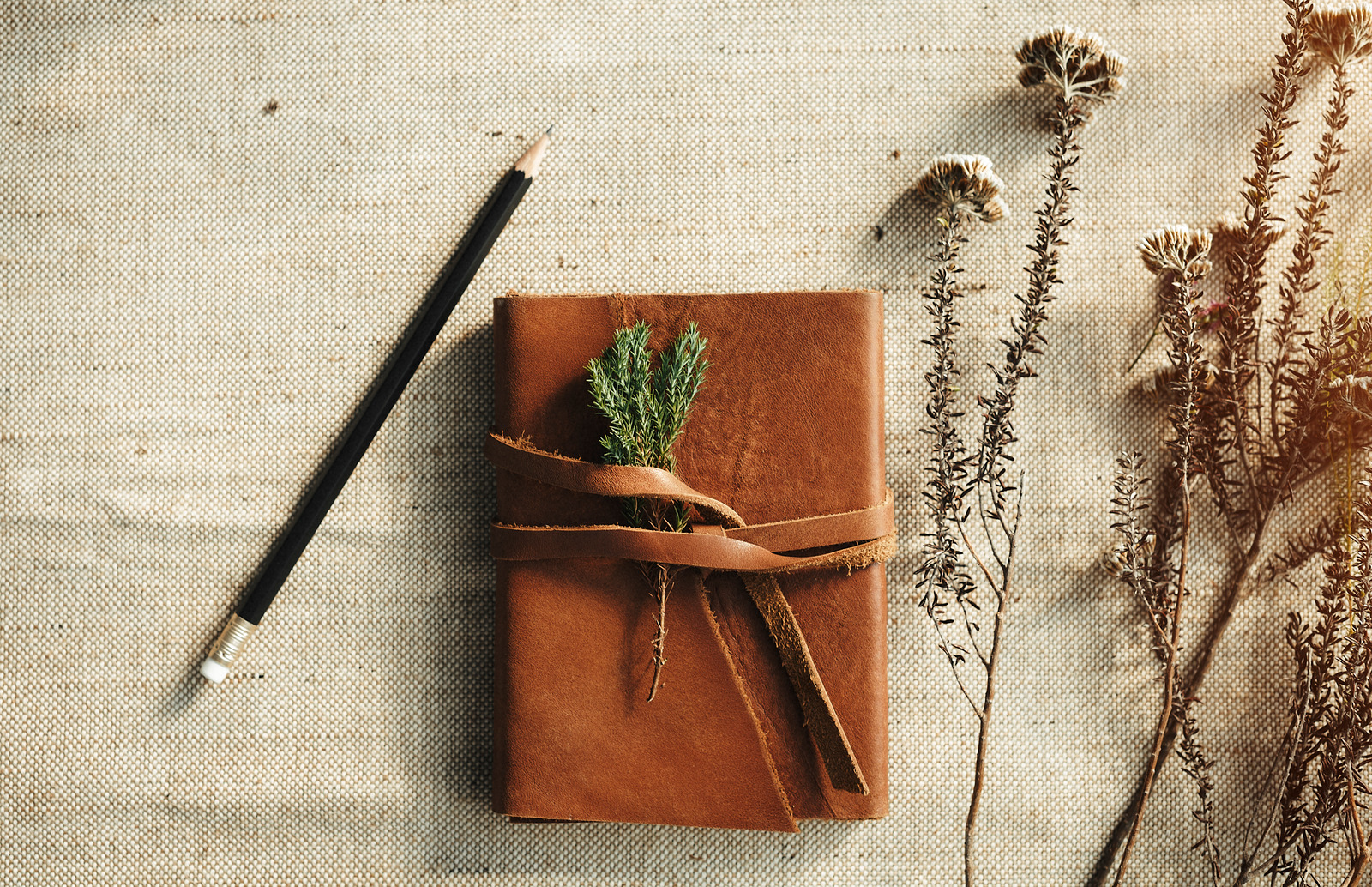 Camping Journals
A simple sketchbook or notebook can be the perfect tool for journaling while camping. But if you're looking for that extra special notebook or journal, these journals are worth considering!
And if you're giving it as a gift, check out this awesome camping wrapping paper!
Sale
Camping, The Camper's Journal (Natural Brown)
The "Write it Down!" Series by Journals Unlimited features the world's largest collection of over 65 themed and guided journal titles with something for every age, interest, occasion, or hobby. We all have unique thoughts, life experiences, and events, worth remembering. Whatever your age or passion, keeping a journal is a great way capture and recall your thoughts and ideas. Each individually unique keepsake journal makes it easy and fun to record your precious thoughts and memories.
WRITING PROMPTS guide you to capture the things that really matter. Our design makes you want to "Write it Down!".
PRINTED IN THE USA means quality craftsmanship. "Writing it Down!" since 1997.
RECYCLED, heavy-duty 70 lb, acid-free, ivory paper, and soy-based ink.
NATURAL KRAFT COVER features a black beveled frame and a long-lasting durable hard cover design with a hand-crafted look.
Other Things for Camping Journals
Consider these additional ideas to use in conjunction with your camping journal prompts!
Sale
BSIRI Pencil Wood Graphite Wooden Tree Rustic Twig Pencils Birch of 12 Camping Lumberjack Decorations Party Supplies Novelty Gifts Bark Pencils Gifts for Kids in Classroom
PENCILS UNIQUE GENUINE – Tree pencils for kids come with fancy claims of lasting for a long time, but their quality deteriorates quickly after purchase. A wooden pencil of set 12 is manufactured using authentic wood of the finest quality, so rest assured they won't break or crack easily.
PENCILS FAVORS GIFTS – A graphite pencil set of rustic wooden pencils will be much appreciated by the artist. If you have a friend who is an artist or someone is in the family a budding writer, this is a lovely opportunity to present a gift that is unique office supplies rustic and enjoyable at the same time.
COOL PENCILS NATURAL – Each pencil is made from real tree branches, so no two pieces are the same. Notice that the scratches and pallor of wood have been kept as intact as possible, so the natural look isn't spoilt. These pencils are fantastic décor elements and look marvelous even if you are just displaying them.
CUTE SCHOOL SUPPLIES FOR TEEN GIRLS AND BOYS – The cool school supplies for teachers and students classroom decorations, outdoor activities, kids camping party supplies proper to nature, hunting trips with friends, and so on. They work as a grand wedding favors too.
RUSTIC PARTY DECORATIONS – Always have some wooden pencils at the house for party supplies decorations, outdoor decorations, outdoor party supplies and office decor on your work desk for unique office supplies. You can also keep a bedside table, in the living room, or dining space, as they are incredibly handy when you need to jot down information quickly.
Stickers for Water Bottles Outdoor, Nature Stickers Camping Stickers Adventure Stickers for Yeti Stickers for Cooler Stickers and Decals Waterproof Vinyl Stickers for Teens Boys Kids,Girls 50Pcs
⚡Stickers for water bottles-You would receive the outdoor stickers patterns you see in the pictures.No random delivery and no duplicates.High quality vinyl cooler stickers pack,Waterproof Snow protection and Anti-sun,Safe and Non-toxic,Durable and Protected against wear and tear.
⚡Nature stickers-Size:Around 2-3.5 inch each.You would receive the camping stickers patterns you see in the pictures.No random delivery and no duplicates.
⚡Adventure stickers as Halloween Thanksgiving Christmas New Years birthday gifts for teens boys girls kids.decoration supplies for family to stay at home and outdoor.Perfect hiking stickers personalized DIY the thank you cards,invitation letter envelope and christmas wrapping paper.
⚡Camping stickers for kids as camping party favors,baby shower,room decor and school supplies.Adventure party game and carnival rewards,candies and cookies bags fillers,trendy add-on gifts.Adding cooler stickers into the goodie bags,halloween treat bags,gift tags,christmas stockings,christmas tree elk socks are very funny.
⚡Outdoor stickers decoration for Water Bottle,Cooler,Hydro Flask,Mountain Bike,Laptop,Tumbler,Computer,Tablet,Phone Case,Headphones,Charger,Bluetooth Speakers,Notebook,Scrapbook,Bullet Journal,Binders,Luggage,Skateboard,Helmet,Bumper,Car,Motorcycle,Refrigerator,Desk and furniture ect.
36 Sheets Stickers Set, Camping Stickers Set Decorative Sticker Collection for Scrapbooking, Calendars, Arts, Kids DIY Crafts, Album, Bullet Journals (Camping Theme)
Patterns: Camping stickers including camping essential tools, outdoor survival tools and kits, camping cooking and dining patterns stickers;
Material: Washi Paper Stickers; Size: 80*160mm (One Sheet);
Package Included: 6 Packs including 36 sheets stickers (6 Different Patterns Sheets in 1 pack)
Grass-blade stickers is worthy of the great planner, scrapbooking, calendars, arts, kids DIY crafts, album, bullet journals.
Application: Ideal for scrapbook, crafts, planners, stationery or to embellish your journal/diary and more.
Sale