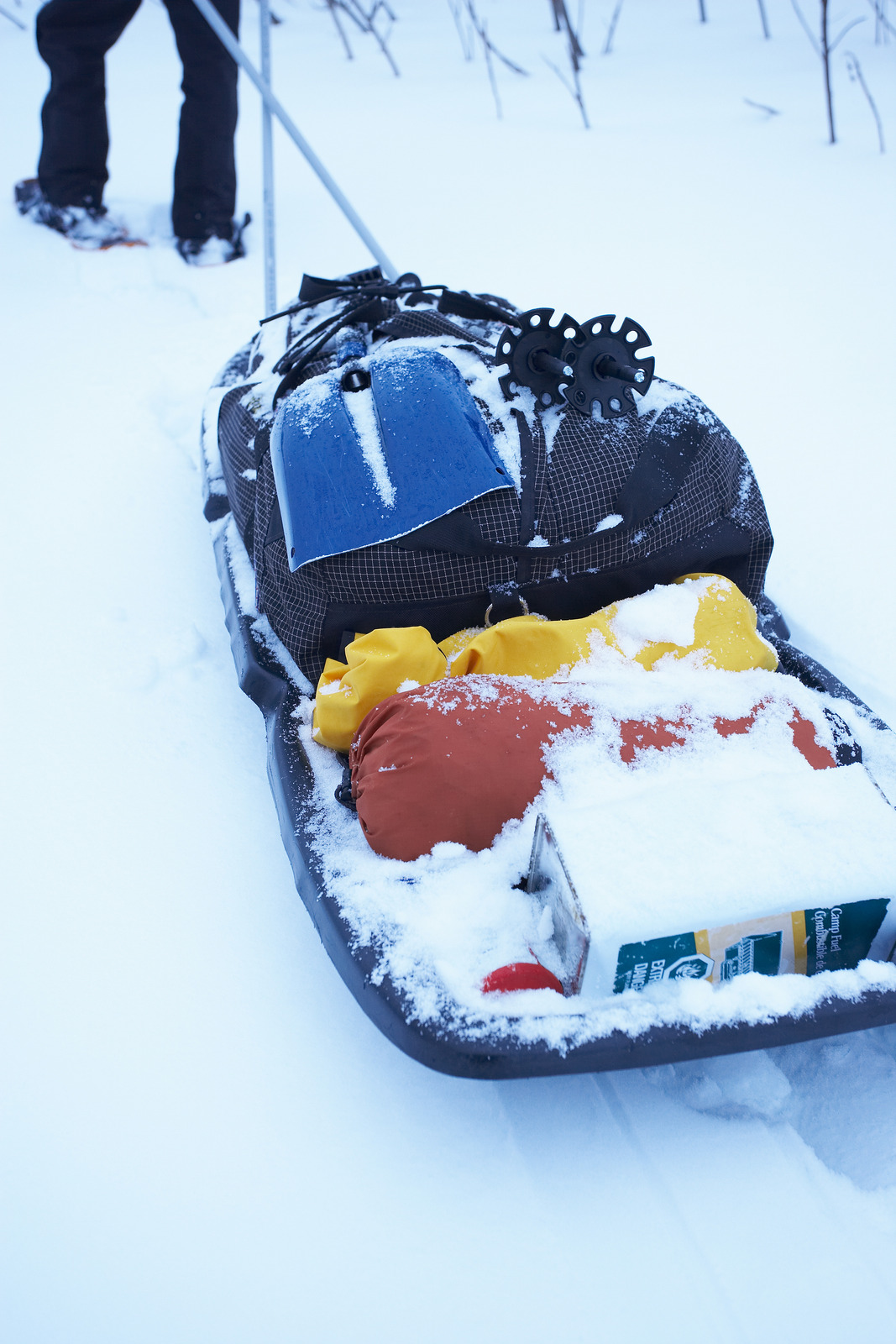 Snowshoeing is a great way to experience Winter and stay active during the colder months. But we've been struggling to figure out the best way to bring our gear and our 3 year old. So I did a little digging to see what the best option for a longer trip was and I came across the idea of snowshoeing with a sled.
Learning how to snowshoe with a sled makes a huge difference when carrying gear or going with kids. With just a few supplies, you can enjoy longer treks that are more enjoyable and easier on your body.
Pretty awesome, right? It solves a ton of problems for those with extra gear (especially if you're Winter camping) or for those with tiny humans with small stamina. Let's see what snowshoeing with sleds is all about.
Why Use a Sled for Snowshoeing?
First, let's jump in why you should go snowshoeing with a sled.
Gear
If you want to bring more gear than you can carry in a backpack, this is a fantastic option. And even if you can carry all of your gear in your backpack, this may be a better option than cramming it all in your pack.
It's much less taxing to pull your gear behind you in a sled than on your back.
Deep Snow
The more you carry, the more you're likely to sink down into the snow. Not only will this make the trek harder, it also increases the likelihood of you getting wet in the snow.
Kids
If you're snowshoeing with kids, there is a good chance you'll hear "I don't want to snowshoe anymore." And if you're like us, there's an even higher chance it'll be when you are as far away from the car as possible.
Sleds solve the problem. They can pop off their snowshoes, hop in the sled, and your back won't suffer from having to carry them all the way back. And you won't have to cut your trip short.
Going Downhill
If your trek includes going downhill, snowshoeing with a sled is an obvious choice. All you have to do is hop on your sled and ride it down to the bottom. It's a fun way to give your legs a rest!
(Use your common sense with this one though. Skip the steep slopes and use the sled for smaller, tamer hills that are easier to manage. Some hills are not meant for sledding or snowshoeing for that matter.)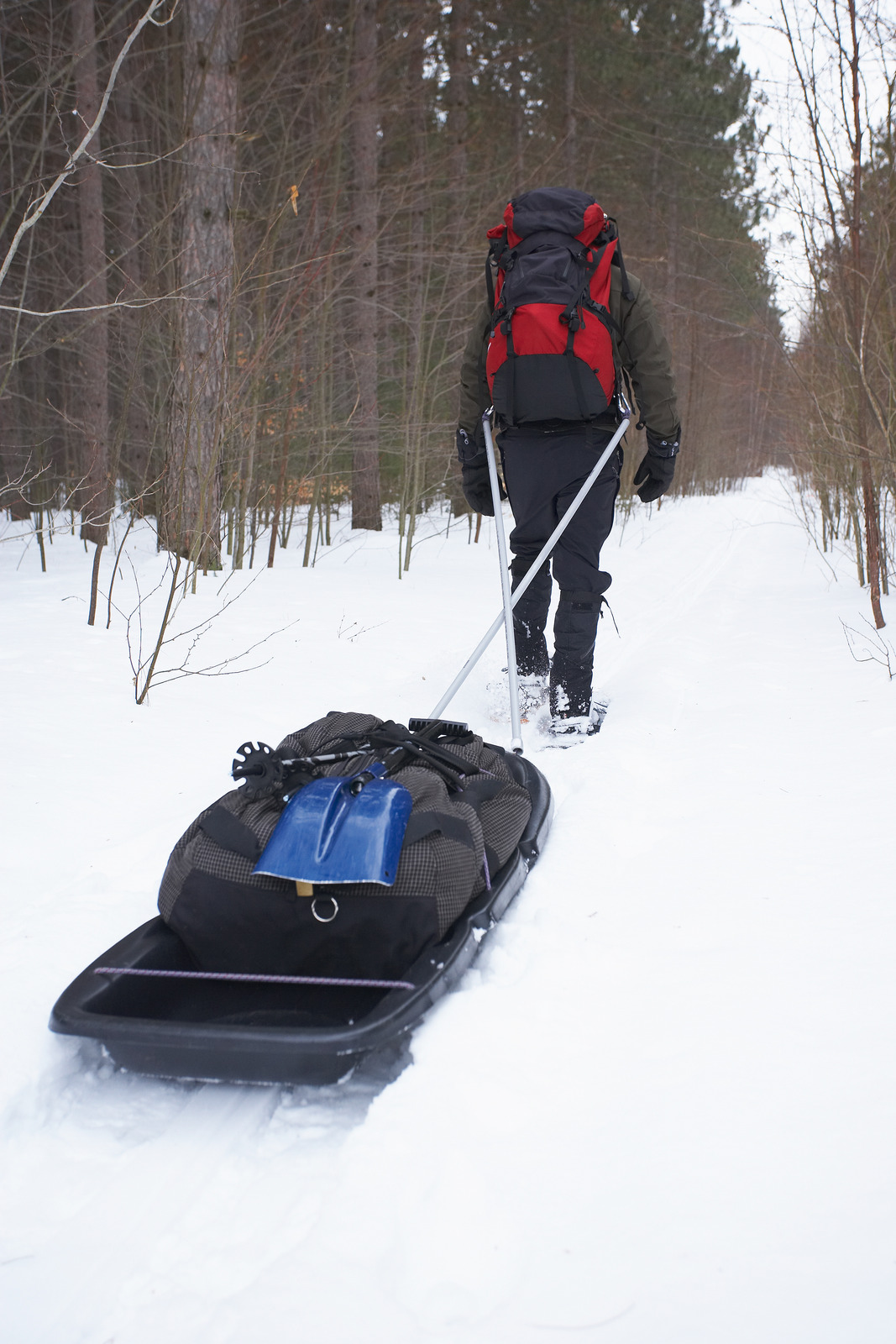 How to Choose Your Sled for Snowshoeing
There's a lot of options out there when it comes to sleds for snowshoeing. A common sled that it used for snowshoeing and skiing is a pulk sled (more on that below), but there are a few key features you'll want to pay attention to regardless of what type of sled you get.
Design
Look for a smooth curved front that will allow you to more easily go over snow.
You'll also need a sled that has holes for attaching the tow rope to. Sleds with holes for bungee cords or straps are also a nice feature, but these can be added later if needed.
Size
Aim for the shortest sled possible. The shorter a sled is, the easier it is to maneuver when pulling it. Base the size you get on what you'll be carrying.
Small kid only? Base it off of their size.
Gear only? Base it off of how much gear you need for the length of the trip.
Gear and kids? Base it off of how much you're willing to pull. Decide if you need to split it into two sleds (if multiple people are capable of snowshoeing with a sled) to even out the load.
What is a Pulk Sled?
Pulk sleds are rigid sleds that are hulled with sides that help keep the gear inside the sled.
These types of sleds allow for easier turns in deep and shallow snow based off of their design. Some pulk sleds will have fins along the back to assist in pulling it across slopes.
Pulk sleds were originally made out of wood, but are now commonly made out of plastic. They are commonly used in Norway, Sweden, and Finland for pulling behind snowshoers and skiers, but also as a toy for sledding down hills.
Pulk sleds are also known as Ahkio sleds and are commonly used by the United States military.
Sleds to Consider:
Shappell Kodiak 1 Sled
Product Type: Fishing Equipment
Package Dimensions: 23.114 L X 62.23 W X 134.62 H (Centimeters)
Country Of Origin: United States
Package Weight: 6.759 Kilograms
Frebento Terrain Sport Sled D54 (Black, 4.5-Feet)
Whether you're hauling your gear, hunting, fishing or just sledding for fun, the KL Industries sport sled works well
Easy to pull by hand, snowmobile or ATV, this sled features a heavy-duty thick tow rope and a ribbed bottom for navigating across snow and ice
This hunting sled is specially engineered with high impact polyethylene material to offer optimum durability and lightweight portability
Boasting huge capacity and a large dimensional footprint, this polyethylene sled can even be used to haul Christmas trees
Spacious enough to hold a five-gallon bucket, this sled has nearly limitless potential uses
How to Load Your Sled for Snowshoeing
You've got your sled and you're ready to tromp through the woods, but you have to load your sled before you hit the trail. While it's tempting to just toss your gear in there and strap it in, these tips can help you avoid a few disasters.
Keep your load low. The higher the load, the more likely it is to flip. Remember this when deciding what size of sled to buy – longer is better if you have more gear.
Keep the heaviest items low and in the center of the sled. This will help prevent it from tipping over.
Pack the lightest items in the front of your sled to allow you to more easily lift the sled over any obstacles.
Pack your least waterproof gear in the rear as the snow is less likely to pile here.
Pack your gear in waterproof duffle bags for the best protection. Not only will this protect your gear, but it will also make it easier when you reach your destination. You'll just be able to grab a bag or two versus individual items. It also helps prevent items from falling out of your sled.
Use bungee cords or straps to keep everything in place in your sled. Double and triple check them before you go to ensure nothing slips out as you're unlikely to notice it right away.
How to Pull Your Sled While Snowshoeing
The sled is loaded and you're ready to haul it behind you, but how? There are two common ways to attach a pulk sled to you: ropes and poles. Here's an overview of the pros and cons of each.
Attaching a Sled: Ropes
Pros:
Enhance mobility
Absorbs shock
More affordable
Cons:
Allows the sled to cut corners
The sled can run you over as sleds will move more quickly than you do downhill.
Attaching a Sled: Poles
Pros:
Forces the sled to follow behind you
Stabilizes you on slopes
Cons
More expensive
Need to be unhooked for you to access your sled
How to Decide What to Use?
Look at the pros and cons and decide what pros/cons matter most to you. Both work for snowshoeing with a sled. We've decided on using the ropes with a chest harness (or with a backpack that has a hip belt) because it makes the most sense for our family.
When Not to Use a Sled When Snowshoeing?
For most people, using sleds while snowshoeing will make the trip easier. But there are a few situations where a sled isn't the best option for snowshoers.
Steep slopes, rocky terrain, and narrow trails are these instances. Sleds have the potential to drag you downhill on steep slopes. Rocky terrain can puncture your sled or cause you to get stuck. And narrow trails can make maneuvering a sled nearly impossible.
Other Snowshoeing Gear To Consider
Snowshoes – These snowshoes are Amazon's #1 choice and have stellar reviews.
Trekking poles – We love using poles for getting around snowshoeing and hiking. These are great because they can be used for both.
Electric Gloves – Keep your hands nice and warm while you're outside! Tip: If you're going on longer trips, consider getting extra battery packs.
Super simple, right? Snowshoeing with gear or kids can feel super intimidating (it did for me at least) until you take a good look at this simple fix. Snowshoeing with a sled really can make a snowshoeing trip so much easier and more enjoyable for the whole family.
I hope you're able to get out and enjoy Winter even more now! And once you've mastered snowshoeing, try one of these other outdoor winter activities for families.