If you're looking to make some easy camping food on your next family camping trip, we've got your camping kitchen covered with this list of the best camping cookware.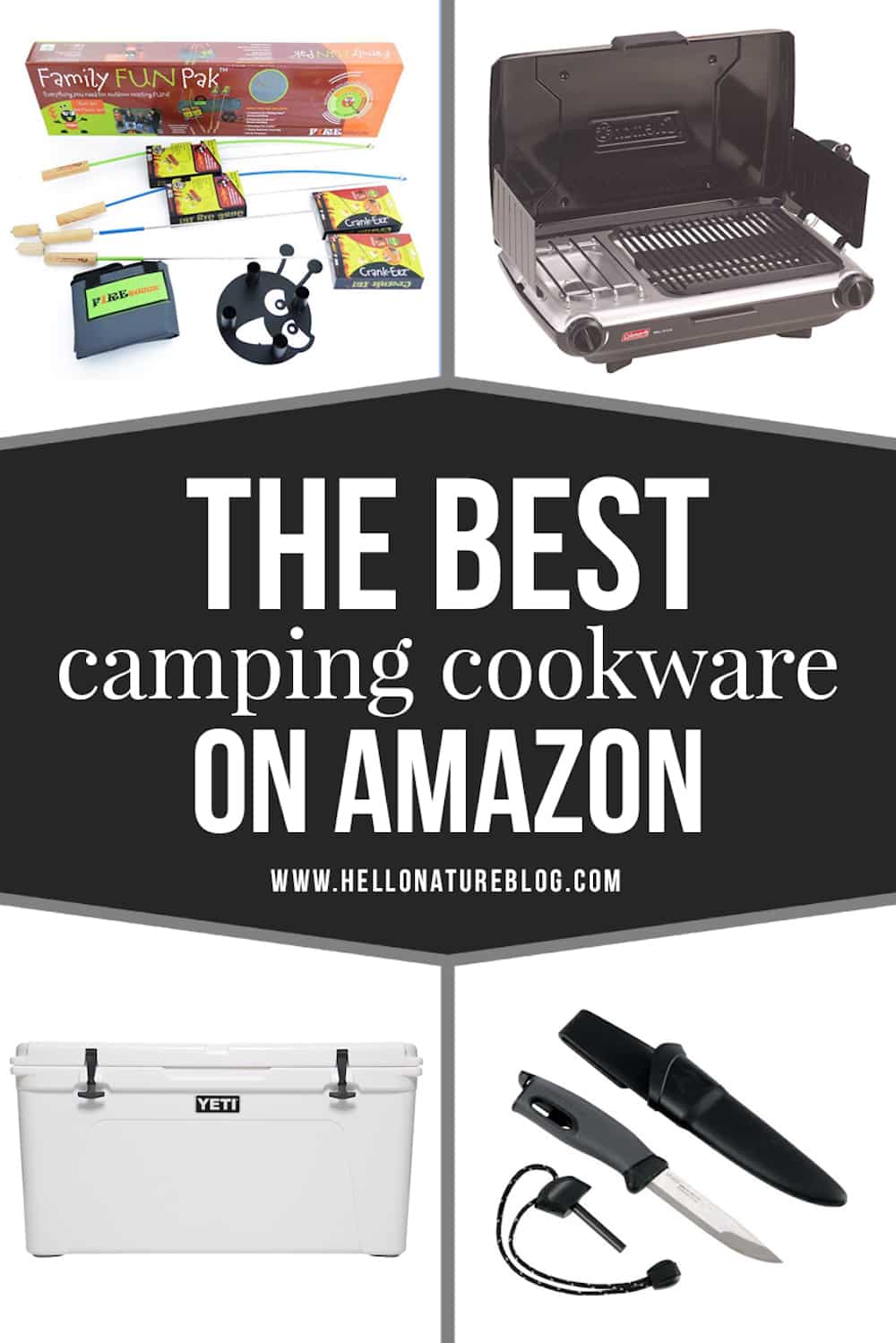 You walk out of your tent in the morning and smell pine trees and campfires. You immediately get hungry for some tasty camp breakfast. All you need is the best camping cookware out there. I've got you covered!
We've assembled an awesome list of the best camping cookware and equipment to give you the best camping kitchen in the campground. Get everything in 2 days or less with your Amazon Prime membership. If you don't have Prime, try it free for 30 days!
 Open Country 4368-0085-30 Non-Stick Covered Kettle, 2-Quart
MSR Alpine Fry Pan
KingCamp 17 Pcs Portable Hard Anodized Aluminum Camping
CO-Z Cast Iron 3 Piece Skillet Set 6",
CO-Z Pre-Seasoned Cast Iron Dutch Oven with Lid
The Ringer – The Original Stainless Steel Cast
Camping Cookware
Your basic camping cookware set should have a quality frying pan and pot with lid. There are a ton of different materials available. Lightweight aluminum cookware is great if weight is a concern. You can even get this awesome aluminum camping cooking set.
You can't go wrong with cast iron. It is the classic camping kitchen cookware. Cast iron pans are awesome for cooking over the fire as it can handle high heat extremely well. Dutch ovens are another classic camping essential. Like the cast iron pans, cast iron dutch ovens also handle the high heat of camp fires with ease. Don't forget this handy grill glove to avoid burning yourself while removing hot pans from the fire. It handles over 900 degrees with ease.
A note on cast iron:
Cast iron intimidates a lot of people because its not something you wash with soap and water and move on. Cast iron requires care, but it's not hard. Always buy preseasoned cast iron as this will cut down on initial care. The beauty of cast iron is that it gets layers of flavor over time. Grandma's 30 year old cast iron will always be better than a new one.
Never, ever use soap in your cast iron as this will remove the layers of flavor and possibly rust your favorite camping cookware. Immediately clean the cast iron with water when you're done cooking, preferably while its still hot. I highly recommend this chain mail for cleaning cast iron. It is the best and easiest way I've ever found to get all the stuck on bits out. All you need is hot water and the chain mail. Afterwards, put a bit of cooking oil in the pan and spread it around with a paper towel. This prevents the cast iron from rusting.
Cuisinart C55-01-12PCKS Advantage Color Collection 12-Piece Knife Set,
Light My Fire Swedish FireKnife with 9.5 cm
Silicone Kitchen Utensil Set, 10 Piece Best Kitchen
Resort Chef Cutting Boards for Kitchen – Set
Gonicc Professional Stainless Steel Manual Can Opener(Red), 18/10
Prep Utensils
Quality kitchen knives are a must for home and camping. This ceramic knife set is easy to clean and comes with individual sheaths for safety. My favorite knife for my camping kitchen is the Light My Fire Swedish FireKnife. It is awesome for prep work. The best part is the fire steel flint that comes out of the handle. You slide the FireKnife down the flint to cause sparks to start a fire. It's awesome!
The last items you need for your prep utensils are a good silicone utensil set and a good can opener. This 10 piece set comes with the silicone utensils you need. This is a quality can opener that comes with a bonus corkscrew. You also need cutting boards. I like this set because it comes with 4 boards with different food icons. Cross contamination isn't something to mess around with, especially while camping.
Texsport Heavy Duty Over Fire Camp Grill
Texsport Heavy Duty Barbecue Swivel Grill for Outdoor
Camping Tripod Campfire Cooking Dutch Oven Tripod Adjustable
Coleman Perfect Flow Grill Stove
Coleman 2000016462 Camp Oven, 13.5 x 12.9 x
Silicone BBQ Grill Gloves, Vikeepro Superior Heat Resistant
Stansport Folding Camp Stove Toaster
Coleman 2000020276 Pack-Away Portable Kitchen
Outdoor Gear
Cooking outside over a stove or fire is one of my favorite parts of camping. If you're looking to use a stove, I highly recommend the Coleman Perfect Flow. It is both a stove top and grill top. If you're looking to have some extra fun while cooking, try the Coleman Camp Oven. It's designed to fit on top of any Coleman stove. You can bake up fresh biscuits and muffins. It even folds down for compact storage.
If you're looking to cook over the fire, there are 2 types of cooking grates to choose from. There is the flat, across the fire grate and the swivel grate. They both have their advantages. The flat grate handles a lot of weight but is only one height. The swivel model adjusts up and down and can swivel off of the fire; however it doesn't handle the weight of a dutch oven very well.
If you're looking to cook with a dutch oven, I suggest the flat grate or a dutch oven tripod. The tripod can be adjusted up and down and can handle the weight of a dutch oven. I don't suggest a tripod with a hanging grate. They tend to be very flimsy. Any sort of wind will blow your grate around.
Lastly, 2 other accessories are a toaster and a camp kitchen. The toaster is super easy to use over the fire or a stove. The camp kitchen will make all your prep work super easy!
Coleman 12-Piece Stainless Steel Flatware Set
Coleman 12-Piece Enamel Dinnerware Set
Coleman 24-Piece Enamel Dinnerware Set
Eating Utensils
After all your hard work you don't want to eat with your bare hands on your lap. Pick up this great set of utensils. This 12 piece dinnerware set has all your cups, plates, and bowls. You can also go with the combo pack. We have this exact set and love it!
Aoocan Marshmallow Roasting Sticks, 32-Inch (Roaster Sticks Set of 8)
Firebuggz Family Fun Pak Campfire Roasters
Hershey's 01211HSY S'mores Caddy with Tray, Brown
S'mores Equipment
If you were playing family feud, S'mores would be the number one answer under what to eat while camping. So it gets it's own category here.
You can go with some classic marshmallow sticks. They are super long to ensure you don't get too close to the fire. If you're looking to have a fun time with kids of all ages, you have to get the Firebuggz Family Fun Pack. It is a pack of 4 fishing poles and a pole holder. It can hold 4 marshmallows or 2 hot dogs. You dangle it over the fire and with a flick of the wrist, the marshmallows flip over to the other side. So much fun! We use this exact set every time we go camping.
And don't forget the Hershey's S'mores tackle box to complete your fishing set!
YETI Roadie 20 Cooler
YETI Tundra 110 Cooler White
YETI Rambler Vacuum Insulated Stainless Steel Colster
Coolers
Unless you have a huge class A motorhome with a full size fridge, you're going to need a quality cooler. I can't recommend a better brand of cooler than YETI. They make the best cooler for camping hands down. They are pricey but well worth it in the long run. Your ice will last for days. It is super annoying to have to run out for ice multiple times while camping. This takes time away from your trip, costs you more money, and raises food safety concerns if you don't new ice in time.
First, there is the YETI Roadie. It is compact and holds up to 14 twelve ounce cans when packed with the recommended amount of ice. Then there is the ultimate cooler. If you're willing to make an investment, you won't be disappointed. The YETI Tundra 110 is the best cooler you can get. And don't forget to keep your beverage cold with the amazing YETI Rambler vacuum insulated can cozy!
A side note on coolers:
I would consider having 2 coolers. I would use one for meat and one for beverages. Again, cross contamination isn't something to mess around with. If only one cooler is an option, place your meat in the bottom in sealed bags. If there is leakage, then meat juice won't contaminate your beverages and produce. No one wants to get sick especially while camping.

Stanley
Stanley is by far my favorite brand of camping cookware and accessories. Stanley cooking sets are the perfect combination of quality and price. This Stanley cooking set is perfect for four people. You can use this Stanley insulated food jar to keep small amounts of food hot or this Stanley crock to keep a large amount of food hot.
And if you're looking to keep things cold, I highly recommend the Stanley cooler and growler. I used the growler on a road trip from Wisconsin to Florida. There was still ice in the growler after a day and a half in the car. It's awesome!
Learn More About Family Camping
Now that you've got the best camping cookware, its time to get set for the rest of your next trip camping. Check out this post for some easy camping recipes for your next family camping trip. Or this one for 23 mouthwatering campfire recipes! Need some awesome drink recipes? Check out these tropical punch and this S'mores Latte recipes.
Don't worry about safety on your next family camping trip. Learn about what to pack for your dog, how to build a camping first aid kit, and 5 natural ways to repel mosquitos.
Not sure which way to go? Learn if a tent or RV is better for family camping trips.
Make sure you eat your camp food in style. Check out these camping themed accessories for nature lovers plus host a sweet girl's camping themed birthday party.
After eating while camping, the next best thing is to get out into nature. Check out this free email series on Hiking with Your Family.
If you found this helpful, I would greatly appreciate you sharing this on Pinterest!