This Valentine's Day Taco Bake makes dinner easy for this love-filled holiday. You'll be able to worry about each other instead of dinner.
---
---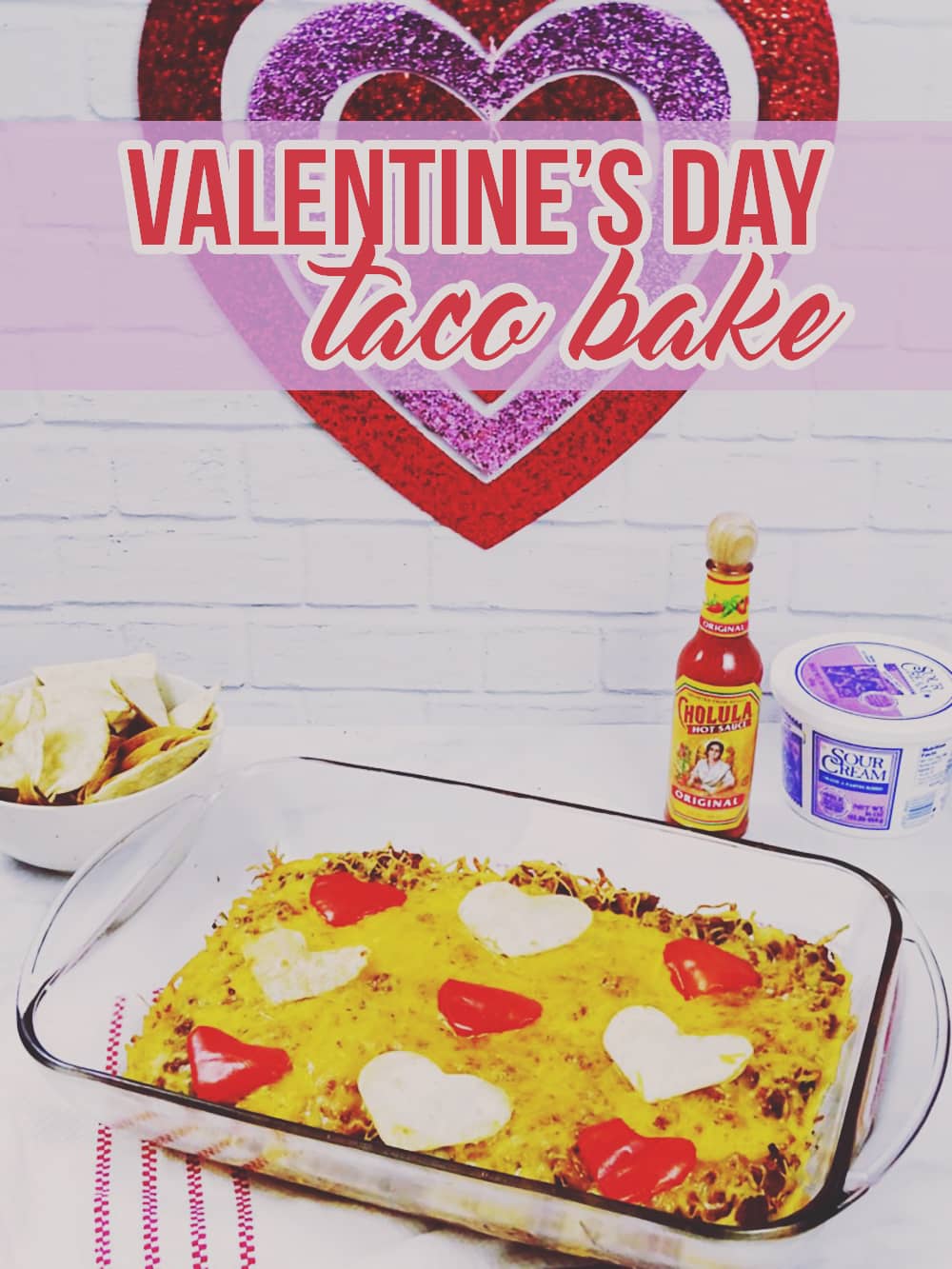 Hi everyone! It's Jessica from Living La Vida Holoka and I'm back as Hello Nature contributor. I will be posting at least once a month. Hopefully throughout the year, I will be able to bring you tasty new recipes, exciting new craft projects, and most likely pet-related posts somewhere in the mix, too!
The last time I posted here, I shared a delicious Chicken and Apple Caesar Salad Wrap. I talked about eating better and taking up meal prepping. That all went south when the holidays hit, so I've been getting back on track this month and doing pretty well so far!
We take taco night pretty serious around here. Taco Tuesday isn't just a dinner celebration. It's kind of a way of life for us! But regular beef tacos can get kind of boring when you're eating them on a weekly basis. Instead, I've been switching it up every now and then with easy taco bakes. So today, I wanted to share an easy Valentine's Day taco bake recipe. This recipe makes a lot! You'll be able to feed a crowd or use it for meal prepping (like I did).
I've been having so much fun making taco bakes with holiday themes. Previously, I made a Halloween taco bake that resembled a mummy. Over the holidays, I made a Christmas taco bake with a tortilla Christmas tree on top. Since Valentine's Day is right around the corner, I knew I had to make a Valentine's Day taco bake! I used heart a couple of heart cookie cutters to cut out red pepper and tortilla hearts. The rest of the taco bake was made following the recipe I've used for my other holiday taco bakes. Eat your heart out!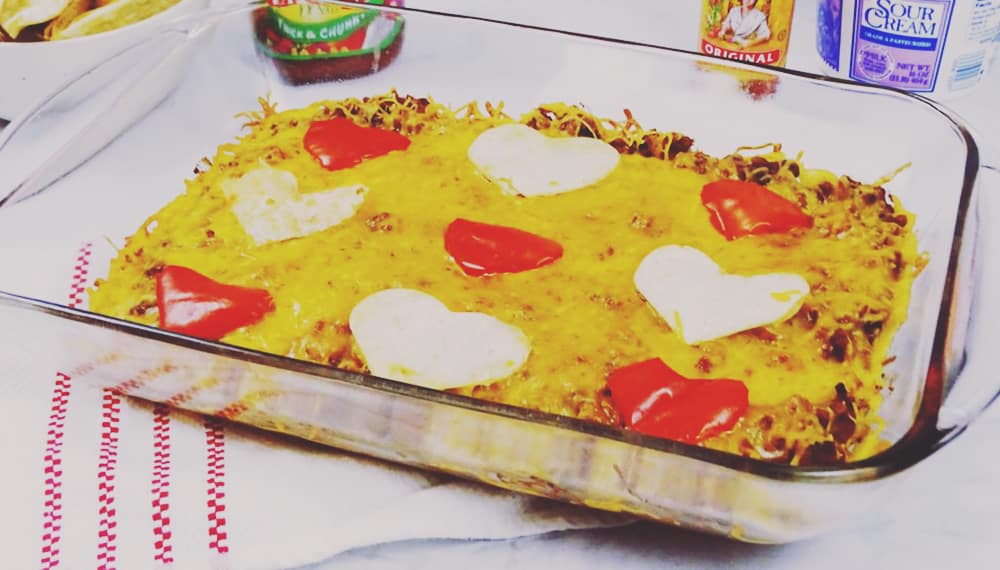 Valentine's Day Taco Bake
Ingredients
1

pound

of 80/20 ground beef or ground turkey

1

packet low-sodium taco seasoning

1

can fat free refried beans

1

can green chiles

drained

1

soft tortilla

1-2

medium red peppers

Approx. 1-2 cups shredded cheddar cheese

Tortilla chips

for serving

Sour cream and hot sauce

for topping
Instructions
In a skillet, brown the ground beef over medium heat. Drain.

Place ground beef back onto heat and stir in taco seasoning (prepared according to package).

Mix in refried beans and green chilies. Stir to combine.

Lightly spray a casserole dish with non-stick cooking oil.

Spread ground beef mixture evenly in casserole dish and sprinkle cheese evenly on top.

Use a heart shaped cookie cutter to cut hearts out red peppers and a soft tortilla.

Decorate taco bake with the cut out hearts.

Bake taco bake 20-30 minutes, or until cheese starts to bubble.

Serve the taco bake with with sour cream, hot sauce, and tortilla chips, if desired.
Recipe Notes
Don't discard the excess from the red peppers and tortilla. Chop up the extra red pepper and use it in an omelet or a salad. Cut the extra tortilla into strips and bake until crunchy. Use them to top salads or soup.
Since I've been eating a lot healthier lately, I made my Valentine's Day taco bake using ground turkey and sprouted grain tortillas. If that's not your thing, feel free to use any type of ground meat and soft tortilla that you like. As I said before, this taco bake makes a lot so I divided it into six portions. That way my husband and I could both have lunches during the week.
I usually serve these taco bakes with tortilla chips, but I didn't have any on hand the night I made this. Instead, I cut triangles out of a couple of tortillas, sprayed them with cooking spray, and baked them for about 5-8 minutes, or until they turned golden brown. It worked out perfectly!
A taco bake might not be your idea of a romantic meal for Valentine's night. But it might be a fun recipe to make if the kids are having a Valentine's Day party (just tone down the spice for your littles) or you're having friends over for a Valentine's Day gathering. One thing's for sure – it'll certainly warm up your heart!
You might also like: