Looking for a fun way to shake things up at lunch? This Chicken and Apple Caesar Salad Wrap is the perfect option for a fun, quick meal!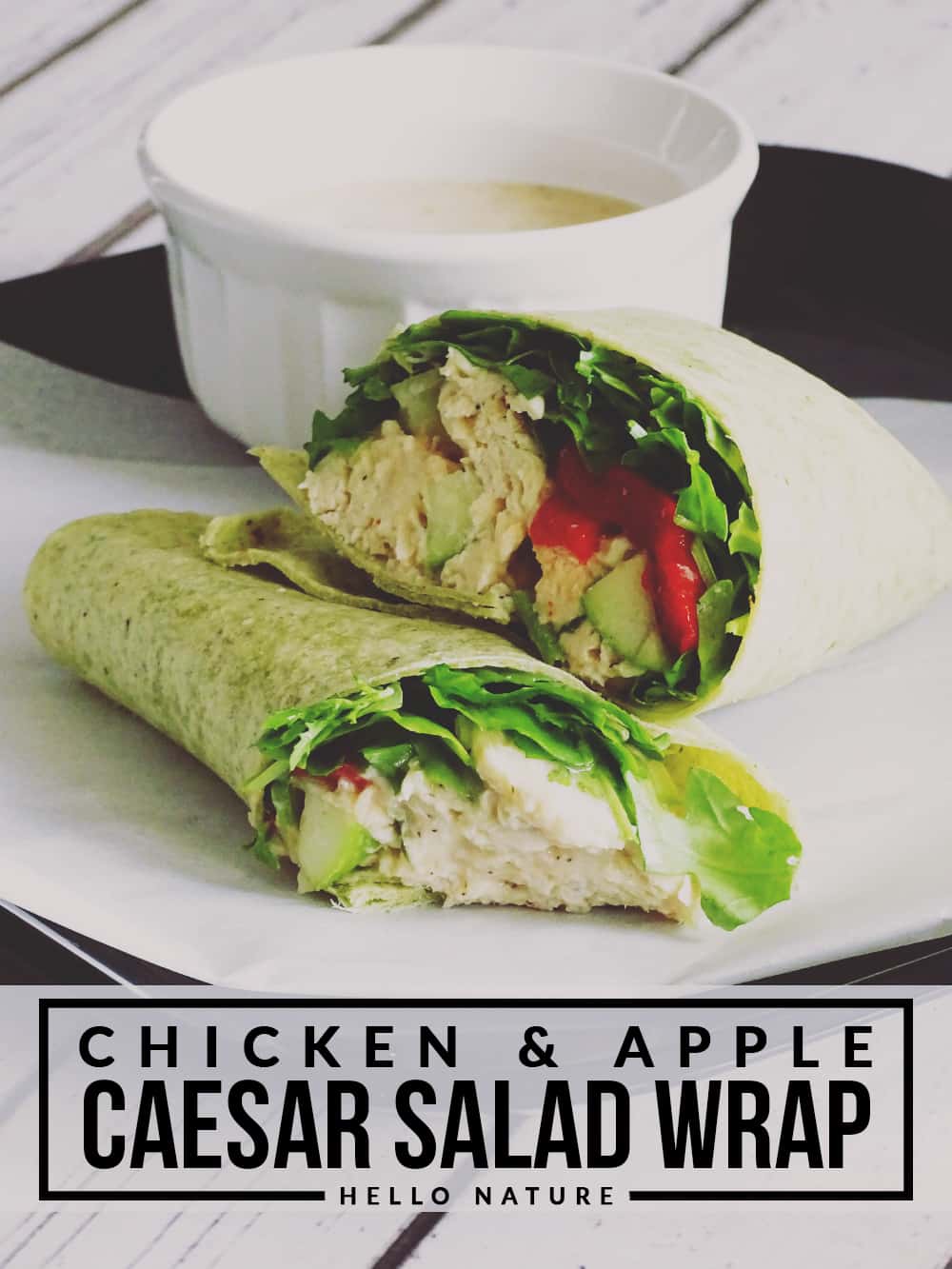 In an effort to try and eat a little better, I recently started meal prepping for the week. One of my favorite meal prep essentials is a rotisserie chicken from the grocery store. They go on sale a lot and they're perfect for feeding a small family. It's just my husband and me, so one of those chickens goes a long way for us. Between the two of us, we get a couple of dinners and a few lunches out of one chicken. What I don't use right away, I shred and stick in the freezer.
A couple weeks ago, I was looking through the An Apple a Day cookbook and started flagging recipes like crazy! I found a few recipes for chicken and apple wraps. I knew they would be perfect for using some of my left over rotisserie chicken! This Caesar salad wrap was one of the recipes I couldn't wait to try for lunch one day!
Caesar salad is one of my all time favorite salads! It's not always the healthiest of salad choices, but boy is it good! So turning it into a wrap and moderating the amount of dressing definitely helps cut out some of those nasty calories. I am also a carb lover! So wraps, sandwiches, quesadillas, tortillas – they're all my jam!
The great thing about this Caesar salad wrap is that you could use practically any type of wrap and it would still taste delicious! I used a gluten-free spinach wrap to make mine, but feel free to use any wrap or tortilla you have on hand. The same thing goes for the Caesar dressing! Use low-fat, full fat, fat-free, organic – whatever you've got on hand will work!
chicken and apple caesar salad wrap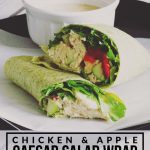 Chicken and Apple Caesar Salad Wrap
Ingredients
1

cup

shredded

cooked chicken

1

small Granny Smith apple

cored and diced

1/4

cup

roasted red pepper strips

1/2

cup

baby arugula

2

tbsp

.

or more, Caesar salad dressing

1

large sandwich wrap of your choice

Freshly grated Parmesan cheese

Salt and pepper

to taste
Instructions
Add arugula and roasted red peppers to the center of the wrap.

In a medium bowl, toss chicken with Caesar salad dressing and season with salt and pepper. Stir in diced apples.

Spoon chicken mixture evenly onto the center of the wrap and sprinkle with freshly grated Parmesan.

Roll wrap up and cut in half. Serve with extra dressing, if desired.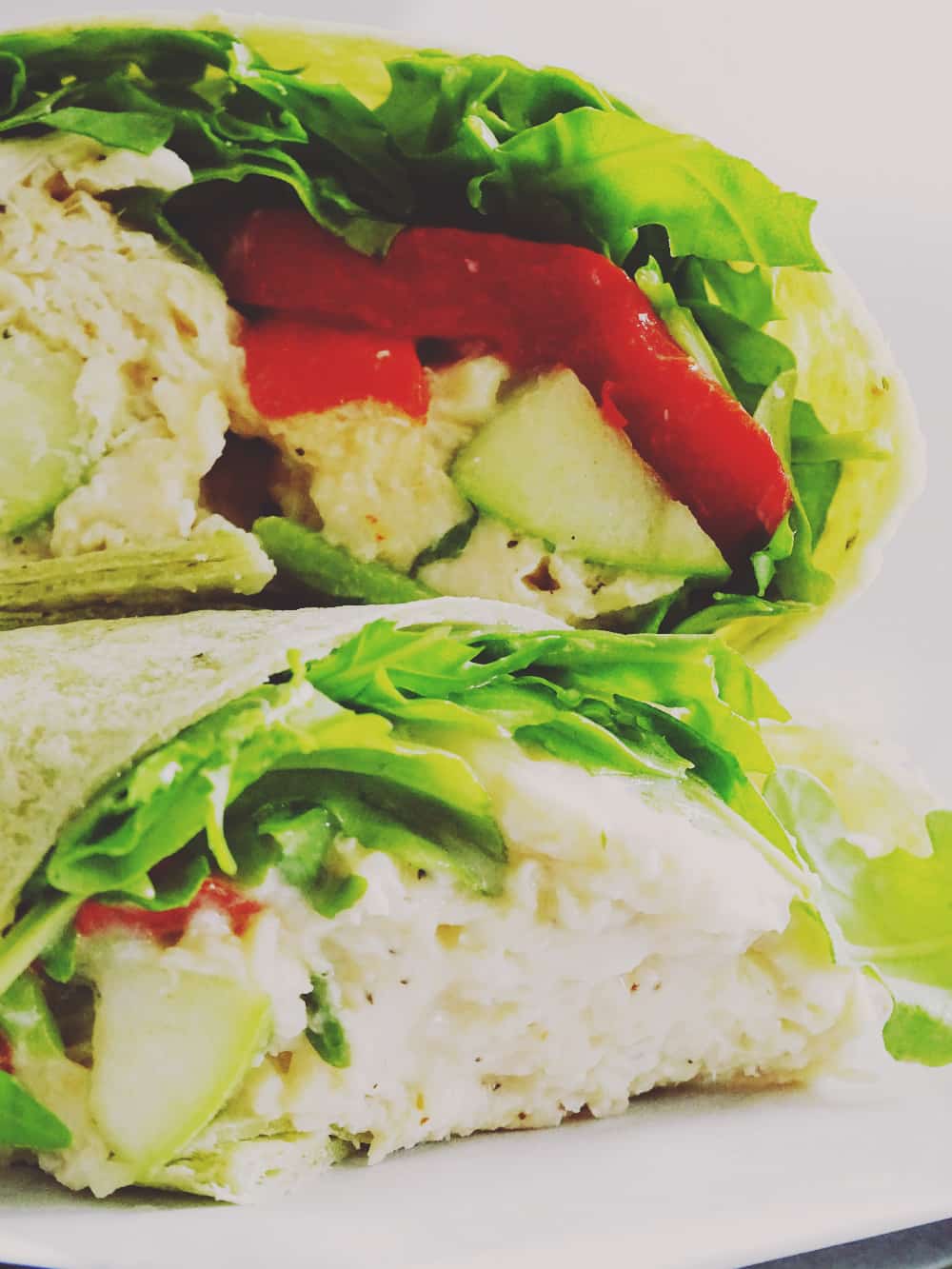 If my excitement for apple picking wasn't strong enough already, thumbing through this cookbook definitely took it to the next level! Until I get to the orchard, I'll settle my apple cravings at the store while I'm picking up my chicken!
This wrap is definitely one I'm going to be making again and again! It had just enough dressing on it to give it that great Caesar salad taste. The crunch of the tart apples was unexpectedly delicious! Everything in this wrap just works perfectly together to make a really great and satisfying lunch!
Let's Chat!
What's your favorite way to use a rotisserie chicken? Do you have a favorite savory apple recipe?
Save
Save