Valentine's Day is just around the corner. If you're planning to spoil your loved one with a romantic Valentine's Day meal, consider finishing it off with love potion tea – it's the perfect Valentine's Day recipe!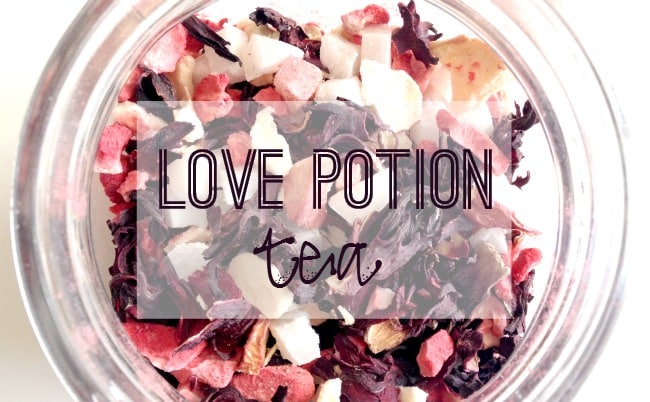 I drink tea all day long. I have quite a collection of loose tea in my kitchen cabinet ready to be enjoyed hot or iced. My favorite teas are herbal fruit infusions. They're caffeine-free so I can drink them continuously throughout the day without getting jittery. Because these tea infusions are packed with fruity flavor, I decided to create my own aphrodisiac-inspired blend to put you in the mood!
Aphrodisiacs are food and drinks said to cause arousal. Did you know that chocolate is traditionally given on Valentine's Day because it's believed to be an aphrodisiac? Some of the most common, every day foods are said to be aphrodisiacs and this includes every ingredient in this tea blend!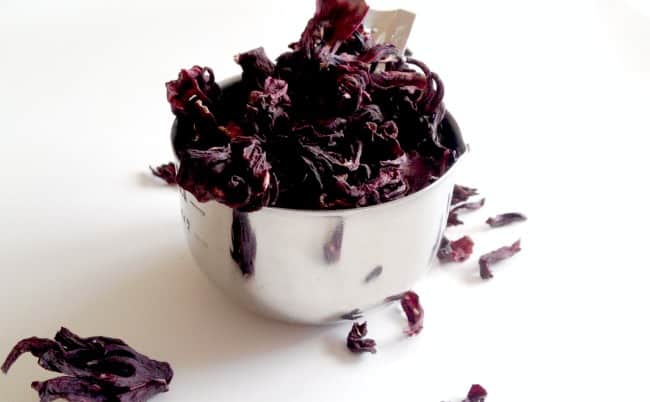 This Love Potion Tea is hibiscus-based. Hibiscus flowers are not only an aphrodisiac, but a good source of vitamin C and may help lower blood pressure. The flowers are known to have a tart, cranberry-like flavor, making them a perfect base for fruit tea blends.
To make this tea blend, I added freeze-dried fruit to the hibiscus base. I chopped up dried coconut strips for additional sweetness and added lemon peel for extra flavor. I have been enjoying this tea hot and iced. When served hot, a cinnamon stick makes a great stirrer and adds a little spice!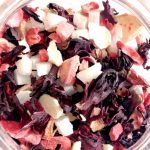 Love Potion Tea
A fruit infusion tea blend that's perfect for Valentine's Day!
Ingredients
- 2 cups dried hibiscus flowers

- 1/2 cup freeze dried apples

- Generous 1/2 cup freeze dried strawberries

- 3-4 dried coconut strips

chopped

- 1/4 cup minced lemon peel

- Cinnamon sticks

for serving
Instructions
In a large bowl, add hibiscus flowers and crush with your hands to break them into smaller pieces.

Add freeze dried apples and strawberries, breaking them up into smaller pieces as well.

Add chopped coconut and lemon peel.

Combine tea blend so it's thoroughly mixed.

Store in an airtight container in a cool, dry place.

Steep tea and serve hot or iced with a cinnamon stick.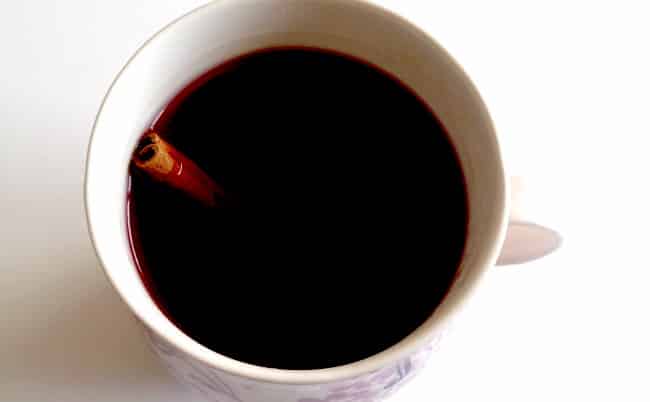 I have a loose tea steeper pitcher and a loose tea infuser cup that I use to make my tea. Other methods include using muslin bags as tea bags or a cold-brewed mason jar method. Add loose tea to the bottom of a mason jar and fill with water. Steep tea in the fridge overnight or until it is chilled completely. When you're ready to serve, strain the tea into a glass.
Whether you're relaxing with a hot cup of tea, quenching your thirst with an iced fruit blend or looking to spice up your Valentine's Day evening, enjoy sipping this Love Potion Tea!