Nothing says Valentine's Day like chocolate. Instead of buying your loved one store-bought chocolates this year, consider making them a set of homemade chocolate bars. Homemade chocolate bars are simple to make, easy to customize and perfect for gift giving!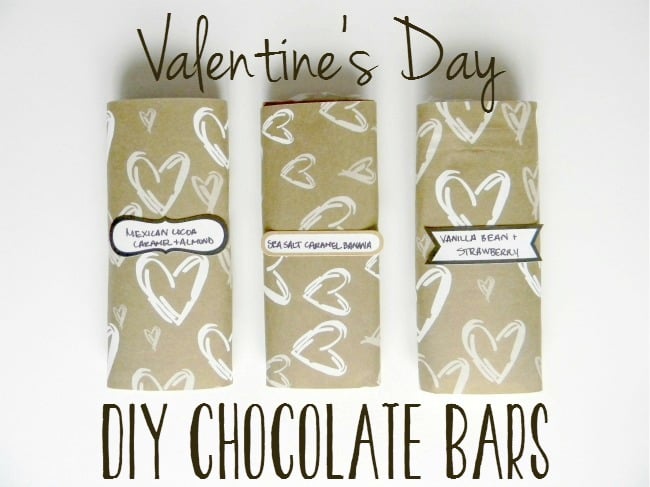 In order to make your chocolate bars, you'll need a plastic mold. These are easy to find in craft stores or online. You'll also be using chocolate candy melts. There are a variety of flavors and colors to choose from. For my chocolate bars, I used milk chocolate, sea salted caramel and white chocolate melts.
There are different methods used to melt chocolate. I melted my chocolate over a low flame, stirring continuously so it didn't burn. The amount of chocolate you use depends on the size of your mold. My mold is shallow so I melted a little chocolate at a time. After using one kind of chocolate, make sure to rinse your pot and utensils for your next batch. Unless, of course, you're getting creative and mixing chocolates for your customized bars!
SUPPLIES
Plastic chocolate bar mold
Chocolate melts of your choice
Add-ins (dried fruit, spices, nuts, etc.)
Plastic wrap or foil
Valentine's Day themed scrapbook paper
Tape
Adhesive labels
Marker pen
STEPS
Over a low flame, melt your chocolate in a small pot, stirring continuously.
Carefully spoon your chocolate into a section of your mold and smooth with the back of the spoon. Clean your over-spill as best as you can with a wet paper towel.
Add dried fruit, spices or nuts to your chocolate. Carefully press your add-ins down into your chocolate.
Repeat until all sections of your mold are filled.
Place your chocolate mold in the fridge until chocolate is solid.
I made three different kinds of chocolate bars – Mexican Cocoa Caramel and Almond, Sea Salt Caramel and Banana, and Vanilla Bean and Strawberry. I sprinkled a little Mexican Cocoa Powder into Milk Chocolate melts mixed with Sea Salt Caramel melts, then added crushed almond slices. For the Sea Salt Caramel bar, I melted Sea Salt Caramel melts and added crushed dried banana chips. For the Vanilla Bean and Strawberry bar, I used white chocolate melts as a base. I split a vanilla bean pod and added the vanilla beans to the white chocolate. Then I crushed freeze-dried strawberries and pressed them down into the chocolate. The fun thing about this project is you can mix and match as you please!
Now that you've made your chocolate bars, it's time to wrap them up! Using a rectangle of plastic wrap or foil, tightly wrap your chocolate bar. Measure your chocolate bar against a piece of scrapbook paper and cut it to fit as a wrapper. Wrap your chocolate bar the scrapbook wrapper and seal the back with tape. On an adhesive label, write down what delicious chocolate bar you've made and stick the label on the front of your wrapper. Stack your bars and tie them up with ribbon or give them to your sweetie in a gift bag!
Happy chocolate making! What kind of homemade chocolate bars would you make?