This strawberry fruit dip recipe is only three ingredients and tastes delicious with fruit, chocolate covered anything, and SO much more!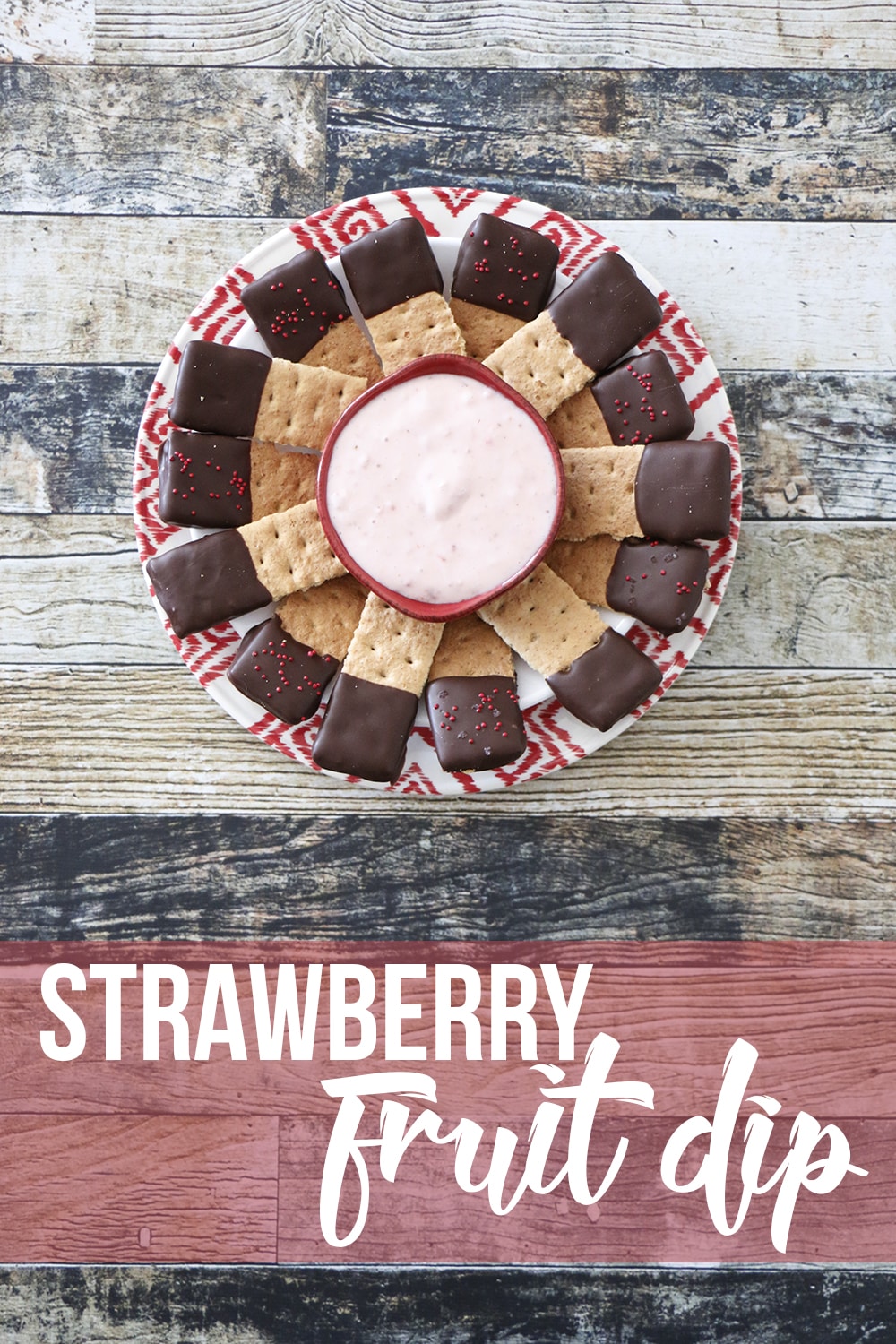 So let's be real here: Valentine's Day is just days away. And for most people, that means one of a couple things:
They've got amazing plans for the day and/or evening and it's going to be the most

gag-worthy

magical of days
They have zero plans because it's a commercial holiday and who likes that sappy stuff anyway? Or they're single and it's the worst day of the year
They've talked about how maybe they'll do something with their significant other, but most likely they'll celebrate like every other night: Food Network and quick dinner that resembles anything but a fancy meal out
Me? I'm #3. I keep trying to push myself to do more since this will be our last Valentine's Day together where it's just us two. But really.. I just want some chocolate covered potato chips while I gawk at the fact that every single kid on the Kid's Baking Championship bakes better than I do while I wear my most comfortable clothes.
And I'm fairly certain Nathan is okay with that. Either because he agrees on that being an awesome evening or because he knows that my pregnancy moods/food cravings generally win. Fingers crossed it's the first one!
BUT.
I want to try to do something a little special. And I'm still working on what that something special is. I probably won't know until Saturday evening when I'm trying to peacefully drift off to sleep. So for those like me, where planning in advance isn't always your forte – this strawberry fruit dip will be the perfect dish to whip up in just a few minutes. And then pair it with the chocolate covered graham crackers and you get this ridiculously amazing s'mores flavor that just screams "this holiday is the best holiday ever now!"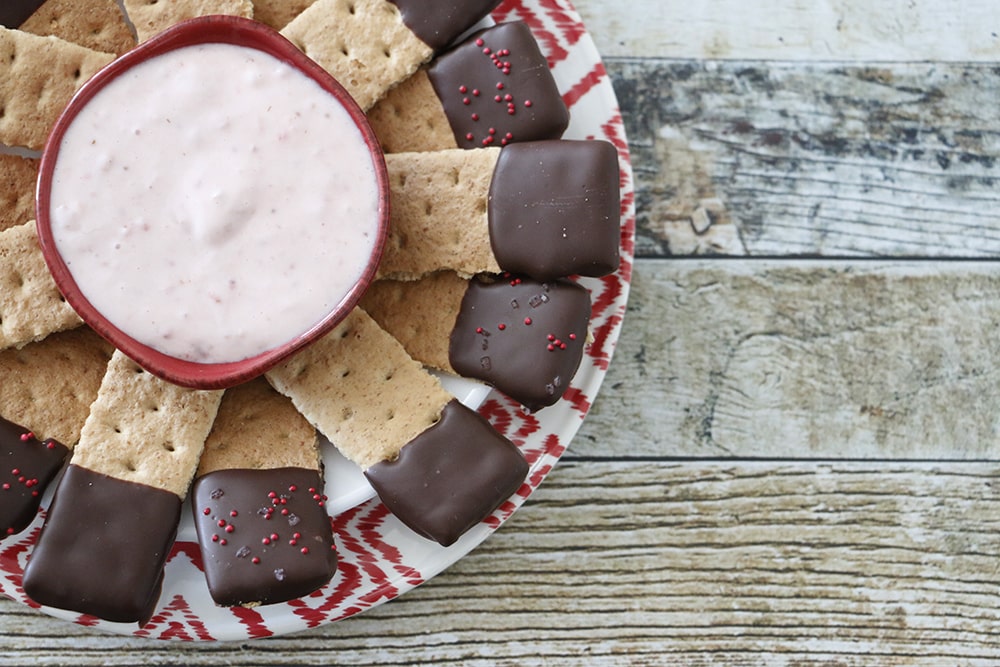 Seriously. This strawberry fruit dip is where it's at.
It's three ingredients, all of which we always have in our house. And I suggest you always have them in your house, too. How else would you make taco dip all the time? Or s'mores with Nutella and marshmallow fluff in the Winter because you're bitter about your fire pit being covered in snow? Or ensure you have delicious fruit to dip in chocolate, and put in smoothies, and MAKE THIS AMAZING DIP?!
If that didn't confuse you, good. You know the three ingredients are cream cheese, marshmallow fluff, and strawberries. If it did confuse you, I'm sorry. Taco dip and fake s'mores have been a pretty big part of my pregnancy cravings so these are the things that I dream of. Sweet dreams really are made of these.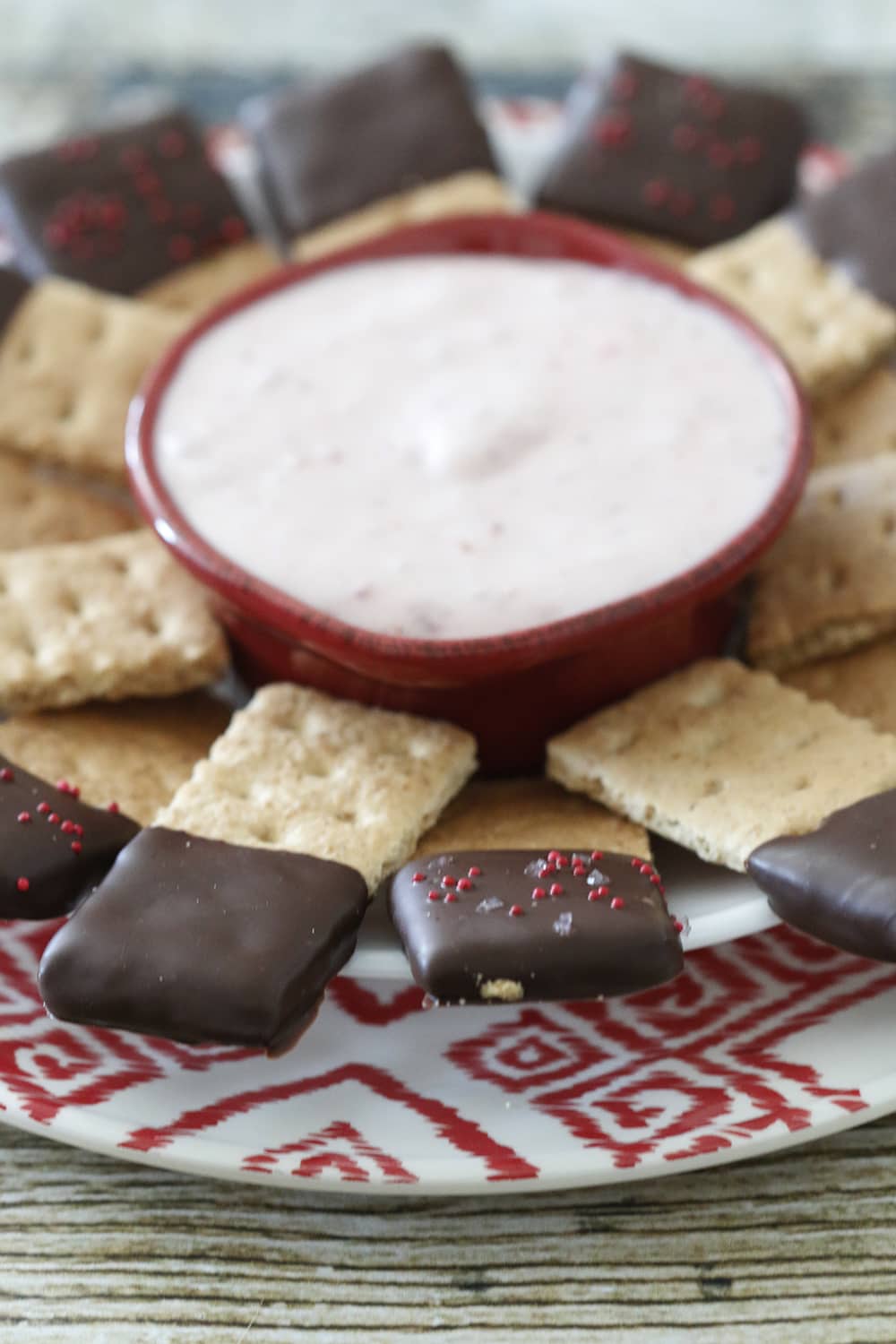 Strawberry Fruit Dip
Ingredients
8

oz

Cream Cheese

8

oz

Marshmallow Fluff

1

Cup

Strawberries
Instructions
Puree the strawberries with an immersion blender or just mash them.

Using a hand mixer, mix together the cream cheese and the marshmallow fluff.

Add in the strawberries and mix thoroughly.

Let sit in the refrigerator for at least 1/2 hour to firm up.

Serve with fruit, chocolate covered graham crackers and more!
Now this strawberry fruit dip is perfect for a lot of occasions. Not just Valentine's Day dessert or Galentine's Day brunch. Simple party dessert? Yep! Fancy dip with fruit for breakfast when you have company over? For sure. Simple snack to make just because? The best reason yet!
This strawberry fruit dip can be paired with all kinds of things. And I know this because I've tried a lot of things in it. I'm pretty partial to fruit (strawberries, raspberries, pineapple, apples, and bananas especially.) However, chocolate covered things are pretty swoon-worthy, too.
I won't go into how to make the chocolate covered graham crackers. Mostly because you just melt these delicious chocolate morsels, dip some graham crackers in them and let cool on wax paper for a couple a minutes which is crazy easy. But also because I just melted a bunch of chocolate, dipped as many graham crackers as we had in it and then started dipping everything else in it. Pecans, almonds, cocoa covered almonds, potato chips, cinnamon covered tortilla chips… the list goes on. And all of it was amazing. On it's own and in the dip.
Seriously. Hands down amazing.
So if you're looking to make your significant other swoon over you this Valentine's Day, or maybe you just want to swoon over yourself – make this strawberry fruit dip. Then make it for all of your other parties and get-togethers because people will think it was way harder than it actually is. And they'll love it. OH! And if you like that super cute red bowl, you can grab your own dipping cup set. We use them for everything!
And it's Thursday which means: Maker's Mix-Up Link-Up! This week's theme is red!
And before you ask me "Ashley, where is the red? It appears to missing!" I agree. It is missing. But the strawberries were red. And I didn't want to add food coloring just to make it more red than pink. And… my first idea for red totally failed. It ended up purple and was inedible. Sigh. You win some, you lose some! So, this is what you get. Kinda red, more so pink but more importantly: SUPER DELICIOUS strawberry fruit dip.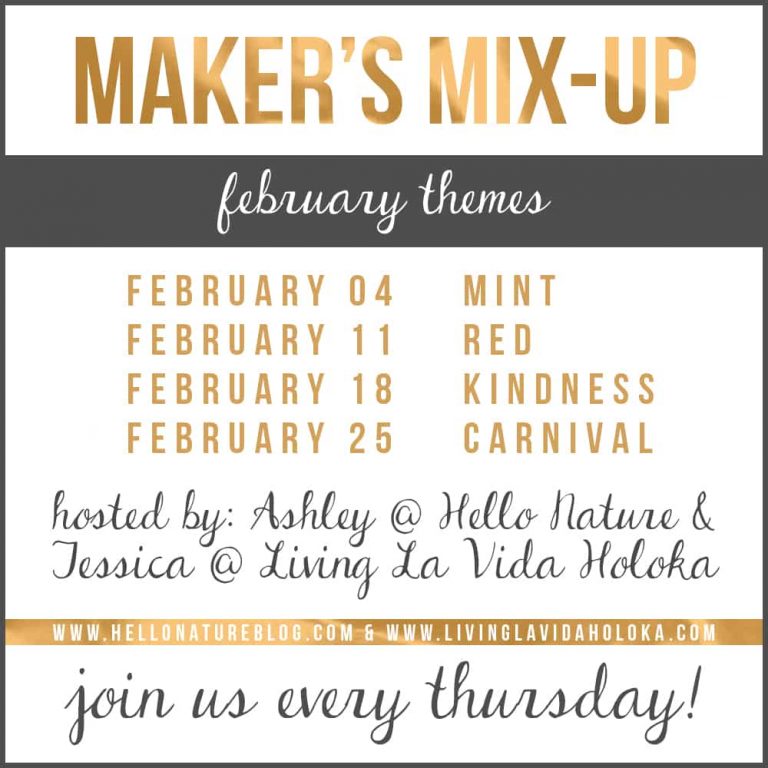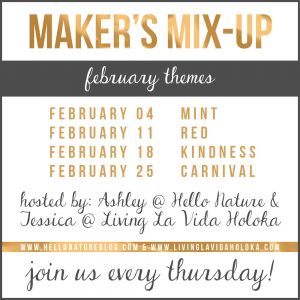 You might also like: