If you've been following Ashley's list of Things to Celebrate in July, you'll know that today is Fresh Spinach Day. Fresh spinach is one of my favorite greens. It's one of the healthiest foods you can eat, as well. Spinach is full of vitamins, fiber, potassium, protein, and so much more! There's a reason why Popeye loved it so much!
One of my favorite ways to enjoy spinach is to sauté it in a little bit of olive oil and add some chopped garlic. It's a quick, simple, and delicious dish! Since spinach is such a versatile ingredient, I wondered what other ways this simple sauté could be enjoyed.
Using sautéed spinach as a base, I made a creamy, spinach dip. I used a bit of Greek influence to add the tangy flavor of feta cheese into this already cheesy dip. The great thing about this dip is that even though it's rich and creamy, it's made with figure-friendly ingredients! You won't have to worry about over-indulging!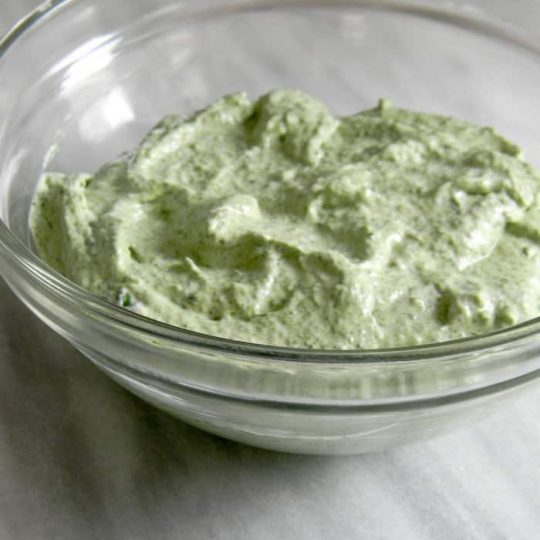 Fresh Spinach Dip
A creamy, delicious spinach dip made with fresh spinach, cream cheese, and crumbled feta.
Ingredients
- 4 c. baby spinach

- 3 tbsp. extra virgin olive oil

- 2 garlic cloves

minced

- 1 8oz. block low-fat cream cheese

- 1/2 c. crumbled feta or goat cheese

- salt and pepper
Instructions
In a large saucepan, add olive oil and spinach over medium-low heat.

Cook spinach until it's wilted.

Add minced garlic and cook until it becomes fragrant.

Take pan off of heat and allow to cool.

Once spinach mixture is cooled, add spinach and cheeses to a blender.

Add mixture to a blender and blend until smooth.

Pour dip into a bowl and serve cool with pita chips. Enjoy!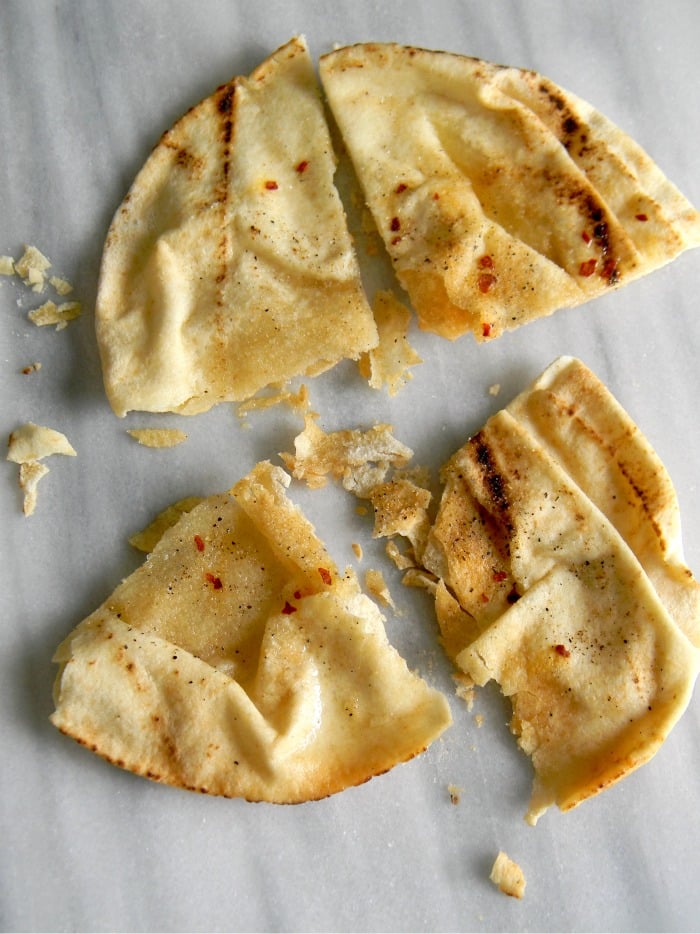 Because no dip would be complete without something to dip into it, I made seasoned, homemade pita chips. It's easy to dress up store-bought pita bread and turn it into chips. Start by brushing on a little olive oil and then adding whatever seasonings you wish. I left the seasoning on these pita chips fairly simple so they didn't upstage the flavor of the dip. All it takes is 10 minutes in the oven to get a nice and crunchy pita chip!
Seasoned Pita Chips
A homemade, seasoned pita chip using store-bought pita bread.
Ingredients
- 1 package pita bread

- extra virgin olive oil

- garlic powder

- salt and pepper

- crushed red pepper flakes

optional
Instructions
Preheat oven to 350º.

Lightly brush each piece of pita bread with olive oil.

Sprinkle a little garlic powder, salt and pepper, and crushed red pepper flakes on top.

Bake pita bread for 10 minutes, or until crisp.

Cut pita bread into fours with a pizza cutter.

Serve with Fresh Spinach Dip or your favorite dip. Enjoy!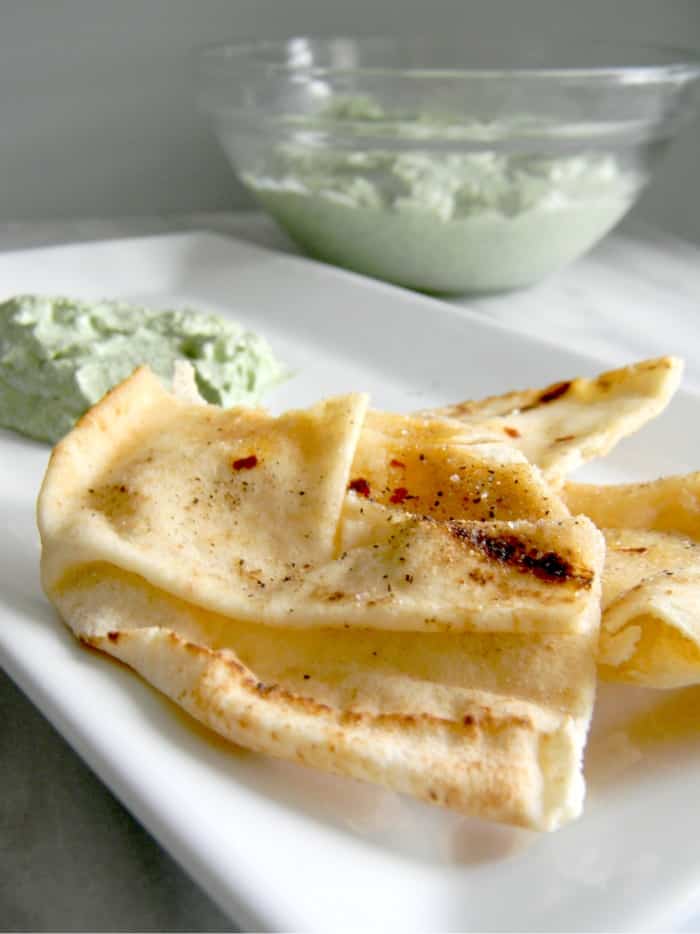 There's two things I really love about Summer – fresh produce and celebrations! This Fresh Spinach Dip is sure to be a crowd pleaser at your next Summertime gathering, or anytime!
WHAT'S YOUR FAVORITE FRESH SPINACH DISH?