Pamper your pets with Hartz! Treat them with delicious treats, toys, and products that make pet ownership a breeze! This post is sponsored by BabbleBoxx.com on behalf of Single Edition Media.
Valentine's Day is a day all about spoiling and pampering, right? Even though I mentioned I don't always do much for the holiday in yesterday's Strawberry Fruit Dip post, I do think there's a lot of value in the day. It's a day dedicated to showing our loved ones that we do indeed love them and pets are treated like family around these parts so they should be pampered, too! And I have an awesome round-up of some fantastic products that are the perfect way to show your furry friends that you love them!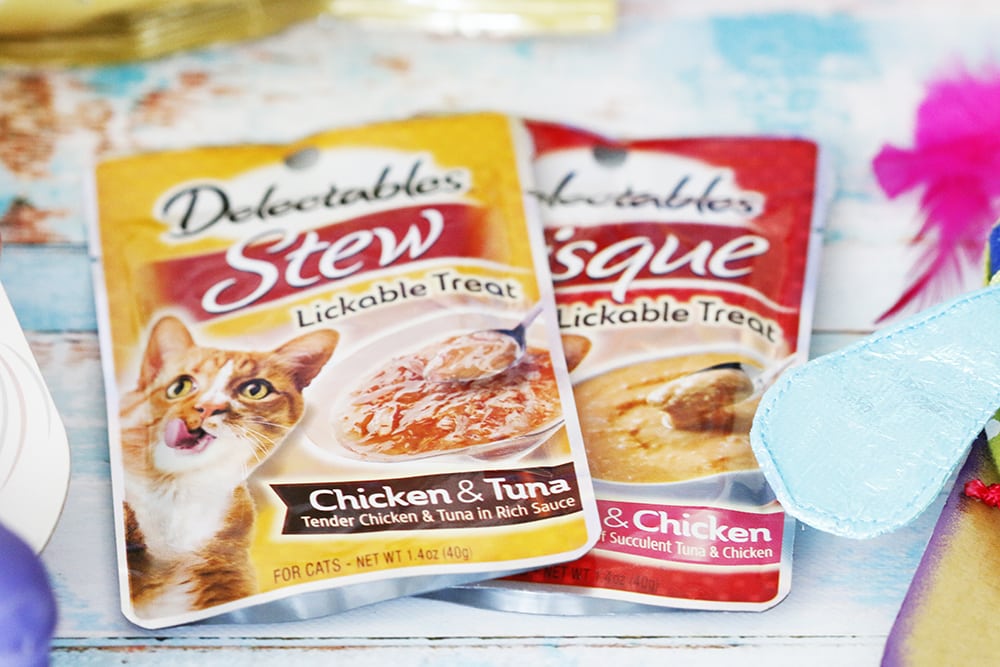 Delectables™ Stew Lickable Treat
---
So Cosmo has some of the weirdest eating habits I've ever known a cat to have. He won't eat expensive cat food AT ALL. And when potato chips come out? He emerges from hiding every. single. time. He's also a big fan of anything that's dairy, tuna, or chicken. And when it comes to cat treats? Forget it. He eats a select one or two and that's it. Boring! Until now. He's a HUGE fan of the Delectables™ Stew Lickable Treat and the Description Delectables™ Bisque. They are the first wet cat treat in the US and I'm pretty sure he'd be happy if he ate just these for the rest of his days. It's a combination of real tuna, chicken or seafood in a rich sauce that cats love. And, to ensure that he's a little less boring, they come in a variety of flavors: Chicken + Tuna, Tuna + Whitefish, and Tuna + Shrimp!
Treat your cat here: Delectables™ Stew Lickable Treat + Delectables™ Bisque Lickable Treat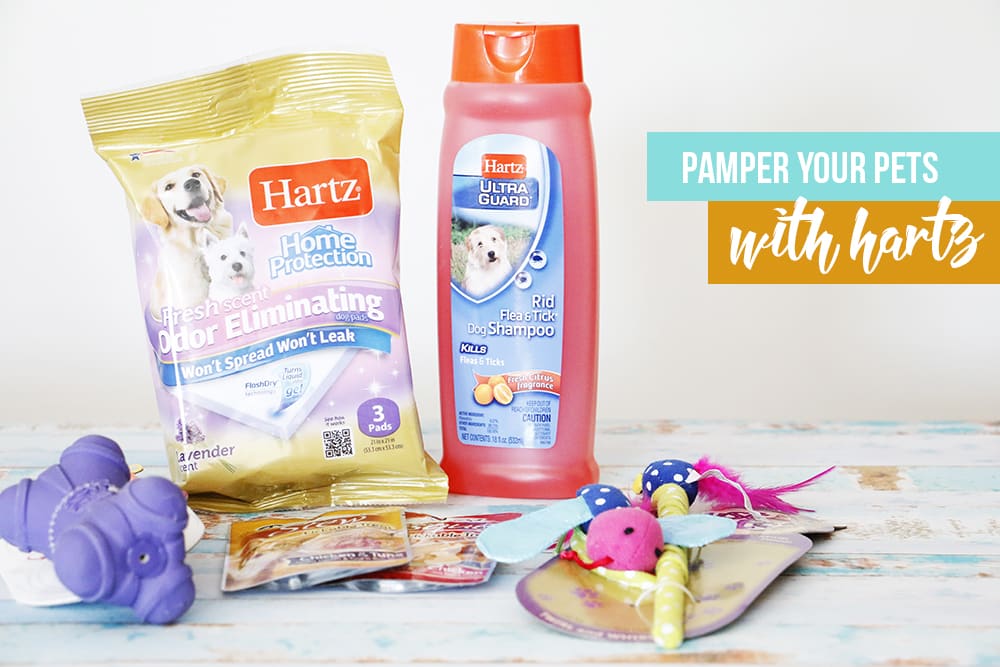 Hartz® Home Protection™ Odor Eliminating Dog Pads
---
Luckily, our pups are potty trained. But that doesn't mean they don't have accidents. When we first moved here, Sookie did not take well to our new house and decided our floor was a much better option than our backyard. It drove me crazy because she'd just go over to the back door and squat right in front of us! I wish I would have known about these HARTZ® Home Protection™ Odor Eliminating Dog Pads because they would have made our lives SO much easier. These odor eliminating dog pads are super absorbent, won't leak, have a light, fresh lavender fragrance and are made with Flash-Dry® technology that instantly turns liquid into a gel. This helps prevent leaks that can later damage floor or carpet (which is definitely what happened with our newly put in laminate!)
Need some help with your pup? Get your own HARTZ® Home Protection™ Odor Eliminating Dog Pads
Hartz® Dura Play® Bone Dog Toy
---
Sookie nearly destroying some of our floor when we moved was not her first dance in household destruction. She destroyed a couch, many blankets, wood furniture and so much more. Luckily, her destructive puppy stage is long gone but she's still a powerful chewer. Those with pups who have some strong teeth will totally get our pain in finding new dog toys that aren't garbage minutes later. And so far, this Hartz® Dura Play® Bone Dog Toy is a pretty big winner! Not only is it durable, it also floats and bounces. And while I pretty much loathe the smell, our dogs love the bacon scent so I can't complain too much! It's the perfect durable fetch toy so far!
Get your own toys for Fido: Hartz® Dura Play® Bone Dog Toy
Hartz® Just for Cats® Twirl and Whirl™ Cat Toy
---
Remember how I said Cosmo was a picky eater? Toys are about a thousand times worse! He'd rather go for fingers and toys than 99% of cat toys. He used to like to lay under our bed and attack our feet as we'd walk by which was super awesome when you got up in the middle of the night. BUT! He's a pretty big fan of this Hartz® Just for Cats® Twirl and Whirl™ Cat Toy. Granted, he was more so into chewing on the end that you hold it by, but we played for a good 10-15 minutes before he went back to sunbathing the first time we pulled it out. I give it two thumbs up, if only because I didn't have to get bit to play this time!
Grab one for your feline: Hartz® Just for Cats® Twirl and Whirl™ Cat Toy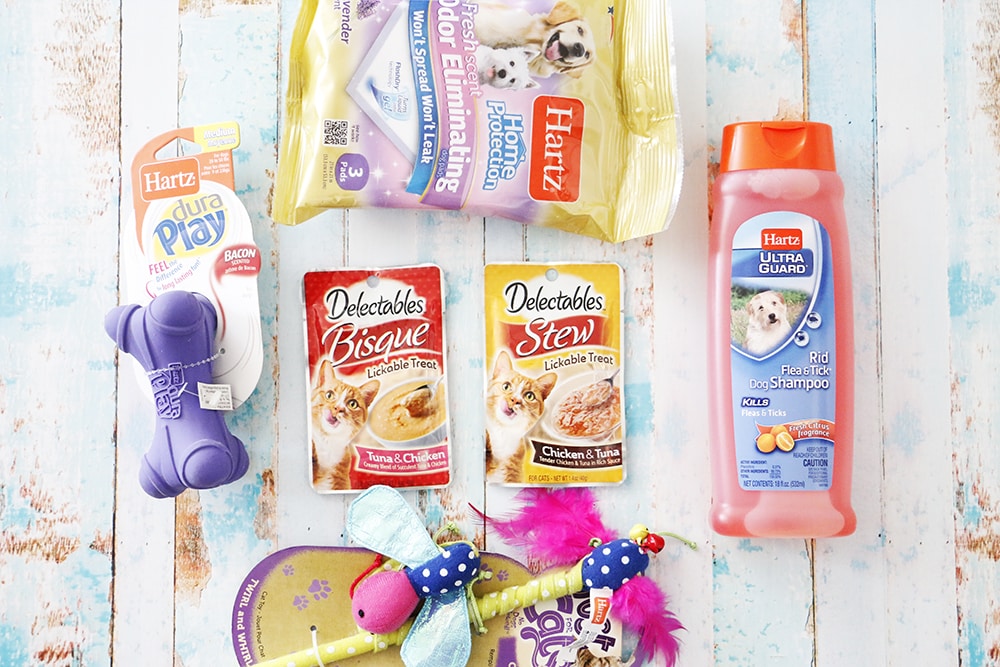 Interested in snagging some of these fantastic products for yourself so you can pamper your pets? Hartz is offering coupons on a few of these items! How do you pamper your pets?