Add a little bit of zest to your life with this spicy black bean burger recipe. Made with canned beans and simple pantry ingredients! This post was sponsored by S&W Beans as part of an Influencer Activation for Influence Central and all opinions expressed in my post are my own.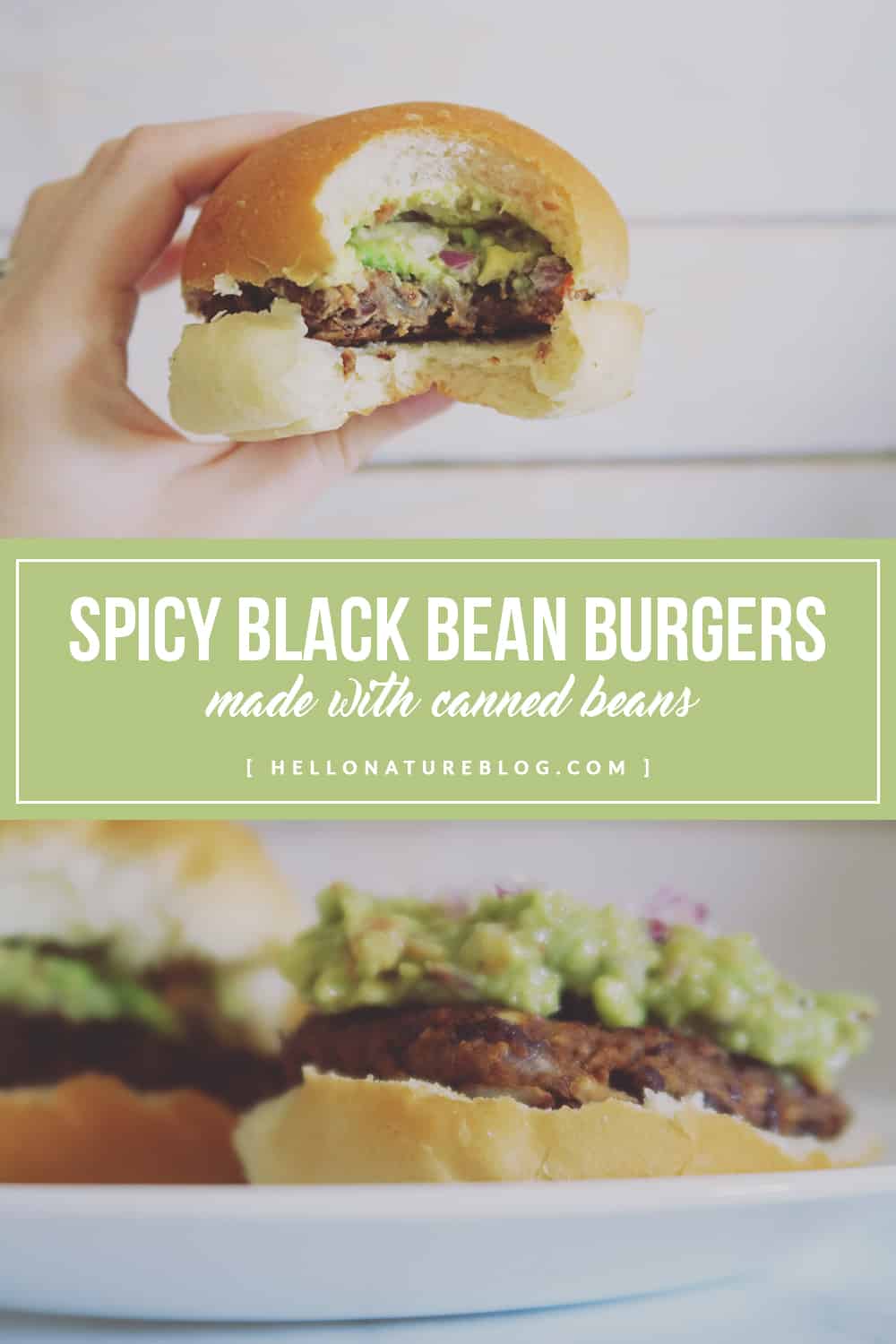 Happy hump day!
Some of you may know that I used to be a vegetarian. It was for 7ish years and, for health reasons, I went back to eating meat. But I've tried to find a balance between the two. I like to call myself a flexitarian now and love incorporating some of my favorite vegetarian dishes into our regular meal rotation.
One thing I absolutely loved when I was a vegetarian were black bean burgers. (And walnut burgers – YUM!) I wasn't a big fan of the faux meat burgers so black bean burgers were my best option when it came to enjoying a burger and fries. (Speaking of fries, this spicy black bean burger recipe would pair PERFECTLY with these loaded sweet potato fries. Just sayin'.)
Over the years of trying to eat healthier, I've started adding more spice to my foods. So I knew it was time to update my old recipe to make way for a spicy black bean burger recipe. And it is goooood.
This recipe is golden for me for a few reasons, other than the taste.
It's common pantry ingredients so they can be made pretty much any time I want them. I'm always peeved when I want something but I'm missing crucial ingredients.
It uses canned black beans! Yay for convenience and ease. Don't get me wrong – I love dry beans. But they aren't always better, especially when you're in a hurry like we tend to be with our seven month old.
My go-to beans to keep our pantry stocked are S&W Beans. They've been providing premium quality beans that look great and taste even better for over 120 years. S&W Beans have such a great variety of beans, including some out of the ordinary ones like their 50% less sodium and organic options.
Deal alert! Now through April S&W Beans is offering $1 off 2 cans of S&W Beans. Get (and print) your coupon from the S&W Beans website or follow them on Facebook, Twitter, Instagram or Pinterest.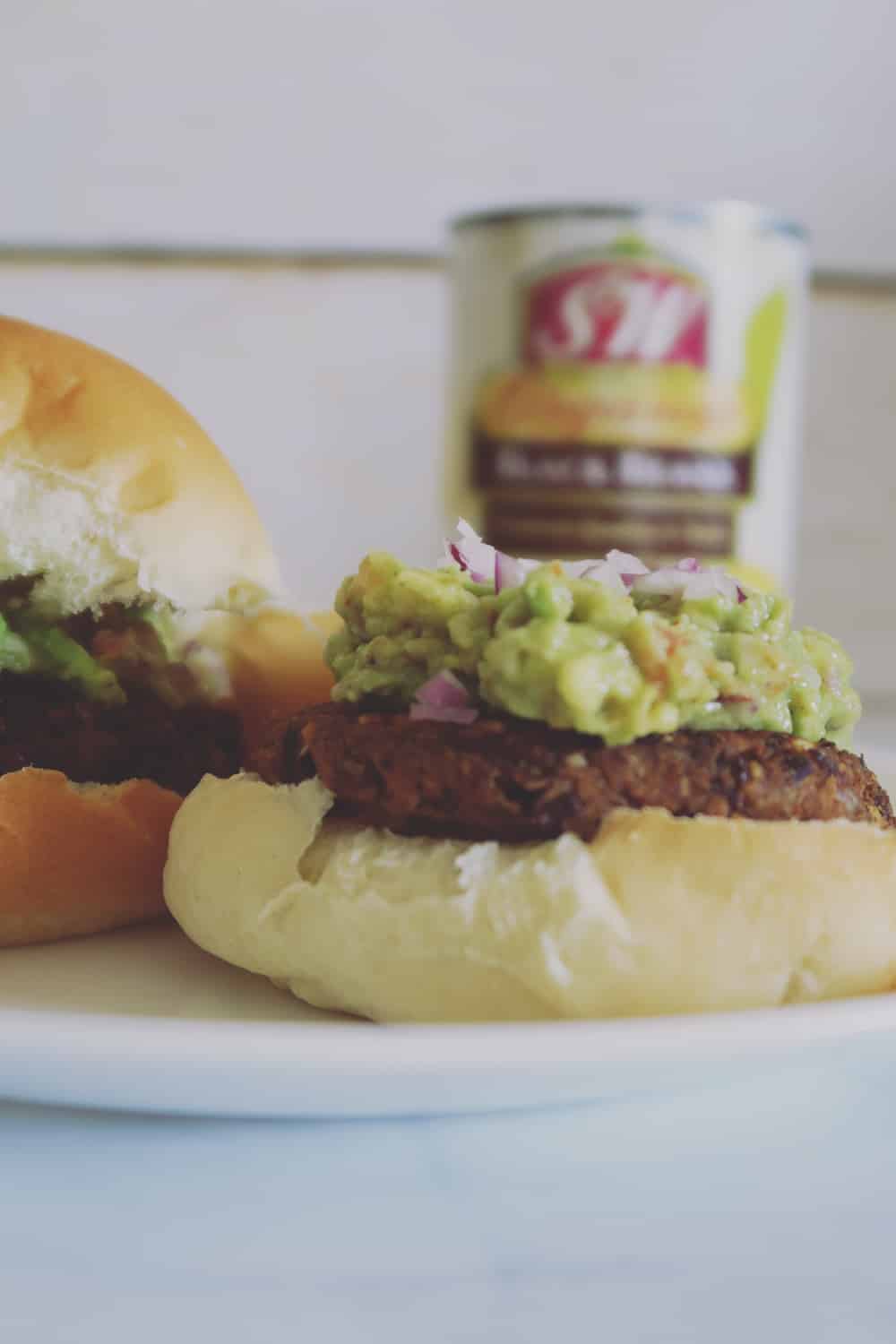 The recipe I have below yields six delicious spicy black bean burgers, but you can adjust the size if needed. These don't expand when cooked so you can easily double the size if you're using a larger bun.
And it's not super spicy. It has just the right amount of kick for me, but you can easily kick the spice up a notch by swapping or adding in cayenne. This spicy black bean burger recipe is super flexible if you'd like to adjust the flavors which is why I love it. This version is perfect for Mexican toppings like guacamole (maybe even this Fresh and Zesty Guacamole Recipe), peppers, onions, etc.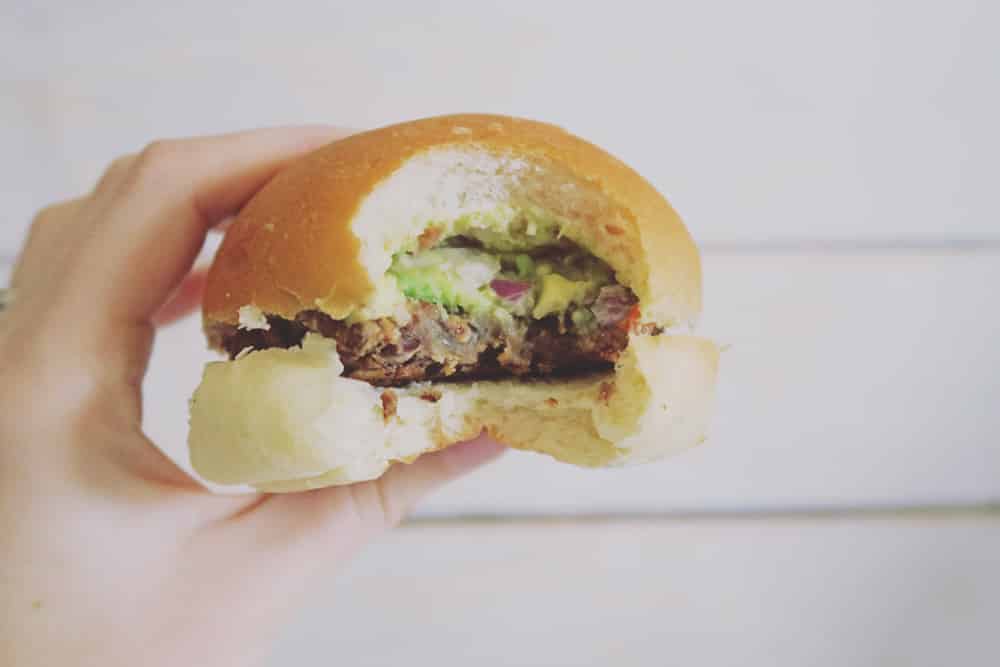 spicy black bean burger recipe
Spicy Black Bean Burger Recipe
Ingredients
1

Can

Black beans

1/2

Cup

Onions

Minced

1

Tbsp

Garlic

Minced

1/4

Cup

Panko Bread Crumbs

1

Tsp

Flaxseed Meal

1

Tsp

Garlic Powder

1

Tsp

Chili Powder

1

Tsp

Cumin

1

Tsp

Salt

1-2

Tbsp

Olive Oil

for cooking
Instructions
Combine all of the ingredients except the olive oil in a food processor and pulse until blended. (If you don't have a food processor, mash the black beans and mix everything until thoroughly combined.)

Take 3 tbsp from the mixture, form a ball and them press into a patty. Repeat with the rest of the mixture.

Preheat the olive oil over medium-high. Once hot, cook the patties for five minutes on one side. Flip and cook for another five minutes or until thoroughly heated through.

Serve on a bun with guacamole, onions, salsa, or your favorite toppings.
Recipe Notes
The above recipe is completely vegan without the egg as that is commonly used a binder for the burgers. If you prefer a more structured burger, add an egg (egg white and yolk) to the mixture.
Up the spices or swap out one for cayenne for an even spicier version.
I want to know: What is your favorite recipe with black beans? Are you a fan of black bean burgers?
Don't forget to grab your coupon for $1 off 2 cans of S&W Beans!
You might also like: