Every time we go to Florida, we always go to Universal Studios. This was the first time we've gone during February though which meant it was our first Mardi Gras at Universal Studios!
If you're considering visiting Universal Studios Orlando during March, the Mardi Gras celebration and parade give you plenty more reasons to go. Seriously. We almost skipped out on the celebrations, but I'm so glad we didn't.
We loved seeing the park transform in the afternoon and evening to reflect the over-the-top entertainment. During their 50 nights of celebration, you can:
Indulge in delicious cajun food
Sit and watch the parade
Enjoy live concerts
And so much more!
We weren't there for any of the concerts, but we were there for the parade! The Mardi Gras parade truly cannot be missed – all three of us had a blast. We had an awesome viewing area where Lily got to see everything. All of the performers loved coming over to say hi to her and she was so enthralled to see all of the colors, costumes and glitter.
Planning a trip to Universal Studios Orlando? Get insider tips with these posts:
We have yet to have the opportunity to make it down to New Orleans for the real Mardi Gras celebration, but this was such a fun way to experience something similar. Between the performers, music, food, and beads – it felt like we got a fun taste of what it would be like!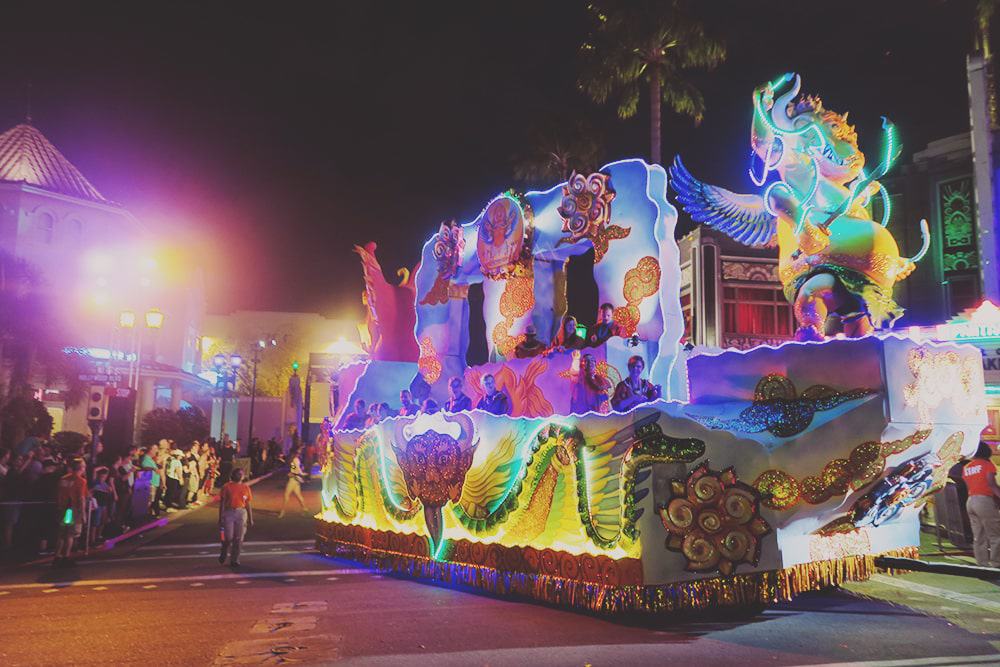 Like I said, all three of us had a blast. Every kid we saw had an amazing time and we were right by an elderly couple that was grabbing beads as quickly as we were. It's truly great for all ages and it's such a fun way to end a day at the park.
Tips for when you go:
Have little ones? Visit the Little Jester's Parade Viewing Area located just in front of the Brown Derby Hat Shop for easier viewing.
Be ready to catch beads all the time! We almost got hit in the head a few times when we weren't watching.
If your little ones are hoping for more beads afterwards, hit the streets immediately after the parade ends. There are PLENTY to go around!