This post is brought to you by Plaid Fabric Creations™ and Blueprint Social. All opinions are 100% my own.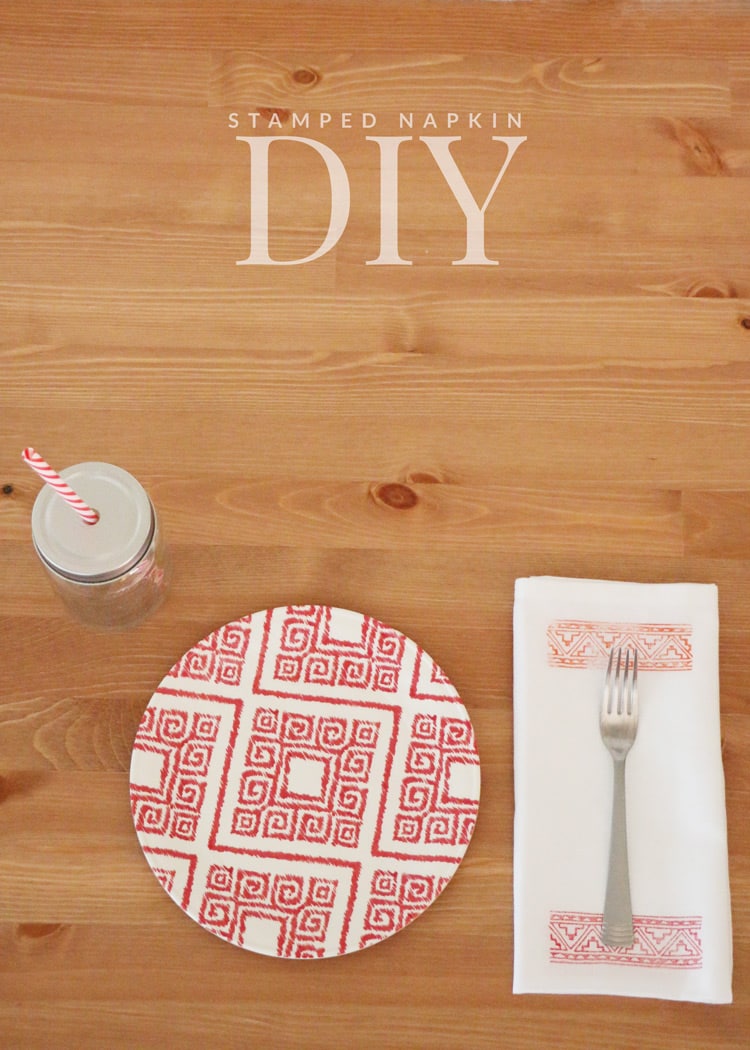 Happy Friday everyone!
Summer is officially in full gear for us here! This means every possible spare minute I have is spent outdoors (if it's not raining.) And that translates to lots of cooking out and delicious meals enjoyed in our backyard instead of heating up our house.
Which brings me to today's project: an easy stamped napkin DIY with Fabric Creations™ Soft Fabric Ink. Truth is, I've never used fabric paint prior to this project. I was (very incorrectly) convinced it was well beyond my crafty means. I was so wrong. And now? Now I want to stamp everything in sight. You can bet that stamped napkins, pillowcases, bags and any other fabric projects will be a staple of our homemade gifts this year. Be sure to check out these other easy DIYs, too.
The supplies you need for the stamped napkins DIY are super simple:
Napkins
Fabric Creations™ Soft Fabric Ink (your choice of colors)
Fabric Creations™ Block Printing Stamps
Fabric Creations™ Foam Printing Mats
Fabric Creations™ Sponge Cubes
Fabric Creations™ Cleaning Brush
You can find these supplies at Hobby Lobby and www.plaidonline.com. I highly recommend stocking up on the ink (I love ALL of the colors!) as they are so versatile. The Fabric Creations™ Soft Fabric Ink is super soft fabric ink that is the perfect formulation for stamping, stenciling and brushing on fabric. It is machine washable, waterbased, and non-toxic. Plus you can use the printing blocks for creating other fashions, quilts, textiles, stitching embroidery, scrapbooking, printing, and more!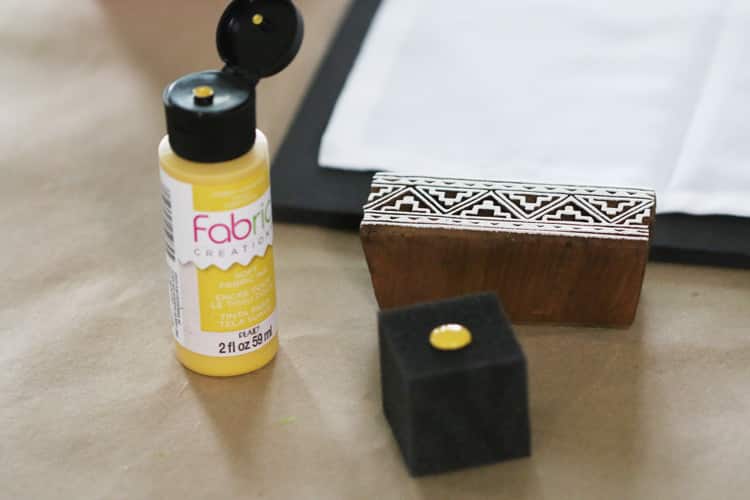 To get started, spread out your napkin and smooth it out. You can iron it if you prefer, but I left the folds in there as guidelines. Place the soft fabric ink on the sponge cube and pinch the cube a few times to spread the ink. Then blot the stamp with the cube to cover the stamp with the soft fabric ink.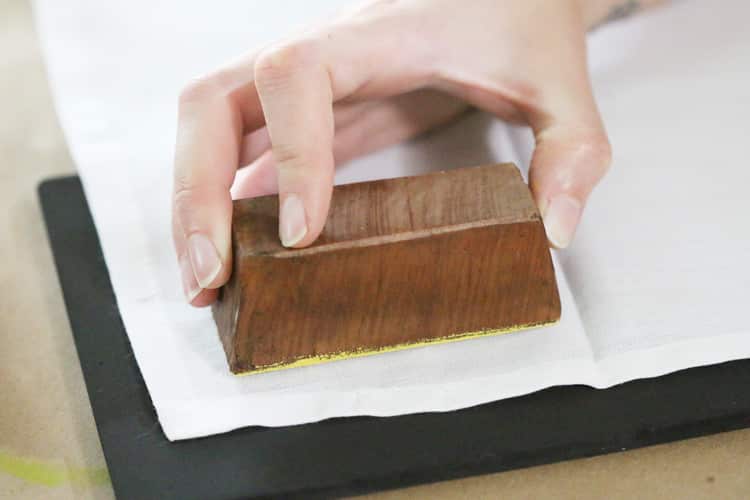 When you're ready to stamp, make sure that the foam printing mat is under where you're going to stamp for the most level/even stamping. Then press down, applying equal pressure to all parts of the stamp. Be sure not to rock the stamp.
Repeat the process on each section of the napkin. For this design, I used two colors – one for the left and one for the right side. I stamped the first color (the yellow) on the left side on all eight sections of the napkin first then washed the stamp and block with the cleaning brush, soap, and water. Then I did the pink on the right side of all eight sections.

Let dry for 24 hours and then you're all set to kick your Summer table place settings with your fun new napkins! I like doing them in different colors so there's never the question of "which napkin is mine?" when we have guests over ;)
I'd love to know: what would you make with the Fabric Creations™ Soft Fabric Ink? And if you want more inspiration, be sure to follow along on Pinterest, Facebook, and Instagram.
Want to make a stamped napkin diy project of your own?
enter to win the giveaway below!
a Rafflecopter giveaway
Need some other project inspiration? Try this: