This post is sponsored by VerveLife in conjunction with Blog Meets Brand and I have been compensated for my participation. All opinions are my own. | Exercising doesn't have to be super time-consuming! Here are five simple ways to incorporate exercise into your daily routine.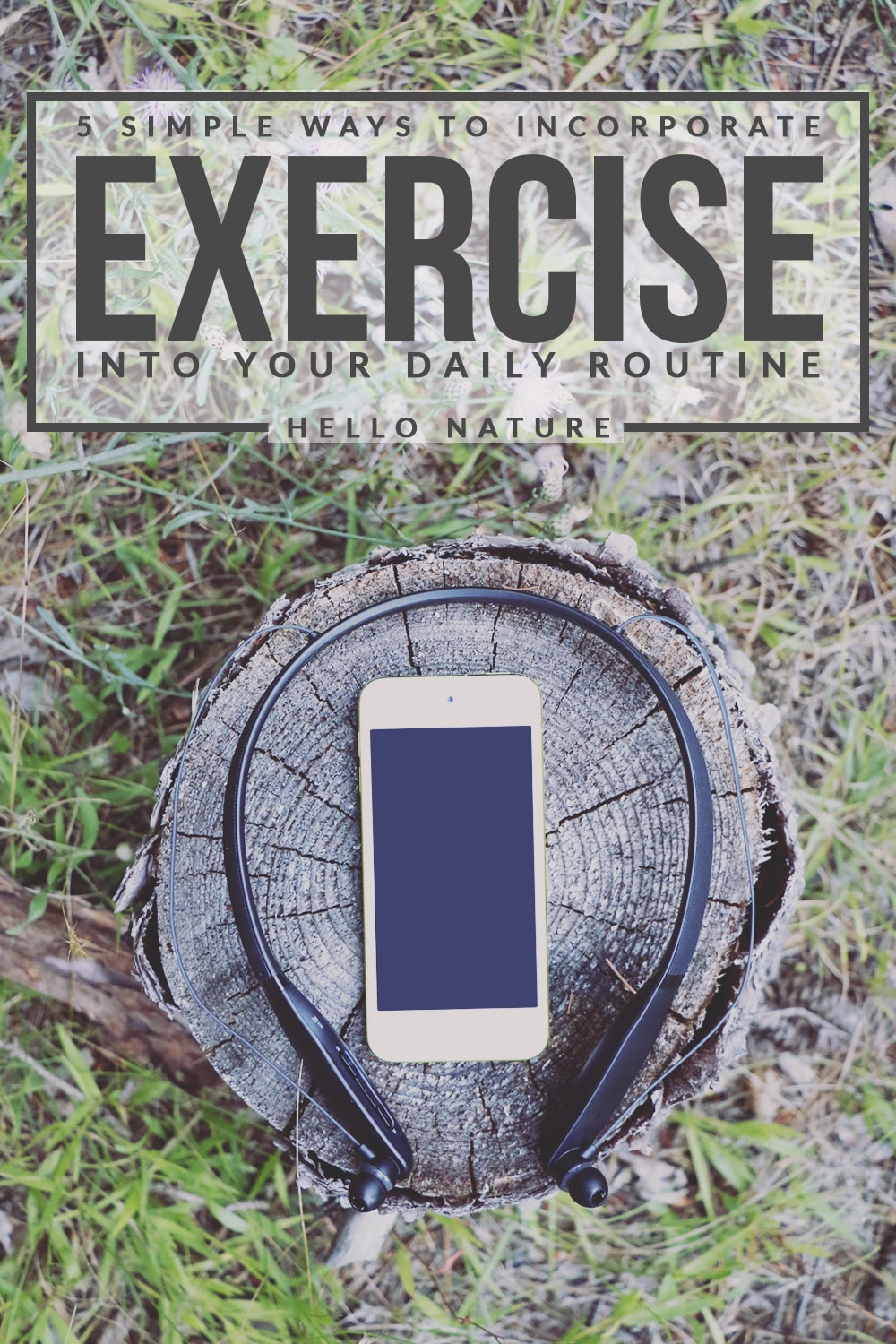 It's hard to believe that our baby girl will be here any day now. It's been a crazy 40 weeks. I've been thinking a lot lately about how I'm going to be my best self for her and my family going forward. A few months ago I talked about my struggle with Diabetes. I'm happy to say that life with diabetes has gotten better but also harder. I have found that exercise is a huge part of managing diabetes. The problem is I don't always seem to have time to incorporate exercise into my daily routine.
One of the ways that I've started to incorporate exercise into my daily routine is with my pedometer that tracks steps, activity and how often I stand. I found out that I'm actually moving around quite a bit each day so I've started thinking about other ways I can move more. But no matter what I do, there is one thing that always help keep me motivated and moving:
Music!
I love listening to music while I clean, mow the lawn, or just work out in general. One issue I've always had is I can't find a great pair is wireless headphones. I just hate that cords get in the way. The only bluetooth wireless earbuds I've ever had just don't seem to fit right. That all changed when I recently got to try out the new VerveRider from Motorola.
The VerveRider earbuds are extremely lightweight. Most of the time I can't feel them around my neck at all. The sound quality is amazing with built-in aptX® technology that delivers powerful HD sound. They also have a 12 hour battery life so they don't need to be charged as often.
These earbuds are perfect for all of the ways that I've started to incorporate exercise into my daily routine, too. If you're in need of some ideas for ways to incorporate exercise into your daily routine, here are some of my favorites.
Organizing Your House
Our house has seen a crazy amount of rearranging and redecorating over the past few months. I was amazed at how many steps I got in going up and down the stairs in our house. House projects and regular cleaning are great ways to incorporate exercise into your daily routine. Simple things like cleaning out drawers, going through your closet, organizing your basement and folding laundry are easy ways to get moving.
Workout While Working
One awesome way to incorporate exercise into your daily routine is to workout while you work. There are a number of products on the market that are dual purpose desks and workout equipment. You can use a stand up desk so you're not sitting down all day. There are treadmills that go under a stand up desk. as well as exercise bikes with a built in desk. You can also balance yourself on an exercise ball while working. You can even go for a walk while you're on a business call. If you're looking for ease, the VerveRider earbuds have a built in microphone and are compatible with Siri and Google Now so I can seamlessly go from listening to music to a phone call and right back to the music.
Yard Work
Regular yard work is a great way to to incorporate exercise into your daily routine. Mowing the lawn is a great cardio work out. Raking leaves in the fall is a great upper body workout. There are so many more things that you can do outside and get exercise at the same time. You can garden, chop wood, use a string trimmer, organize your garage, and more.
Shopping
Our doctor is a little over a hour drive away from our house. Doctor appointment days have turned into our weekly errand days. Going to different stores picking up everything we need for the week has added up to a lot of steps for both of us. Easy ways to incorporate more exercise in with shopping include walking the mall, walking the edge of the store even if you only need to visit one section of it, and parking further away to get in more steps.
Choose Active Quality Time
I'm extremely guilt of sitting on the couch in front of the TV claiming that I'm having quality time with my family. This definitely isn't quality time for anyone. Instead of sitting around, why not get moving instead? Go outside and run around with your dog or kids. Go for a walk and chat with your spouse. Go for a bike ride or a hike as a family and see something new. The possibilities are endless.
---
I've started to wear the VerveRider earbuds while I'm doing all of these things other than quality time with the family. It helps the time go by and allows me to multitask. Plus, they are just part of the new Verve line from Motorola. You can also get the VerveOnes+ earbuds as well as the VerveCam+. It's a wearable, social, livecasting camera that never misses a beat.
Let's Chat!
What is your favorite way to incorporate exercise into your daily routine? Do you listen to music with wireless earbuds like the VerveRider?
You might also like: