Get the most out of your day with these five easy ways to ensure that you're able to maintain your energy all day long. This is a sponsored post written by me on behalf of NeuEnergy. All opinions are 100% mine.
A few weeks ago, I talked about how excited I was to try NeuEnergy and I'm really excited to share the results with you. (In case you forgot, NeuEnergy is a healthy combination of caffeine and Pterostilbene (the goodness of blueberries) that packs a powerful energy boost with zero calories, zero sugar, and zero crash.) But today, I also have other ways to maintain your energy throughout the day.
Try caffeine in the afternoon
---
By using NeuEnergy, I was able to get the rest of my work to-do list done and still have plenty of energy for house projects. It was a nice change to not feel like I had zero energy at the end of the work day for the other important tasks like getting ready for the baby.
I've found that the best way to use this is in the afternoon when that slump is hitting. I'm generally able to wake up enough to function in the morning on my own so it's not needed right away. After lunch is a different story though. Once it hits 3PM, I need that energy boost to get through the rest of my work day and NeuEnergy is perfect for this.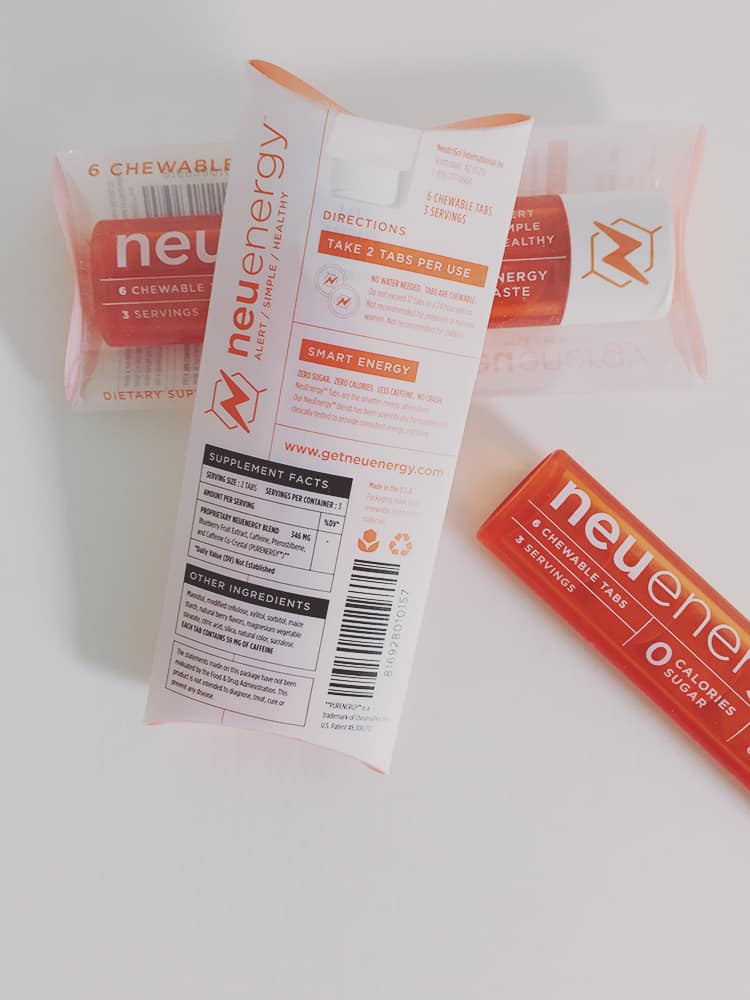 Get Up at the same time every day
---
This is something Ashley and I didn't do for a long time. Once we read the research that it helps you enable your circadian rhythms, we thought we should give it a shot. Ashley has a hard time sleeping anyway so we figured it wouldn't hurt. Now? We'll never go back. Even on the weekends, we're up within one hour of our weekday alarm. We have more energy and in general, tend to keep a pretty steady sleep pattern than helps prevent early tiredness.
Have snacks or eat at the same time every day
---
Feeling hungry is a guaranteed way to make me feel like my energy is lacking. Although I eat most of my meals around the same time every day, that's not always the case. For busy days, or days where I have an appointment that conflicts with the normal time, I always make sure I have healthy snacks that provide me with an energy boost until I can sit down for a well-balanced meal.
Move around regularly
---
Nothing makes me more tired and more lethargic than sitting around all day. I try to keep busy and alternate the tasks I do when I'm working, but it's not always easy. Having a timer or something to remind me to move around at least once an hour is helpful. Since I work from home, I usually just try to do things around the house during this time. Straighten up the house, wash the dishes, play with the dogs, or even just walk around our yard. It makes me more focused, alert and provides me with energy to get through the next hour.
Have a solid night routine
---
Ashley talked about her night routine and while mine isn't identical, it's pretty similar. It helps to have a good plan for the night to ensure that you go to sleep at a decent time and are able to wake up at the same time every day. I also feel like it's signal to my brain that I don't need much energy any longer so I can wind down for the evening. Don't forget – NeuEnergy can be purchased online and in-store. Purchase in-store at Meijer Supermarkets (in Sports Nutrition section of the Pharmacy.) If you're looking to purchase online, you can get NeuEnergy at Amazon and GetNeuEnergy.com.
And you can still enter the Instagram contest. All you have to do is:
Post a Selfie on Instagram of you with the NeuEnergy Stick Container.
Mention @GetNeuEnergy and include the following hashtags: #GetNeuEnergy and #Contest
Winners will then be voted on by the public. Bi-weekly winners will have their choice between Prize Packs. Prizes include: NeuEngery products, Bose Headphones, FitBits, and more while grand prize winners will receive a trip Disney World or Cabo San Lucas
Contest Dates: January 19 – March 16.
Valid for U.S. & Canada (excluding Quebec)
View the entire contest details and rules.
What are your favorite ways to maintain your energy throughout the day?