This shop has been compensated by Collective Bias, Inc. and The Coca-Cola Company. All opinions are mine alone. #SummerHydration #CollectiveBias
Make hiking even more enjoyable this Summer with this paracord water bottle holder DIY and these easy ways to stay hydrated!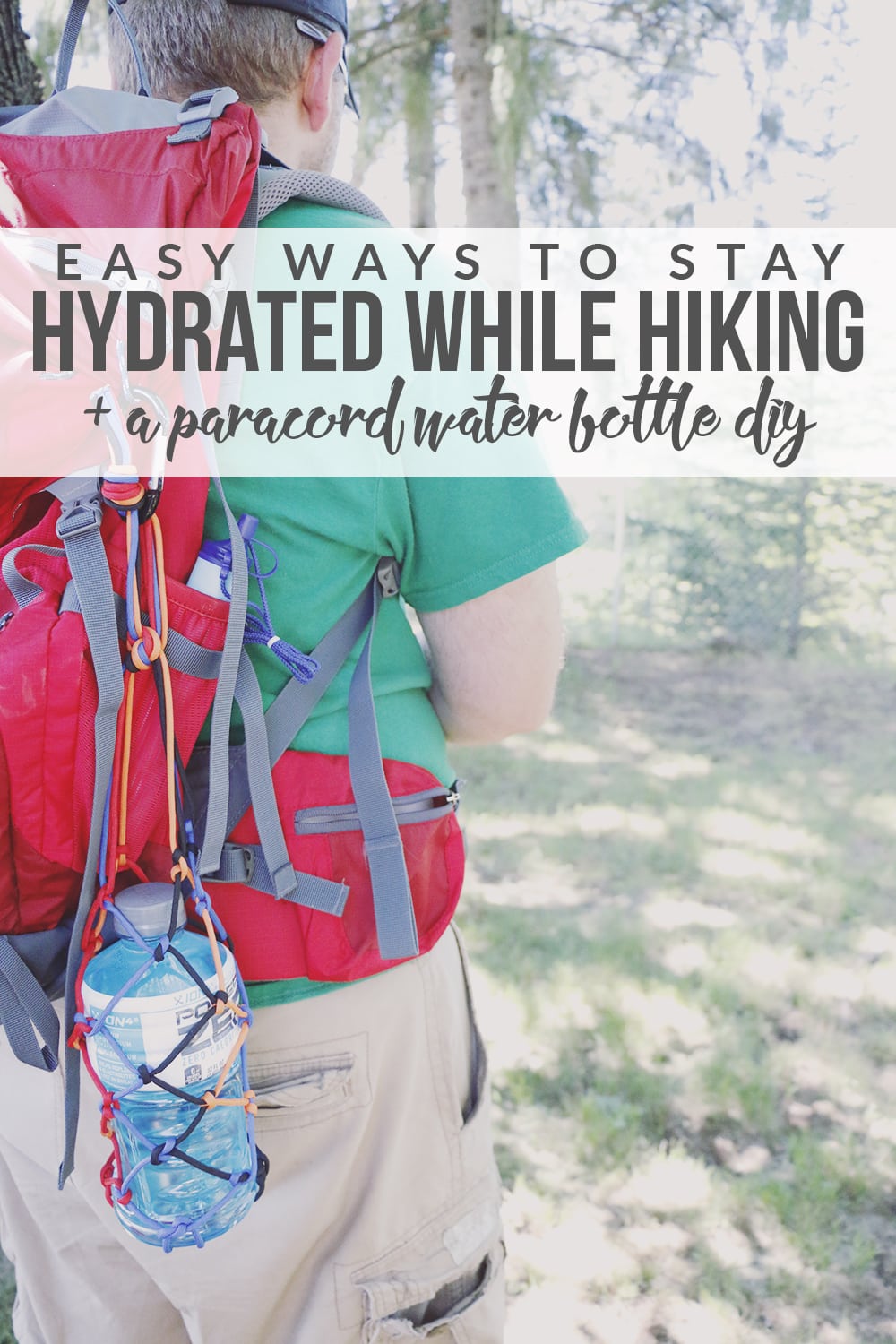 I've talked about it many times on Hello Nature, but one of my favorite things to do during Summer is go hiking. We're not going out as much this year with me already being 35 weeks pregnant, unfortunately. But we still like to go out on some smaller trails that are around us. And with this pregnancy has come a huge thirst for anything and everything other than soda. Seriously. Our fridge has never been so stocked with beverage choices. One of my favorite drinks to stock it with is Powerade and vitaminwater. I'm not always in the mood for plain water so these have helped a ton. It also helps with my energy levels and let's be real – I need all the help I can get with that right now!
If you are headed out on the trails this Summer, I've got some easy tips on how to stay hydrated while hiking along with a fun paracord water bottle holder DIY!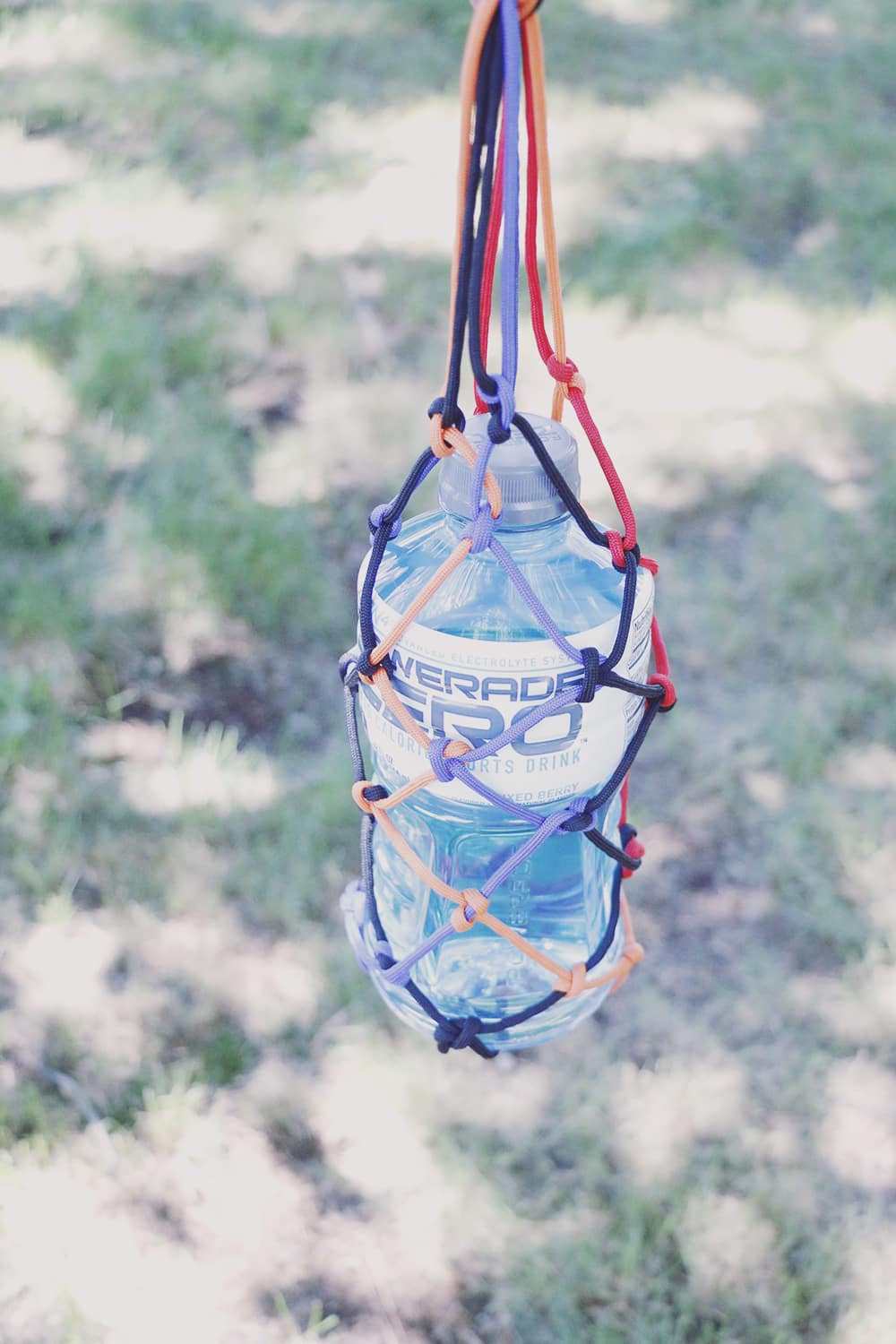 Easy Ways to Stay Hydrated While Hiking
Start getting fluids well before you start hiking so you're not exerting yourself and trying to replace fluids once you start.
Limit the amount of caffeine that you drink before, during and after your hike. Caffeine can increase fluid loss, making it harder to stay hydrated.
Regularly drink water throughout your hike to continue to replace fluids that you lose instead of chugging it when you're already feeling thirsty. This helps your body manage the water intake more effectively.
Bring fruit and vegetable snacks (if possible) that are high in water content such as: watermelon, cucumbers, celery, green peppers, cauliflower, strawberries, broccoli, grapefruit, baby carrots, and cantaloupe
Include your favorite sports drink (such as Powerade) in the mix to keep your energy levels up and increase fluid retention
CVS is a great place to beat the heat and stay hydrated this Summer. Not only can you pick up everything you need for your Summer adventures, but they have an awesome promotion going on right now, too! Spend $5, get $2 in ExtraBucks rewards in-store with your CVS ExtraCare Rewards Card. Can't beat that!
I also really love how CVS Health and The Coca-Cola Company teamed up. They're working together to help customers satisfy their body's thirst for wellness. They're encouraging people to stay hydrated and informing them of the benefits of staying hydrated. Plus, they've provided tons of hydration options at CVS to help you stay hydrated no matter what you're doing.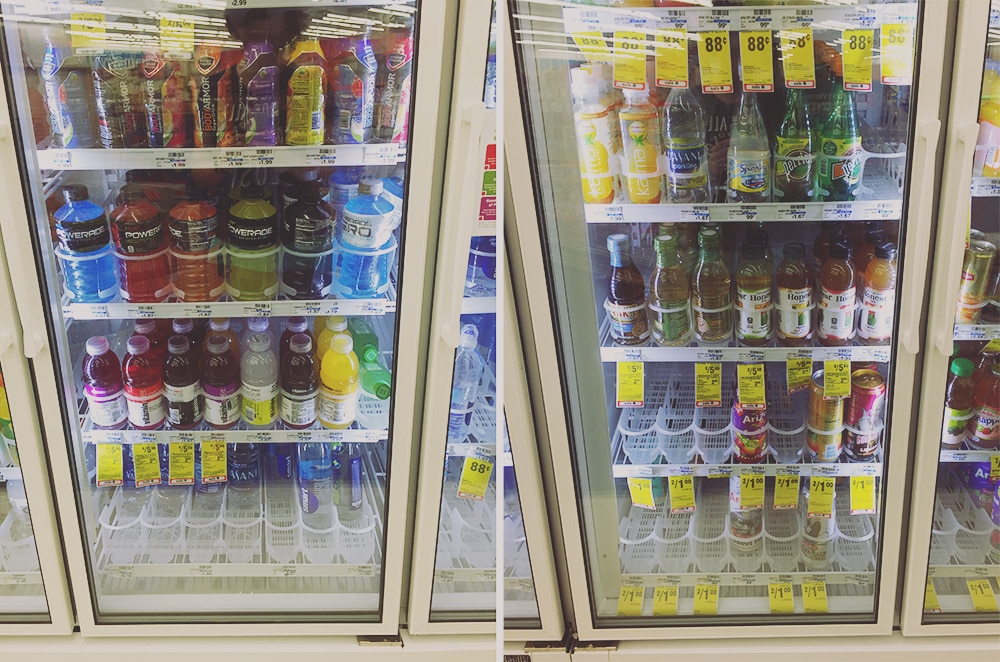 Now if you're looking for an easy way to help you keep your favorite drink of choice with you on your adventures, check out this paracord water bottle holder DIY. Just a few supplies and you'll be able to bring your beverages with you wherever you go!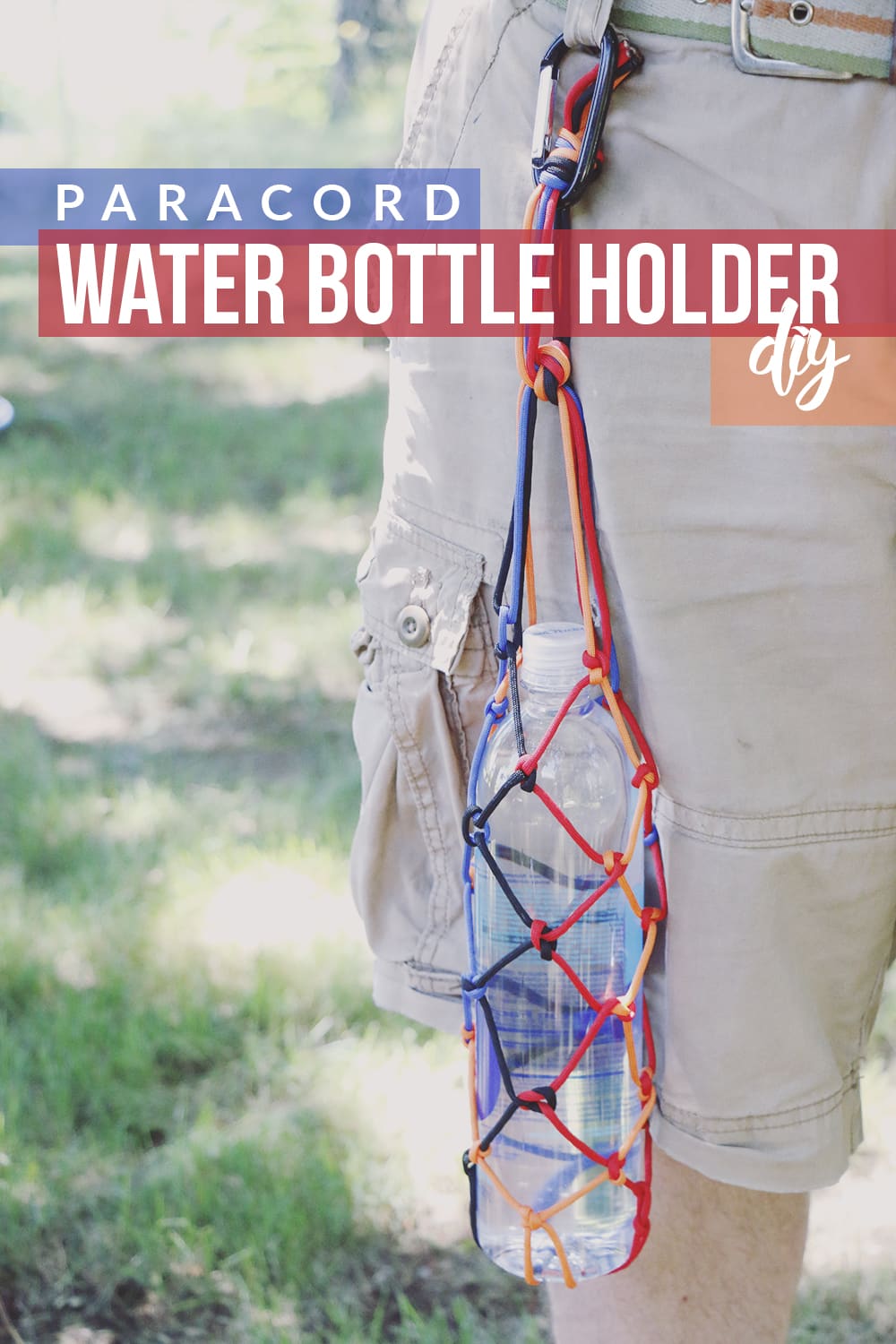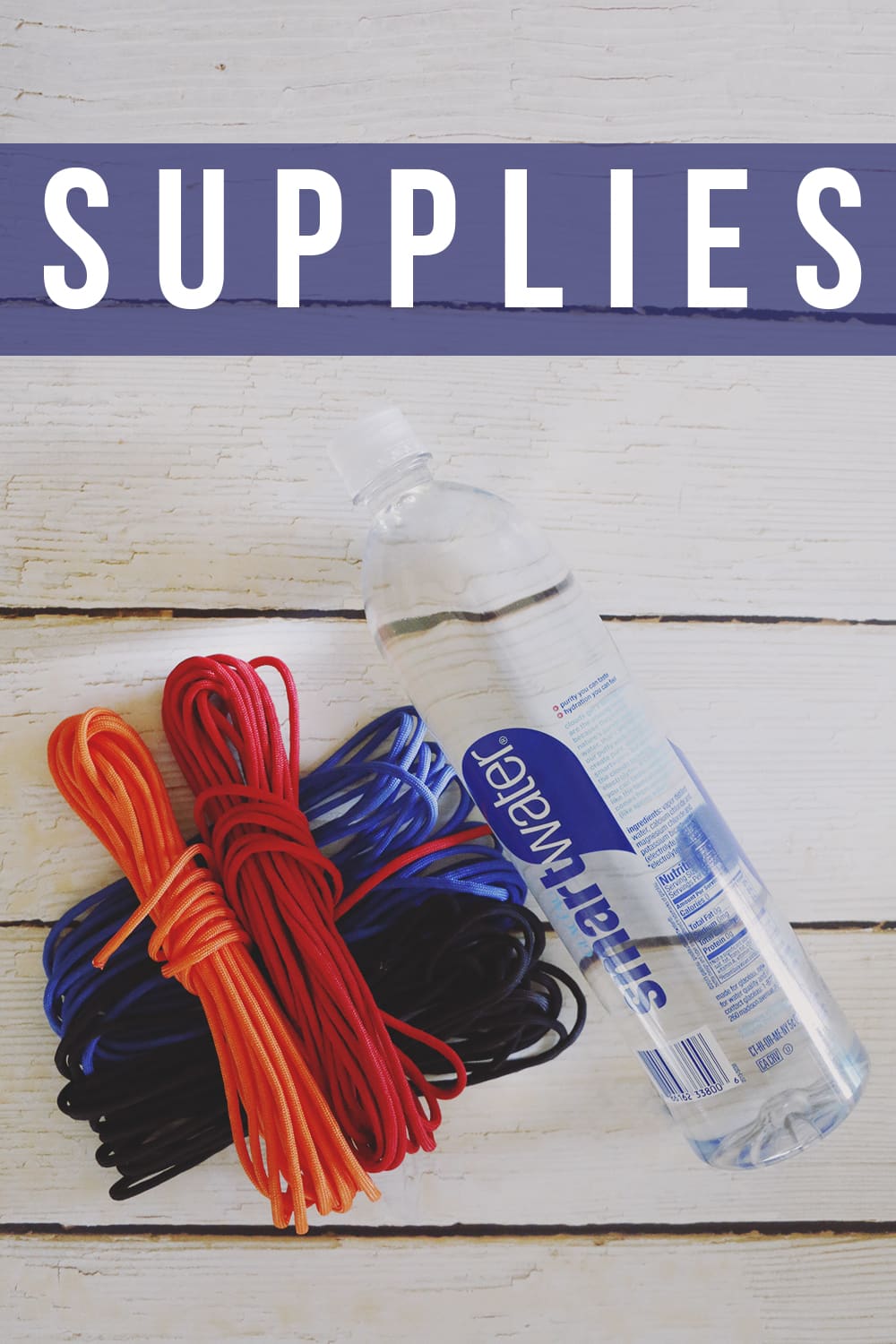 Paracord Water Bottle Holder DIY Supplies
Four Strands of Paracord (length depends on the size of your water bottle) – can be different colors or the same color
Water Bottle (the bigger, the better) – I used a smartwater water bottle as these are tall and will ensure that you can carry nearly any smaller size bottle
Scissors
Candle/Matches
Paracord Water Bottle Holder DIY Steps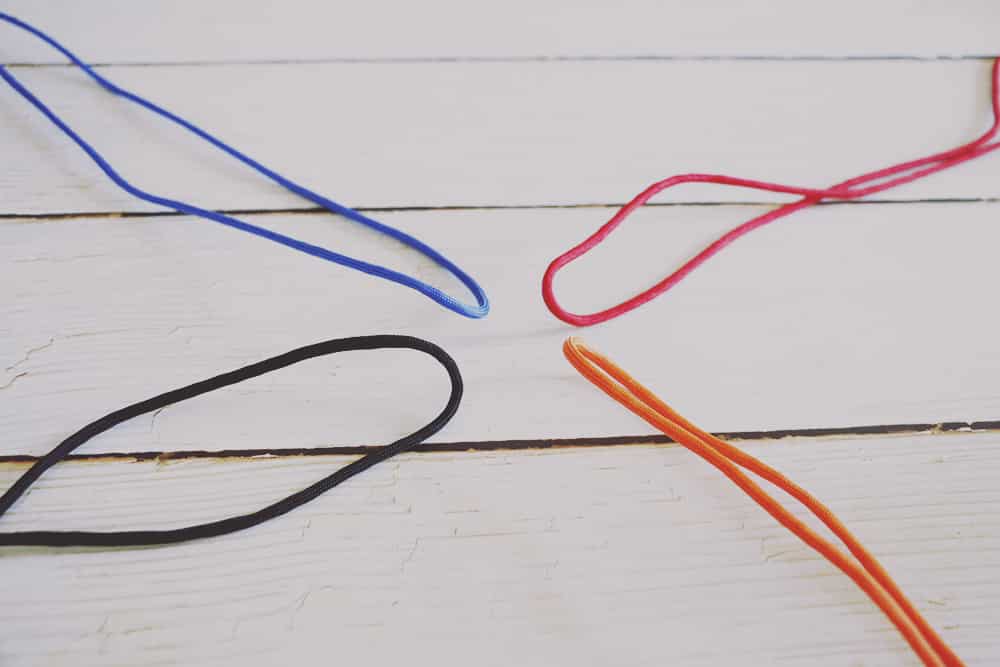 Step 1 : Fold the paracord strands in half and place the looped ends together so that you'll be able to loop them through each other.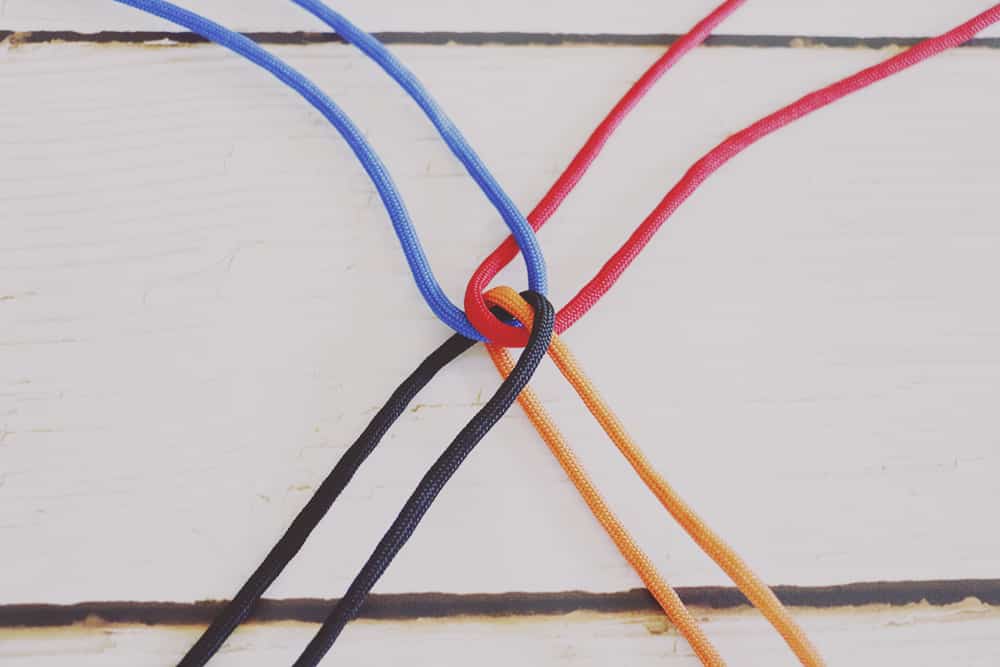 Step 2 : Loop all of the ends through each other so that if you pull on the two strands of any color, it would pull the rest of the strands with it.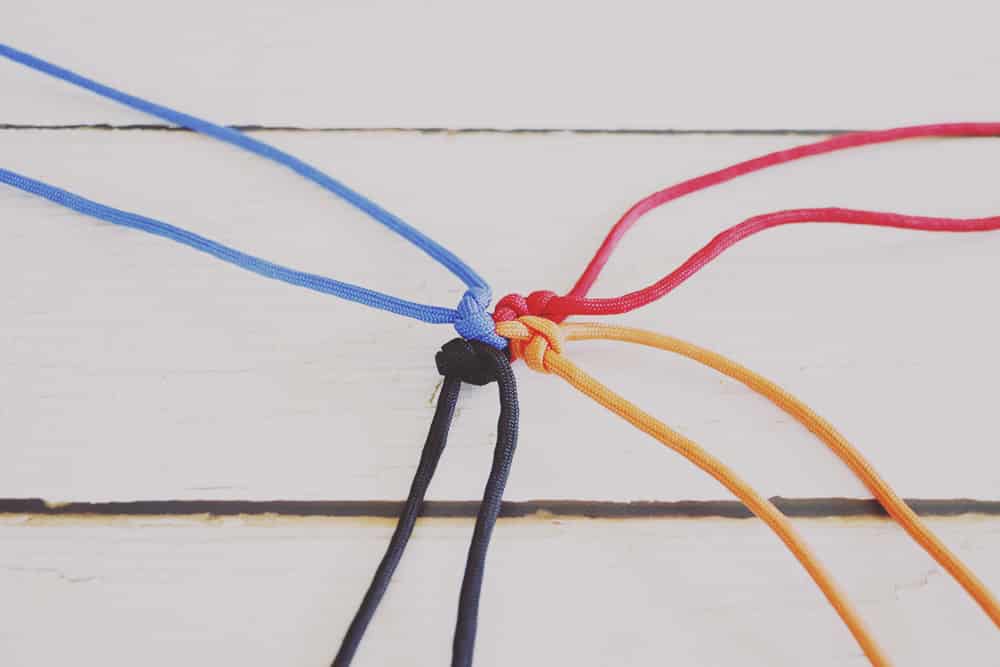 Step 3 : Double-knot the two strands of each color together so that all paracord strands are securely attached to each other.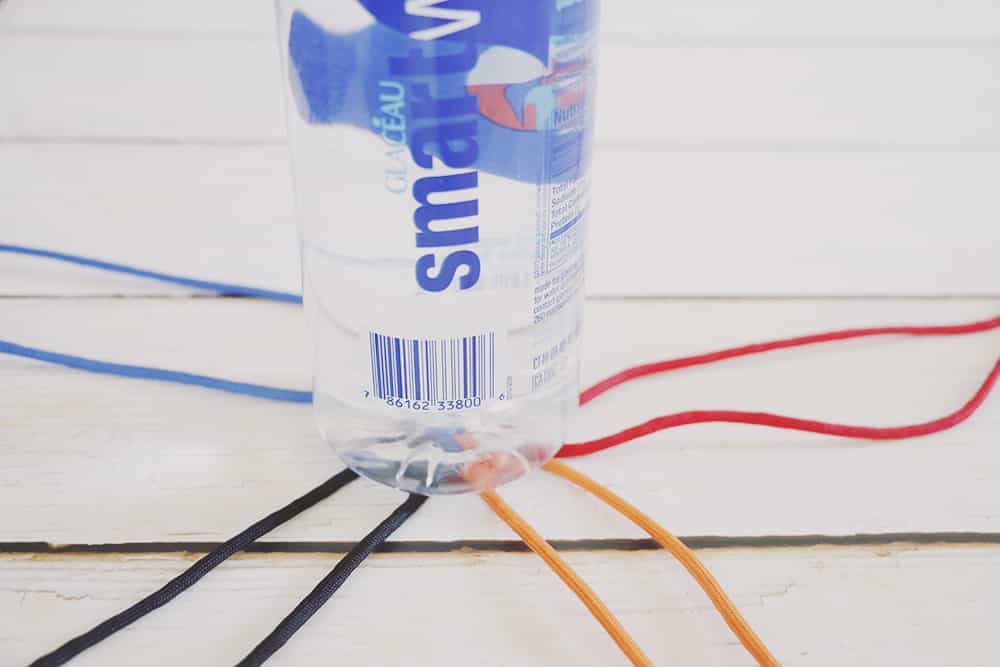 Step 4 : Place the water bottle you're using on top of the knots to get a feel for how large you want your diamond pattern to be.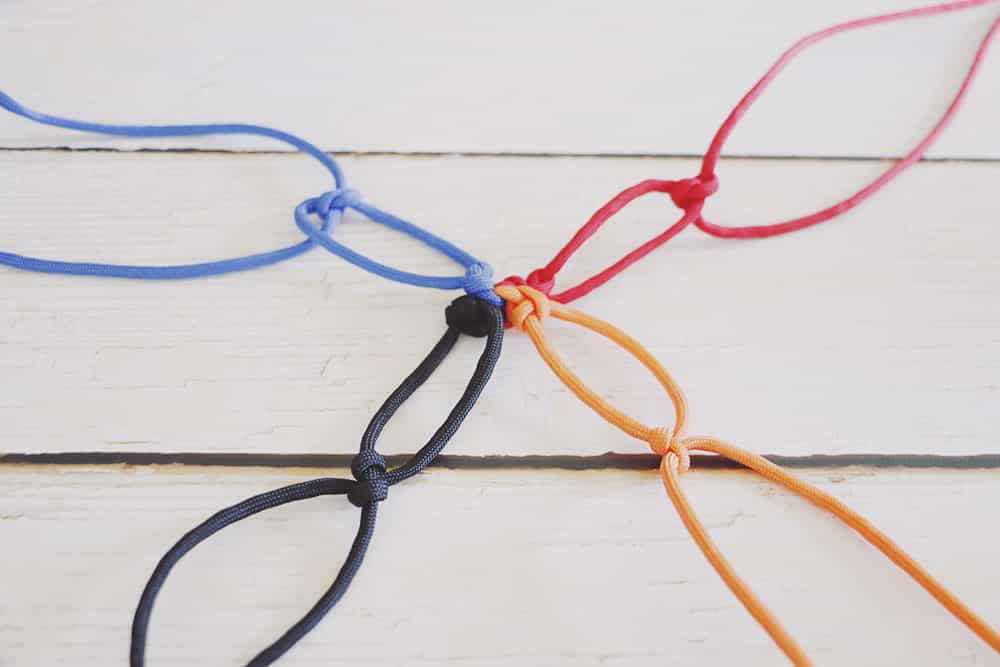 Step 5 : Pull the two strands of the same color up to create a 2″ (or whatever size you prefer) "diamond" shape and double-knot. Repeat three times for the other strands.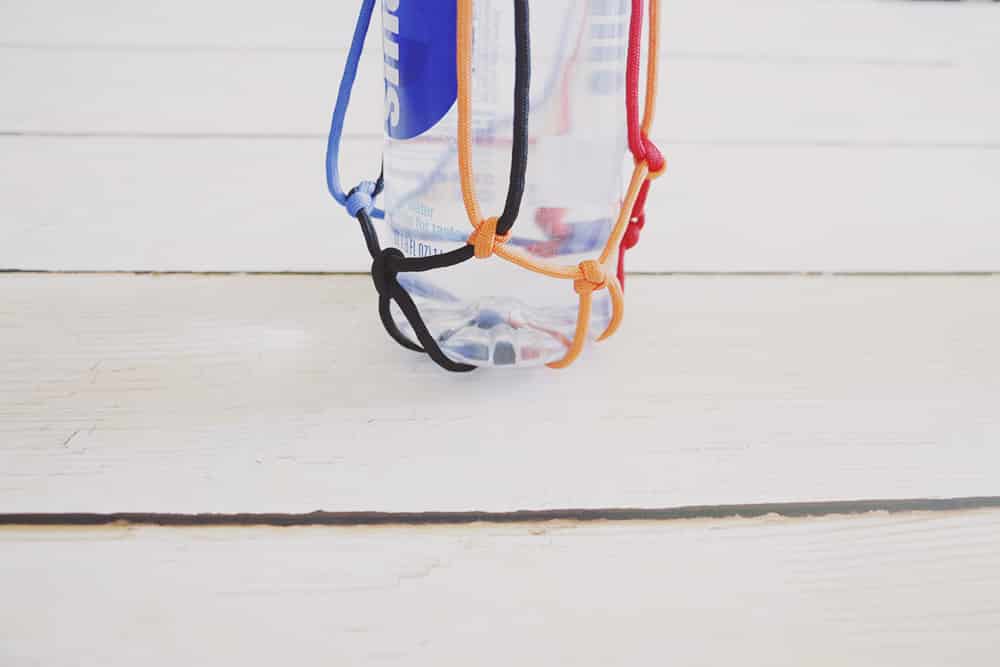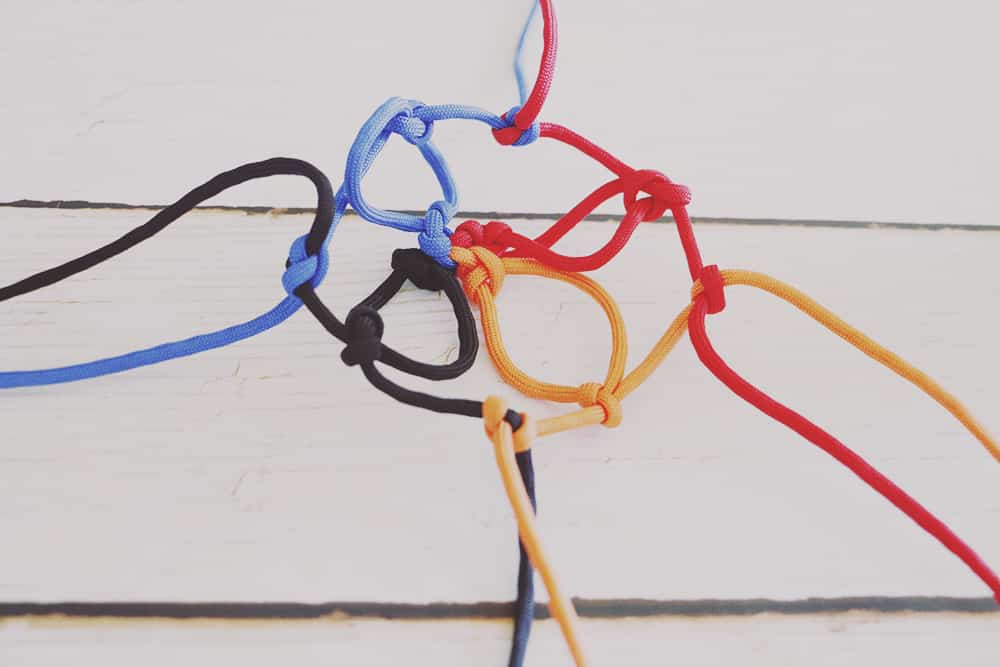 Step 6 : Pull two strands that are next to each other that are different colors together and repeat step 5.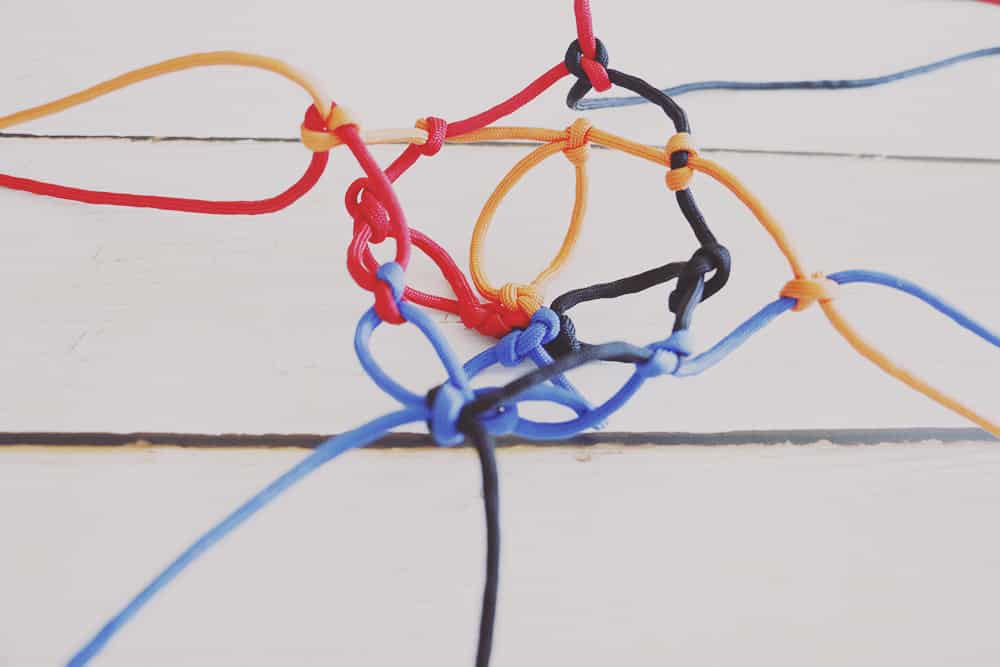 Step 7 : Repeat step 6, making sure to grab the strands that would form a zig zag pattern of the color. (For example: make sure the blue paracord strand goes left then right.)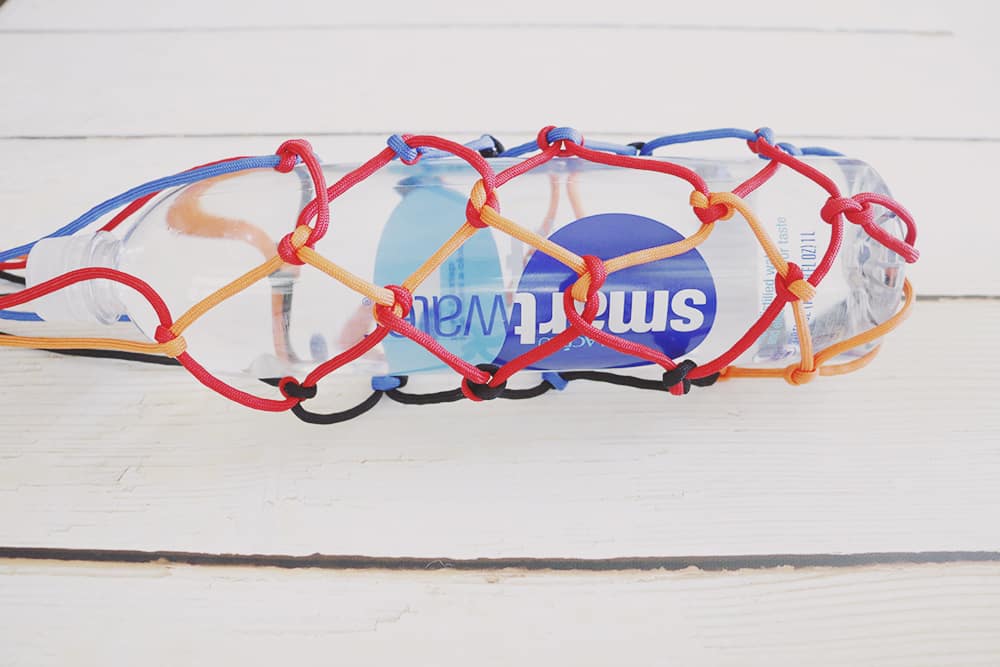 Step 8 : Repeat until you're to the top of your bottle.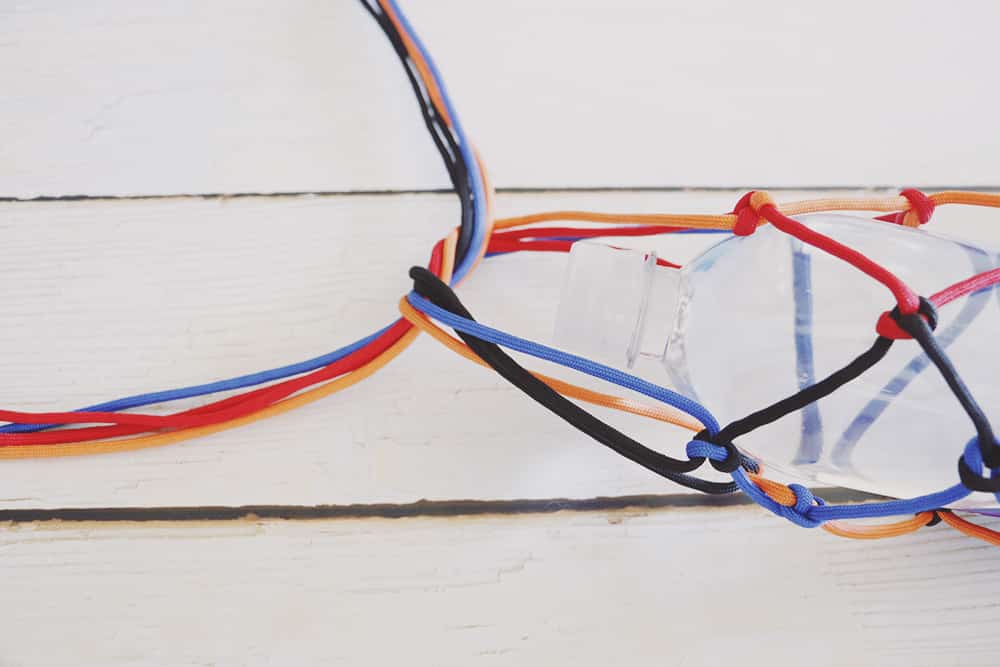 Step 9 : Pull four strands to one side and four strands to another and then tie about 1″ to 2″ above the top of the water bottle. Double-knot and tighten.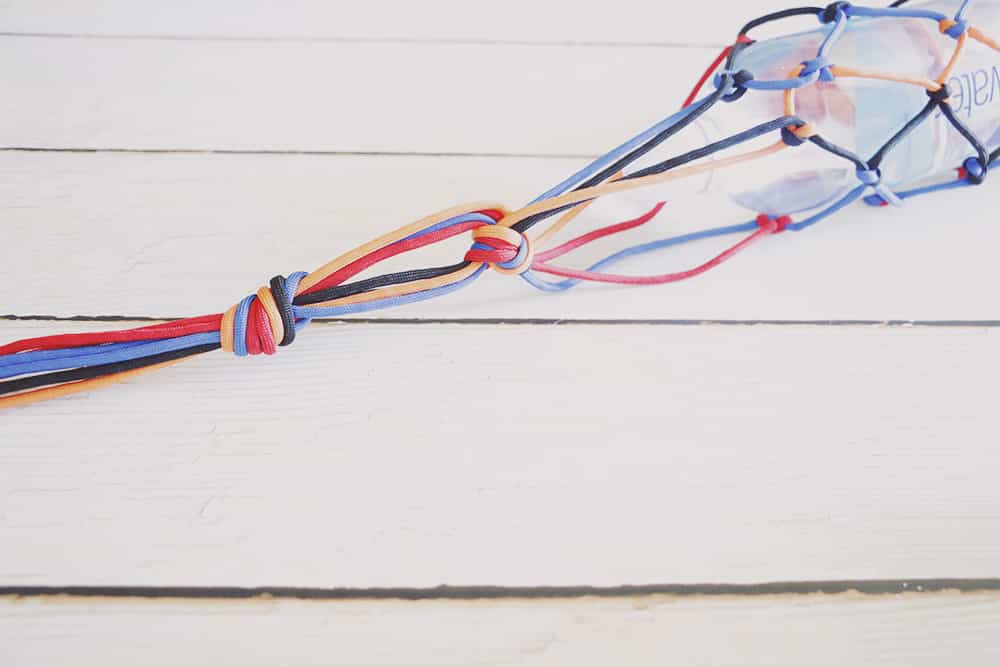 Step 10 : Tie another knot, an overhand one, approximately 2″ to 3″, above this to create a loop where a carabiner can be clipped.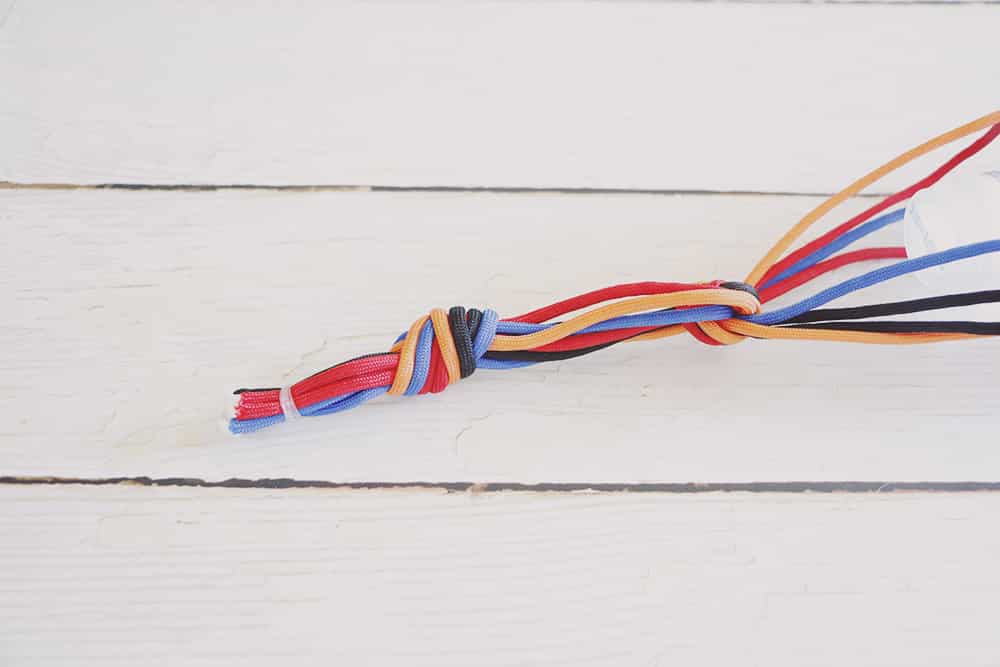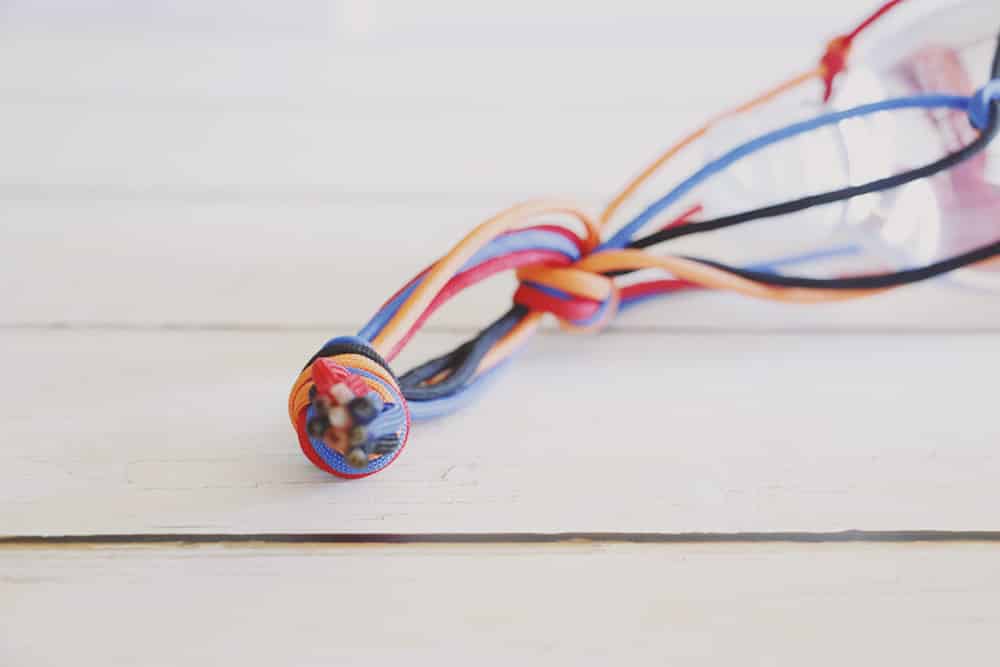 Step 11 : Trim the strands of the paracord to 1″ to 2″ above the overhand knot. Carefully burn the ends to prevent fraying.
---
That's it! The paracord water bottle holder DIY is pretty flexible so you're able to customize it to fit your needs. For instance, if you'd prefer to wear it over your should like a strap – just make the loop where the carabiner clips larger enough for that. Or, if you're wanting a shorter version, you could skip the first double-knot of the end entirely so it's just the overhand knot.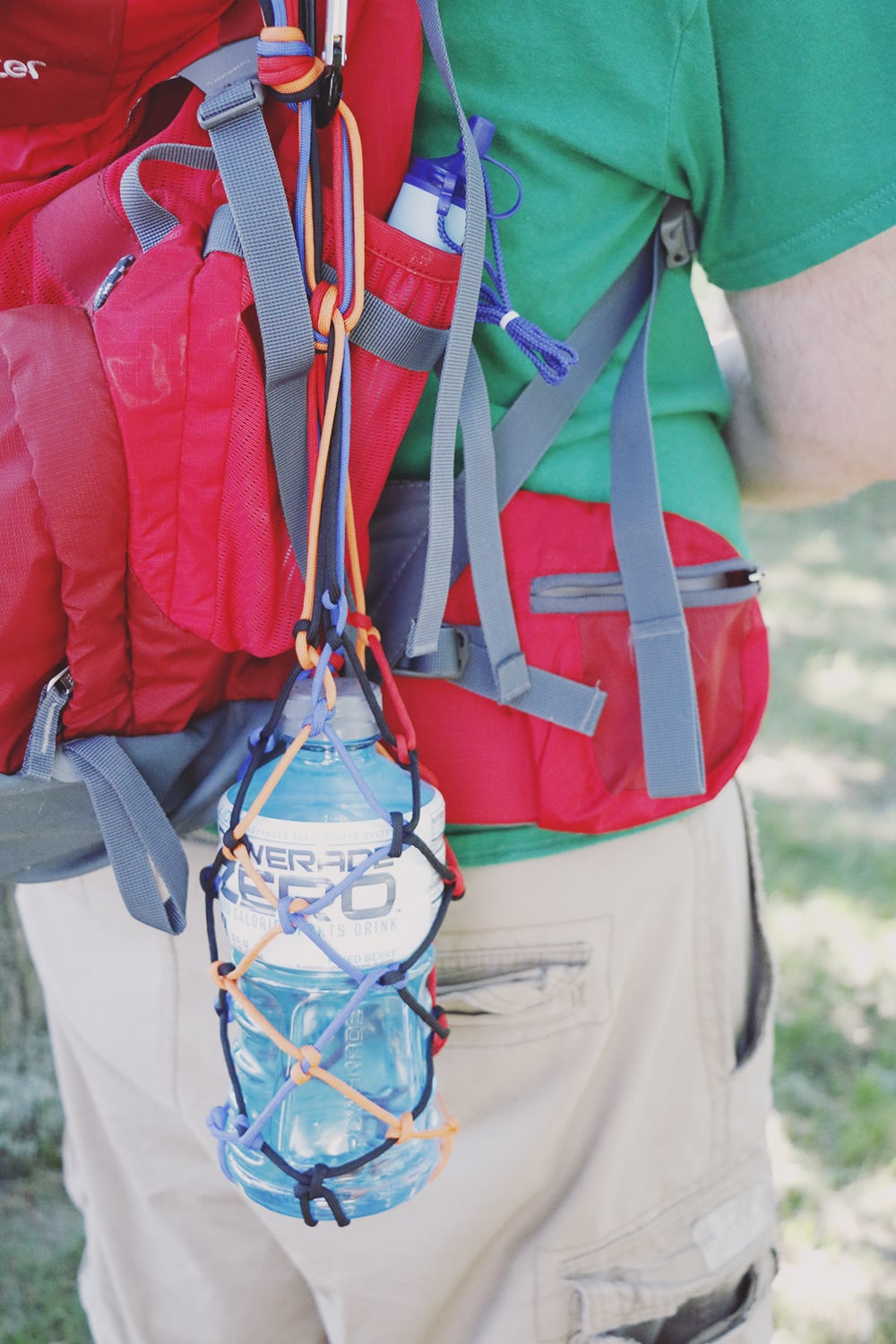 Let's chat!
How do you stay hydrated while hiking? What's your drink of choice during your outdoor adventures?
You might also like: