The reviewer has been compensated in the form of a Best Buy Gift Card and/or received the product/service at a reduced price or for free.
Looking to wash two loads of laundry at the same time in record time? Then the LG Twin Wash System with the LG SideKick is for you!
The other day I was working late out in our shop and I got a text message. I expected it to be from Ashley asking me to let the dog outside or to tell me she was going to sleep. It wasn't. It was: "Can you come in? I think Lily may have wet her jammies." Uh Oh!
Sure enough, she had wet her jammies and the bed. It was time to clean up. Ashley was on baby duty and I was on get the bed and jammies taken care of. Of course it was late at night so some things like getting the jammies fully cleaned was going to wait until the morning. If only there was a better way…
Luckily, there is!
I just found out about the AWESOME LG Twin Wash System with the LG SideKick available at Best Buy. Most front load washers available these days have a pedestal available to raise them off the ground and provide storage. LG has created the awesome new SideKick. It replaces the traditional pedestal with a mini 1.0 cubic foot washing machine.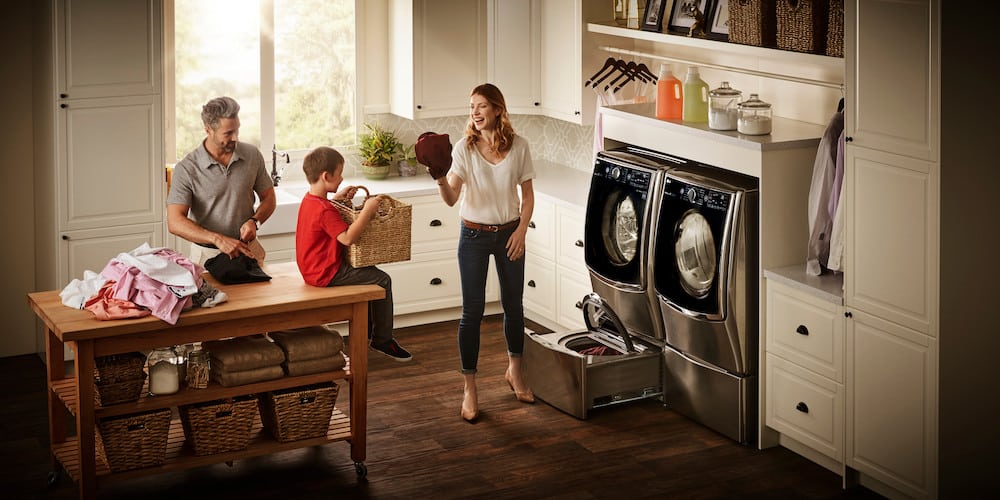 This feature would have been awesome to have the other night. I hate running the washing machine for something really small like a onesie. If I would of had an LG SideKick, I could have just popped that onesie in and presto! Clean onesie!
Couple this with the LG Twin Wash System and you'll be a clothes washing machine! Well not you, I guess… the actual washing machine.
With LG's TwinWash system you get the best of both worlds. For small loads that can't wait there is the LG SideKick pedestal washer down low. Up top you've got you LG Front load washer for the bigger loads. Even better, you can use both simultaneously!
Not only do these Front load washers have mega capacity to tackle any size load, they are energy efficient while giving you the best cleaning performance. No wonder more households have chosen LG laundry over any other brand!
LG Front load washers have gotten pretty awesome recently. They are packed with features. You get LED control panels, TurboWash 2.0 to save up to 30 minutes on larger loads, and TurboSteam technology to deeply penetrate fabrics for greater cleaning power. Some LG Front load washers even have Wi-Fi!
Want to learn more? Head over to BestBuy.com to check out the LG Twin Wash System!
What is your favorite LG Twin Wash System feature? How would you use in your household?
You might also like: