Need a new way to enjoy your Summer berries? This Blackberry and Mozzarella Grilled Crostini recipe is the perfect savory dish!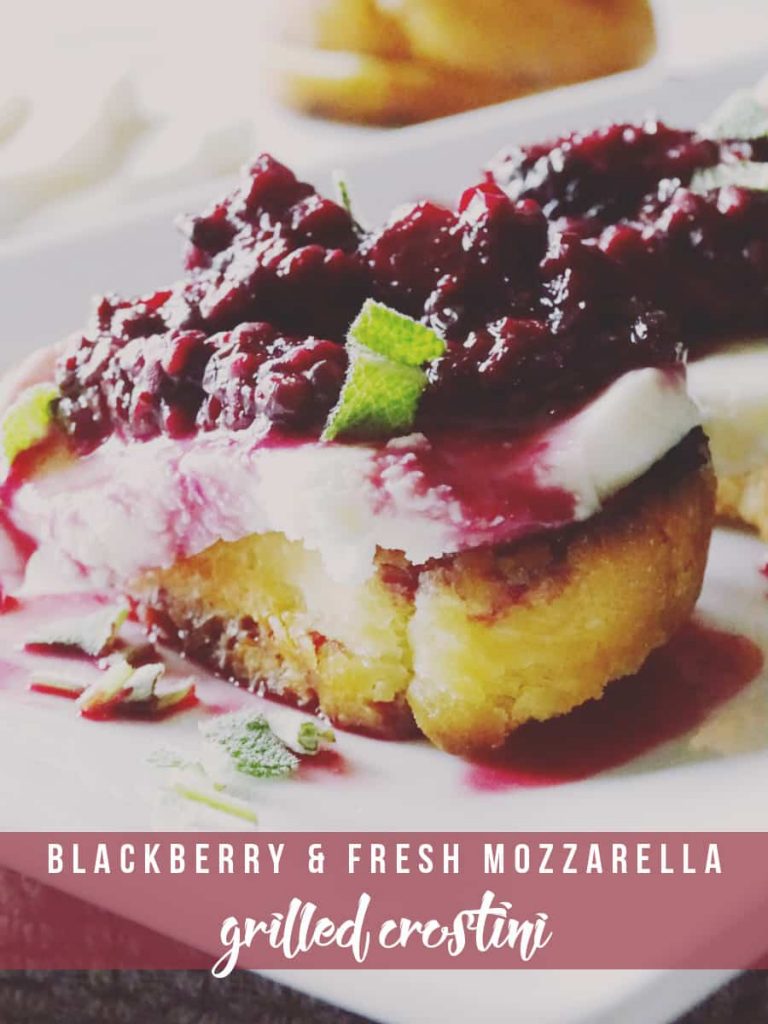 Does a recipe ever come to mind, but it takes you about a whole year to finally make it? That's what happened with this recipe that I'm sharing today. I had it written down in my notebook of blog topics and just never got around to it. But now that it's grilling season again, and our blackberry bush is starting to blossom, it seemed like the perfect time to finally make this simple Summer appetizer!
Let's talk about our blackberry bush, shall we? We put it in the ground about three or four years ago and, boy, has it ever taken off! It's a monster now, along with our raspberry bush! But our berry bushes are one of the things I look most forward to in the Summer. I love my morning routine of picking berries and then having so many berries by the end of the season that we don't know what to do with them!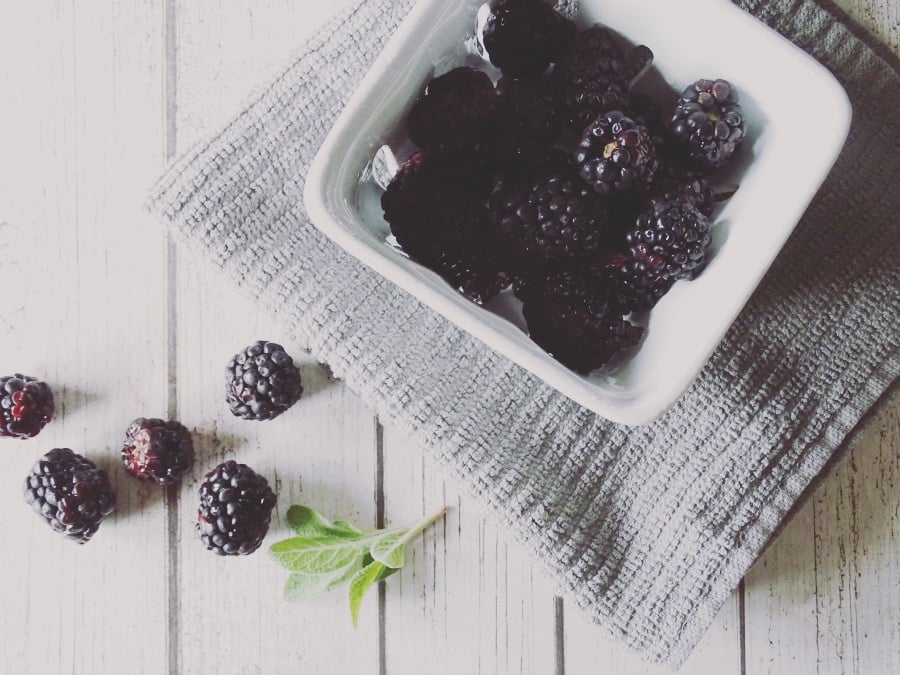 I usually end up making jam. Lots and lots of jam. So I really wanted to figure out another way to use up our berries besides jam, dishing them out by the bagful to family and friends, and freezing them.
Since I'm not a huge fan of sweet dishes, I opted to make a savory blackberry starter instead of a typical blackberry dessert. We eat a lot of fresh mozzarella salads in the Summer so I knew that would be a perfect pairing for this blackberry and mozzarella crostini. Of course, crumbled goat cheese or warmed, melted brie would work, too!
And since the grill is always lit during the Summer, there was no better way to toast my slices of bread than over a flame! It really gave the crostini a nice crunch and smokey flavor!
blackberry and mozzarella grilled crostini
Blackberry & Fresh Mozzarella Grilled Crostini
Ingredients
1

pint

of fresh blackberries

rinsed

1

tsp

. honey

Zest of 1 lemon

A few fresh sage leaves

chopped

Small baguette

I used an Italian sub roll!

Extra virgin olive oil

Fresh mozzarella slices
Instructions
For the blackberries
In a small saucepan, heat the blackberries over a low flame.

Gently smash the blackberries down with a fork as they cook down.

Mix in the honey and lemon zest and continue cooking until blackberry mixtures has thickened
For the crostini
Heat a grill or grill pan over medium.

Lightly brush the bread with olive oil. Grill olive oil side down for a few minutes until grill marks are achieved.

Repeat on the other side.

While the crostini is still warm, add a slice of fresh mozzarella.

Then, spoon some of the blackberry mixture on top. Top with some fresh sage and serve.
This recipe actually exceeded my expectations! I'm definitely kicking myself for not making this sooner! Now that I know how good this blackberry and mozzarella grilled crostini is, I'll certainly be making it all Summer with our fresh, garden blackberries!
Let's chat!
What's your favorite way to cook with Summer berries? What's your favorite type of crostini? Do you have any favorite blackberry recipes?
You might also like: