This Rocky Road Ice Cream recipe is so much better than store-bought that you'll never need to hurry to the grocery store on an ice cream run again!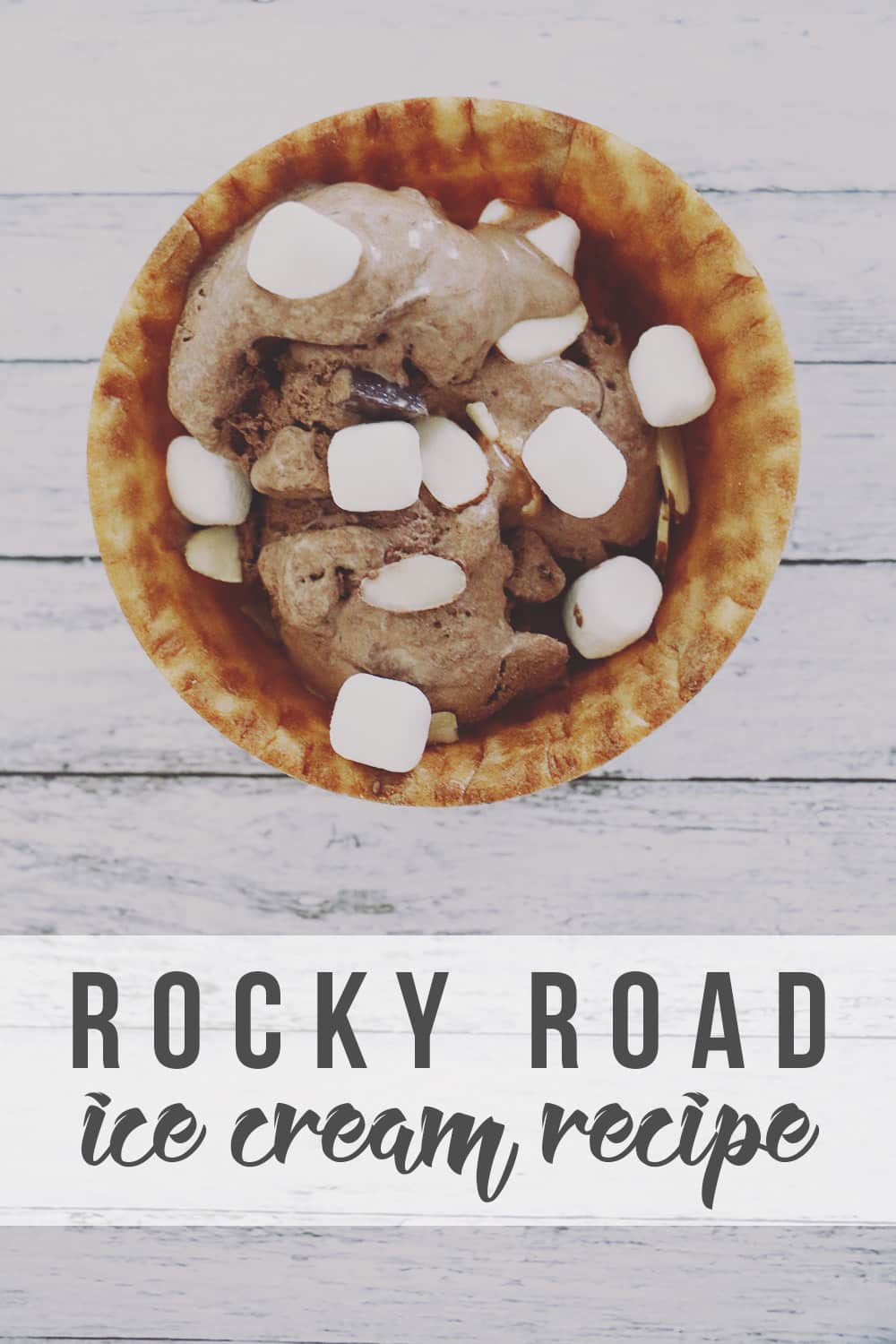 One of my favorite things about Summer is that our local ice cream shops open. One of them is within walking distance and another is a quick 10 minute drive away. I've already indulged at both of them (multiple times, I might add) this season and they were SO good. But … it didn't take long to realize that regular indulgences would quickly eat away at our bank account.
And as much as I love the Mint Chocolate Chip Ice Cream that we made – it just wasn't going to cut it all Summer long. So I knew I needed to branch out and try a new ice cream. And plain vanilla (as good as it is) just wasn't enough.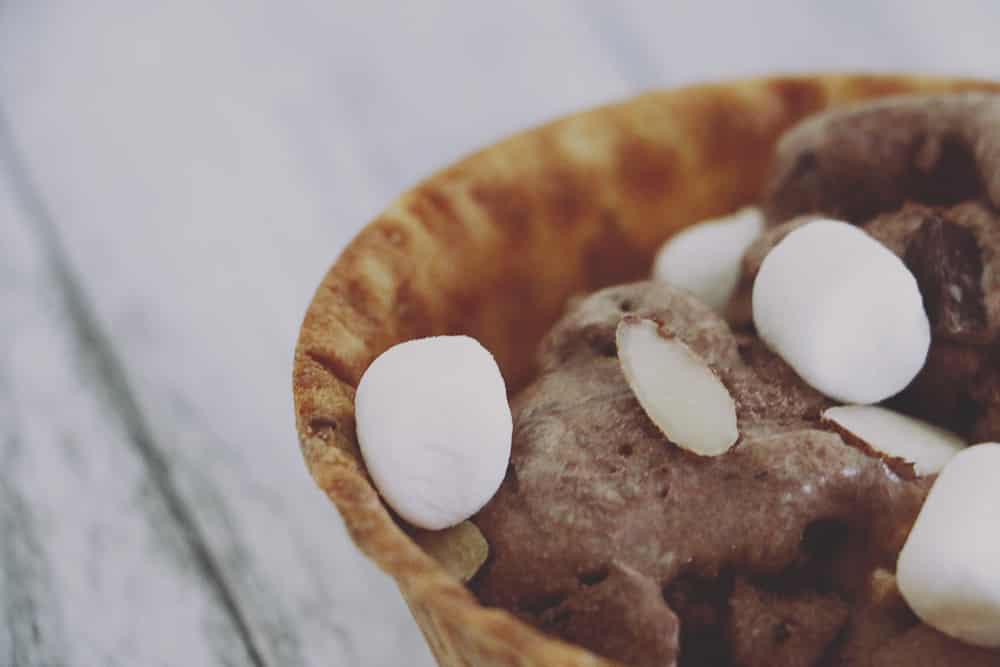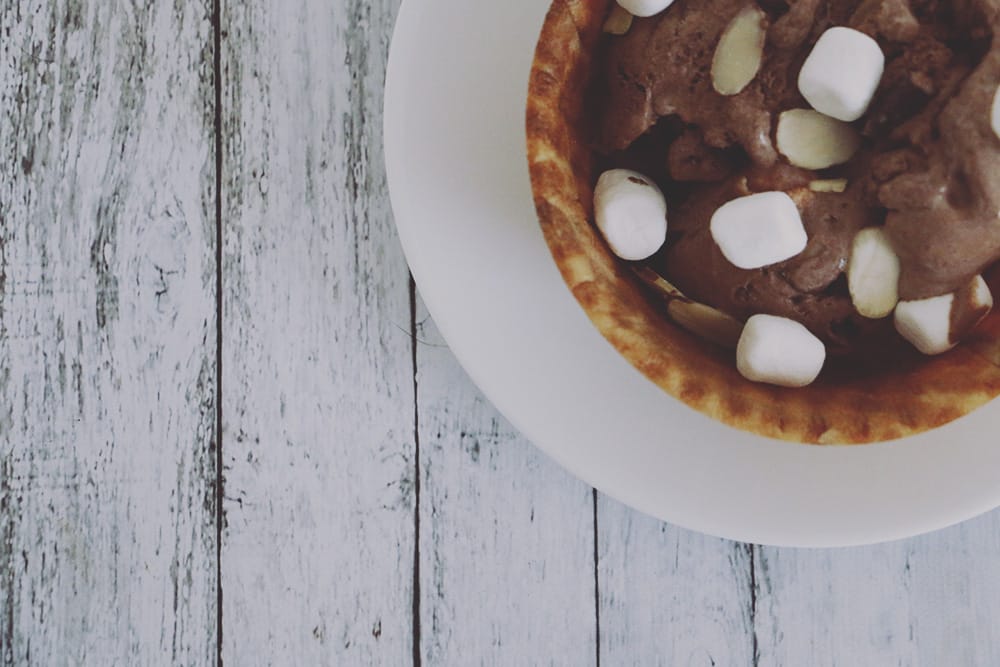 Insert this Rocky Road Ice Cream recipe.
We'd never tried making chocolate ice cream and Nathan's flavor of choice is definitely chocolate. So when he suggested we make chocolate ice cream, I thought it'd be fun. But then we realized that if we were going to try to replace a weekly run to the ice cream shop, we'd have to do better than that.
So rocky road it was!
This rocky road ice cream recipe is so simple, so chocolatey and so indulgent that it's about 100x better than anything we would have gotten locally. I love those shops and all their fun flavors, but oh my goodness – there is something to be said about homemade ice cream. It just tastes better. And you get to decide on the ice cream to extra ratio (which is usually never quite right at the ice cream shops. I need more add-ins!)
And this rocky road ice cream recipe is no different.
We added in extra marshmallows, cocoa almonds (which no one ever has but they are SO good!) and even some super dark chocolate chunks to really up the chocolatey flavor. Perfection is what the end result is.
Rocky road ice cream has quickly become my new favorite ice cream flavor even though it was never super high on my list when I bought it elsewhere. It just needed that homemade goodness that you can't find in a carton or at an ice cream shop, I guess!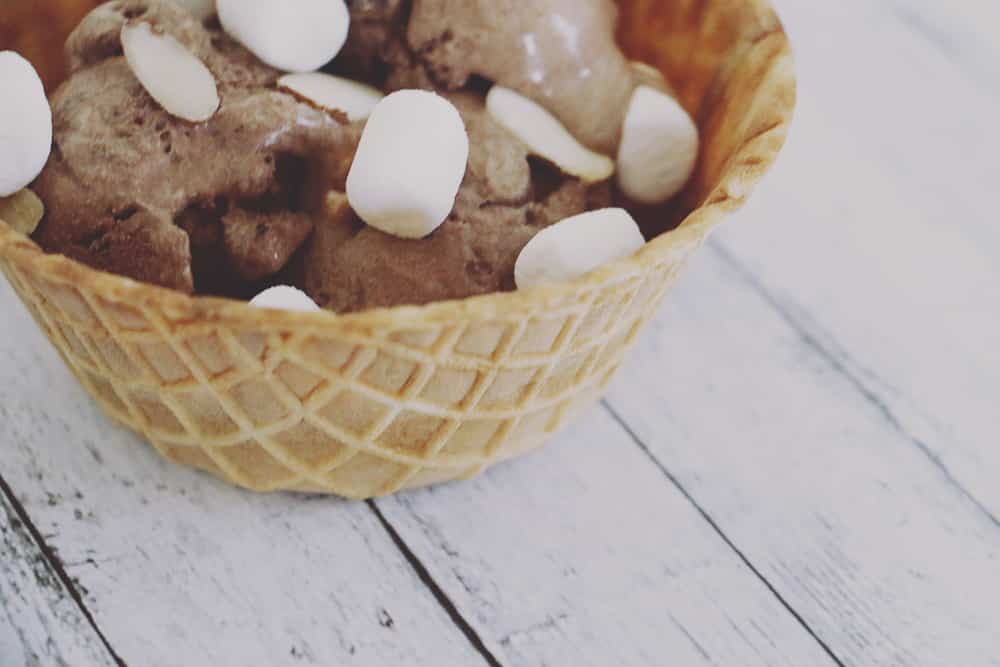 rocky road ice cream recipe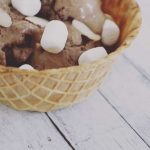 Rocky Road Ice Cream
Ingredients
1/2

Cup

Ghirardelli Unsweetened Cocoa Powder

1/3

Cup

White Sugar

3

Tbsp

Brown Sugar

1

Cup

Heavy Whipping Cream

1

Cup

Half and Half

1/2

Tbsp

Vanilla

1/2

Cup

Marshmallows

1/4

Cup

Sliced Almonds

1/4

Cup

Cocoa Almonds

Chopped

1/2

oz

Ghirardelli 72% Dark Chocolate

Finely Chopped
Instructions
Combine the cocoa powder, white sugar and brown sugar until thoroughly mixed.

Add in the heavy whipping cream, half and half and vanilla. Whisk together until sugar dissolves.

Pour the mixture into your ice cream maker and churn for 30 minutes or until it reaches your desired consistency.

In the last 2-3 minutes, add in the marshmallows, sliced almonds, cocoa almonds and chopped dark chocolate.

Pour mixture into freezer safe container and freeze for at least 2 hours before serving.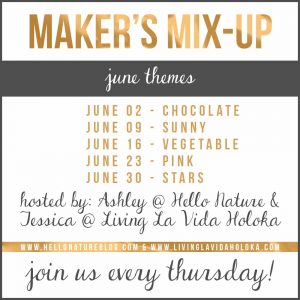 And this week's Maker's Mix-Up theme is Chocolate! I want to see your favorite chocolate recipes (and projects!) in this week's link-up:
Let's chat!
What's your favorite ice cream flavor? Are you a fan of rocky road ice cream? Have you ever tried to make homemade ice cream?
You might also like: