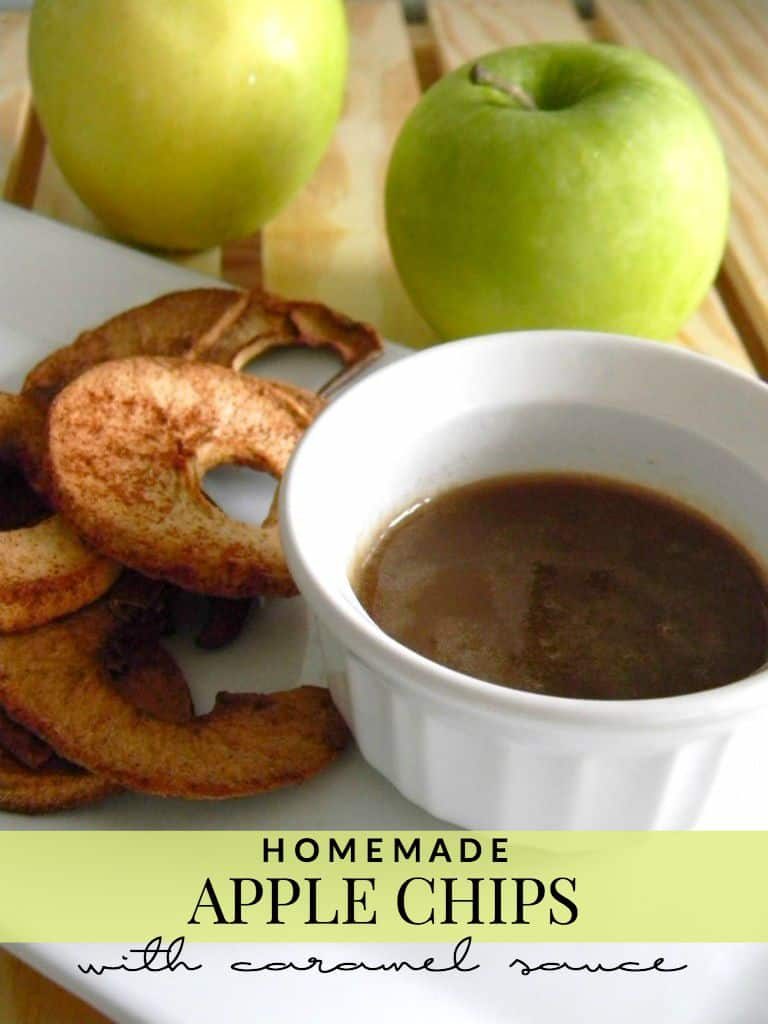 hile pumpkin everything season seems to steal the spotlight this time of year, I also love the arrival of Fall because of the fresh apples that are also in season. The arrival of Fall gets me excited for so many things, including apple picking. I try and make it a point to go apple picking at least once during the Fall. I usually go overboard at the apple orchard and fill my wagon with more apples than we can eat before they start to spoil!
But that means I'm usually doing a lot of baking with apples. I love making apple pancakes, apple pie, apple spice cakes, and homemade applesauce. One thing I hadn't tried making up until recently was homemade apple chips. I used to love buying bags of cinnamon apple chips. Now that I know how easy it is to make them myself, I'm sure I'll be making a lot of homemade apple chips this Fall!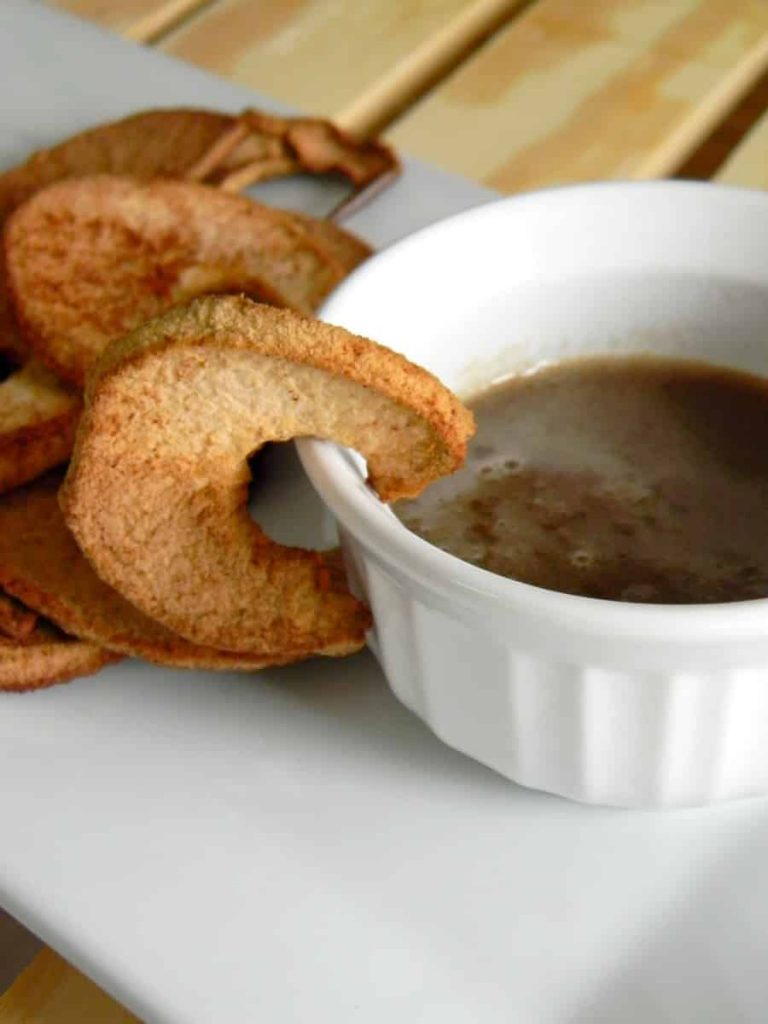 All you need is one large apple, cinnamon, and sugar and you'll have homemade apple chips in a couple of hours! Believe me, they're so worth the wait! If you have an apple peeler, slicer, and corer
, it'll make this recipe so much easier. It's not necessary, but a lot quicker than coring and slicing an apple yourself!
Another thing I love with apples is a cup of caramel sauce for dipping. So I made an easy caramel sauce that uses only three ingredients! You probably have all of the ingredients already in your home. There's no heavy cream in this caramel sauce. In fact, you don't even need to use dairy to make this recipe!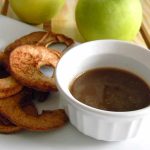 Homemade Apple Chips with Caramel Sauce
A deliciously easy way to turn fresh apples into apple chips with a three ingredient caramel sauce for dipping!
Ingredients
For the apple chips
1

large Granny Smith Apple

2

tbsp

. sugar

1

tsp

. cinnamon
For the caramel sauce
1

cup

brown sugar

1

cup

milk

I used vanilla almond milk, but other varieties would also work well

Pinch of sea salt
Instructions
For the apple chips
Preheat oven to 250º and line a baking sheet with parchment paper.

Thinly slice an apple or use an apple peeler, slicer, and corer to make apple slices.

In a bowl, mix together apple slices, cinnamon, and sugar.

Arrange apple slices evenly on baking sheet and bake for 2 hours.

Turn the apples over after an hour so they bake evenly.

Apple chips will be done baking when they crisp up.

Allow to cool before eating.

Keep apple chips in a container in the fridge up to 3 days.
For the caramel sauce
In a small saucepan, add brown sugar and milk.

Stir over medium heat until completely combined.

Add pinch of sea salt to the caramel sauce.

Bring caramel sauce to a boil, continuing to stir to avoid sauce from burning.

After sauce has boiled for a few minutes, take the saucepan off the heat.

Allow caramel sauce to cool before serving.

Caramel sauce will keep in a container in the fridge up to a few weeks.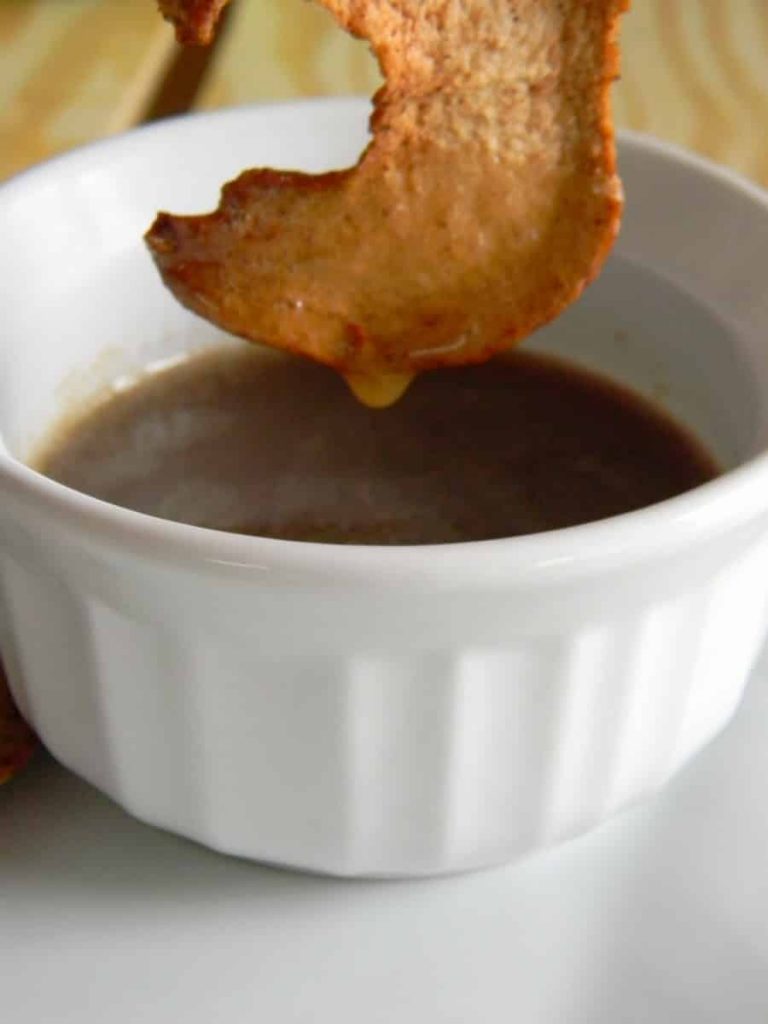 This caramel sauce is thinner than the bottled caramel sauce you're probably used to. It tastes just as good and leftover sauce can be used for so many things! Top ice cream, dip other fruit in it, use it in pies or other baked goods, or add a spoonful in your morning coffee! Enjoy!
Save
Save