This shop has been compensated by Collective Bias, Inc. and its advertiser. All opinions are mine alone. #TimeWithAveeno #CollectiveBias
When it comes to self-care for moms, it can feel like it's impossible to take time for yourself. But if you've got 10 minutes with AVEENO®, this list can make it feasible and *maybe* even somewhat easy!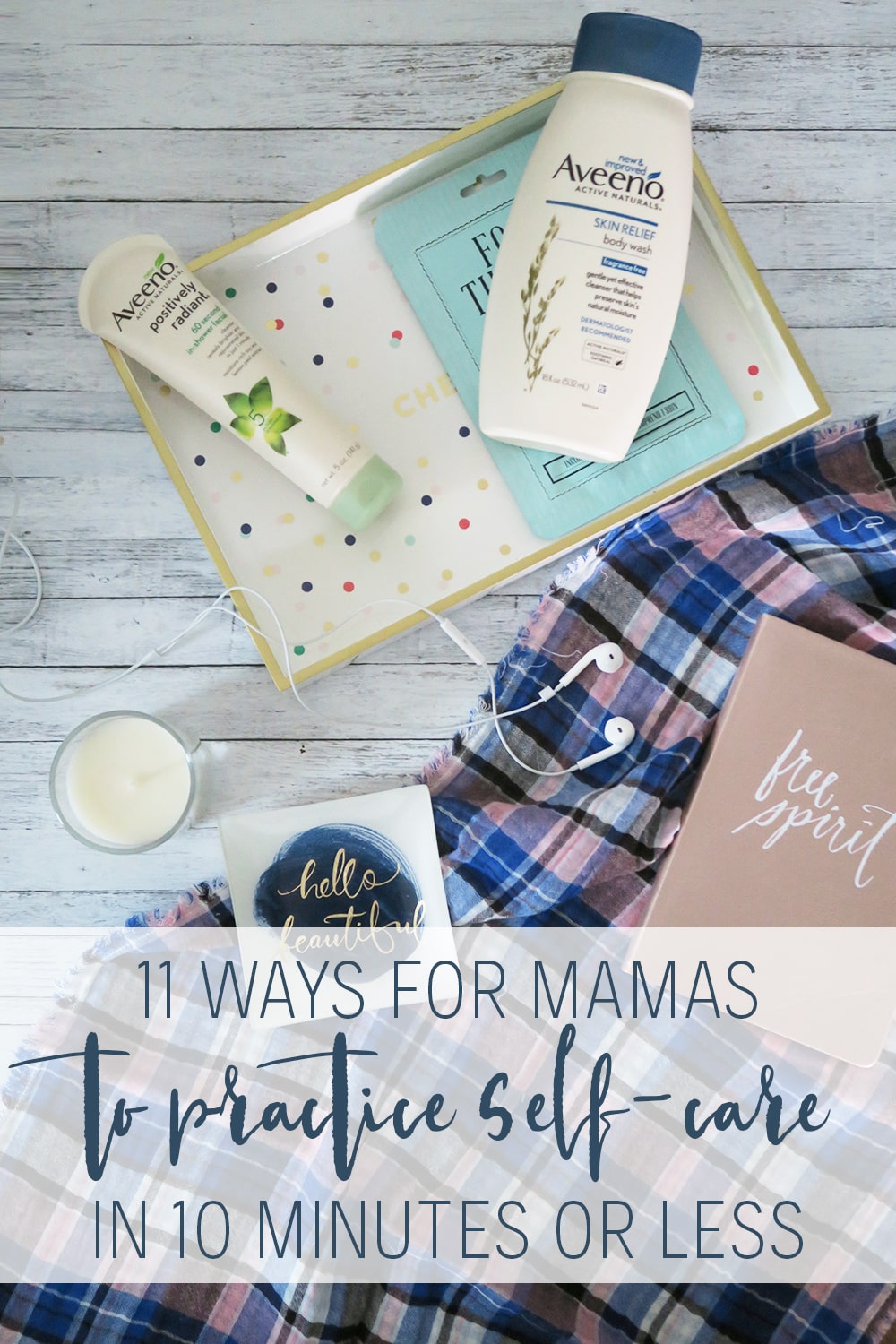 If you came here for an expert on self-care, you're in the wrong place. And if you're looking for someone that does this every day because her life is perfectly balanced, you're really in the wrong place.
But if you came here looking for a mom that gets you because you struggle with taking time for self-care every day? I'm your gal.
I'm a mom that jumped into the deep end with attachment parenting and at times, it has been the hardest thing I have ever done. It's consumed me in so many ways, but I'd never change it. I'm also a mom that struggles to go to the bathroom alone some days. And a shower? Pfft. Those days feel extra special.
I get your struggle. And while I can't expertly guide you on how to always take care of yourself, I can be something better. I can be the girlfriend you'd grab coffee with that offers suggestions – real life ones that I try to do on a dailyish basis – to take care of you in just 1/144th of your day.
So, mama, if you're like me and struggling to give yourself that much-deserved me-time – read on. I promise that more often than not, you can find a way to take those ten minutes for yourself. Self care for moms doesn't have to feel like mission impossible.
And these suggestions aren't going to break the bank or make you jump through any crazy hoops.
10 Minute or Less Mom Moments
Get moving | No, walking around your house to clean up toys doesn't count. Neither does chasing your toddler that just learned how to walk. This is time dedicated just to you and whatever movement you choose. A walk around the block, a ten-minute yoga session in your living room, a jog on the treadmill – doesn't matter.
Take a shower | People say laughter is the best medicine, but I'm pretty sure showers are. Especially once I started using AVEENO® Skin Relief Body Wash and AVEENO® POSITIVELY RADIANT® 60 SECOND IN-SHOWER FACIAL. Every time I shower, the AVEENO® Skin Relief Body Wash is my go-to. . And the AVEENO® POSITIVELY RADIANT® 60 SECOND IN-SHOWER FACIAL feels like a mini spa date with myself for so much cheaper.
Now if you aren't familiar with AVEENO® – you are missing out. It's my favorite brand for all of Lily's toiletries. Body wash, shampoo, sunscreen, lotion – if it's AVEENO®, we've got it.
The AVEENO® Skin Relief Body Wash is fantastic for itchy, dry skin. It quickly cleanses and removes dirt without changing the skin's natural moisture barrier while being dye and soap free. This makes it great for sensitive skin like mine!
The AVEENO® POSITIVELY RADIANT® 60 SECOND IN-SHOWER FACIAL is the perfect indulgence in just a minute! You'll get more naturally radiant, healthy-looking, glowing skin 4x faster than at-home masks and peels. Its non-comedogenic formula works with the steam of your shower to gently exfoliate dirt, oil, and dead skin with the help of soy and lemon peel extracts.
Prepare a healthy snack just for you | It's easy to feed yourself junk when you're trying to make sure your little one is eating right all the time. But feeding your body the nutrients it needs helps you be your best self for you and your little ones. Plus, if you load it up with enough vegetables, your little ones might be less likely to steal your food ;) Plus, a smoothie is a great option if you're on the go.
Reach out | Connect with a friend or loved one via phone, text, or email and catch up with them about something other than your kids or being a mom. Talk about your favorite TV show, share something you're proud of from work, chat about an upcoming vacation – anything other than things about parenting.
I love my daughter more than anything, but I love her even more when she's not the only thing I think or talk about. This is probably one of the best ways to practice self care for moms, in my opinion.
Complete a random act of kindness | Random acts of kindness may not be the most direct form of self-care that you can do, but they always make me feel good. Plus, I fully believe that someone, some day, will return the favor. Not sure what act of kindness to do? You can check out my kindness calendar from a few years ago.
Listen to music | I spend most of my day with silence while we're reading books or with kids music. So a nice little break for me is listening to music that I actually want to listen to. Even if it's just for ten minutes, it's a nice break from the Bubble Guppies theme song being stuck in my head.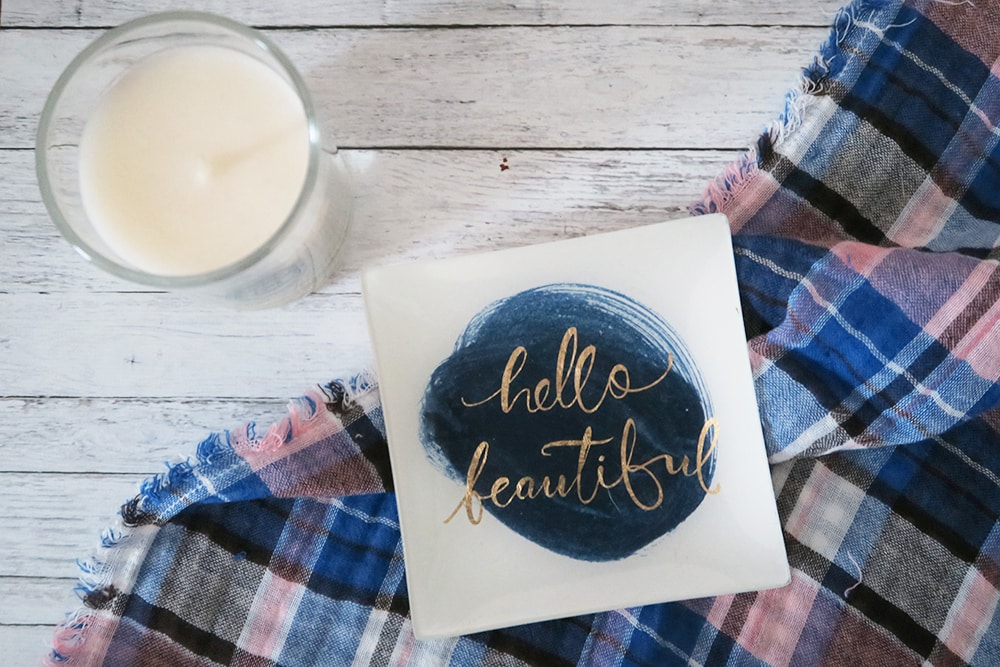 Embrace nap time as down time | What mother hasn't heard "you can do so much during nap time!" and hasn't spent that precious 1-2 hours cramming in everything they can possibly think of? Anyone?
I'm SO guilty of the nap time hustle, but nap time is the perfect time to take a breather. Sleep if you can afford more than the 10 minutes. If you can't, just close your eyes for ten and just rest. Meditate, light a candle or listen to music if you need a little help relaxing. It's worth it. And I promise your to-do list can most likely wait.
Say no to something | And don't feel guilty about it. Give yourself the okay to say no just because you don't want to. Your to-do list is most likely already overflowing. Don't add something that isn't as important as everything else to it!
Be grateful | Spend ten minutes and write down everything you're grateful for from that day or the day before. This makes the tough moments not so bad, especially if you can look back at previous days and know the entire week hasn't been awful. Make a gratitude jar if you're looking for a way to keep track of things, too.
Have a hobby | And no – it can't be painting with your children. Or watching tv with your husband. You need something of your own. Journal. Read. Play an instrument. Bake. Keep up on celebrity gossip. Watch reality TV. Create something. Doesn't matter – just make sure it's something you're passionate about.
Get outside | Winter actually is coming so it's a great time to head outside whenever you can before it gets too cold. Go for a walk, feed the birds, sit out on your patio, or even do some gardening. There are plenty of these things that you can do outside and the fresh air will help you feel even more at ease.
---
You deserve to be treated with the same amount of love and care that's devoted to your children – even if it's only just for ten minutes each day. And if ten minutes is too much to ask for every day, you can still grab your new favorite AVEENO® products at Walmart.
Because I know you'll find time to shower, even if it's only once this week ;) Plus, click here to download a coupon and save $2.00 on AVEENO® products!
What are your favorite ways to practice self care for moms? What's your favorite AVEENO® product?