This shop has been compensated by Collective Bias, Inc. and its advertiser. All opinions are mine alone. #GigglesandWiggles #CollectiveBias. Because of my partnership with Gerber, my little one is ineligible to win the Gerber Photo Search or a weekly prize, but you may be eligible so make sure you submit a photo of your baby and/or pet!
Hitting the open road with the whole family, including your dog? You can't miss this road trip packing list for toddlers and dogs!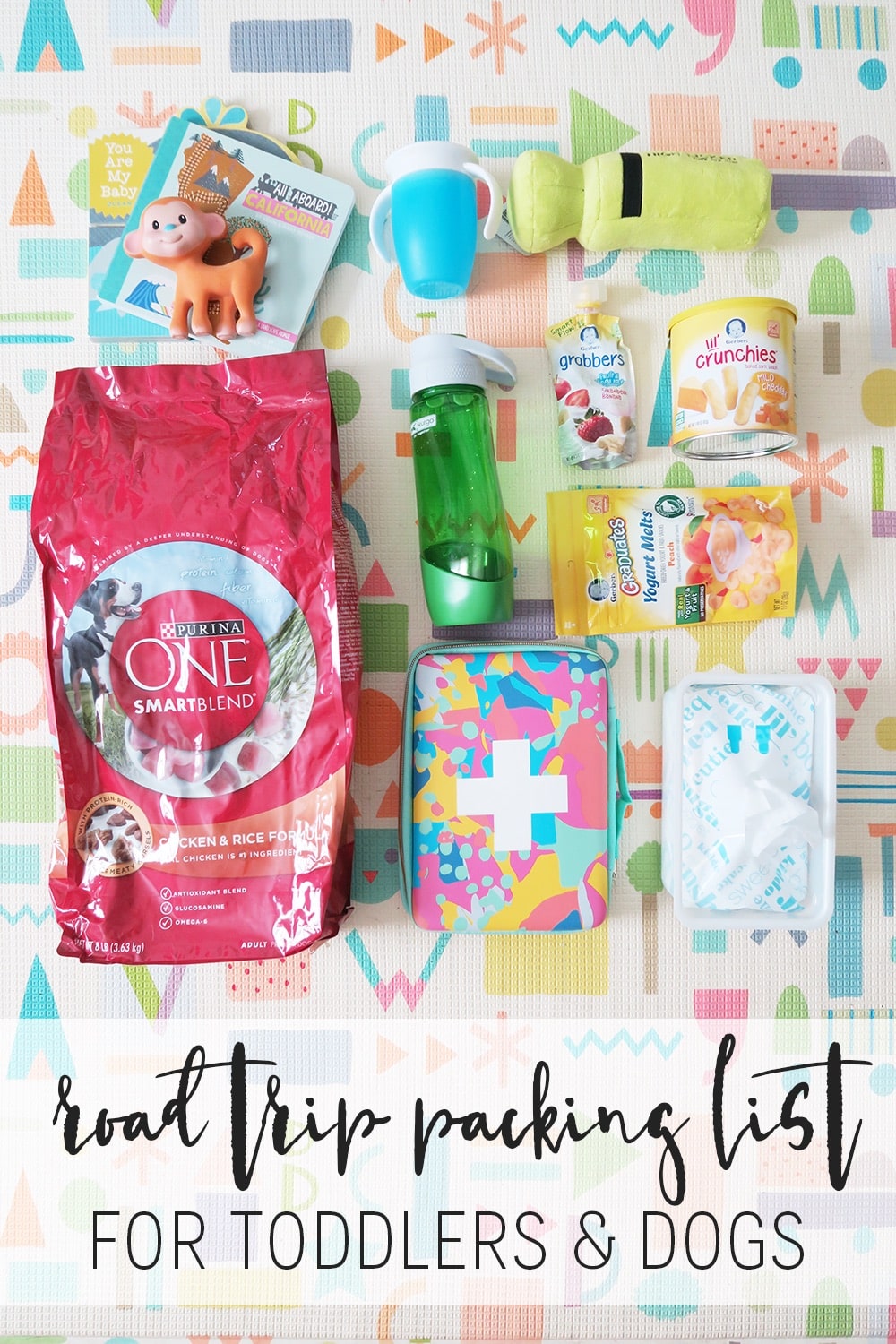 Now that we've traveled quite a bit with Lily and Sookie, we've realized something. Packing for a toddler and a dog isn't all that different.
Packing for them is actually the easiest part of getting ready for trips because it's so similar. Lily needs a couple of extra things that Sookie doesn't, but otherwise, they're like two peas in a pod.
So if you're hitting the road soon with your little one and furry friend, this road trip packing list for toddlers and dogs should help ensure you don't miss anything!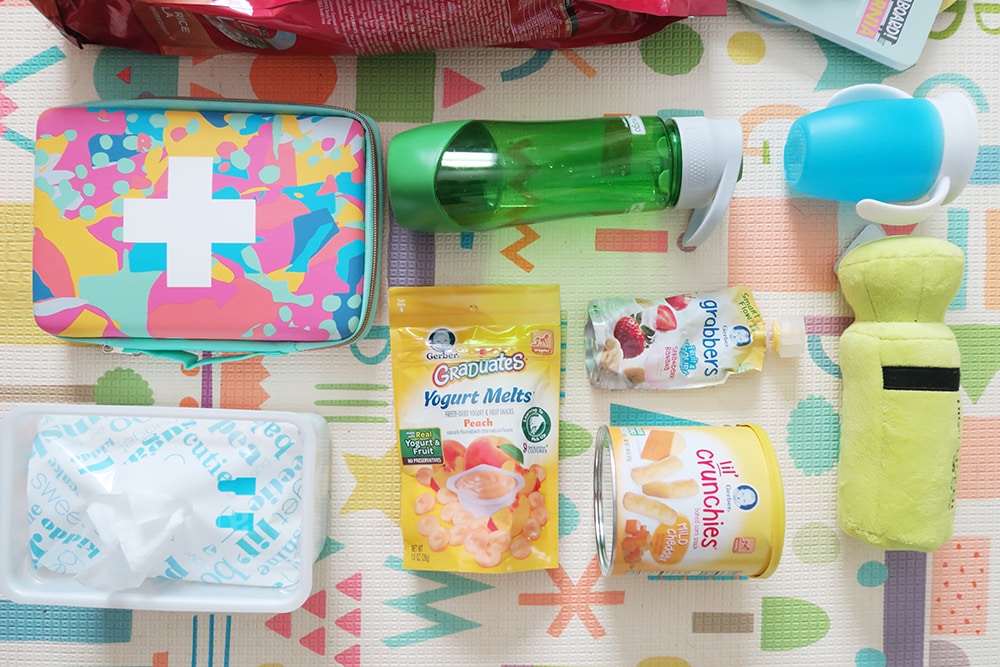 Road Trip Packing List: Food
Whenever we go out of town, we sometimes bring a new food along for Sookie. She tends to not eat as much when we're on the go, so we change it up to entice her a bit. Lately she's loving the Purina® ONE® Smartblend Chicken & Rice.
Our main reason for choosing this specific one is that real meat is always the #1 ingredient and that there are no added artificial flavors or preservatives. Not only that, but it's only manufactured in company-owned facilities. We want the best for her and we know we're getting balanced nutrition with Purina® ONE® Smartblend Chicken & Rice.
As for Lily, we love to bring along nourishing snacks to keep her occupied and satisfied. Our go-to products? Gerber® Grabbers Fruit and Yogurt Strawberry Banana pouches and Gerber® Graduates Lil' Crunchies. Sometimes we'll even grab the Graduates Yogurt Melts Freeze-Dried Yogurt & Fruit Snacks!
We've talked about our love for the Gerber® Grabbers Smart Flow pouches before, but now we're really digging the yogurt options! Each pouch has one 1/4 cup toddler serving of fruit from 1/3 apple, 1 1/2 strawberries & 2 tsp banana and includes 2 1/2 Tbsp of real yogurt. These little pouches are perfect for Lily's tiny hands!
The Gerber® Graduates Lil' Crunchies snacks are perfect for crawlers or just recently walkers. Their shape is just right for Lily's hands, they dissolve easily, and they're easy for her to chew. They have 5 grams of whole grain per serving and 20% Daily Value of Vitamin E for Crawlers per serving.
Not sure if these snacks are right for your little one? Head to MyGerber.com to meet Dorothy, your on-call personal baby expert, or call anytime 24/7 at 1-800-284-9488
The great thing is that you can grab ALL of these (food for baby AND puppy) at Target!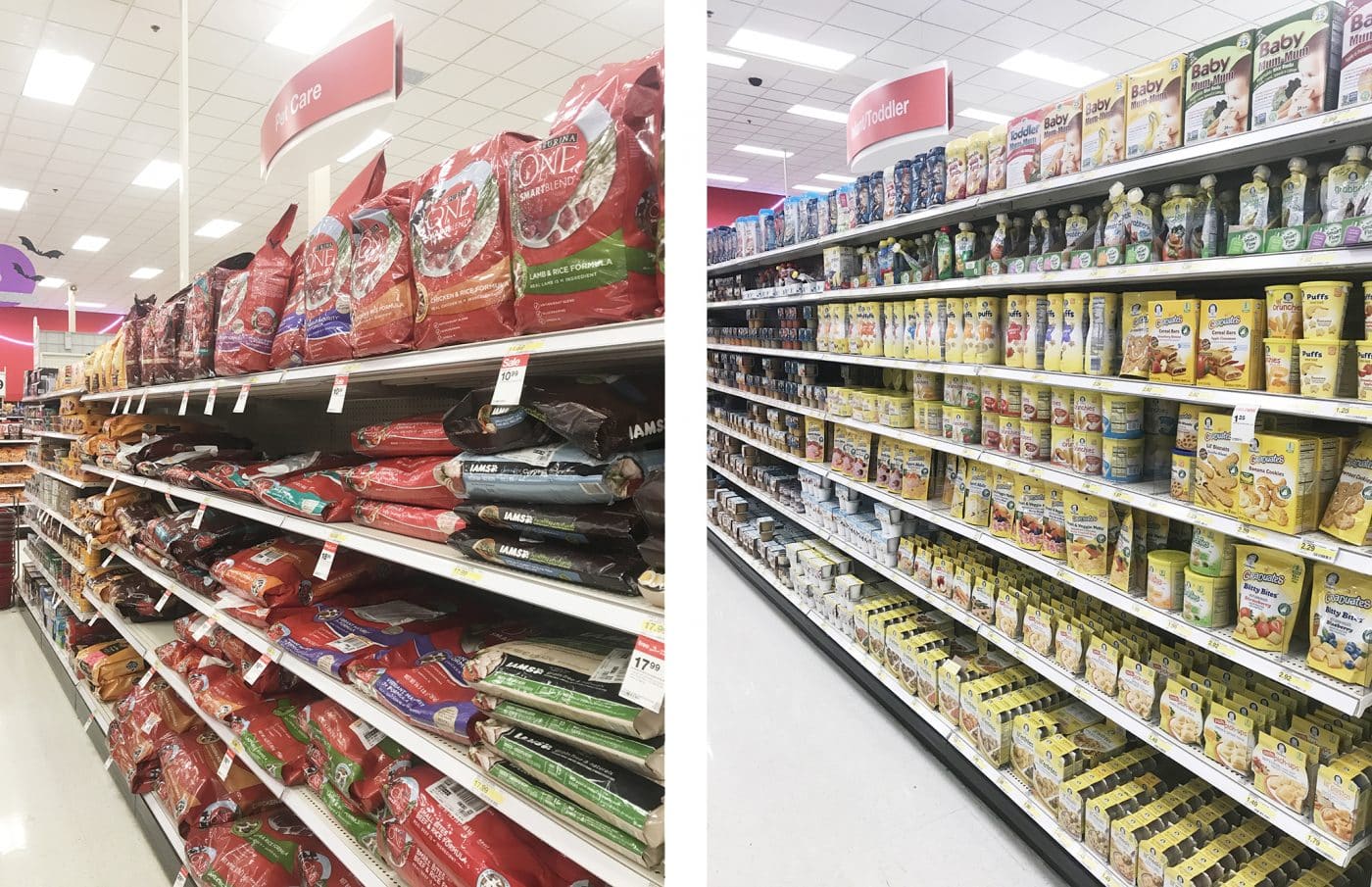 Road Trip Packing List: Toys
Both Lily and Sookie need entertainment on the road. With Sookie, we try to bring her something new to keep her excited and interested. With Lily, we usually bring books and a few toys she loves so we can somewhat replicate our home routine.
Road Trip Packing List: Water
We always make sure we have plenty of water on hand for everyone in the car. Lily has her sippy cup and Sookie has her special dog water bottle that comes with a bowl on the bottom of it for easy drinking.
Road Trip Packing List: First Aid Kit
I've shared ideas for a pet first aid kit before and a lot of the items are the same that we would use for Lily (or even ourselves.) Bandages, gauze pads, sterile eyewash solution, tweezers, and a thermometer with plastic disposable sleeves are musts for our first aid kit. Fill in with whatever your family needs!
Road Trip Packing List: Wipes
Baby wipes are good for SO many things, but they work really well for both babies AND pets. Dirty hands or paws, messy clothes or coat of fur, messy mouths – you name it. Wipes are a must for any trip we go on with both of them.
Road Trip Packing List: Everything Else
Depending on our destination, this part of the list tends to change. But in general, we have a pretty set list of items that go with us. For Sookie, we need a dog bed, leash, collar and poop bags. For Lily, we need clothes, diapers, and toiletries.
Gerber Photo Contest
Gerber is shaking things up with their 2017 photo search and they want YOU to enter! One Grand Prize winner will receive $50,000 plus the title of 2018 Gerber baby. Parents may enter a photo of their baby for a chance to be the next Gerber Baby who may be featured in paid media and Gerber's social channel.
The photo search is going on until 10/27 so you've got plenty of time to enter! All you have to do is post a photo of your child on Instagram (must be a public account) using the hashtag #GerberPhotoSearch2017. You can do this up to 10x!
As if that's not enough, there will also be six (6) weekly winners for Purina/Gerber Baby & Pet photo search. Each weekly winner will receive a $500 prize pack, 1 year supply of Gerber baby food (valued at $600), 1 year supply of pet food (valued at $540). Parents may enter a photo of their pet AND baby for a chance for the weekly winner and will be featured on Gerber.com or social media channels for the week. Just be sure to use both #GerberPhotoSearch2017 and #GerberGigglesandWiggles in your posts!
For official rules, go here. But here's is a brief summary: NO PURCHASE NECESSARY. Legal residents of the 50 United States (D.C.) and Puerto Rico, who are 18 years of age or older, have a valid Instagram account and/or email address, and are parents of a child 48 months of age or younger and meet certain background check requirements. Enter search by: 11:59:59 pm ET on 10/27/17. For Official Rules, including eligibility and entry requirements, judging criteria and prize descriptions, visit www.Gerber.com/photosearch2017/rules. Void where prohibited.
What is in your road trip packing list for toddlers and dogs? Have you tried Gerber® snacks for your little one or Purina® ONE® for your cat or dog?
You might also like: