This Rustic Kale and Root Vegetable Tart is a delicious and savory way to enjoy your fall harvest. This recipe can't be missed!

Hi everyone! It's Jessica and today I'm going to share a savory, veggie-loaded tart recipe to get you in the mood for Fall!
This time of year is always my favorite. Summer turns to Fall and there's just a great shift that happens all around us. Our Summer garden may start to die out for the season soon, but I know that our root veggies will still be going strong before the first frost!
We have rainbow carrots and beets growing in the garden again this year. Carrots basically taste like "Earth candy" when they're pulled fresh from the garden. They're so crunchy and sweet!
Over the past few years, I've become a big fan of beets, too. They're not only loaded with antioxidants, Vitamin C, and a whole bunch of other reasons why you should eat them, but they are a pretty versatile root veggie, too!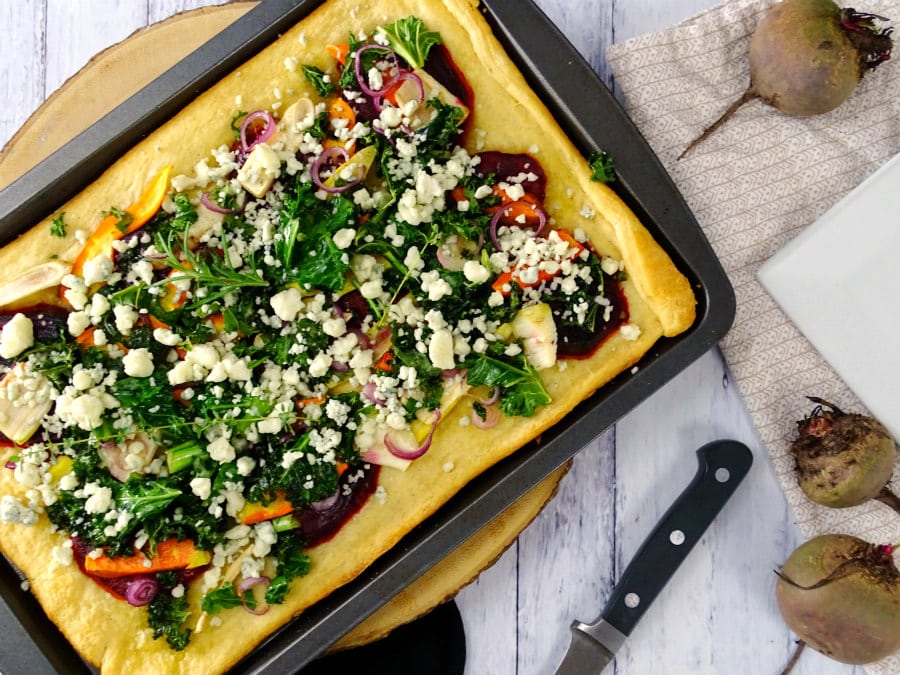 One of my favorite things to do with our garden beets is roast them! It brings out their natural sweetness. Usually, I make beet chips with our garden haul. The beets get sliced thin, drizzled with olive oil, and sprinkled with salt. After about a half hour to an hour in the oven on low, you've got an amazing snack! I also like to pickle our beets and add them to salads.
We recently picked a bunch of fresh beets, carrots, and onions from the garden. I was looking for a new way to use up our beets. There are only so many beet chips and pickled beets you can eat before getting bored!
So I decided to make a Rustic Kale and Root Vegetable Tart. It was a perfect to use up some of our veggies and make a delicious, colorful, and meatless meal!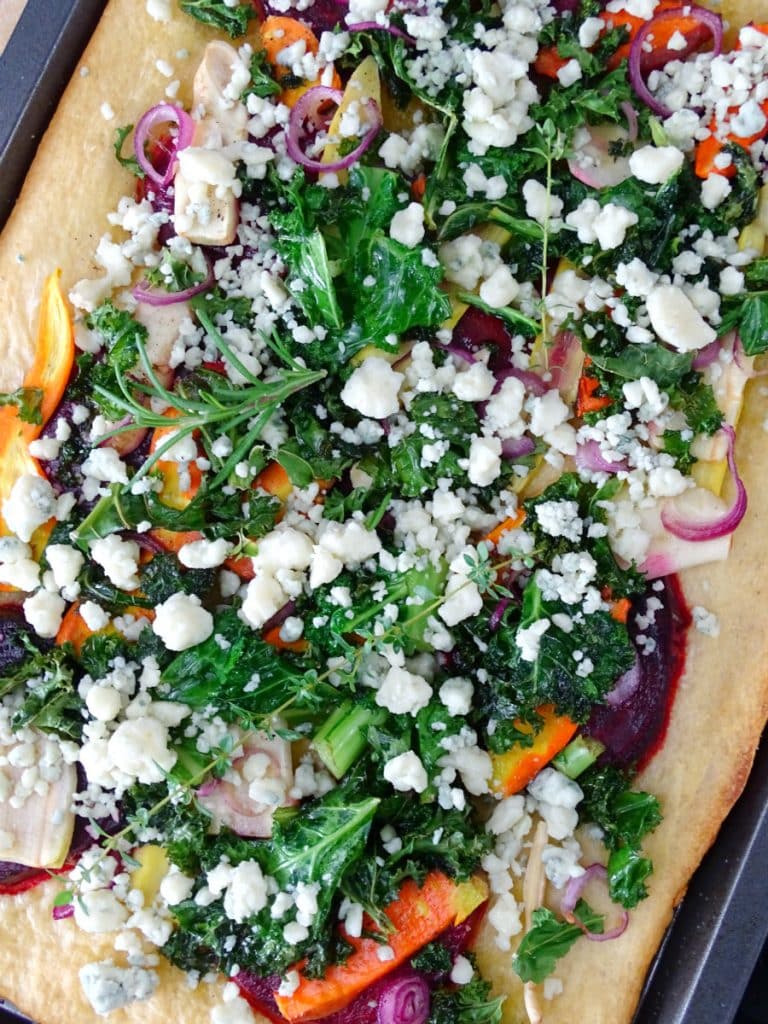 The base of this tart is simple. I used a prepared crescent roll dough sheet. Just pop the can, unroll it, and press it into a small baking sheet. It's so easy to work with and one of my new favorite ingredients to use in recipes. You can make the dough sweet or savory, so your recipe possibilities are pretty much endless!
Before making this tart, I used this dough to make a Pumpkin Spice Cream Cheese Braid. It was so easy to use in my dessert recipe that I bought another tube of dough the following week. It worked perfectly to make this veggie tart! The tart crust comes out crunchy, buttery, and golden brown.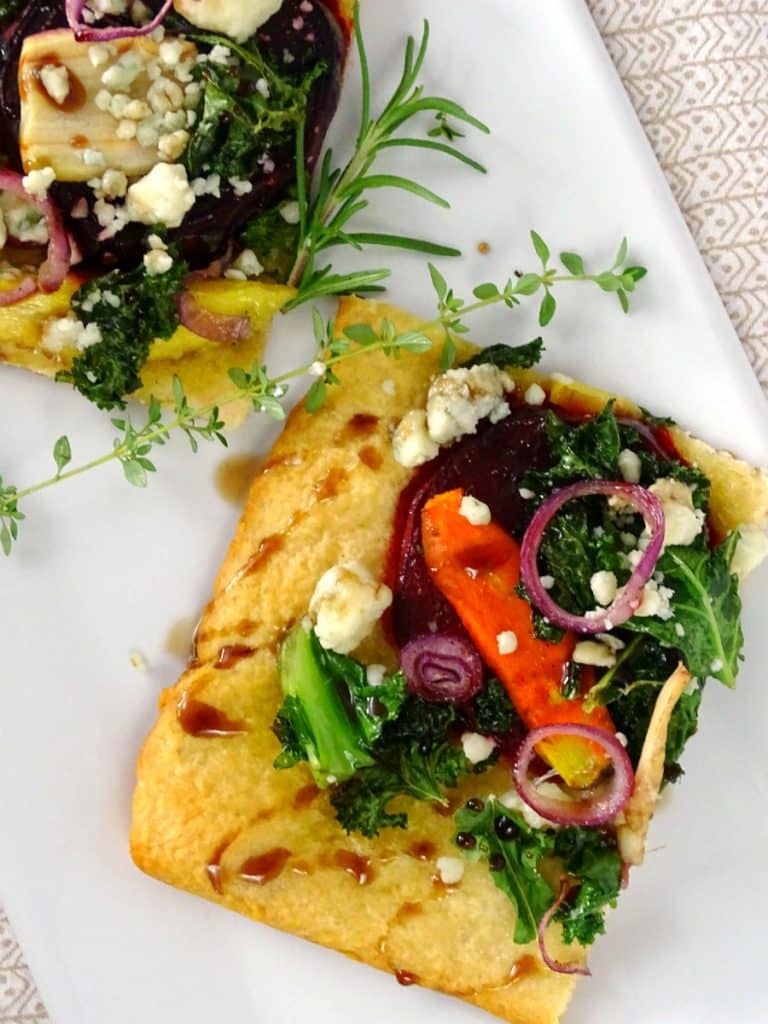 After topping the crust with sliced veggies, it gets a generous drizzle of olive oil that helps roast the veggies to perfection! This tart is best served straight from the oven, but we're not done yet! I sprinkled crumbled blue cheese over the top to give it a delicious bite.
We also have several fresh herbs growing in the garden, so I garnish the tart with a few sprigs of thyme and rosemary. After cutting the tart into squares, I drizzled the squares with balsamic glaze. We eat with our eyes first and I can definitely tell you that my eyes were hungry after putting this tart together!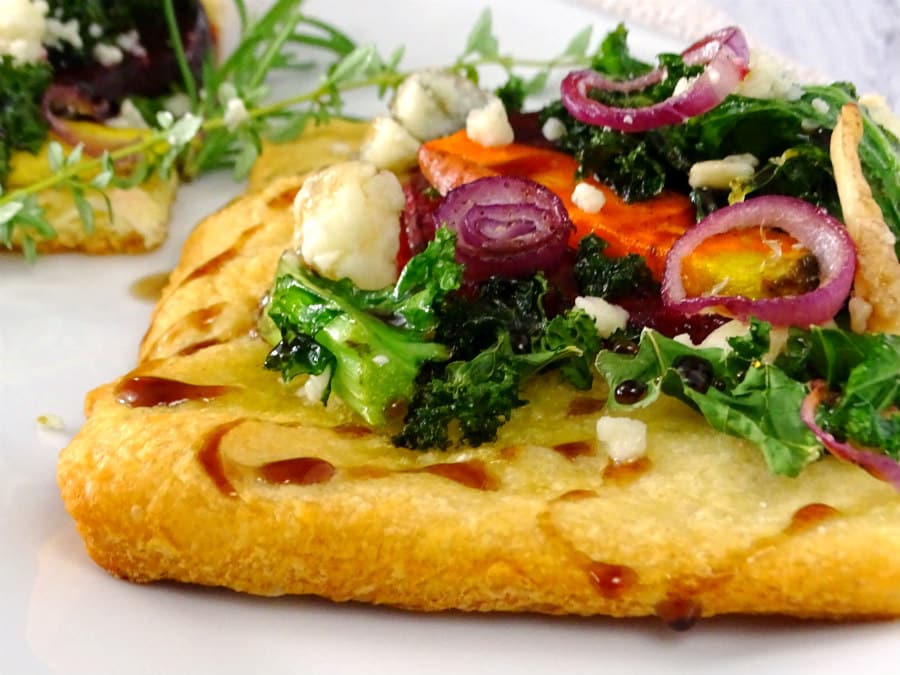 Rustic Kale and Root Vegetable Tart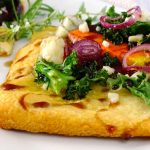 Rustic Kale and Root Veggie Tart
Ingredients
1

prepared crescent roll dough sheet

1

large beet, peeled and sliced into thin rounds

1

small red onion, sliced thin

2

carrots, peeled and sliced into thin strips

1

cup

kale leaves, ribs removed

2

tbsp.

extra virgin olive oil

1/4

cup

crumbled blue cheese

Salt and pepper, to taste

Optional: balsamic glaze
Instructions
Preheat oven to 375 degrees.

Prepare a 9x13 baking sheet with non-stick cooking spray.

Unroll the crescent roll dough sheet and press it into the prepared baking sheet.

Bake dough for 5 minutes, or just until it starts to rise.

Add the sliced beets, carrots, kale, and onions on top of the crust.

Drizzle vegetables with olive oil.

Bake tart again for 15 minutes, or until dough is cooked through and golden brown.

While the tart is hot, sprinkle crumbled blue cheese on top.

Season with salt and pepper and serve with balsamic glaze.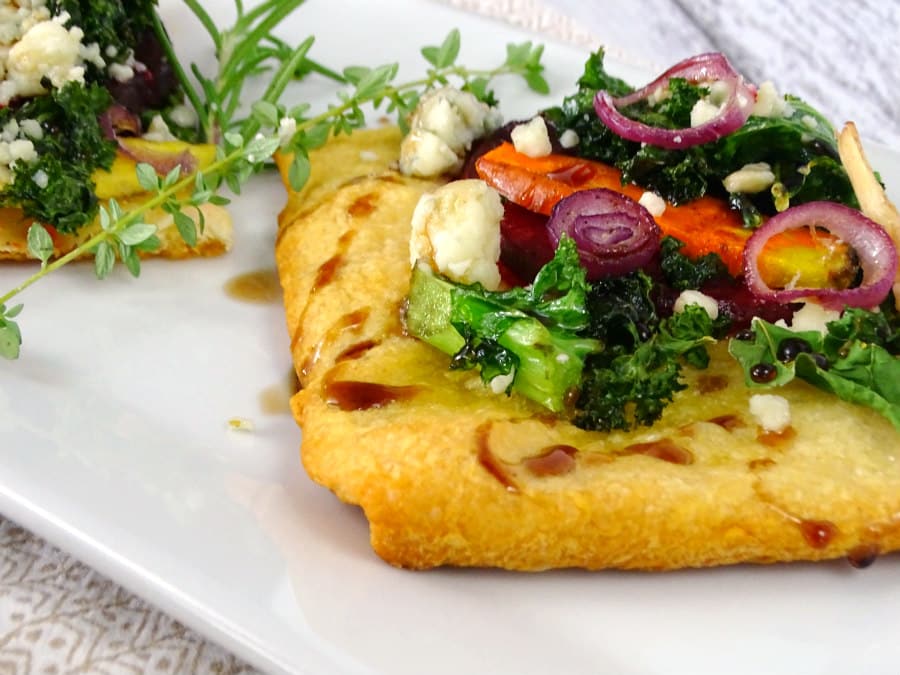 This Rustic Kale and Root Vegetable Tart would make an amazing Fall appetizer (I know it's still a little early, but think about adding this to your Thanksgiving menu this year!) or a great Meatless Monday meal! It made a fantastic lunch for me to enjoy during the week since I've been trying to eat more plant-based meals.
This rustic veggie tart is the perfect balance of crunchy, creamy, salty, and a little sweet. Even if you've never tried a beet in your life, trust me – you're going to love them in this tart!
How will you be enjoying this Rustic Kale and Root Vegetable Tart? What vegetables do you grow in your garden?
You might also like: