Spring is finally approaching. One of my favorite things about Spring is the revival of fresh flowers. The first flowers that appeared in our yard last year were bright, vibrant daffodils followed by fragrant hyacinths. Our abundance of rose bushes bloom throughout the Summer. There's nothing better during the Spring and Summer than fresh clipped bouquets from our backyard. The fresh fragrance of cut flowers is so inviting. It's like bringing a little bit of sunshine indoors with you!

Having many plain glass vases in the house from former arrangements, I decided to give one of them an upgrade for the Spring. I wrapped my vase in jute fabric and used acrylic paints to make colorful stripes. Then I filled the vase with sunny daffodils to remind myself that Spring is soon on its way!
A little secret about my fabric vase – I actually cut the jute from a wine gift bag I had on hand. I snipped off the drawstring top and stitched bottom from the bag, painted stripes on my piece of fabric, then wrapped the fabric around my vase – that's actually a champagne toasting flute – and sealed the ends with glue.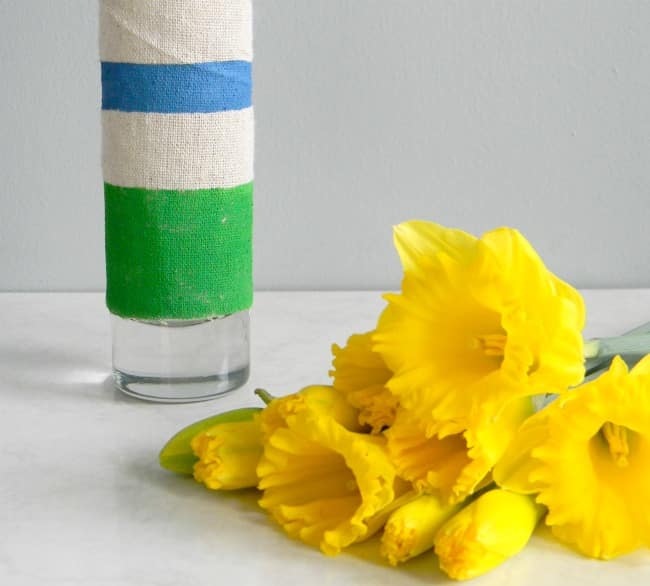 SUPPLIES
Slim glass vase, or repurpose a champagne toaster like I did
Jute/burlap fabric
Fabric glue, or hot glue or E6000
Acrylic paint
Tape (I used masking tape, but painter's tape or washi tape would work, too)
Paint brush
Fresh flowers
STEPS
Make sure your vase is clean. Measure fabric against vase and cut to fit.
When fabric is secure around vase, tape sections off where you want to paint stripes.
Using different color acrylic paints, paint stripes onto the fabric. Allow to dry.
Once paint is completely dry, re-wrap fabric around vase and glue in place. Allow to dry.
Once fabric around vase is completely dry, fill the vase with fresh and vibrant flowers of your choice.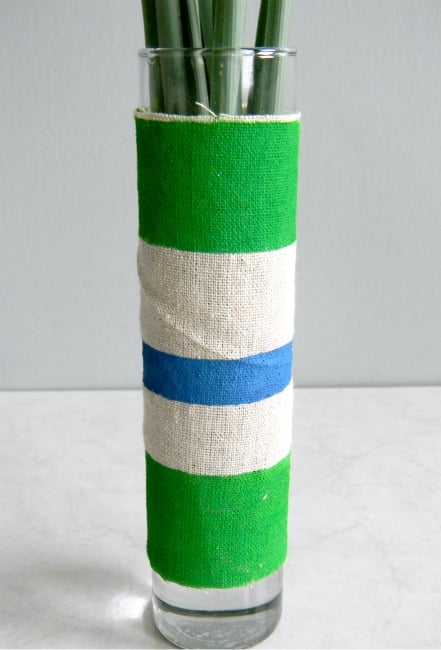 Paint your fabric vase in your favorite color combo or make it match your decor! This is a quick and easy update to a plain glass vase that will add a little Springtime cheer to your home!