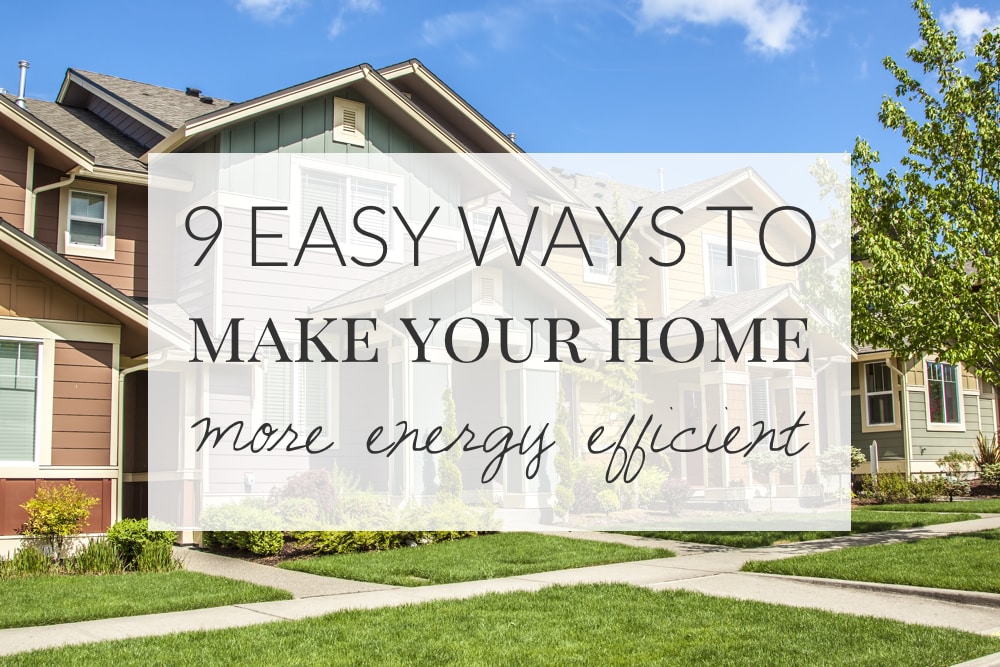 Having an energy efficient home is a no brainer for us. With both of us working from home, it makes sense to do as much as we can to save money since it's our workplace and our house. Not only that, but we want to do our part as a going green family and business. Having an energy efficient home puts less strain on the grid and natural resources plus it reduces emissions.
We've still got a long way to go on our quest to becoming more energy efficient, but we've learned a lot as new homeowners this year. So I thought I'd share nine easy ways to make your home more energy efficient without spending a ton more money.
Choose Energy Star Appliances
I was like a kid in a candy store when we got to go appliance shopping earlier in the year, but it did take a lot of time for us to find ones we liked that were also energy efficient. Older models of refrigerators, dishwashers, stoves, washers, dryers, televisions, and air conditioners are much less energy efficient than they are today and therefore can cost quite a bit more money to run. If you're not in the market to buy all new appliances for your home like we were, start with your oldest appliance and upgrade it to a newer, ENERGY STAR® appliance. Also, if you do buy a new refrigerator, check out this rebate recycling program for some extra cash.
Another bonus? Some appliances have rebates! You can check the rebate catalog to see which appliances have one.
Use your shades to your advantage
Shades/blinds have way more purpose than just keeping the nosy neighbors from peeking in your living room window. Use them to let the light in during the cooler months to help heat your home. Once the sun goes down, or if the day is a bit overcast, keep them shut to keep the warm air in your home from escaping. During the warmer months, keeping them shut will prevent the sunlight from making your home even warmer.
Improve Your Showers
Showers are an easy place to cut your costs with little to no effort. Installing a low-flow, energy saving shower head is a great place to start. They've come out with some great ones that don't make you feel like you're waiting for every single drop of water to trickle down while you're washing your hair, too. Plus, shorten your showers if you can. I like to use a short playlist (approximately 10 minutes long) to help me time myself in the shower so I know when it's time to be done.
Change Your Light Bulbs
When we moved into our house in April, we went through and changed every single lightbulb because they were all incandescent bulbs. We used a mixture of LEDs and CFLs, depending on the light as we had a few that needed dimmable bulbs. Remember: the price to run the electricity to the lightbulb costs much more than the bulb itself so even if you have to spend a bit upfront to switch over to LEDs or CFLs, you'll save money in the long run!
Wash With Cold Water
This is a trick I learned from my Grandma that I never really knew until we bought our house. Most of the laundry detergents that are on the market today work just fine with cold water so there's no reason not to. Over 3/4 of the energy used by washers goes to heating the water so this is a huge money saver. We still wash anything that's heavily soiled in warm, but we haven't used hot water in our washer at all.
Use Your Oven Wisely
Ovens are another easy way to keep your home more energy efficient. Open the door only as often as you need to – every time you open the door, you're dropping the temperature in the oven which means it has to work that much harder to get the temperature back up. Instead, use the light if possible. Also, using the right baking/cooking dishes will help keep your oven usage to the minimum time needed. During the cooler months, it's an easy way to add some heat to your house while you're cooking. Try using it less during the warmer months to prevent your fans/air conditioners from having to work harder to cool your home.
Share The Energy
Something that Nathan and I have mastered ever since we started working from home together is sharing the energy. More often than not, we cook together which means even if we're having something different, there's a good chance that our meals are being cooked with the same heat. Generally, we try to hang out in the same room together, too. We may be doing totally different things, but we're using the same lights, the same space heater when it's colder, the same fan when it's warmer, etc.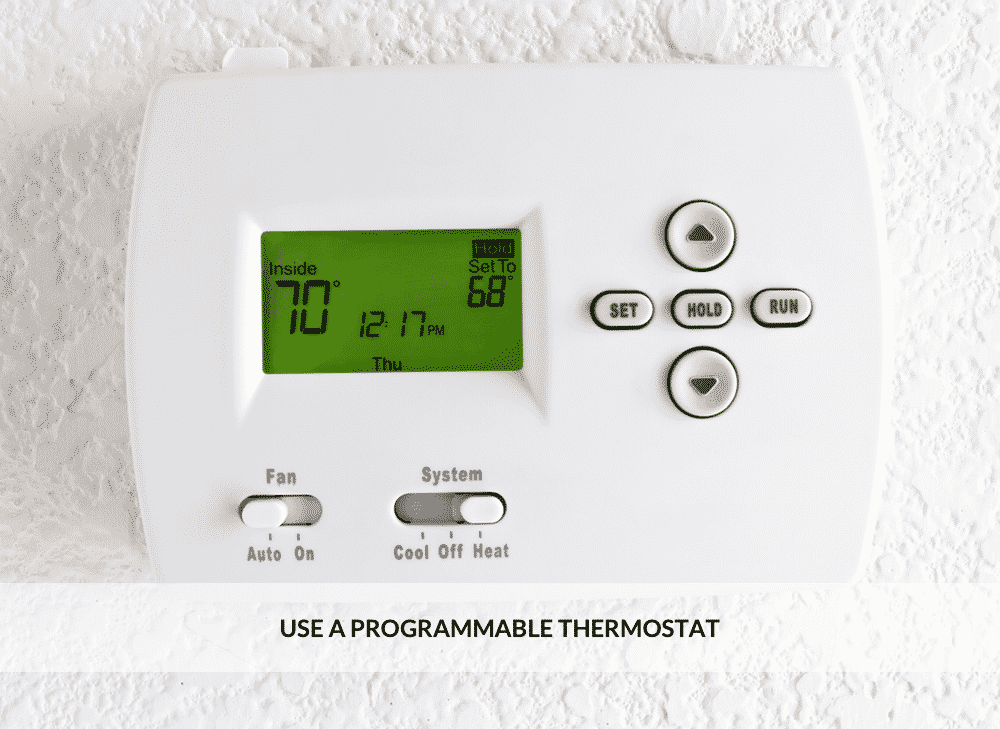 Programmable Thermostat
Programmable thermostats are a must. We set ours for a bit higher temperature during the day (65○F) and lower at night (62○F) since we bundle up with blankets while we're sleeping. We also drop the temperature as much as we can depending on the season when we're going to be out of town for even a day or two. Those few degrees may not seem like much, but they do add up over the year – especially if you live in a colder climate like we do.
Unplug
This one is the cheapest (it's free!) method, but not always the easiest to implement. When things aren't in use, be sure to turn them off and if you can, unplug them! This goes for televisions, phone chargers, computers, coffee pots, etc. Anything that's not in use can be unplugged and then replugged in when you're ready to use it again.
---
Looking for more tips? Check out these all weather tips listed by PG&E – there are TONS of tips to help you move towards an energy efficient home year-round. Plus, PG&E is currently hosting an Instagram Photo Challenge where you could be the lucky winner of a $100 gift card to Home Depot! For more details, click here.
what are your favorite ways to make your home more energy efficient?
[Tweet "Nine Easy Ways to Make Your Home More Energy Efficient"]
I was selected for this opportunity as a member of Clever Girls and the content and opinions expressed here are all my own.