UncommonGoods provided these products in exchange for this post and my honest opinion. No other compensation was received. All thoughts and opinions are 100% my own.
One of my absolute favorite things to do is find unique items for our home, travels, wardrobe, yard and more. I do a lot of shopping online so I can easily find hundreds of options for things, but it usually takes me a while to find "the one." For instance, I've been looking for the perfect dining table for almost 9 months now. And I just found the perfect t-shirt after probably six months of browsing pre-pregnancy.
It normally doesn't take me this long to buy things, especially when I browse one of my favorite stores:
UncommonGoods
.
Instead, I end up with SO many choices for "the one" that I have to narrow it down. Seriously. Every single time, I end up either A) taking forever trying to decide between a couple items or B) end up buying more than I anticipated because I love the items too much.
The thing I love about UncommonGoods is that they have something for everyone on your list. Looking for handmade jewelry? You got it. Want to get someone an anniversary gift? They've got you covered. Maybe a wedding gift instead? UncommonGoods has you covered there, too!
Plus, you can find some fun Uncommon Knowledge (like where does the growler get it's name or if your DNA is unique) on their blog. They also have Design Challenges where you can get your work out there and join their community by participating in jewelry design and art challenges.
So today, I've put together some of my favorite items that are wanderlust + little one inspired which is exactly what my life is right now! I'm aching to go on an adventure , but I'm also enjoying the tiny addition to our household. Until that trip happens, I'll be enjoying these goodies to inspire where we travel to next!
Alice in Wonderland Blanket
This nearly all reclaimed cotton blanket is pretty much the only blanket I use now. It has one of the best quotes from Alice in Wonderland that has always inspired my wanderlust. Not only does this blanket tell the story of one of my all-time favorite movies, but it's made of 75% pre-consumer cotton scraps that are shredded then re-spun into new yarn. It's perfect for the beach, long road trips, snuggling with your tiny human and even when you're curled up on the couch, daydreaming about your next adventure. Get it here.
Scratch Map
We have the perfect spot for this in the nursery, but we haven't had a chance to get it up yet. However, I can hardly put into words how much I love this map! It's such a unique way to chart your travels and I love the pops of color that you end up with once you've marked off where you've been. It's a must-have for those who take their adventures all over the world and such a fun way to help little ones learn! Check it out here.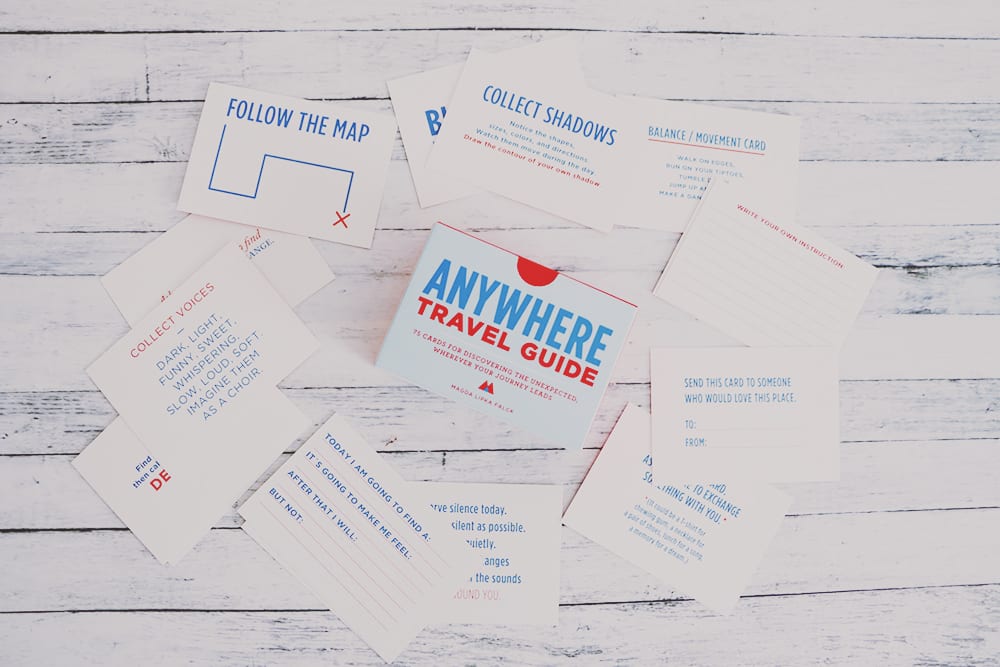 Anywhere Travel Guide
Nathan and I take a lot of our trips together and I'll be honest – sometimes it can get a little boring. We live together, work together and travel together so finding ways to shake up a trip is a must for us. And this Anywhere Travel Guide is an AWESOME way to do that. With 75 interactive cards, no trip is ever the same even if we have the same destination. With prompts like collecting shadows or following the map, trips are always unique and entertaining. Plus it's a great way to get kids involved! Get your own travel guide here.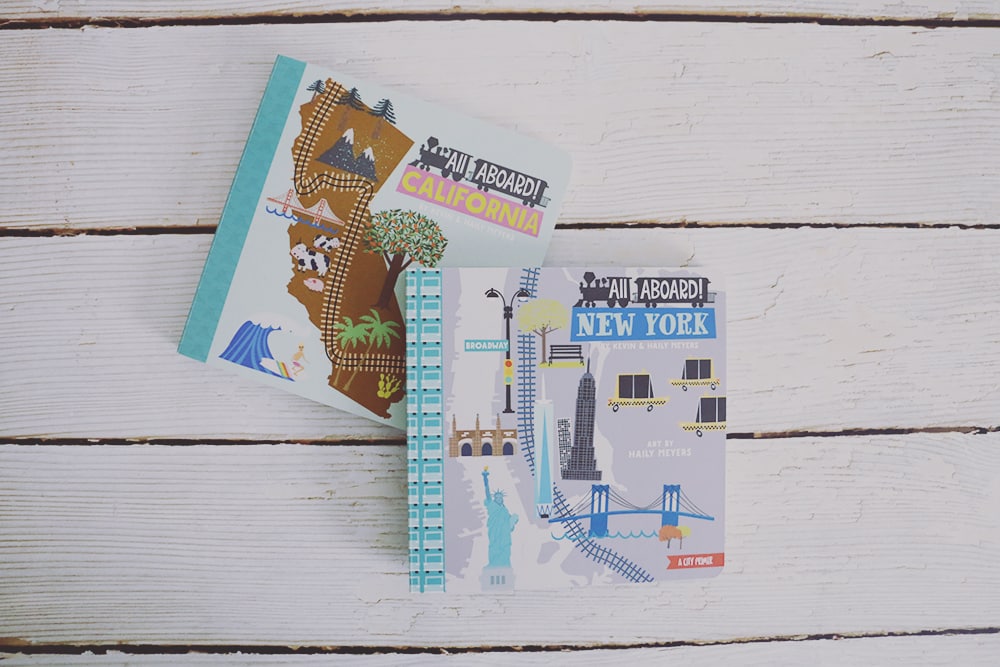 All Aboard Book Series NY + CA
We want to get Lily involved in our travels and books are such a fun way to do that! We've visited both NY and CA and would love to take her with us to go back which makes these books perfect. Each book brings the locations to life with their vibrant collection of some of the most entertaining things to do in each state. View these books along with the other options they have here.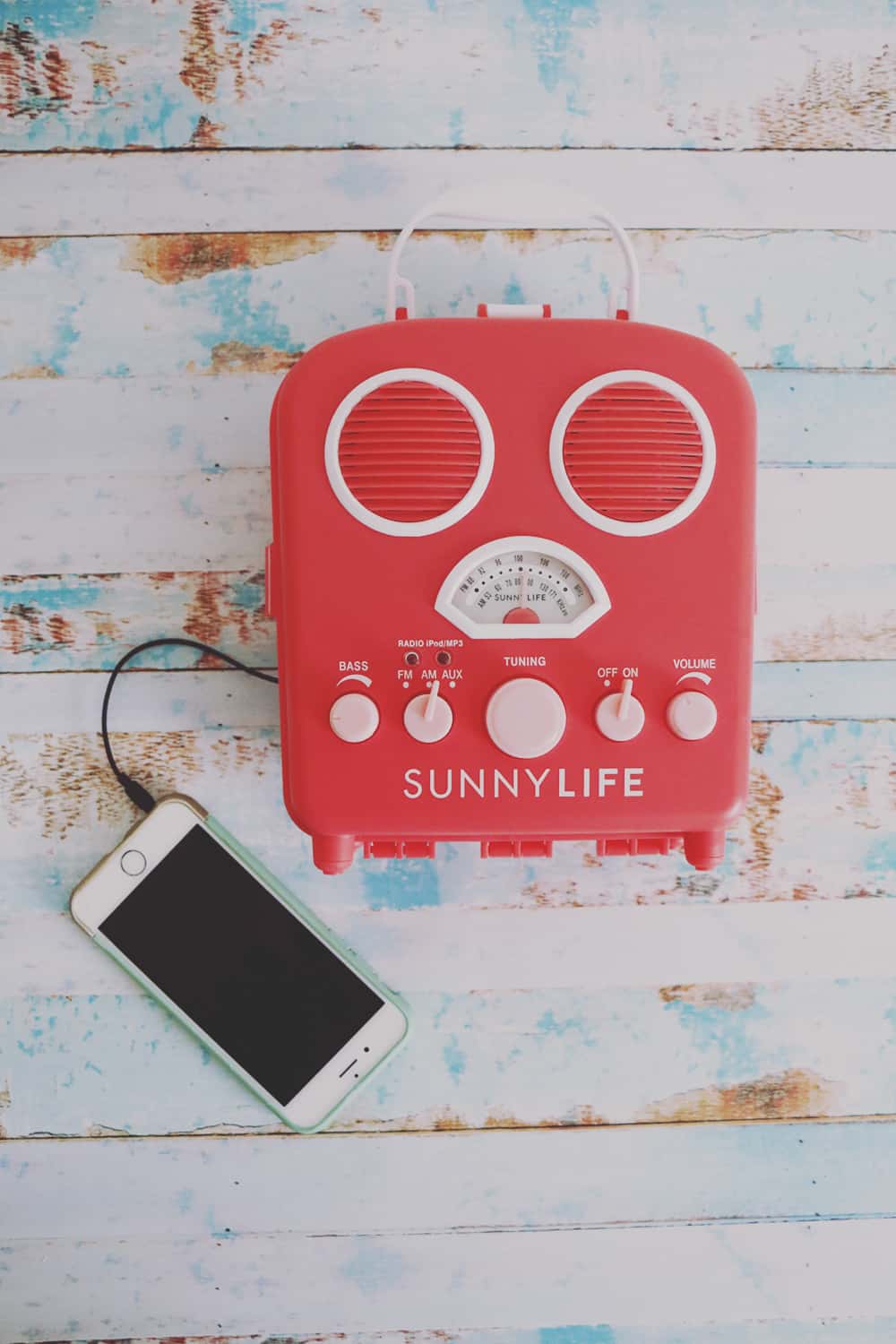 Beach Sounds Portable Speaker
This water resistant portable sound system makes a day at the beach, a picnic in the woods, or a night out on the water even more relaxing. We've brought this speaker with us for so many adventures and it's size makes it an easy addition to all of our gear. All you need to bring is your phone or mp3 player and you'll be set to enjoy your favorite music wherever you're headed. Easy, peasy! Plus, there's an FM/AM tuner if you'd prefer to just listen to the radio. If your tiny human is used to listening to certain sounds or music, this is a great way to keep them entertained as well. Make your day at the beach even better by getting one of these here.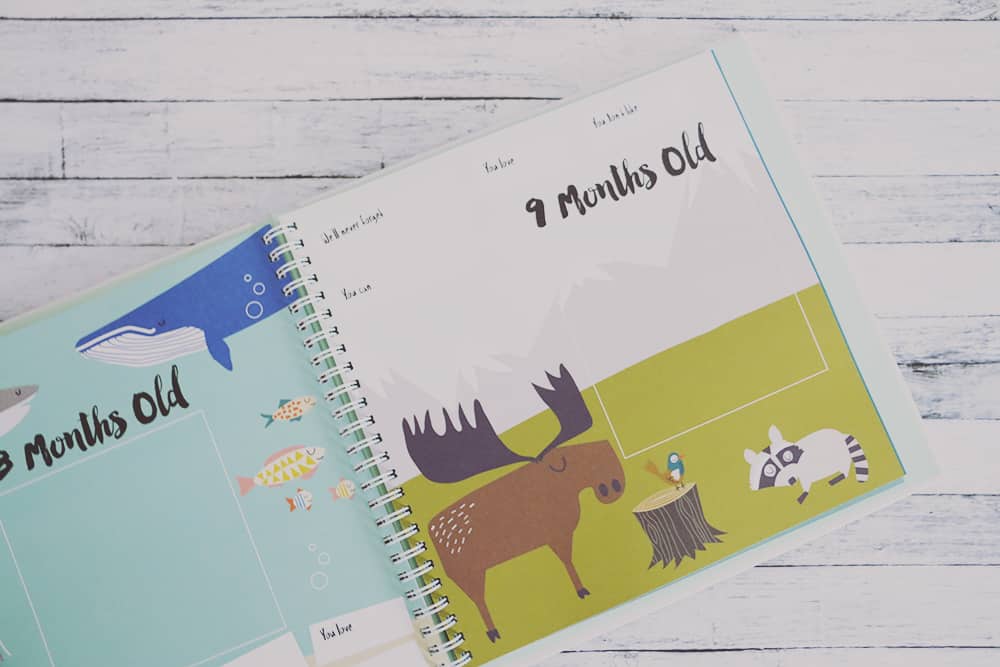 Baby's First Year Memory Book
Like I mentioned above, we have big plans to bring Lily with us on all of our adventures. So when we chose a baby book, we knew that theme would have to be strong in it. But we also wanted a simple journal that allowed us to focus more on the journey and the memories instead of the heavily involved ones you normally see. This First Year Baby's Book was the perfect answer! All of the scenes are nature related and it gives us a no-fuss baby journal for all of her travels. There's SO much you can document between the pre-baby pages, birthday and holiday pages, firsts and more. Get your own Memory Book here.
Milestone Cards
And last, but not least – the milestone cards. These may not be entirely travel related, but we wanted an easy way to mark her milestones – even when we were on the road. I want to be able to mark all of her amazing moments regardless of where we are and these easy to carry cards that mark infant achievements are perfect! Plus, they'll be perfect to pair with the Baby's First Memory Book. Get your own eco-friendly milestone cards
here
.
Let's Chat!
What are your favorite uncommon goods for those with wanderlust? Do you have any favorite UncommonGoods products?