This shop has been compensated by Collective Bias, Inc. and its advertiser Honeywell. All opinions are mine alone. #ConnectYourHome #CollectiveBias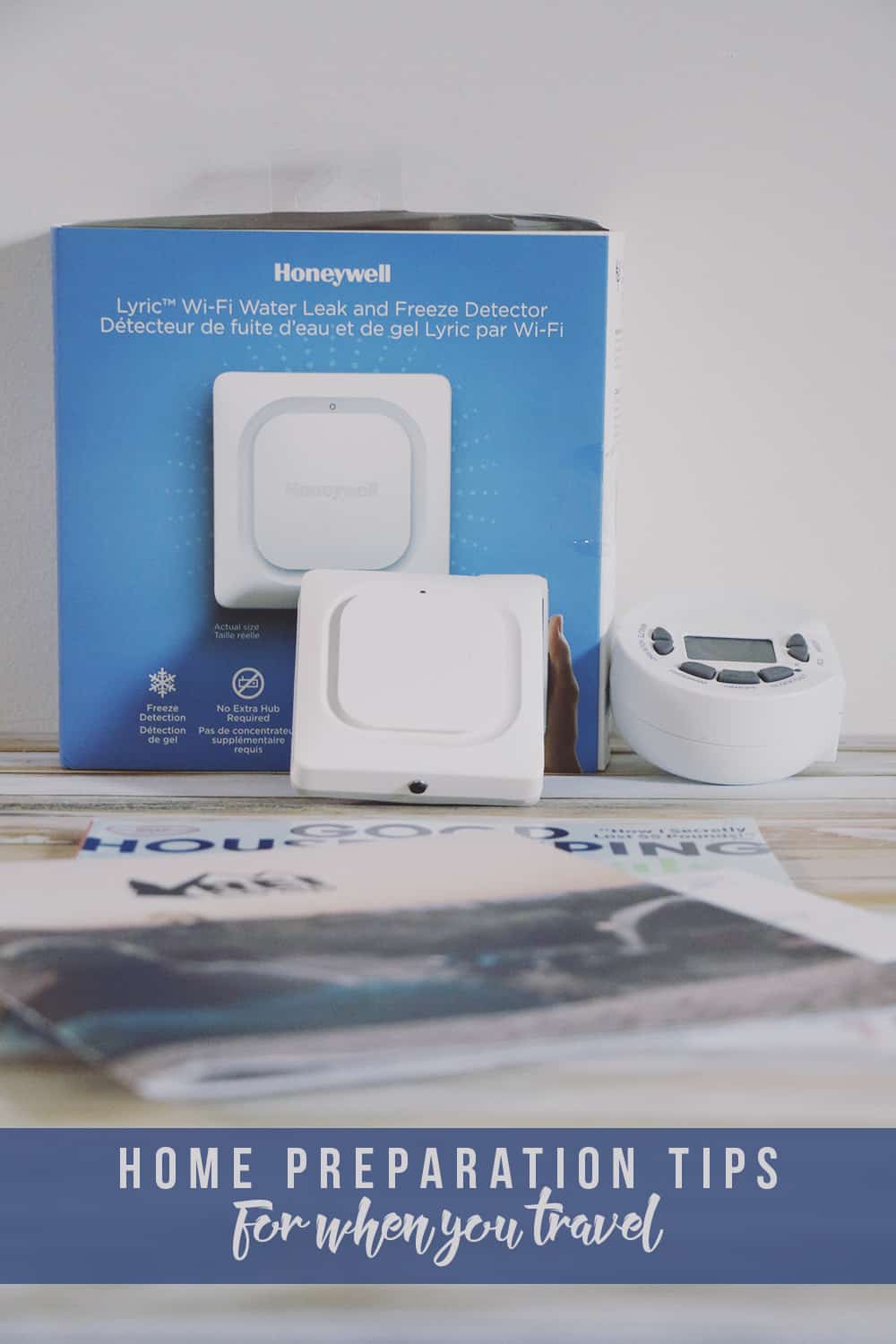 One of my least favorite things about traveling as much as we do is preparing our home for when we'll be gone. I can't think of a single trip that we've gone on where we didn't question if we did something. Did you shut the garage door? Did we put the mail on hold? Did we lock the back door? SO many questions. 99% of the time, everything has been done and we should just be enjoying our trip.
Aside from the obvious things though, like locking doors and securing your home, there are a couple of things that you can do to ensure you're less stressed about your home while you're away. These easy home preparation tips for when you travel should allow for a more relaxed trip and a house that is all set for your travels!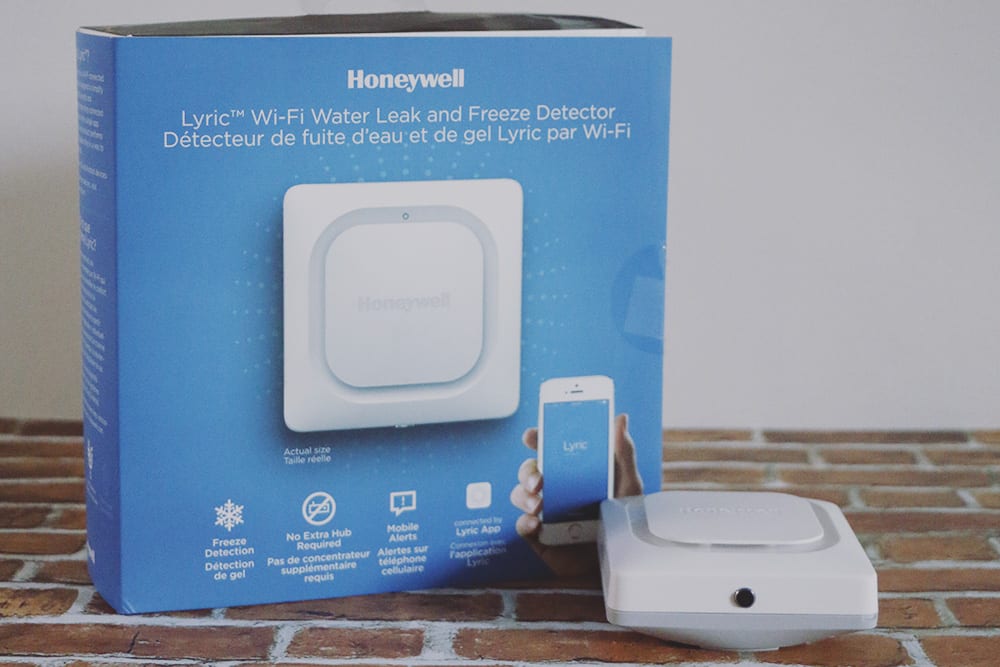 use a leak and freeze detector
I never knew how important this one would be until Nathan's grandma told us how much damage a water leak caused in her house. The time and money that went into cleaning up that mess was crazy! Ever since this, we started turning off our water before we left. Now we don't have to with the Lyric™ Wi-Fi Water Leak and Freeze Detector by Honeywell.
The Honeywell's Lyric™ Wi-Fi Water Leak and Freeze Detector is a wireless device that offers an easy way to monitor water-related appliances and pipes. It can help reduce the risks of leaks and frozen pipes (which is perfect for where we live!) The device syncs to an app on your smartphone and will alert you when it senses potential water leaks and pending issues. It's perfect for areas where leaks might occur, such as: water heaters, washing machines, dishwashers, toilets, sump pumps and under sinks. It adds SO much peace of mind for when we travel as it can potentially save us a ton of money because we would be immediately notified of an issue.
I love how easy the Lyric™ Wi-Fi Water Leak and Freeze Detector is to use, too. There's no extra hub as it works with your home's Wi-Fi and is completely battery operated. It's also Bluetooth enabled, allowing it to sync easily with the Lyric™ smartphone app so you're notified of issues. It's also reusable so if you do run into problems, it just needs to be dried, wiped clear of debris and have the batteries replaced. SO easy! Plus, the bonus feature of being able to notify others while you're away so they can help you manage the problem is awesome.
If you want more info on Honeywell's Lyric™ Wi-Fi Water Leak and Freeze Detector, check out this video or head over to Home Depot!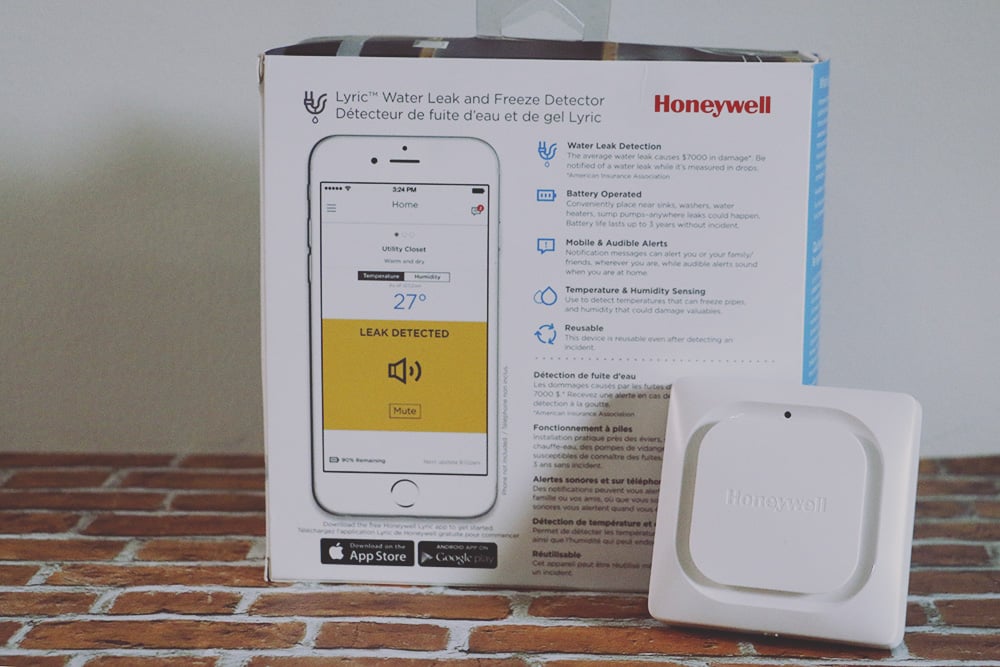 unplug small appliances
This is an easy way to save money and avoid potential problems. By unplugging appliances that aren't in use – you'll be able to avoid the expense of electricity that is used even when these appliances aren't in use. There's also a potential for issues, such as a fire hazards, that can occur with plugged in appliances. This is also really helpful when you're home. Every penny adds up!
adjust your thermostat
Most thermostats have a vacation mode feature, but if not – just adjust your thermostat ranges/temperature while you're away. If it's during the Winter, set the heat as low as you're comfortable with to prevent pipes from freezing. If it's during the summer, set the AC as low as you're comfortable with to prevent the humidity from getting too high.
put mail and packages on hold
If you'll be gone more than a day or two, putting your mail on hold is a must. But don't forget your packages from places like UPS and FedEx as well. Both services offer vacation holds that will allow you to pick up your packages when you return home or have them delivered the day you'll return home. This is also helpful if you get a daily newspaper.
take care of the outdoors
Making your house look lived in is an easy way to increase the security of your home while away. Hire or ask someone to shovel your driveway if there's a chance of snow or to mow your lawn if it's during summer. This is especially important if you'll be gone for more than a week as it gives your house a very lived in look.
use timers
Timers are another great way to make your house lived in. Set numerous lights on timers and try to find ones that offset the time that the lights go on. For example, some timers allow you to turn on a light for an hour during a certain three hour timeframe. If someone is watching your house to see if you're home, this makes it much harder to determine if the lights are on timers.
leave with a clean fridge
Maybe not a security feature, but a helpful one to prevent an unwanted mess or smell when you return. Be sure to eat up any perishable food prior to leaving and if you're unable to, make sure to toss it. Just don't forget to take the garbage out, too!
---
Let's chat!
These are my tried and true home preparation tips for when you travel – what are yours? Have you tried anything like the Lyric™ Wi-Fi Water Leak and Freeze Detector to help give you peace of mind while you're away?
You might also like: