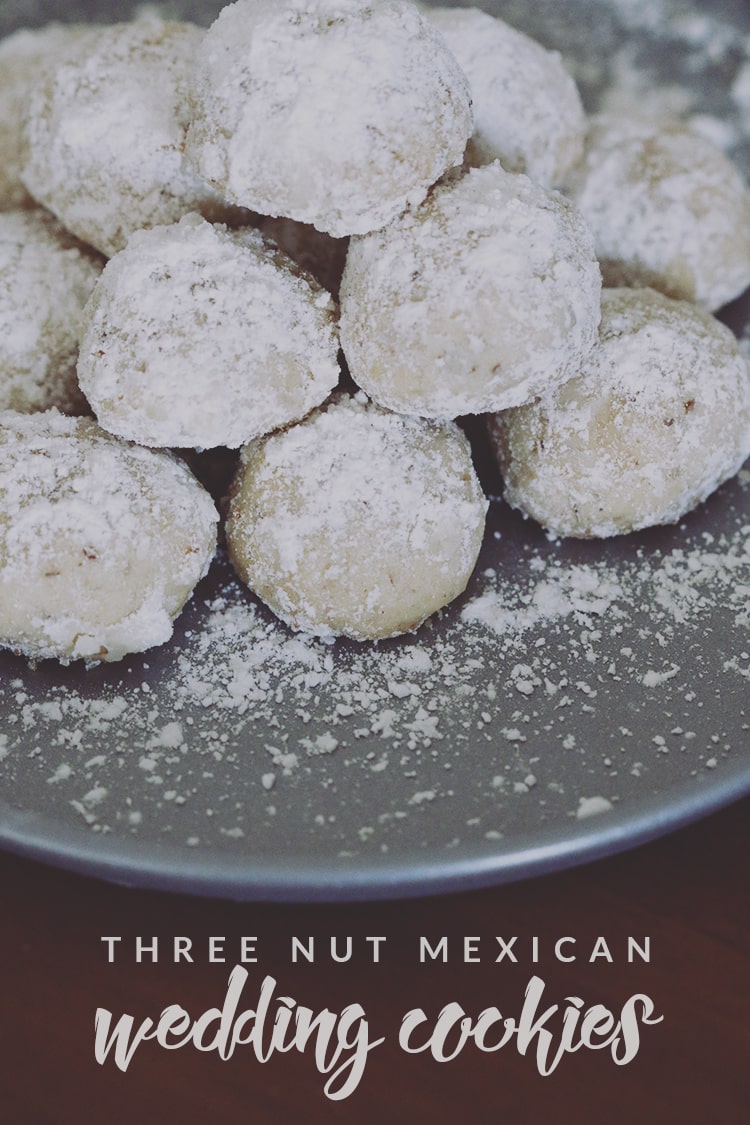 I don't know if I've talked about it much here, but Nathan definitely knows that I love too many things. You may think that's not feasible, but it is – I promise. I'm not indecisive and I'm definitely not indifferent – I just have a vast love for nearly everything in life. So meals are harder, trips are more difficult, even weekend plans are filled with dozens of things I'd love to do regardless of the season.
So whenever I can, I combine things I love. (Which is actually one of the reasons I love blogging.) But this recipe is exactly that: a culmination of all the flavors I've seen this delicious cookie in. Why only go with almond or only pecans or even only walnuts when you can have all three?!
While these may not be your traditional Mexican Wedding Cookies, it's an absolutely delicious recipe that is my go-to dessert for events where we'll need to serve a larger guest list.
And since this week's theme for the Maker's Mix-Up challenge is snow, I thought it was extra fitting because they remind me of all the little snow mounds around here! Although we're kind of lacking in the snow department this year. Just frigid temps instead! Jessica and I would LOVE to have you link up your favorite snow crafts or recipes with us this week! See the bottom of the post for the link-up plus the upcoming themes!
But back to these delicious Mexican Wedding Cookies.
They yield a lot. And they're dangerously good. And ridiculously easy. So really, what is there not to love about them?
One of the reasons I love them so much though is because they aren't ridiculously sweet. Ever since I became pregnant, my love for sweet treats has been on a major rollercoaster ride. At first, I absolutely loathed the idea of chocolate anything. Candy bars, cookies, cakes – they sounded super unappealing. Then a few weeks ago, my sweet tooth came back in full force and this was all I wanted to eat. Now it seems to have found a happy medium and these cookies are perfect for that.
They have a hint of sweetness, but not a total sugar bomb. Which is why they're so dangerous!
Three Nut Mexican Wedding Cookies
Ingredients
1

Cup

Butter

Softened

1 1/2

Cups

Powdered Sugar - divided into 1/2 cup and 1 cup

1 1/2

Tsp

Vanilla Extract

2

Cups

Flour

1/3

Cup

Almonds

Finely Chopped

1/3

Cup

Pecans

Finely Chopped

1/3

Cup

Walnuts

Finely Chopped
Instructions
Preheat the oven to 350F.

Mix the butter, vanilla extract, and 1/2 cup of powdered sugar until thoroughly mix.

Add in the flour, mixing/beating as you go.

Add in all of the nuts and mix until evenly distributed.

Shape the dough into 3/4" to 1" balls (depending on your size, you'll yield 48-60) and space them out on greased cookie sheets.

Bake for 10-12 minutes or until the bottoms of the cookies have started to brown.

Cool for a few minutes until they are easily handled and then roll in the 1 cup of powdered sugar.

Place on wire racks and let cool.
I can't wait to make these again soon and try some extracts or fresh zest in them. I'm thinking maybe lime, orange, or lemon to add a bit of a citrusy taste to them.
But now, it's your turn!
This week's theme is snow! Have a fun craft or recipe that represents snow? Share it with us in the link-up!
P.S Don't forget to take a look at yesterday's big announcement in case you missed it!
You might also like: