When I was younger, I LOVED peanut butter and jelly sandwiches. I don't know that I ate any sandwich or meal as much as I ate peanut butter and jelly sandwiches. I think that it was a pretty big staple amongst my group of friends, too.
As I grew up though, I found myself eating them less and less despite the fact that I still loved the taste. These easy sandwiches are saved busy days when we don't have much time to cook orroad-trips where it's a quick meal to put together in the car.
However, the delicious combo hasn't left my kitchen entirely. It's still there – just in a little bit different form :
Peanut Butter and Jelly Sandwich Cookies.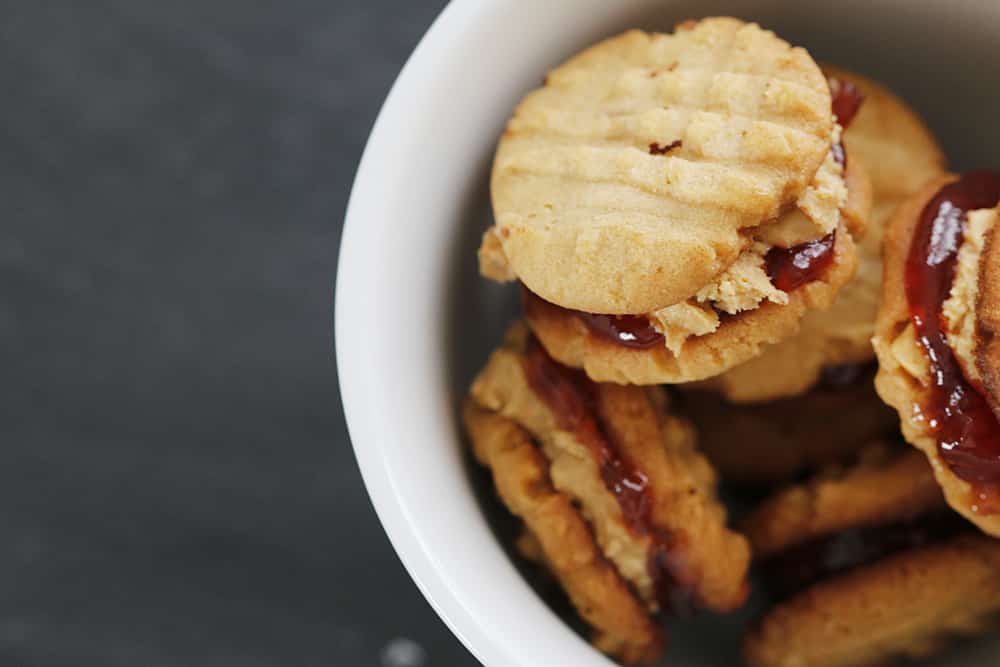 The first time I had these, I was at a food day and I specifically remember saving one for Nathan as he still loves peanut butter and jelly sandwiches. One bite from each of us and we knew that these would become a staple in our household from that day forward.
These are super easy, but they look like they take a lot of time so if you're looking to score points for presentation, make these. They're perfect for picnics, family reunions, birthday parties or well, any occasion if you love peanut butter as much as I do. And they are great for the entire family. Both kids and adults love these little sandwich cookies!
Peanut Butter and Jelly Sandwich Cookies
A deliciously sweet new take on the peanut butter and jelly sandwich.
Ingredients
For the cookies
1

Cup

Sugar

1

Stick Butter

Softened

1

Egg

1

Cup

Peanut Butter

I used crunchy

1 1/2

Tsp

Vanilla

1 1/2

Cups

Flour

1

Tsp

Baking Soda

1

Tsp

Baking Powder

1/2

Tsp

Salt
For The Peanut Butter Filling
3/4

Cup

Peanut Butter

1/2

Cup

Powdered Sugar

1

Tbsp

Butter

Softened
For The Jelly Filling
1/3

Cup

Jelly

I used strawberry
Instructions
For The Cookies
Preheat oven to 375 degrees and grease a couple of baking sheets.

In a large bowl (I used our Kitchen Aid), combine the sugar and butter. Mix in the egg and vanilla until thoroughly mixed.

Mix in the peanut butter until smooth. Stir in flour, baking soda, baking powder and salt until well combined.

Roll the dough into tsp sized balls and place on baking sheet. Flatten with a fork.

Bake for 10 minutes or until the edges start to brown.
For The Peanut Butter Filling
Combine the peanut butter, powdered sugar and butter until thoroughly mixed and smooth.
For The Sandwiches
Spread the peanut butter filling (enough to cover the cookie) on one cookie and the jelly on another. Press together to form the cookie sandwich.
Recipe Notes
This recipe yields approximately 50 sandwiches, or 100 cookies, at tsp sized balls. Double the size for fewer cookies/sandwiches.
These are super addicting which is why I make them so small. They're almost bite-size which means when I decide I need a little snack 3, 4, or 5 times a day – I don't feel as guilty about eating these ;) Just double the size of the cookie balls if you want bigger sandwich cookies and have more self-control than I do!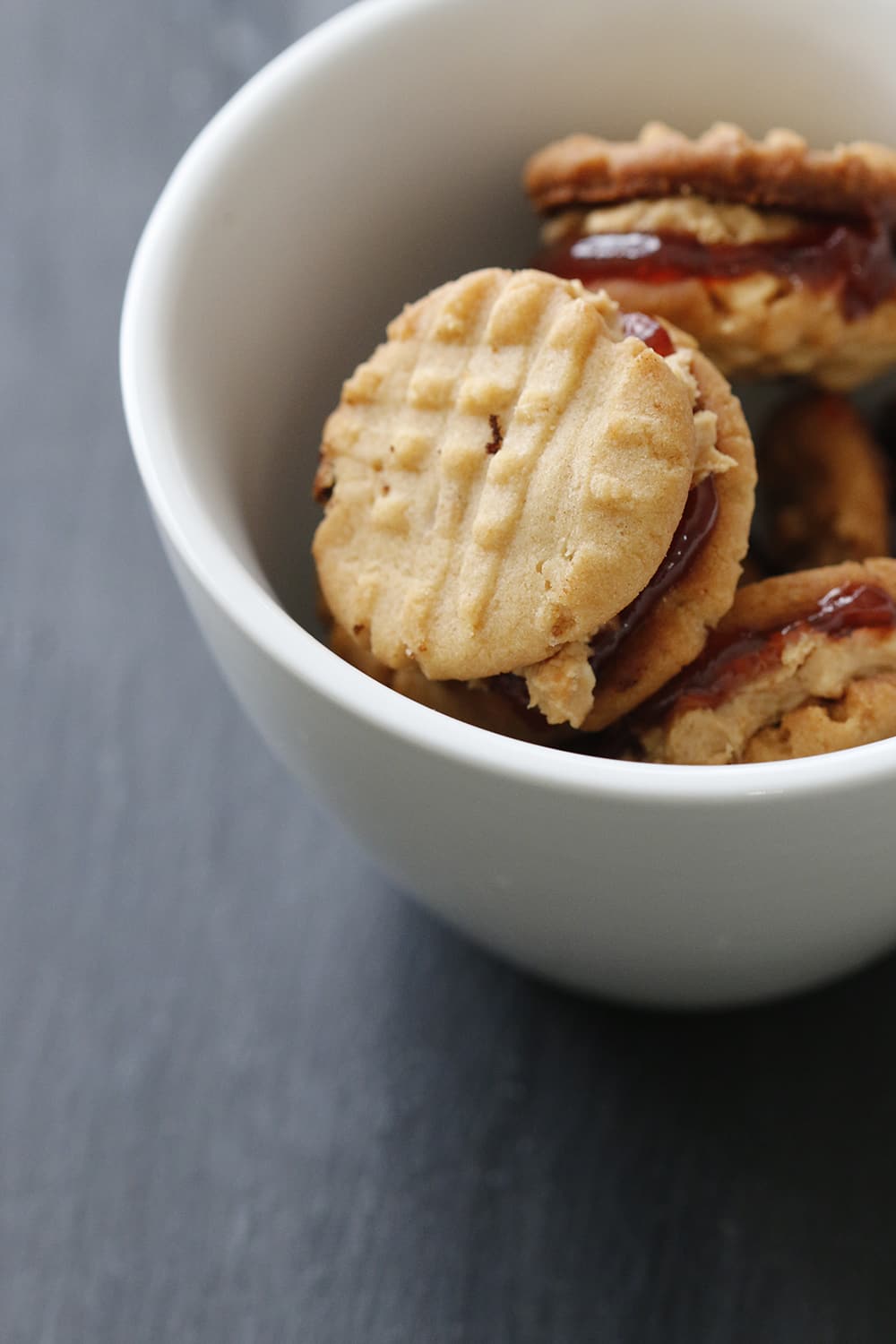 enjoy!
You might also like these recipes: