This post is sponsored by Pop & Cook but the content and opinions expressed here are my own.
Need a quick weeknight meal or even a simple lunch? This garlic butter pasta recipe is the answer. It packs a ton of flavor with very little prep!
I love to cook. Even more so, I love enjoying a fresh, home-cooked meal and knowing everything that I put into it.
But.
I hate the prep work.
Especially when it comes to herbs and veggies that need washed, and diced, and peeled, and the list goes on and on. This is why we stopped getting a lot of those fun, fresh ingredient boxed meals delivered to us. The preparation for most of these dishes took FOREVER.
Related Reading: Roasted Vegetable Pasta and Olive + Pesto Crostini
The thing is that we cook a lot though. By working from home, I feel like my cooking has doubled. So I've had to find ways to cook more quickly at times, especially with a tiny toddler who loves helping in the kitchen.
My favorite new food hack?
JUMP TO RECIPE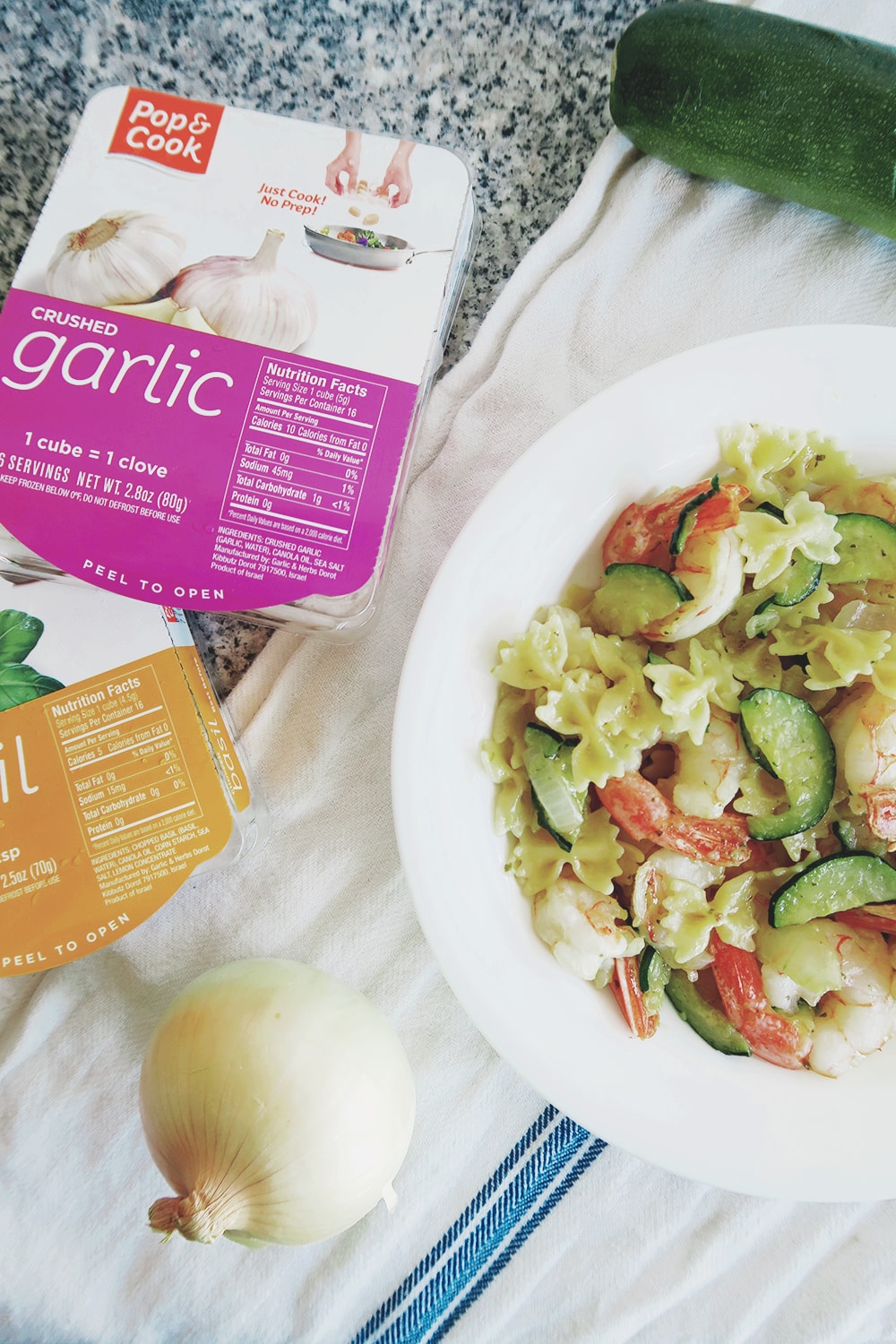 Think little cubes of freshly frozen herbs. And these little cubes just get tossed in your freezer, pulled out when you need them, and then popped into your dish to cook. So… Pop & Cook!
We love using fresh herbs in our house so I was a little skeptical how something frozen could taste as good, but they do!
The way Pop & Cook makes sure that these little cubes are as fresh as can be is pretty awesome. They pull their products at peak freshness and then, within 90 minutes of harvest, they flash freeze then into these convenient trays. Pretty cool, right?
Related Reading: Garlic Cheese Biscuit Recipe
Now in terms of use, Pop & Cook makes meal time so much easier. Before, when we were in a hurry, our go to used to be dried herbs. We saved time and some mess by going this route, but we sacrificed flavor.
No more!
Pop & Cook alleviates those hassles of washing, chopping, peeling, etc and frees up our time.
Now we have more time for family, we're not sacrificing taste and we still get delicious dishes on the table. Win, win, win thanks to Pop & Cook.
On to the garlic butter pasta dish.
The prep for this recipe was super simple – cutting up two vegetables and defrosting some shrimp. With the help of the Pop & Cook cubes, it was super flavorful though. So easy and so good! We're able to make it and enjoy it all in the hour slotted we have for lunch with time leftover.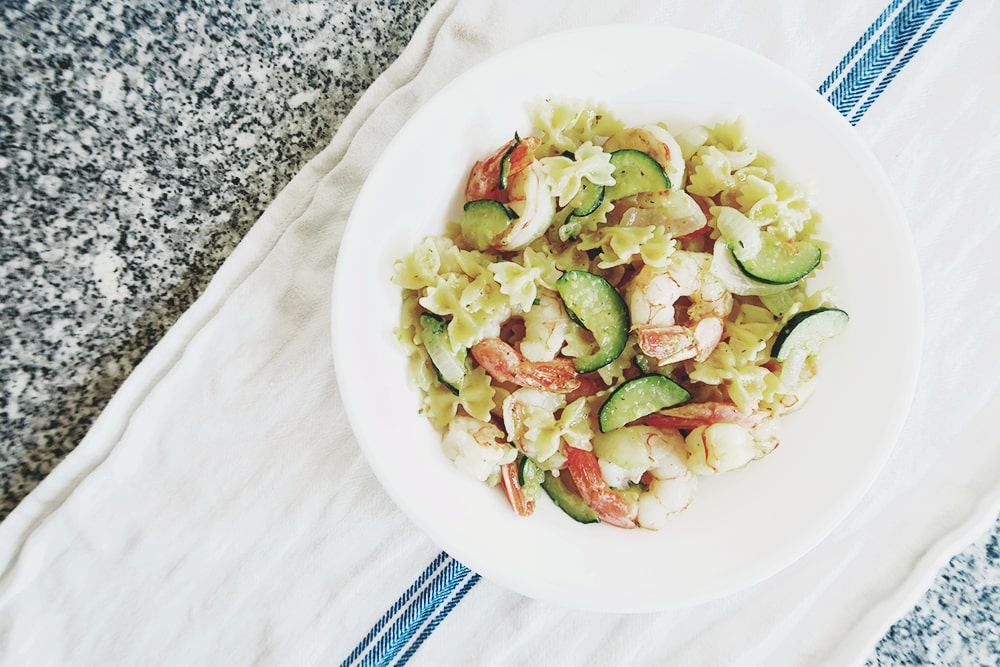 garlic butter pasta recipe
Garlic Butter Pasta
Ingredients
12

oz

Shrimp

Raw, Peeled and Deveined

1

Small

Zucchini

Sliced

1

Medium

Onion

Sliced

8

oz

Uncooked Pasta

1

Stick

Butter

3

Cubes

Pop & Cook Garlic (3 cloves)

1

Cube

Pop & Cook Basil (1 Tsp)
Instructions
In a pot of boiling water, cook the pasta al dente. Set aside.

In a large saucepan, melt the butter. Once the butter is melted, add in the garlic, basil, and onion. Sauté 3-4 minutes

Add in the zucchini and sauté for another 3-4 minutes.

Add in the shrimp. Sauté for another 3-4 minutes or until the shrimp is pink and opaque, stirring occasionally.

Add in the pasta, stir and cook for 1-2 minutes.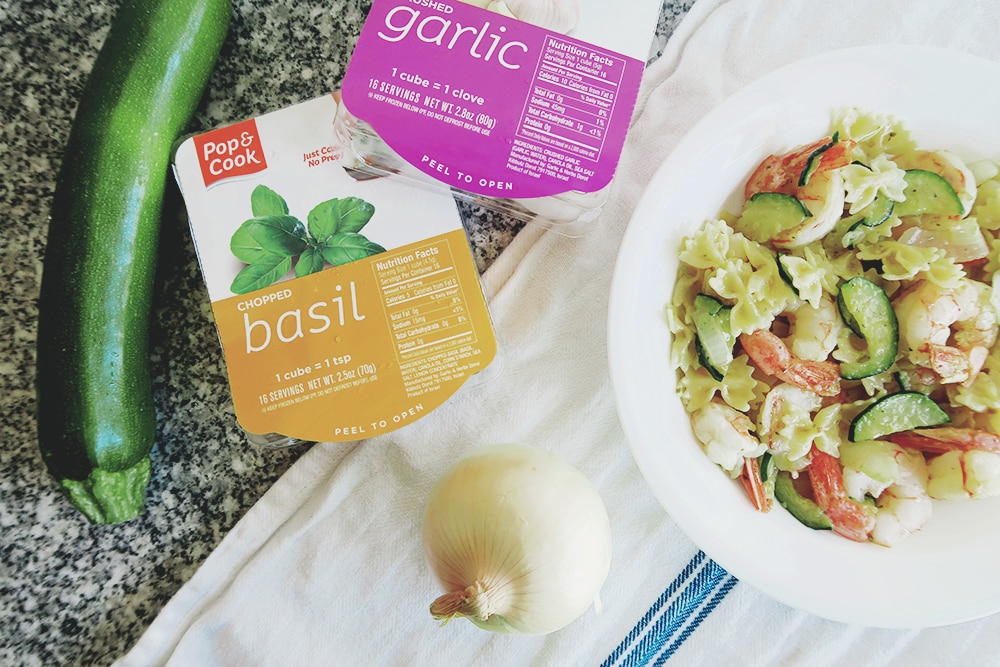 Are you salivating like I am? I'm ready to make this garlic butter pasta again for our family, but I think we're lacking on the noodles in our pantry.
Luckily, I can quickly grab those along with more of the Pop & Cook cubes at Walmart. Pop & Cook is exclusively available at Walmart in the frozen vegetable section. Be sure to look for them when you grab the rest of your ingredients for this garlic butter pasta recipe!
What dishes will you be trying the Pop & Cook cubes in?
You might also like: