This shop has been compensated by Collective Bias, Inc. and its advertiser. All opinions are mine alone. #MyCatMyMuse #CollectiveBias. For less than $10, you can create this DIY cat bed that's purrrrfect for your feline friend!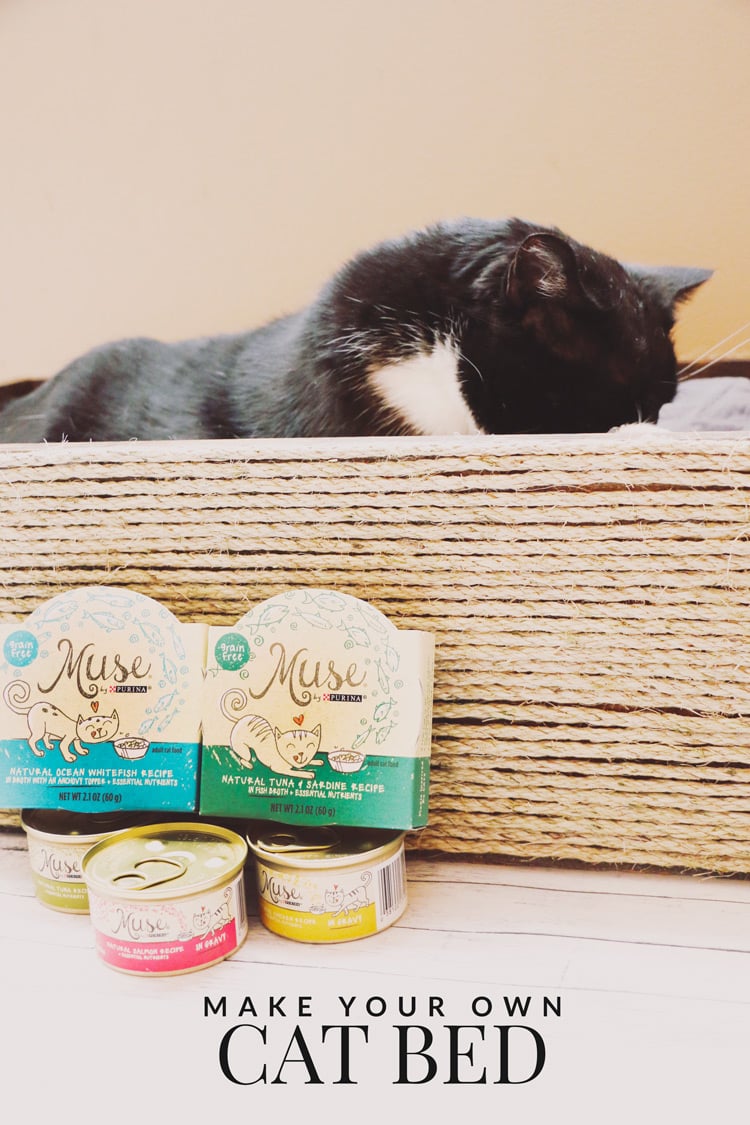 Our pets have decided that traditional pet beds are definitely not their thing. They like to sleep wherever is most inconvenient for us for the most part. On our laps, on our pillows by our head, sprawled out across the middle of the bed, across the entire couch, in the middle of the kitchen – if it's in the way, it's their favorite spot.
And while we try to accommodate their need to be in the way, sometimes – we just need our house back.
Our dogs are pretty easy to encourage to lay elsewhere, but our cat Cosmo? Nope. You can put him wherever you want and he'll be right back to that same inconvenient spot within minutes. He's bound and determined to be in the way.
Until now with this easy to make DIY cat bed.
SUPPLIES
Old Dresser Drawer
Sisal Rope
Old T-Shirts
Glue Gun + Glue Sticks
STEPS
Start along the top edge and a side edge. Place glue along the entire side and press the sisal rope down.
Repeat until you've gone all the way around the dresser drawer.
Curve the sisal rope down to create the second line and repeat steps 1-2.
After you've got the first two lines done, continue wrapping the rope around and just place glue along the corners. If you'd prefer a tighter wrap, feel free to place more glue along the sides.
If you run out of the rope and have to move on to a second one, repeat steps 1-3 then move on to step 4.
At the end, cut the rope to the size necessary and place a large amount of glue over the end of the rope so it doesn't fray.
Fill the dresser with old t-shirts or a small blanket – anything that your cat would find comfy.
The total cost of this bed was approximately $8 which is a STEAL! I grabbed the dresser drawer at our local ReStore for $3, had the t-shirts and glue gun/sticks on hand, and just had to swing by the hardware store for the sisal rope. The fact that it's so inexpensive makes it great, but it also fits in great with our home decor. Plus he has something else to rub his face on than our belongings. Purrfection!
As you can see, we treat our pets like family. That means comfy beds, fun toys, road trips, and delicious (healthy) food. However, our cat is probably our pickiest of eaters so it's tough to find a food that's good for him and is something he enjoys.
Luckily, choosing what food we get for Cosmo isn't hard with Purina Muse® Natural Cat Food. With over 30 delicious recipes and 24 grain-free varieties, along with no artificial flavors or preservatives, it's easy to find something our picky eater loves. Plus, you can also find this high quality, natural product in Chowder, Broth, with Toppers, in Gravy and Paté.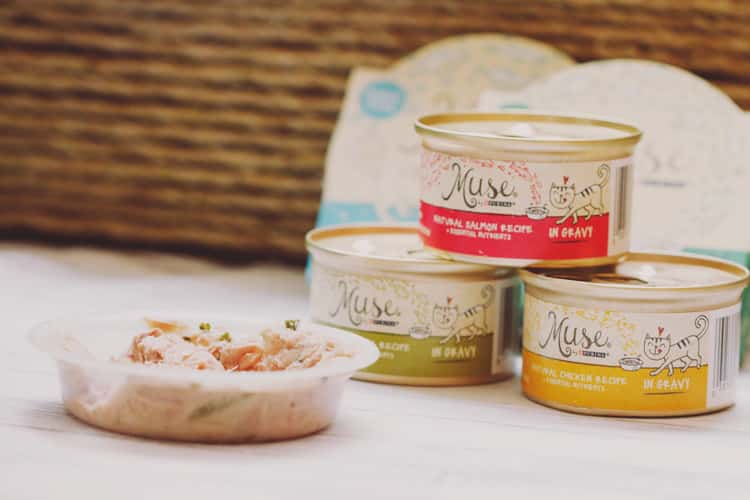 We try to give both wet and dry food to ensure that he gets the benefits of both. Purina Muse® Natural Cat Food makes this easier for us, especially as Cosmo loves every flavor he's tried so far. He's always quick to clean his plate so we don't have to worry about him not getting the nutrients he needs!
Want to get Purina Muse® Natural Cat Food for your feline friend? Grab this coupon and head over to PetSmart:
The thing I love the most is that with Muse, you don't have to choose between natural nutrition and food that tastes great. Your cat can have both when you choose Muse. Plus natural has never been so delicious. Put Muse to the test with our clean plate guarantee.
I'd love to know: do you feed your cat wet food?
how do you spoil your cat(s)?