Experience a different kind of magic by visiting Disney World at night! Family travel blogger Hello Nature shares nighttime activities that can't be missed.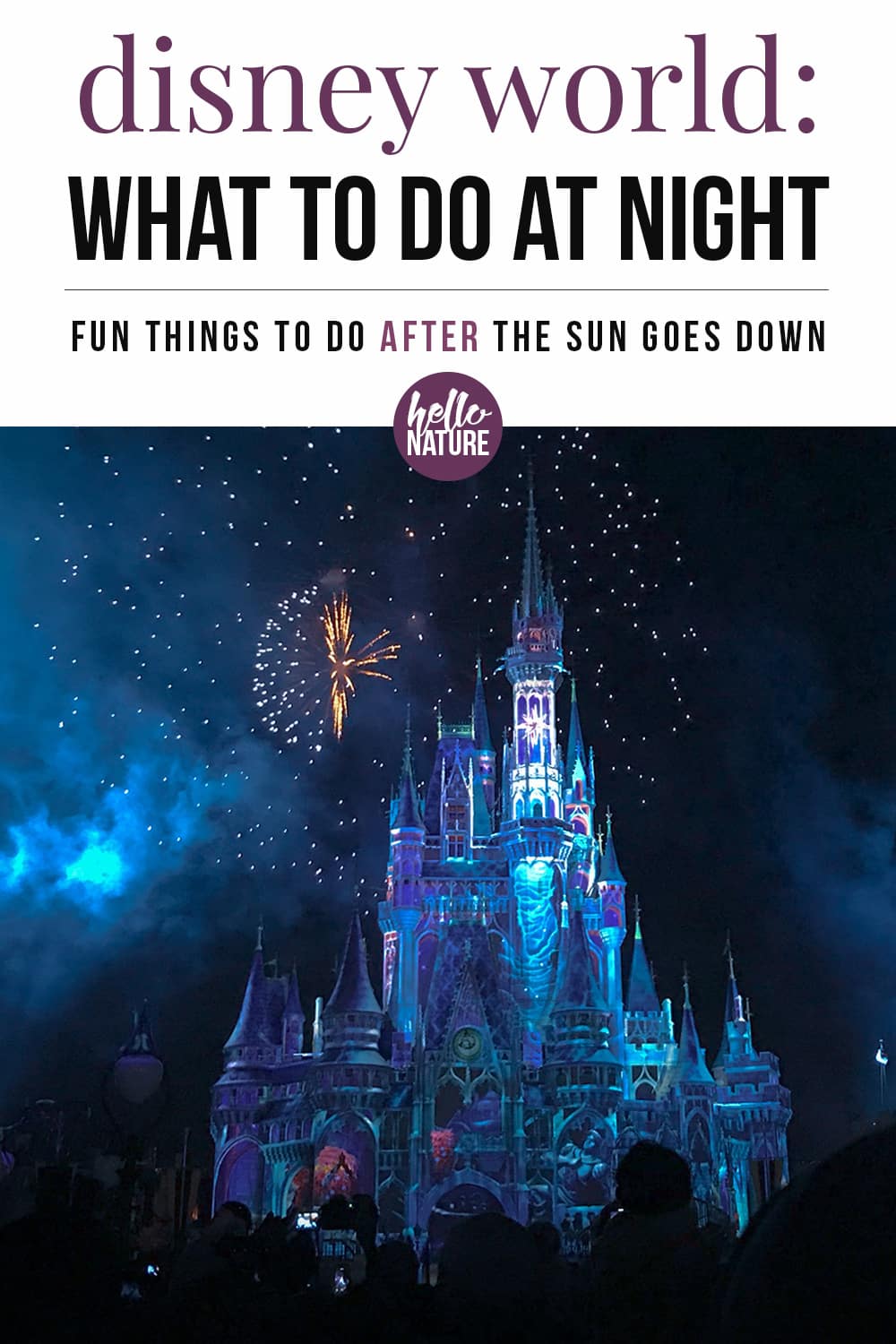 The fun never stops at Disney World, even after the sun goes down. Between bright, interactive parades to thrilling fireworks show, there's something for everyone. You'll also be able to view the park in a whole new light (literally!) making Disney World a must-see at night time for kids and adults.
Not only does the entire park transform with a new kind of magic, but there are some extra special events and rides that can't be missed when the sun goes down. Keep reading for some can't miss moments when you visit Disney World at night.
Things to do at Disney World At Night
Disney After Hours
Disney After Hours is the a truly unique way to experience Disney World at night. On certain occasions throughout the year, the park remains open from 9 pm until midnight for you to experience the Magic Kingdom park after dark. Tickets for Disney After Dark can be a bit pricey for a large group, but the experience can't be missed.
You get to explore the park and experience even more magic in less time as only a limited number of guests are let in for Disney After Hours. You'll be able to skip wait times for more than 25 attractions including: Astro Orbiter, Haunted Mansion, It's a Small World, Space Mountain, Splash Mountain and much more. You'll also skip wait times for character greetings, including princess greetings!
And if that's not good enough, select beverages and food is included in the cost of your admission. It's an unforgettable experience and it highly recommended for enjoying Disney World at night.
Astro Orbiter
Several rides at Disney World are more exciting at night. Astro Orbiter is definitely one of them. This classic attraction takes riders on a trip around the planets. At night, the lights of Tomorrowland create a colorful backdrop for this attraction.
For even more fun, ride the Astro Orbiter during the fireworks display. This way, you can watch the fireworks while you ride. Not many people will get a better view than you do! Other rides that include at least a short view of the Disney World fireworks are Big Thunder Mountain Railroad, Splash Mountain, Seven Dwarfs Mine Train, and Dumbo the Flying Elephant.
Happily Ever After
It's no secret that over the years Disney World has hosted a number of award-winning firework displays. The current show Happily Ever After is so much more than an incredible pyrotechnics display.
Using complex projection mapping technology, Cinderella's Castle becomes a backdrop for an inspiring production based on dreams, friendship, love, triumph and more. The show lasts 18 minutes and features characters from movies like Aladdin, The Lion King, Frozen, The Incredibles, Wreck-It Ralph and Pirates of the Caribbean… just to name a few.
Be sure to check the Times Guide at Magic Kingdom before you go. It's subject to cancellation due to inclement weather and the showtimes are subject to change.
Splash Mountain
Many park-goers prefer to ride Splash Mountain during the day, as a means to beat the heat. This means you can avoid the lines by riding the legendary log flume at night. Great for hot evenings, less awesome for chilly nights.
The outdoor sections of the ride are well-lit when the sun goes down, making it an exciting new experience for even Splash Mountain veterans. If you're looking for a more suspenseful ride, riding Splash Mountain at night is a must. It's also a great way to view Disney World at night as a whole, including the Cinderella castle.
And even after you leave the park, the fun still doesn't have to stop because you can still attend a…
Disney Resort Campfire!
Initially, you may not think about sitting around a campfire at Disney World. But it really is a popular pastime. Why not stop by Fort Wilderness to indulge in a s'more or two or one of the many other Disney resort campfires?
And after the campfire is done, you can check out one of the Movies Under the Stars. Or head back to your room for one of the magical Disney in-room celebrations! You could even make your own Incredibles cupcakes to enjoy with it.
These are just a few ways to enjoy Disney World at night. The temperatures are typically cooler and it's not nearly as crowded. This can make it one of the ideal ways to explore the Disney parks, especially during the busier seasons.
And if you're headed to Orlando, you can get some more travel inspiration! See why we love Cabana Bay when we visit Universal Studios, why you should check out Mardi Gras at Universal Studios Orlando, and why we love Red Oven Pizza Bakery at Universal Orlando CityWalk.
And don't forget your Disney gear for the trip!
If you found this post on Disney World at Night helpful, please share it below!