It doesn't have to be hard to create a healthy lifestyle together. These tricks will make eating better and being more active easier than ever!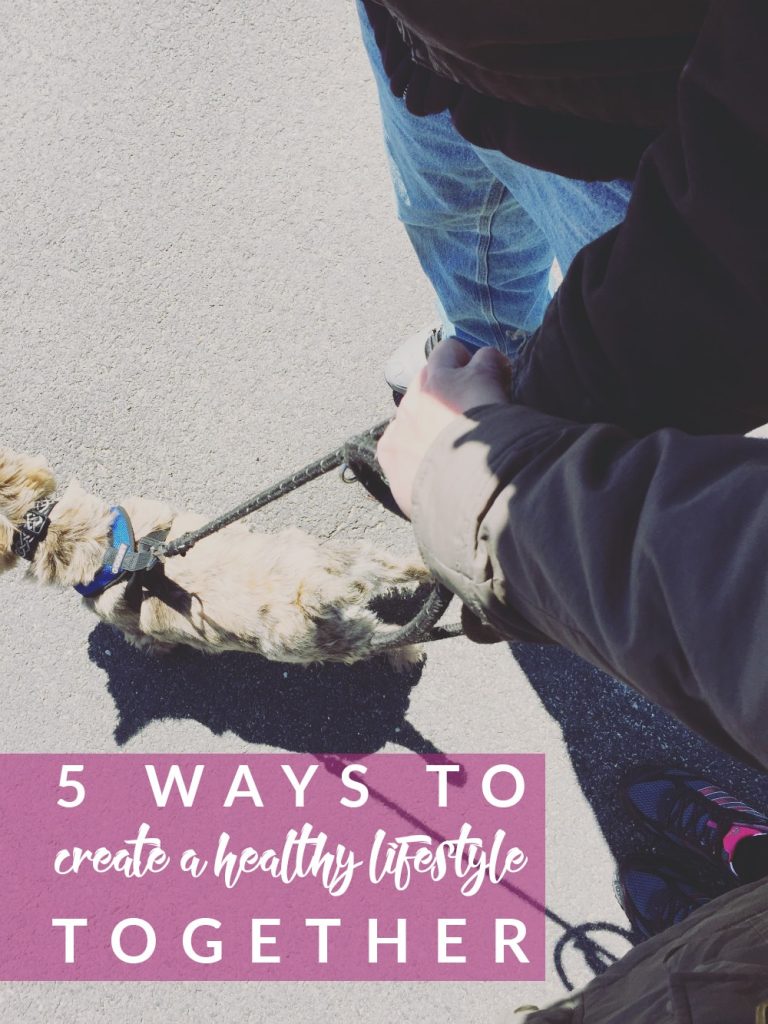 Hey, everyone!  It's been a while since I last contributed a post to Ashley's blog.
When I first got together with my husband in the Winter of 2008, I was a totally different person than the woman I am now.  I was working 9-5:30 in an office that was less than satisfying to clock into.  I was making convenient choices over healthy ones and therefore ate a lot more fast food and greasy pizza.  The exhaustion and stress I felt after being chained to a desk most the day wasn't exactly the best motivator to get moving when I got home from work at night.
Since it was cold outside when my husband and I first got together, our date nights were spent at the movies, having dinner at a restaurant, or hanging out at one of our houses.  I wasn't at all an outdoorsy kind of girl at that point in our relationship.  Even though I always had an interest in being a nature girl, the motivation to get out and explore just wasn't there. But with the weather finally warming up (or at least I hope it is), I wanted to share a post about getting healthier and creating a more active lifestyle with the help of your spouse.
PARTNER UP
It's always easier to get moving when you have a partner to do it with. So grab your dog, your bestie, your boyfriend, or your husband and go!  My husband works outside most of the year.  In general, he's a very outdoorsy guy.  He likes to go for walks, ride bikes, fish, golf, and spends nice days outdoors working in the backyard and garage.  So when I got together with him, I finally had someone to take walks with, ride bikes with, and basically give me the motivation to get outdoors!  And now that we have Hunter, he's become my walking buddy when my husband's not around!
START ON COMMON GROUND
If you both like to walk, go for a walk!  Start slow and take walks around the neighborhood after dinner.  Make it exciting and find a local hiking trail or take a drive down to the beach to walk the boardwalk or pick up shells and driftwood on the sand.  It doesn't have to be boring!  Turn date night into an excuse to get moving.  Go mini-golfing or take a bike ride through the park!  The fresh air will do you both good!
CREATE A WEEKLY MEAL PLAN TOGETHER
This is one of the easiest things you can do to live a healthier lifestyle.  You know you've got to eat!  So the night before you go food shopping, go through the store flyer together, make your shopping list, and create a meal plan together for the week.  It's not only healthy for your wallet, but you'll be able to make healthier food choices rather than cooking on the fly or going out to eat.
Be sure to check out how you can still eat healthy, even on a budget.
MAKE SMALL CHANGES
If you're not ready to full commit to, let's say, cutting out dairy or giving up carbs, make small changes in your diet by adding in more veggies.  It's a fun way to experiment with new ingredients together.  We both discovered that we really like kale as a side dish and could eat it once a week.  Spaghetti squash has always worked its way onto our menu, too!  And if you're not ready to hit the hiking trails or walk more than a mile, again, start slowly and ease your way into it.  Take your dog for a walk around the block or, when you and your partner go out, park your car further away than usual.
COMMUNICATE
We already know that communication is key in a healthy relationship.  So when I started feeling bummed about some extra pounds I put on, I turned to my husband and asked if he would help me with some weight lifting exercises.  It became a nightly ritual for us and made us both feel good, just like taking evening walks with Hunter together does!  Knowing that my husband supports me, even in my own personal health goals, is definitely appreciated!
I love sharing these activities with my husband because it not only allows us to be healthier as a couple, but it's a great way to soak up some of that quality time together that we don't always get during the week!
Let's chat!
What are your favorite ways to get active with your partner? How do you create a healthy lifestyle, with or without a loved one? What are your favorite tricks to sneaking in some healthy foods or activities without making it seem like a chore?
You might also like: