This post is sponsored by Sweet Earth Natural Foods in conjunction with Blog Meets Brand and I have been compensated for my participation. All opinions are my own. / Need some extra time in your morning? A healthy, convenient breakfast with Sweet Earth Natural Foods are a great way to start the day!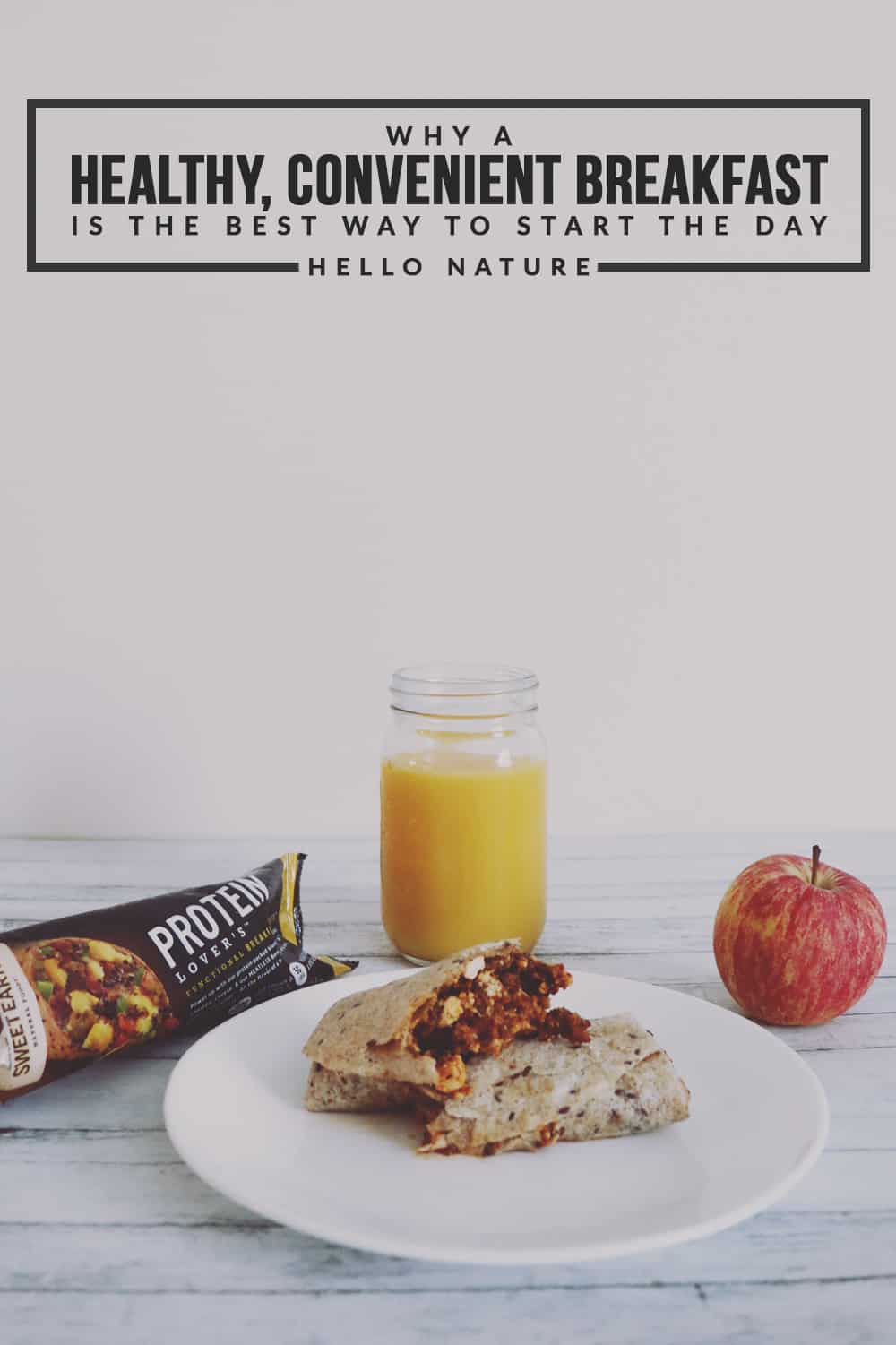 I thought I had pretty limited time before we had Lily. Now? I realized I pretty much had all the time in the world. Compared to my current life, I truly had a ridiculous amount of time available to me to do as I pleased – especially in the morning. Now, it's not unheard of for me to get out of my pajamas around lunch time because I just haven't had a chance to do anything but take care of a baby and maybe eat a meal or two before then.
So, I've been trying to find better ways to start my day. As much as I love lounging around in my pjs some days, I miss getting something productive done before 11AM. While I still have plenty of work to do, I've found an easy swap for my morning: healthy convenience foods! Specifically, Sweet Earth Natural Foods.
If you aren't familiar with Sweet Earth Natural Foods, you're missing out. Not only do they make affordable convenience food, but their meals are packed full of flavor. These plant-based vegetarian and vegan dishes are also filled with fresh ingredients that pack in the protein, fiber, and vitamins. The best part about Sweet Earth Natural Foods products is that they don't have the texture issues that I have with a lot of vegetarian/vegan options.
What they do have instead are healthy and delicious frozen foods, including their functional burritos and farmstead breakfast sandwiches. You can check out their latest offers here or follow them on Facebook, Instagram and Twitter.
Pictured above is their Protein Lover's Functional Burrito which is perfect for those that are a big fan of meaty options like a hearty, meat pizza. Paired with some fresh fruit and juice, I can have my breakfast ready to eat in less than five minutes. And it's a breakfast that truly fills me up and leaves me satisfied which is a huge bonus.
I love this kind of breakfast because it gives me time for other things and saves me time on dishes!
Some days it's simple things like spending time with Nathan and Lily. Some days it's showering (who would have thought that'd feel like such a treat?!) Some days it actually gives me a chance to spend some time doing things I used to enjoy doing on my own. Reading books, getting some exercise, crafting and more. It's so nice to be able to enjoy a great meal and still have a little time left for me before the adulting begins.
Let's Chat!
Have you tried any of the Sweet Earth Natural Foods products? What things do you do to start your day off right? If you get extra time to yourself, how do you spend it?
You might also like: