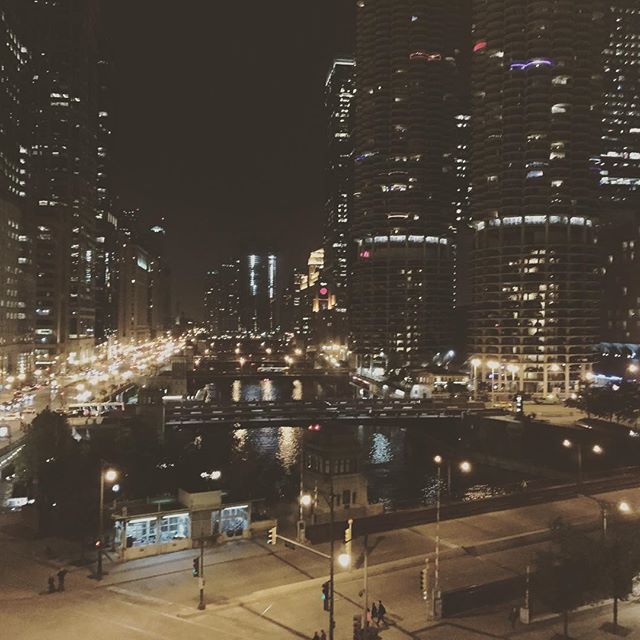 Remember a few weeks ago when I mentioned I was headed to Chicago for SoFabUOTR? We may have only spent four days down there, but I am just now catching up. Nathan came back with a cold and I wasn't too far behind with my own version which meant the bare minimum was being done in our household. As in, we still have laundry from the trip to do. It's still waiting for me, unfortunately.
Messy house and colds aside, we had SUCH a great time. The hotel that we stayed at was beautiful (the view from our window is above), we had some amazing food, and all-around just had a ton of fun. Be sure you're following me on Instagram for some more of my photos from our trip!
Thursday was spent shopping, eating and trying to get to our hotel without killing each other because we decided that rush hour was the right time to try to drive to our downtown Chicago hotel. We spent way more time (and money) than we anticipated at IKEA and REI then ate way too much at PF Changs which led to a later arrival than we anticipated. SO worth it though. If I could pick two stores to shop at for the rest of my life, it would be those two. And PF Changs? I've never regretted a single thing I ordered there. It was like the three most perfect things all rolled into a glorious afternoon. Followed by hours of traffic, but hey. So worth it.
Friday was spent watching chickens. We went to the Museum of Science and Industry and I have some fond memories of these chickens from when I was a little girl. But Friday was a special day because we got to watch some hatch! I'll save you the photos because, well, they're kinda gross looking when they come out of their shell. In an cute way, but still gross nonetheless

Friday night was spent walking the Miracle Mile since we were only a block away. I apparently had spent enough money on Thursday as we didn't buy a single thing. I did however love getting to go in Dylan's Candy Bar since we missed stopping in when we visited NY.
We also visited Navy Pier which was… fun? I had much higher hopes for it as we only walked it in the Winter. Well, now we've walked it in the Winter and Summer. It's great to do once, I suppose. But I doubt we'll be back any time soon.
Saturday was the conference and I had such an amazing time! For my first conference, it was the perfect size and I was a huge fan of it being only one day. It made it much easier to justify going since we got a mini-vacation out of it and Nathan only had to entertain himself in Chicago for the day.
I didn't take many photos during the conference, honestly. I was so focused on learning and networking that I didn't really think about it until I went to dinner with Nathan and I'm like "I have… no photos to show you." I learned a ton of information, met some other really amazing bloggers, and came back with a ton of ideas that I need to implement now that I'm getting better.
We had happy hour after the conference and then Nathan I met up next door to eat dinner at Gino's East. It definitely didn't disappoint. They have the BEST deep dish pizza. And their new brownie cookies? Ahh, so good. In my head, Nathan and I would share one of the two we got. I ate the whole thing before I could even give that a second thought.
I never did end up at the Donut Vault. Jen at Fashionably Employed (one of the awesome bloggers I met at the conference) suggested trying out Glazed and Infused instead since The Donut Vault tends to have a line. I just wanted donuts so I was up for anything, but I am SO glad we took her advice. These donuts are delicious! We tried a couple, but my absolute favorite was their Peanut Butter and Jelly Donut.
But before we headed to Glazed and Infused, we took a walk down to Millennium Park to see Cloud Gate/The Bean. Despite being in Chicago a few times before, I've never been there. It was raining and very overcast when we went out, but that was fine by me. It meant less people and less sweat.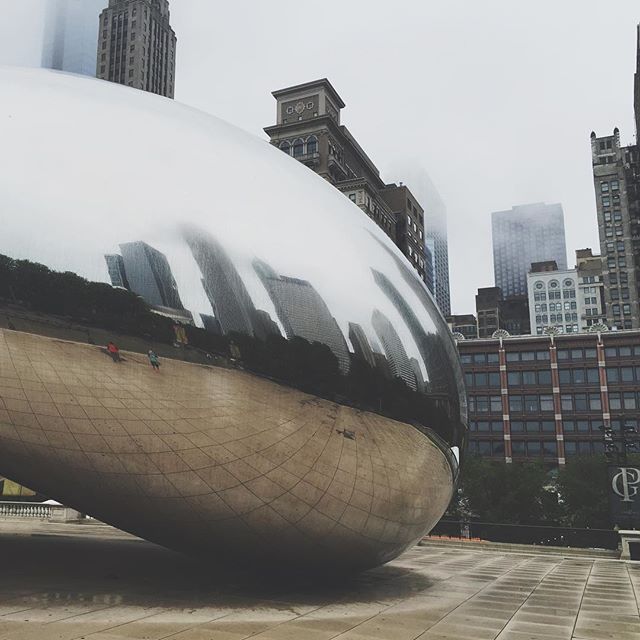 And then I discovered the panoramic function on my iPhone. I know – behind the times much? I spent a good 15 minutes taking panoramic shots of the Chicago skyline while Nathan stood there, being as patient and sweet as ever.
Luckily, Nathan wasn't sick until the last day and mine held off a few more days so we were able to enjoy the trip in it's entirety. We both said there was no way we could spend a week there when we first got there. By the end, we both said we could probably spend more than a week there and still miss a ton of things.
Now that we've been there in Winter and Summer, I'd love to visit again this Fall. I already have a long list of places and things I want to do so it's just a matter of finding the time to go.
I'd love to know: what's your favorite thing about Chicago?