I was provided a portion of these products free of charge by Oriental Trading. No other type of compensation was received for this review. This review is based strictly on my opinion. Others may have a different opinion or experience with the products listed in this post.
Serve your delicious drinks on these bloody coasters this Halloween! This blood-splattered coaster DIY with ceramic tiles is super easy and inexpensive!
I absolutely LOVE all of the drinks that come out this time of year. The Fall flavors and the spooky spirits that fill the menus in our favorite restaurants and coffee shops always make it a bit more fun to go out and splurge a little bit on a sweet treat. While I love buying (and even making) these delicious drinks, I wanted to add a bit of flair to the drink experience. And that's exactly what I did with this bloody coaster DIY!
What better way to serve your favorite drinks at your Halloween parties this year than with blood-splattered coasters? Not to mention, it's SO easy and cheap to make them so if you're in need of quite a few for your gathering – no problem!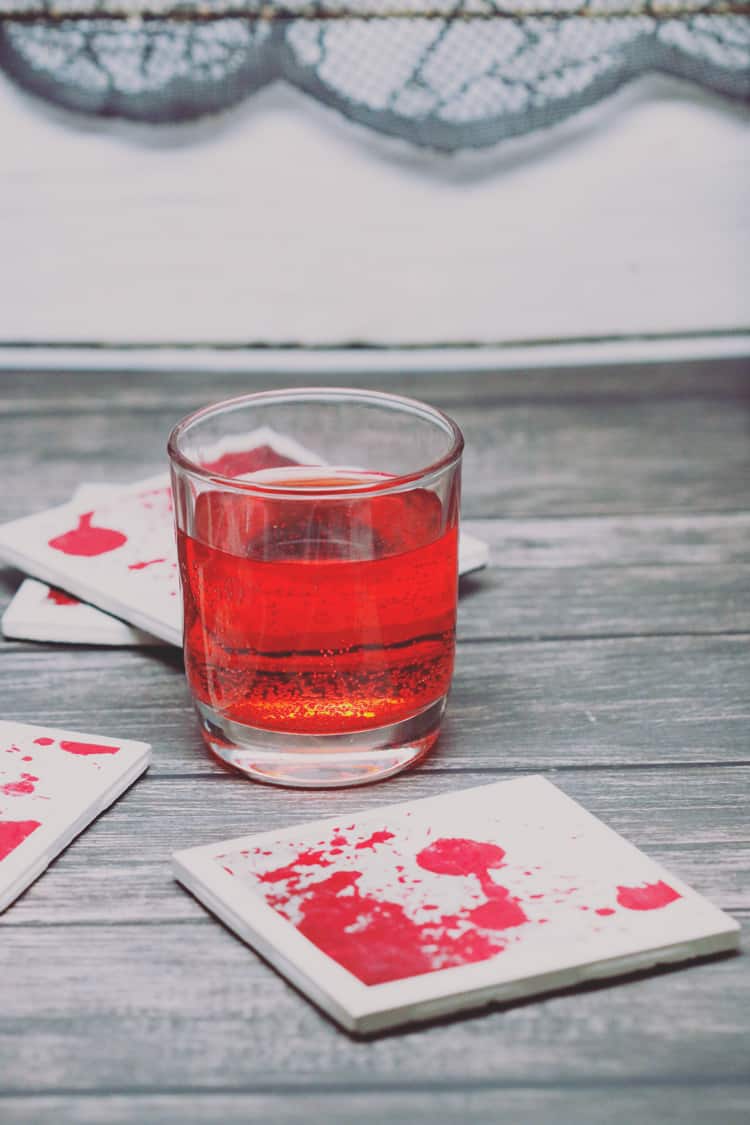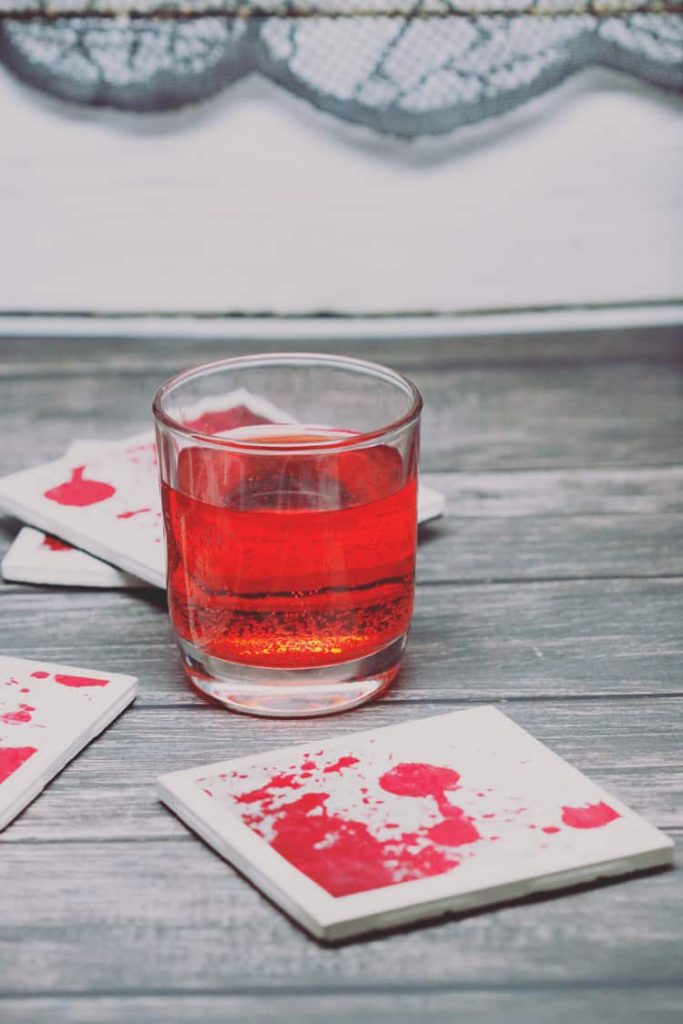 This is included in the instructions below, but it's SO important to note as I figured it out the hard way after some trial and error. While this project really is easy (and a lot of fun!) – you have to go slowly and be extra cautious with the napkin until you have 1-2 layers of Mod Podge over it. They can tear if you don't and you'll have to start all over again with a new piece. But if you take your time, don't get anything too wet with too much Mod Podge at once, and don't "rub" the napkin – you should be just fine! :)
SUPPLIES
Napkins – I used Zombie Party Luncheon Napkins from Oriental Trading
Ceramic Tiles – these can be found at a home improvement store (I got ours at a local ReStore for 20cents each!)
Paint Brush
Felt
STEPS
Trim the napkin to be a little smaller than the size of the coaster. (If you want to be more exact, measure the tile and deduct 1/4″ to 1/2″ on each side and measure the napkin then cut.) *IMPORTANT* If you're using the napkins I mentioned, or any multi-ply napkin – be sure to remove any other layers. You can only have the single layer that the design is on as it will not work with multiple layers.
Using the paint brush, spread a thin layer of Mod Podge along the backside of the napkin. Do this quickly and do not press too hard/move too quickly or else you may tear the napkin.
Press the napkin down on the tile and smooth to remove air bubbles. Let dry for at least 15 minutes.
Once drive, spread a thin layer of Mod Podge over the entire top of the coaster and napkin. Similarly to step 2, do this quickly and do not press too hard or move too quickly.
Let dry for at least 30 minutes. Once it has dried, you can do 2-3 more layers to ensure that it's completely coated. Continue to be careful to not tear the napkin, but the more layers, the less you have to worry about it.
Cut the felt to be the same size (or a little bit smaller) than the tile. Spread a thin layer of Mod Podge over the bottom of the tile and attach the felt.
Be sure to let fully dry before using it for drinks!
I've been wanting to do a project like this since Summer, but you can bet I'll have coasters for every season of the year now! It's so fun and so easy to customize. You can even use completely different parts of the napkin for different images on each one so you can keep drinks straight, too.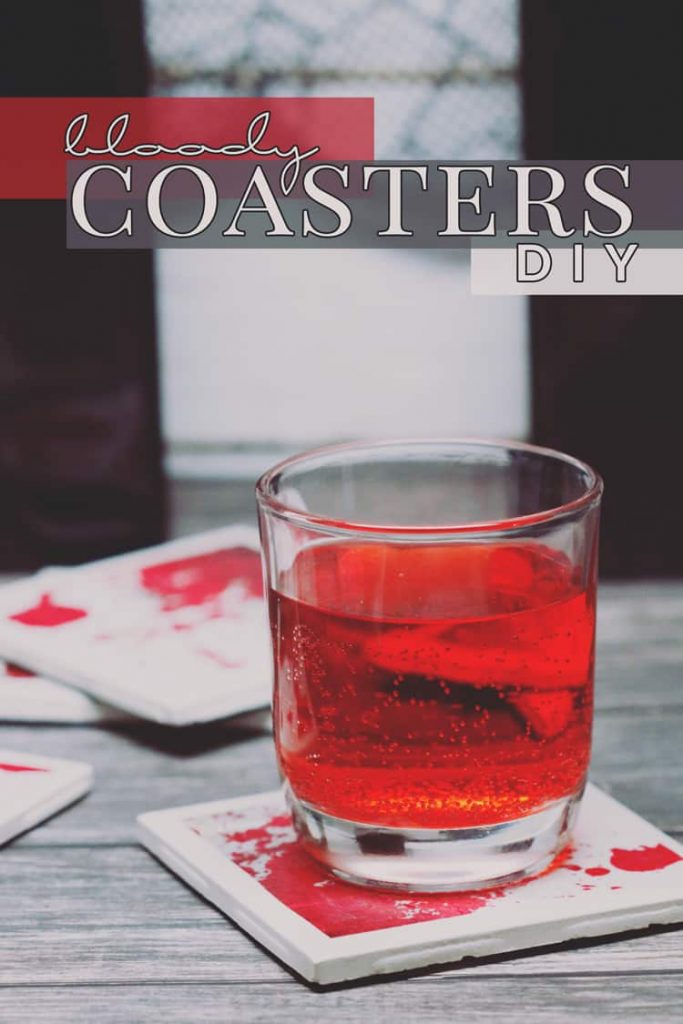 i'd love to know: what's your drink of choice this month?