Thank you to Extended Stay America for partnering with me on this stay. A complimentary stay was received for this review, but no other compensation was received. All opinions are 100% my own.
Theme parks are a blast. At least at the beginning of the day. But by the end – especially when you have kids – you're spent. Everyone's sweaty and probably a bit smelly. Everyone's whining about how their feet hurt and how they didn't get to go on the one ride they wanted to. Everyone's famished yet nothing sounds good.
But no one wants to go out to eat like that. You want the comfort of your own home, even if you're miles away, right?
A place where you can bring take-out, or even cook your own meal if you've somehow managed to find a little bit of energy, and not eat on the bed. A place where you can bring the whole family (even your furry friend if you've taken them to a doggy day care for the day, but wanted them snuggly tucked into your sheets at night.) A place where you can all unwind a little bit, without feeling like you're in each other's personal bubble.
We found that magical place (it does exist!) on our last trip to Six Flags Great America. I'm pretty certain this was by far the best hotel experience Nathan and I have ever experienced so I'm pretty excited to share more about Extended Stay America with you.
It's within a 10 minute drive of Six Flags Great America and made the long day bearable when we just wanted to relax.
Before I jump into this trip though, this wasn't the first time we stayed at Extended Stay America. We first stayed at the DC location in Tysons Corner. This was our first introduction to Extended Stay America (without pets) and we were smitten. Everyone was super helpful in helping us navigate the area and we were kinda bummed that we didn't stay longer.
So when we had the chance to stay at Extended Stay America Gurnee, I couldn't say yes fast enough. They recently invested $1 billion (!!!) in renovating all 625 of their hotels nationwide so I was excited to see the updates, too.
Since we were bringing a baby and a dog with us this time, I figured we might not receive as much of a welcome. As much as we try our best to ensure that our little ones never inconvenience others, some pet owners and parents can give traveling with babies (furry and non-furry ones) a bad rap. So we've dealt with the uncertainty that greets us when we bring them with us.
But I can honestly say that I don't think I've ever been more welcomed at a hotel than we were at Extended Stay America Gurnee.
From the moment I got there and checked in, Josh at the front desk made me feel like we were walking into our own home. Between the light banter and the explanation of their available options, it was almost like we were long time friends. After a long day at Six Flags Great America, it was a nice change to the usual check-in procedures.
Shortly after we got everything in our room, Josh called to make sure we had everything we needed. He offered to bring us the dishes we needed to cook in the room (you have PLENTY of options to choose from, by the way!) but Nathan grabbed them on his way out to the vehicle since he was going that way.
Now the service alone could have made this the best hotel near Six Flags Great America, but the room was even better. While it's been awhile since we went to DC, I didn't remember the rooms looking anything like this. It had great amenities, but it was a little outdated.
The kitchen was by far our favorite part which is something I definitely remember about our DC stay. The floor (which is the same one in the bathroom) was laminate which I was so thankful for with having a little one who's still a little wobbly while she's learning to walk.
We loved having a refrigerator, stovetop, microwave, and the opportunity to get a coffee maker, cooking utensils, dishes, and cutlery if needed. We kept extra beverages in there for all of us and when we got Cracker Barrel (which is right next door to the Extended Stay), we kept our leftovers in the fridge for the next morning.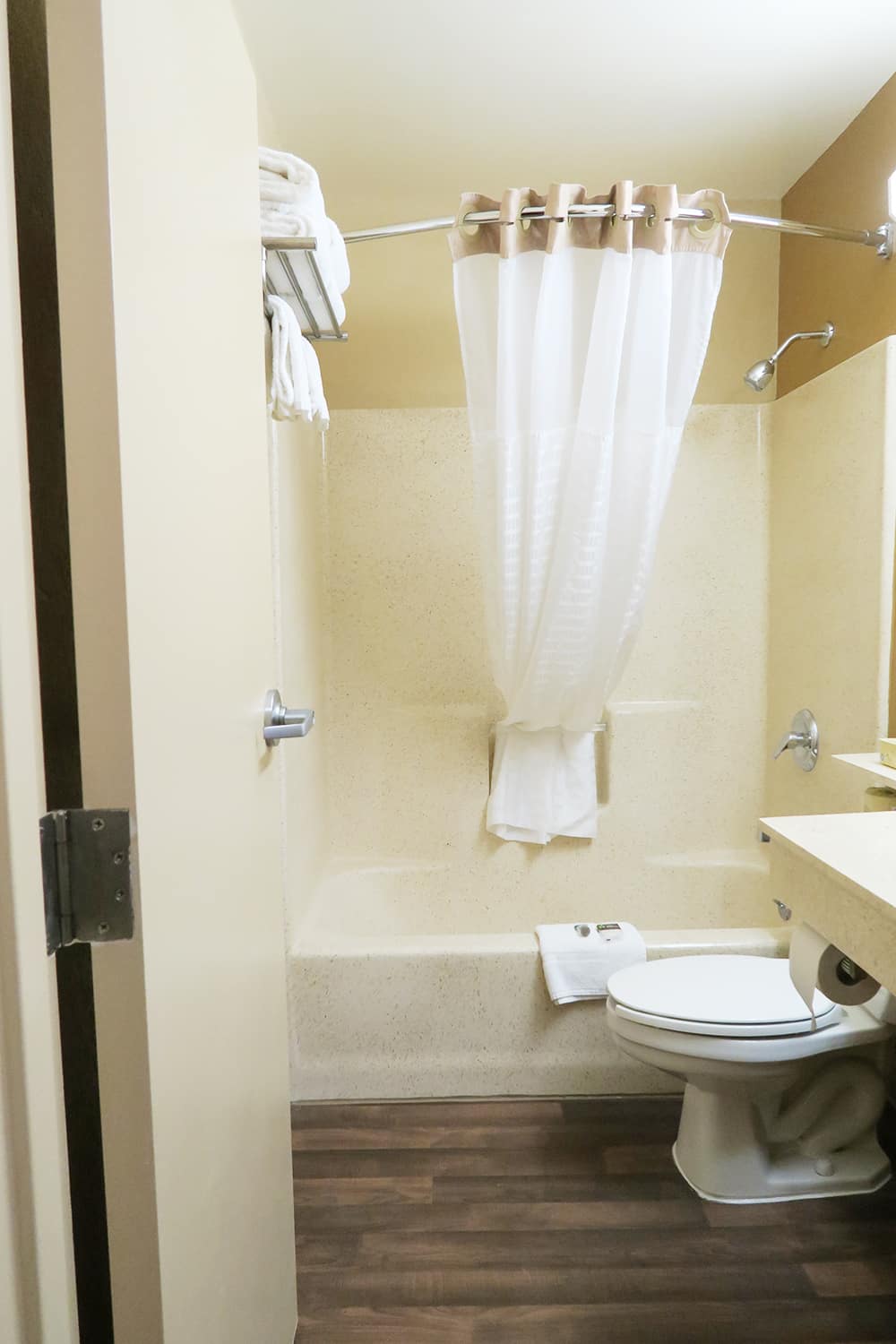 Now this is a big thing for me, too: We were able to eat at a table with chairs! Novel concept, right?
I'm not sure what it is, but I really dislike that about hotel stays. Someone spills something on the sheets. Or crumbs end up in the bed. Or the whole meal feels like you'd have better luck riding a unicycle and eating than trying to balance everything in bed. Besides, we have a pretty big bed hog:
Walking and potty breaks before and after we dropped Sookie off were a breeze, too. We were on the first floor so we just had to head down the hallway to the grass. There were a few dogs there during our stay that she got to mingle with as well. Everyone was very friendly and welcoming of her.
Another bonus was that every room that had a pet inside got a pet magnet. You just stick it on the outside of the door frame and it lets everyone know that you have a pet inside. Super helpful for the staff, but also as you're walking in the hallway.
Another thing I love about Extended Stay America is their housekeeping policy. We tend to not get housekeeping on shorter stays because we aren't in the room a ton. We just need fresh towels, normally. Their policy makes it super easy to get what you need, no matter how long you stay:
For 8 or more night stays: One "full service" housekeeping is provided each week. Please refer to the key packet you receive at check-in for your scheduled housekeeping service day. Additional full or refresh services are available as outlined below.
For 1-7 night stays: Fresh towels and linens are available at the front desk as often as needed.
Extended Stay America offers a couple of other great amenities like a coin-operated laundry room, grills to cook out on, and free a grab-and-go breakfast. Wi-Fi was easy to log on to and worked great the entire time.
We ran into Dave the maintenance manager at the end and he said something that really spoke to me about their customer service:
"A lot of people ask for five stars, but I ask for an honest review. We hope it's a five, but we're always looking to improve."
Why can't every company say this? This is what great customer service looks like and it's one of the many reasons we loved Extended Stay America Gurnee.

Extended Stay America solves every issue that you have at the end of a long day at the park, a week spent at the beach, a road trip with your little ones (furry and non-furry) and more. They have customer service that can't be beat at every location we've visited and we can't wait to visit even more.
Have you ever stayed at an Extended Stay America? What are your favorite features?
You might also like: