This shop has been compensated by Collective Bias, Inc. and its advertiser. All opinions are mine alone. #SamsClubMag #CollectiveBias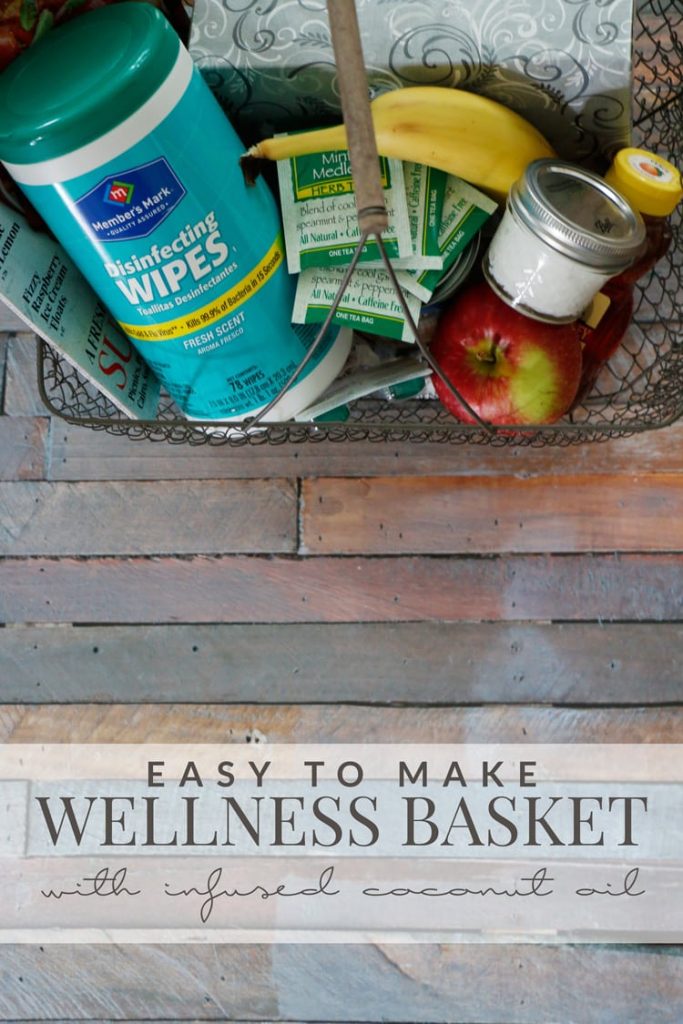 Did you know that August is Health Awareness Month? While there are only a few days left of this month, I think it's such an important topic to discuss!
I know for me, cold season is right around the corner. It's the time of the year that the leaves start to change and with it, so does my immune system. Although I don't get sick very often, if I am – I can usually count on it happening during the last quarter of the year.
So today, I have a really easy and kinda fun Wellness Basket DIY to share with you! And I say only kinda fun because I know being sick is never fun. But being prepared always makes it better. The great thing about this basket is it can be used for you or a loved one to keep everything in one place, but it's also great before you get sick. It may not keep the colds away completely, but it'll definitely help!
Tissues | And when I say tissues, I don't meant the cheapest box you can find. If there's one thing I'm not cheap about, it's tissues. Being sick is enough – you don't need to add an even more raw or red nose because of cheap tissues.
Disinfecting Wipes | These are a great way to keep your counters and the rest of your house a bit cleaner as well as kill off most bacteria. Great before you're sick to keep germs at bay, but also great while you're sick to prevent it from spreading to others!
Fruit | A really simple additive to the basket, but it's SO important! Getting my daily intake of fruits and vegetables has helped my immune system tremendously. Plus it's always nice to have a healthier snack on hand.
Infused Coconut Oil | This is my secret weapon for Winter and colds as well. I put a few drops of essential oil (usually tea tree, lavender, or peppermint if it's cold season) and mix it around with some coconut oil in a small jar. And then I use it on everything. Dry feet, dry hands, windburn, rough elbows, etc. And if I'm under the weather, it's great to soften a raw nose or to help clear out my sinuses a bit.
To make, I use a 2% dilution ratio. This equals out to approximately 10 drops of essential oil per ounce of coconut oil. Mix it together in a jar, store with the lid on. To read more about essential oils, read the introduction to aromatherapy or this introduction to essential oils. If you're looking for more to do with coconut oil, there are tons of awesome things you can do with it including cooking. Check out this coconut oil recipe inspiration.
Cold Medicine and Cough Drops | While this basket is great before the onset of a cold, cold medicine and cough drops are the first things I rummage through our medicine cabinet for when I'm feeling a cold begin. And these are the last things I want to go to the store for. Making sure they're on hand ahead of time is a huge help!
Tea and Honey | I never used to believe that honey actually did anything when I was sick. Maybe I didn't put enough or maybe I was just too sick for it too matter, I'm not sure. But now? I love it! Plus tea is great for relaxing which is a great immune system boost!
And speaking of relaxing, one of the ways I like to unwind is with a magazine (which is why I included it in the basket!) It's a great way to catch up on something relevant to you since there are so many choices! One of my new favorite magazines to read is the Sam's Club Healthy Living Made Simple Magazine.
They cover everything from nutrition and lifestyle to caregiving and fitness. It's your one-stop shop for all wellness information! Which is exactly what Sam's Club is, too. Sam's Club is the destination for everything you could possibly need to stay happy and well! You can find most of the items in this Wellness Basket DIY there, too (even better, right!?)
Being a member of Sam's Club and reading the Healthy Living Made Simple Magazine always help me feel like I'm living a more well-balanced, healthy life. They truly care about their members and it shows, especially with their monthly health screenings that they offer. Their next one is on 9/12 so be sure to check them out!
These are all my must-have goodies to keep on hand for maintaining my wellness. I'd love to know: what are your wellness must-haves?