I normally don't do two posts in a day, but I'm so excited about Fall and Halloween this year that I just could not wait to share!
Fall has always been one of my favorite times of the year, especially because it means Halloween decor goes up. Having a house to decorate this year has been awesome, but it's made me realize we have so few true Autumn decorations. Most of it's Halloween related so it'll be taken down at the beginning of November. So I figured it was time to add a little bit in between the mix of zombie gnomes and Nightmare Before Christmas decor. I need to head out into our backyard and woods to get some twigs and pinecones for some nature decor, but in the meantime – I created some printables that I can easily put up in a nice frame and spread the Fall cheer throughout the house.
And I figured I'd share them with you, as well!

All you have to do is click on the thumbnail below and it'll bring you to the larger version that you can save, print, and frame!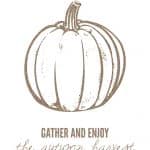 enjoy!
think this post is worth a read? please share! I'd greatly appreciate it
[Tweet "Three Free Fall Printables"]