Making a recipe for a crowd? Or maybe you only need a dessert for two? Use this Recipe Multiplier + Recipe Divider Chart to easily adjust your measurements!
Products for this post were provided by Hallmark in exchange for an honest review. No other compensation was received. All opinions are 100% my own.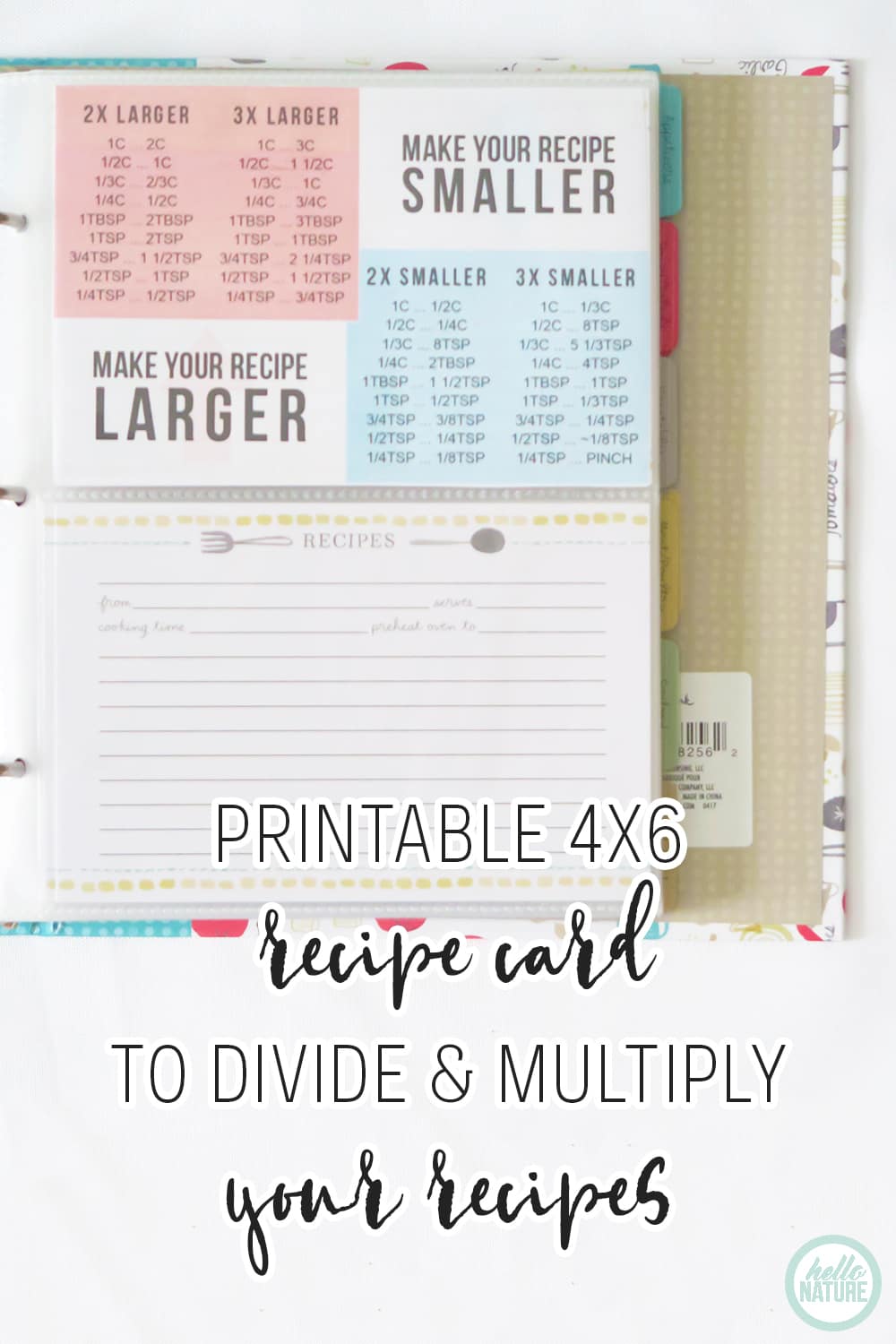 Recipe measurement adjustment doesn't have to be impossible every time you need to multiply or divide a recipe. In fact, it can be super simple with this Recipe Multiplier + Recipe Divider Chart Printable!
But before I get to the printable itself, I want to talk a little bit about recipe storage because I am SO excited to get all of my recipes in one location!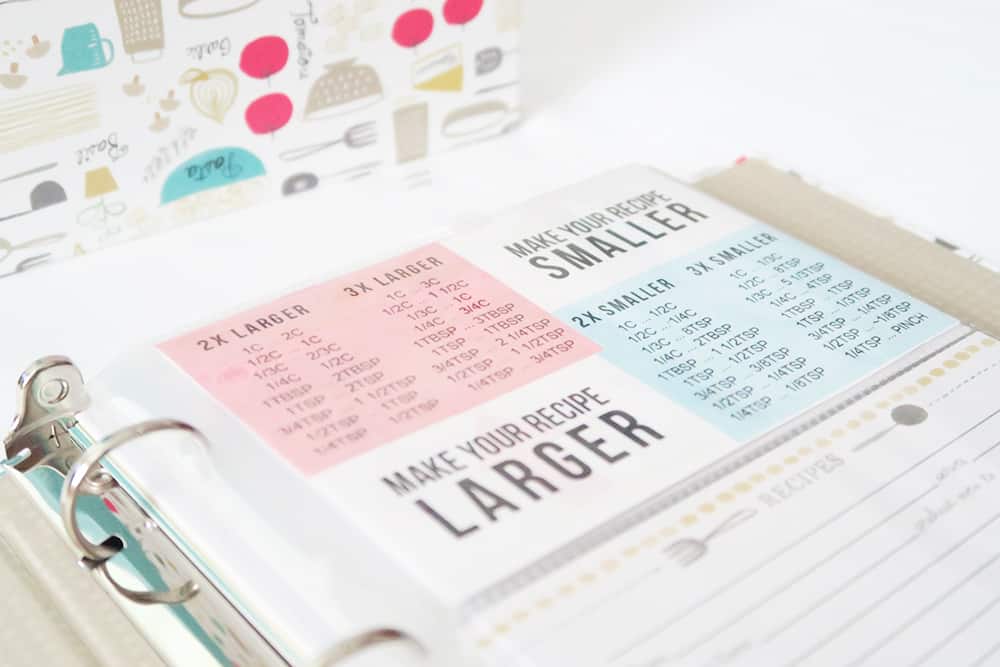 You see, I have a mess of recipes in our kitchen. I have some on notecards, some on scratch paper, some printed out from family because they thought that was easier than emailing me, magazine clippings and more. It's a giant pile of stuff that never gets looked through until I remember that specific dish I need and then have to sort through it.
Oh, the struggle!
Luckily, I've got a new tool to help me organize the chaos: a recipe binder! And it goes perfectly with my Recipe Multiplier + Recipe Divider Chart Printable. I just added it to the beginning of the binder so whenever I need to adjust a recipe, I'm all set.
Related Reading: Kitchen Conversion Chart Printable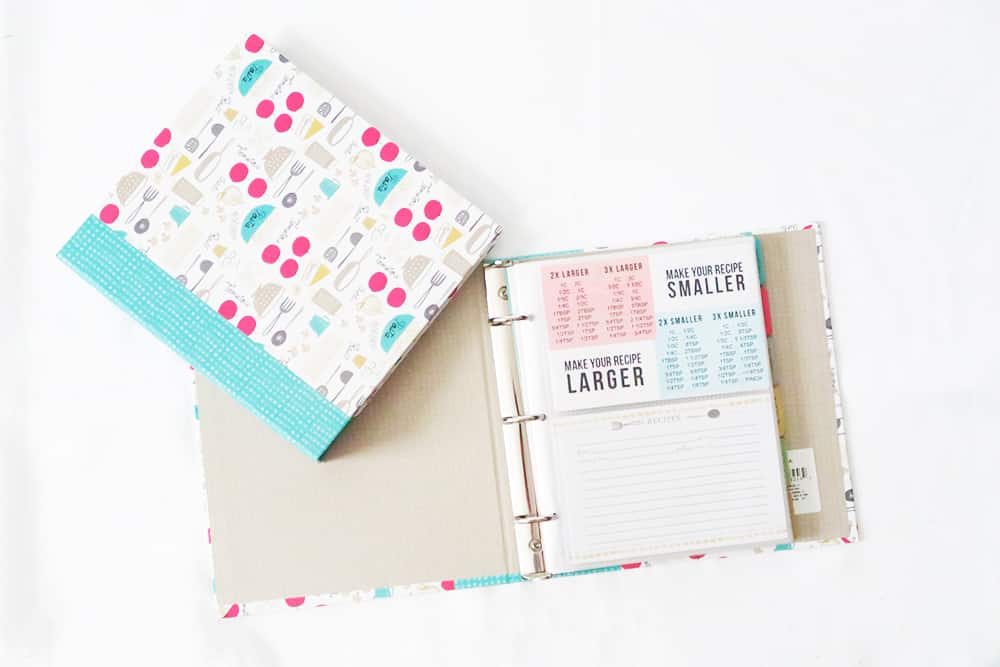 Not only are these Hallmark Recipe Binders decorated with super fun illustrations, they're incredibly functional. Not only do they have tons of space to hold your favorite recipes, they are packed with a massive reference section and quick finding tabs to organize your dishes.
Each Hallmark Recipe Binder comes with:
40 4×6 designed recipe cards
20 double-pocket poly sleeves that hold 80 4×6 recipe cards
1 top-loading poly pocket page
10 printed design tab dividers
5 pages of cooking reference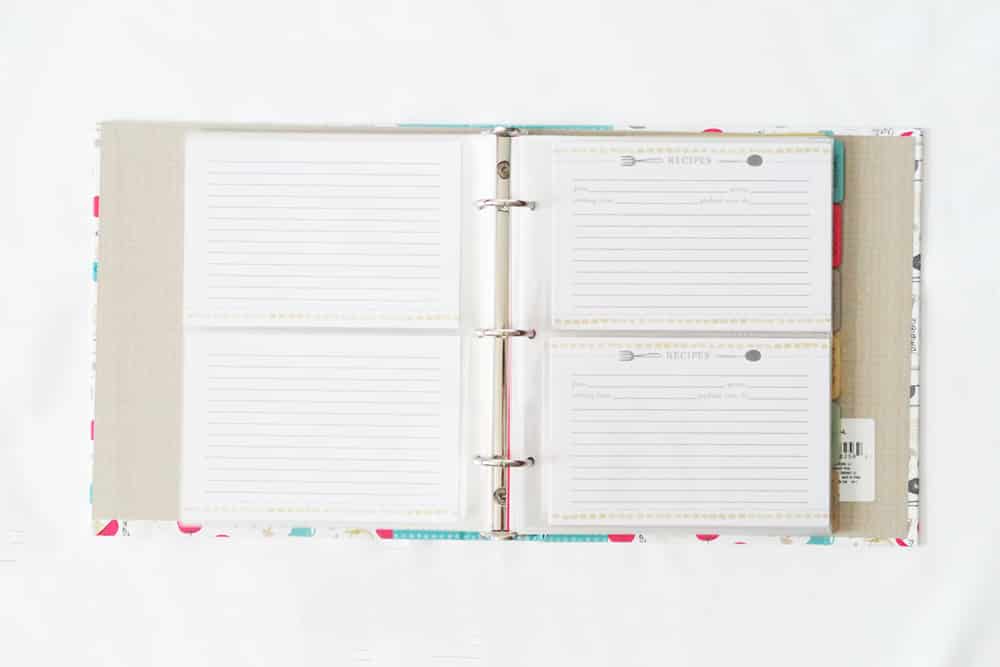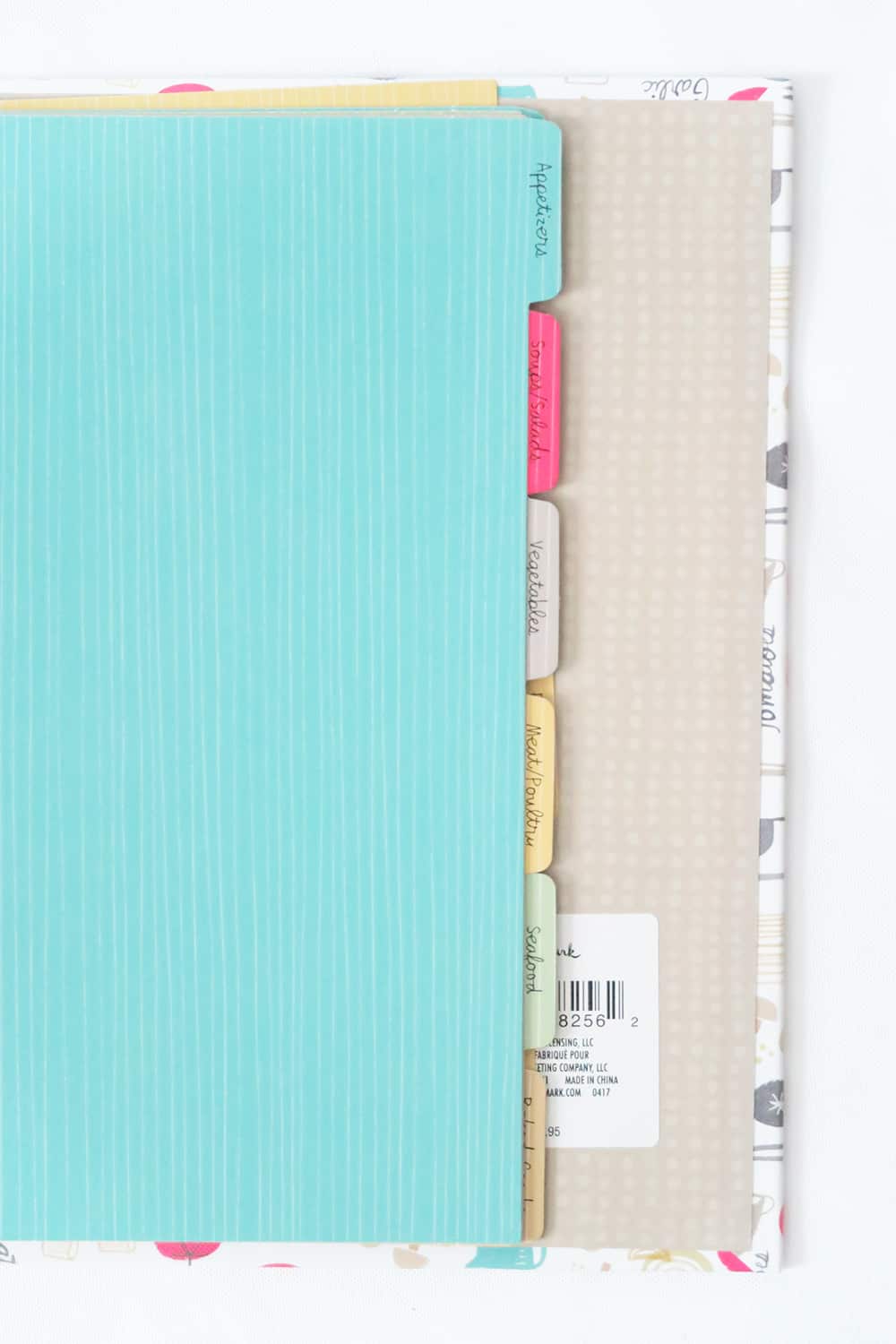 Not only that, but you can keep adding to it with coordinating recipe refill cards and pocket pages that are sold separately. The dimensions of each Hallmark Recipe Binder is 8.31″ W x 9″ H x 1.38″ D so it's not too bulky either.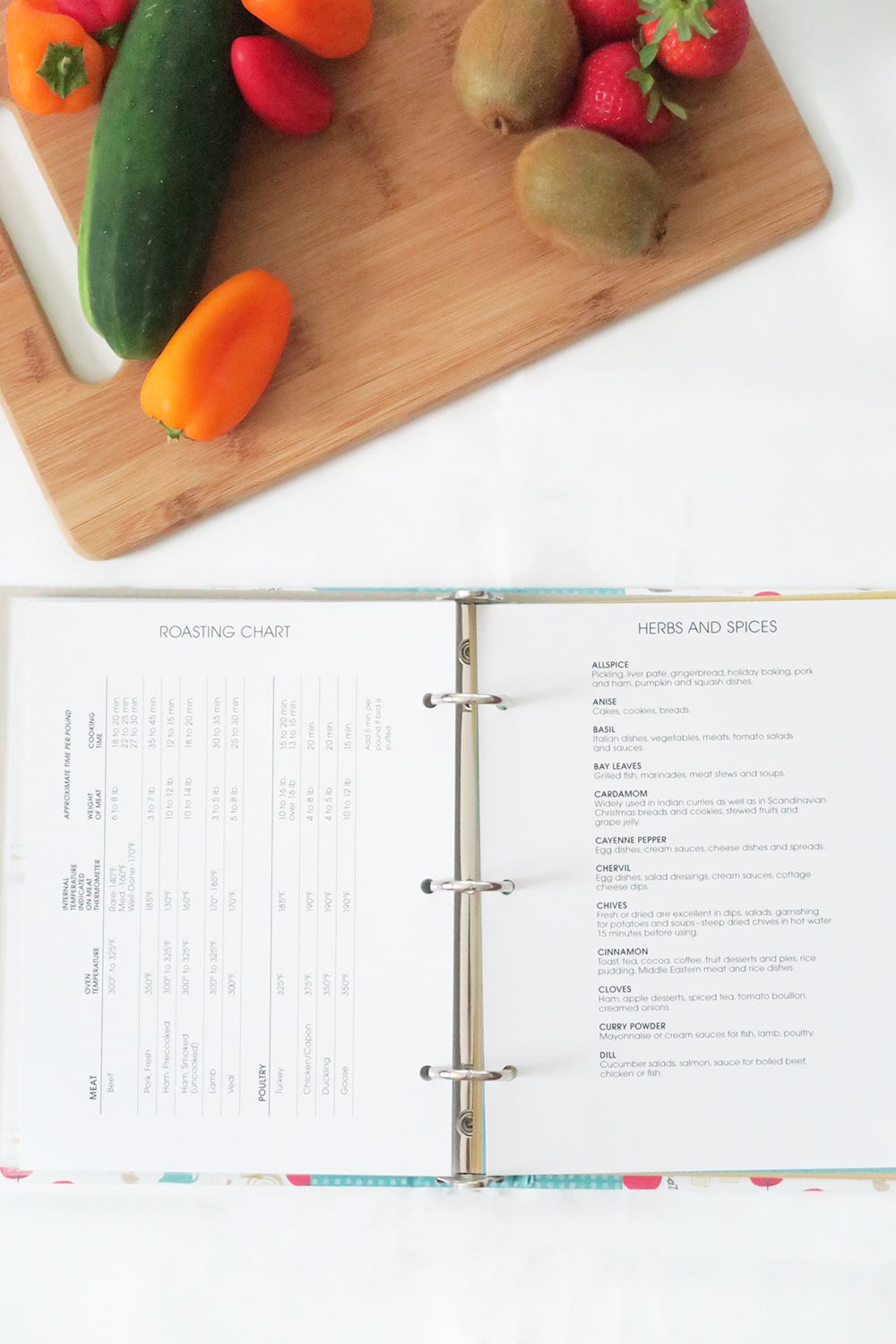 And if you want one of your own, I've got two fantastic options. Not only do I have a coupon for you, but I'm also giving one away!
Coupon
You can get $5.00 off your purchase of any Hallmark Recipe Keeping products $18.95 & up with online code RECIPE at checkout.*
Giveaway
Enter to win a Hallmark Recipe Binder by commenting with your favorite feature of the binder! You'll be entered to win in the same pattern as the one featured in this post.**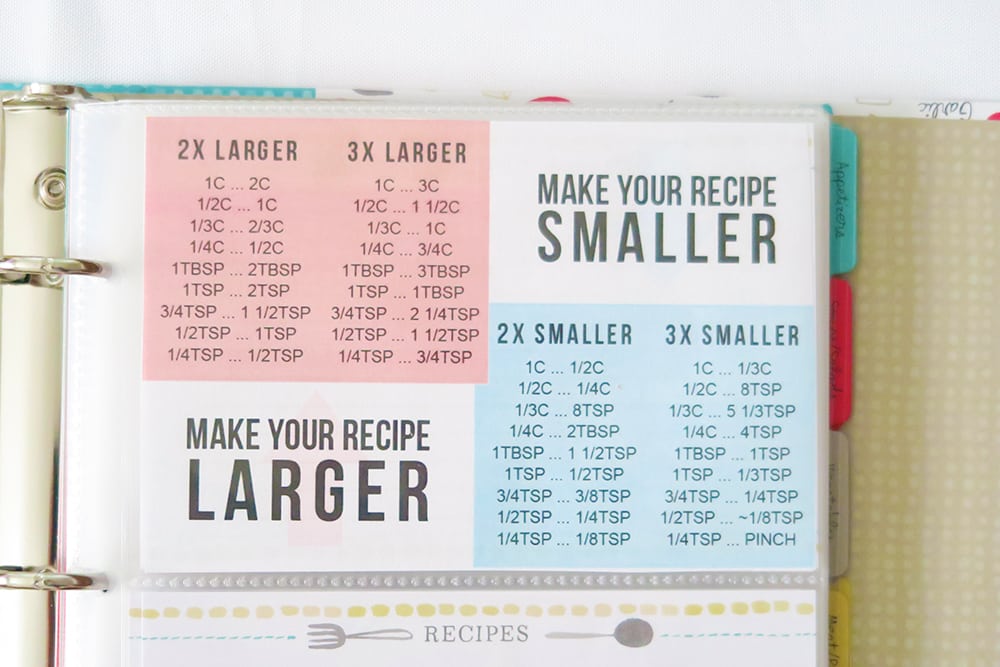 Recipe Multiplier + Recipe Divider Chart Printable
Now that we've covered how you can store your best recipes, on to the printable! This Recipe Multiplier + Recipe Divider Chart Printable is perfect for when you have a crowd coming, but you still want to make your favorite two-person dish. Or when you want dessert, but not a recipe that's big enough to feed an army.
Just use this chart to multiply and divide your measurements and you're all set!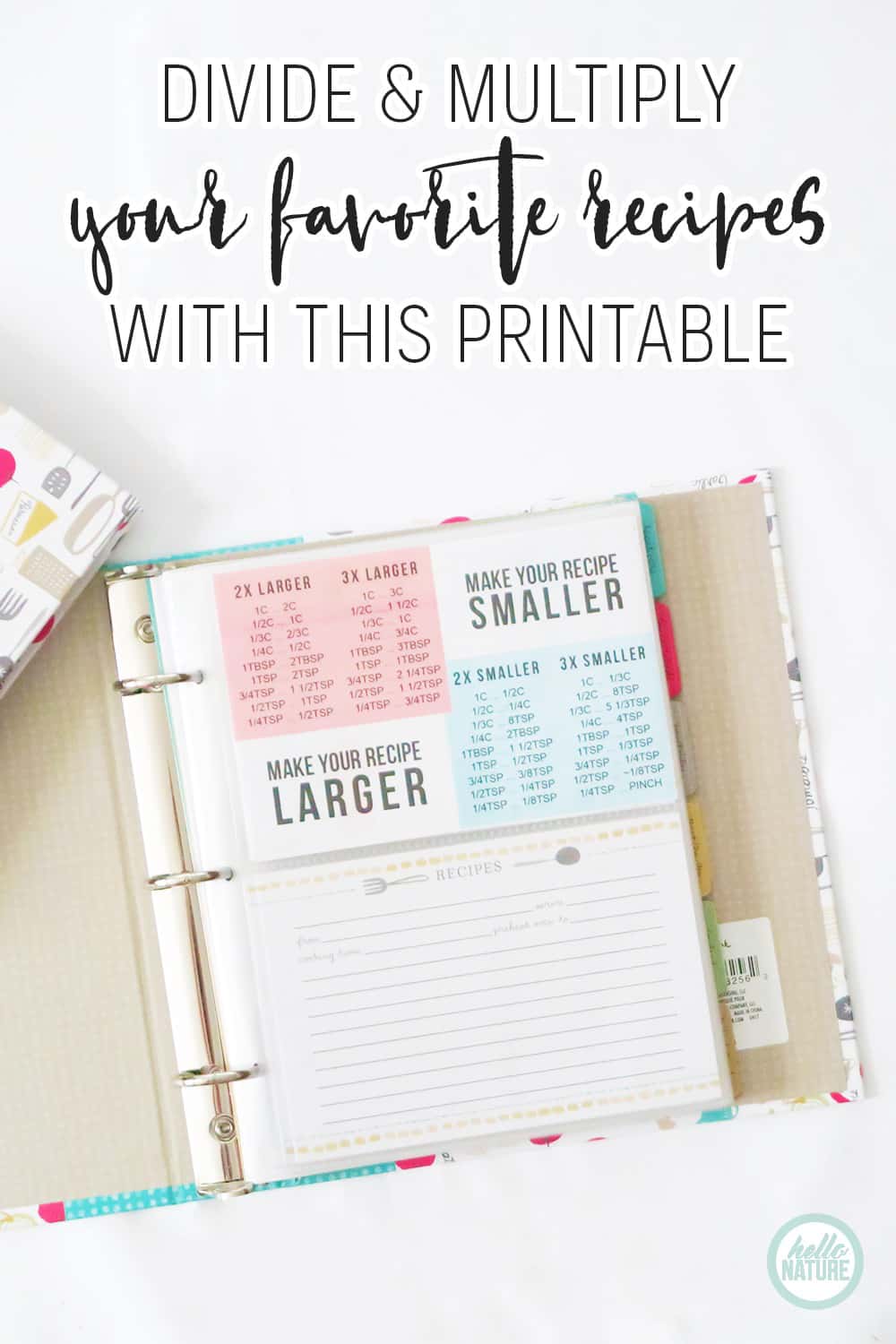 * Offer valid 7/21/17-9/30/17 while supplies last only at Hallmark.com. Limit one $5 savings online code per order. Crown Rewards Certificates cannot be used online with this offer. Not valid on past purchases. Hallmark.com orders require U.S. billing and shipping addresses. Not valid on sites or apps other than Hallmark.com. Customer is responsible for any applicable sales tax and shipping and handling. Offer may be canceled or modified at any time.
** Giveaway ends on 9/3/2017 at 11:59 PM CST. Winner will be selected by Random.org and be notified by email. The winner has 48 hours to respond before a new winner is selected. The product offered for the giveaway is free of charge, no purchase necessary. Facebook, Twitter, Pinterest, Instagram, and Google+ are in no way associated with this giveaway. By providing your information in this form, you are providing your information to me and me alone. I do not share or sell information and will use any information only for the purpose of contacting the winner.