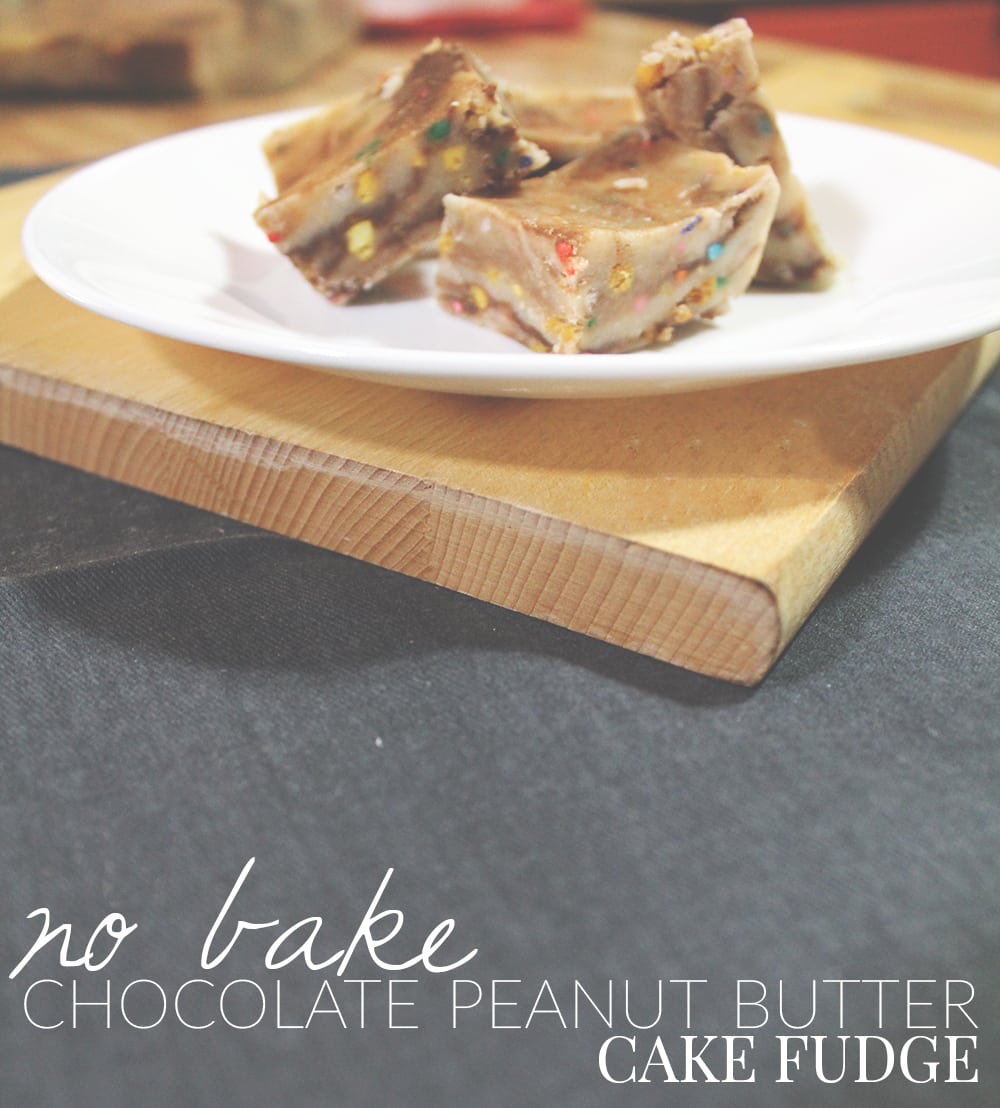 I'm a big fan of easy desserts. Especially ones that are so good that you can't tell that they were easy. And today's recipe is pretty much the perfect example of that.
I've been wanting to try to make fudge for a loooong time. Ever since I tried a maple nut fudge and was completely convinced I could die of happiness at that moment. However, I have one problem: I don't always have a lot of patience when it comes to baking so making normal fudge is not something I'll likely do just because I feel like baking. But because this is no bake fudge, this recipe is the exact opposite of that.
No bake fudge is SUPER easy – as in it was just pulled together from things we had in the pantry. Considering I didn't even know no bake fudge was a thing or that it had that simple of ingredients, I was stoked I could make it! If you don't have the peanut butter brittle mix, I feel for you. But you can easily substitute nuts and sprinkles combo for the same taste and pretty factor (that's a thing, right?)
If you want to wow your guests this holiday season and make them think you slaved away over dessert, make this no bake fudge a few hours before they come over. It's so easy (think set it and forget it type of easy), so good, and yields a ton of servings from one little mixture because of it's sweetness. (Okay, so it can yield a ton of servings if you don't eat the entire batch yourself.)
Enjoy!
No Bake Chocolate Peanut Butter Cake Fudge
Ingredients
2

Cups

White Cake Mix

2

Cups

Powdered Sugar

2

Tbsp

PB2 Chocolate Powdered Peanut Butter

1/4

Cup

Unsweetened Almond Milk

1

Stick of Salted Butter

1/3

Cup

Chocolate Chips

1/3

Cup

Peanut Butter Brittle
Instructions
Combine the cake mix, powdered peanut butter and the powdered sugar. Mix thoroughly.

Slice butter into the mixture (I did about a tbsp for each slice) and pour the milk in. DO NOT MIX.

Place mixture in the microwave for two minutes at full power.

Remove mixture from the microwave and mix until the butter is fully integrated.

Mix in the chocolate chips and peanut butter brittle.

Spread into a lightly greased 8x8 glass pan and refrigerate for 2 hours.

Pull out, cut and enjoy!
think this post is worth a read? please share! I'd greatly appreciate it!
[Tweet "No Bake Chocolate Peanut Butter Cake Fudge"]