This post contains affiliate links.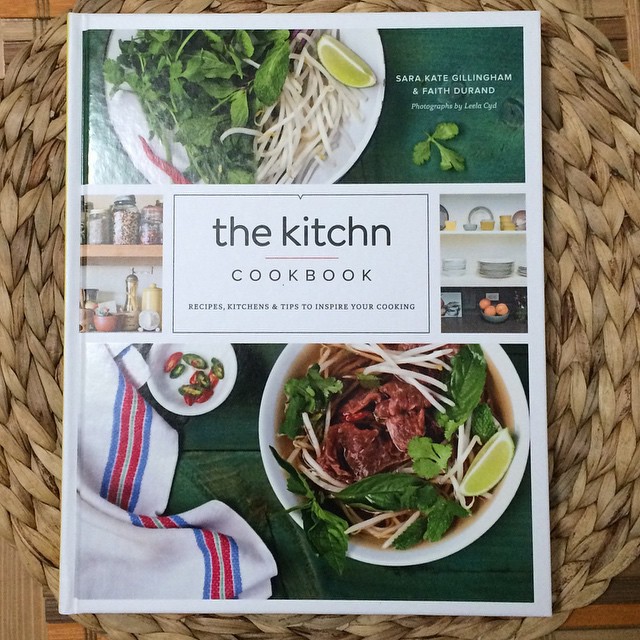 On Instagram, I was super eager to share that I was provided a copy of The Kitchn Cookbook to review on Friday. It's now Sunday and I've already gone through this book, cover to cover, and made one of the recipes. Needless to say, I'm pretty much in love this with book.
The Kitchn is stocked with 150 recipes along with a mini cooking school with 50 essential lessons. Not only that, but it has an amazing guide to organizing your kitchen including storage tips, tool reviews, inspiration from real kitchens, maintenance suggestions, 200 photographs, and so much more.
The first part of the book, The Kitchen, starts off with a piece of writing that truly hits home for me:
"A kitchen truly is the heart and hearth of your home in ways that comfort and reassure."
This could not be more true for our little family. I grew up with food being the center of our evenings, our get-togethers, and our holidays. Good, delicious smelling food that oozed of love and filled the house with intoxicating aromas. I have so many wonderful childhood memories from when I was young where food was a centerpiece of an event and those magical moments have continued even as I grew and moved out. Nathan and I first bonded over our adoration of scrumptious food and some of our best moments include amazing meals. Things like getting a funnel cake on the Santa Monica Pier after we got engaged, getting married in Jamaica at an all-inclusive resort that had mouth-watering food every single meal, and spending our current date nights learning new techniques in the kitchen or creating a meal together.
But back to the book.
The reason that The Kitchn is so great is because it's not just a cookbook. It's more of a kitchen bible for every size kitchen and every size family. No matter how big or small your kitchen is, no matter what you like to cook, and no matter how often you use your kitchen – it's got everything you need to create a perfect kitchen and pantry for your family. It's filled with a guide to organize, maintain, and better utilize your kitchen that has already filled me with ideas on how to redo ours without much, if any, extra money on it. Other parts that fall outside of the normal cookbook realm include:
A shopping list of essentials for your cabinets and drawers (knives, appliances, cookware, and tableware), with insider advice on what's worth your money
Solutions for common kitchen problems like limited storage space and quirky layouts
A 5-minute-a-day plan for a clean kitchen
Tips for no-pressure gatherings
A look inside the kitchens of ten home cooks around the country, and how they enjoy their spaces
Once you get past all of this goodness, you move on to the recipes. And these aren't the recipes where you have to flip through dozens to find a single normal one that will work for your family. Homemade crackers, homemade potato chips, breakfast pizza, roasted garlic hummus, sparkling peach sangria, bacon cheddar twice-baked potatoes, and so much more! Including the brownies three ways, the one recipe I tried from this book: Fudgy Mascarpone Brownies with Creamy Ganache. We somehow had all of the ingredients on hand which never happens and now we will never buy boxed brownie mix again.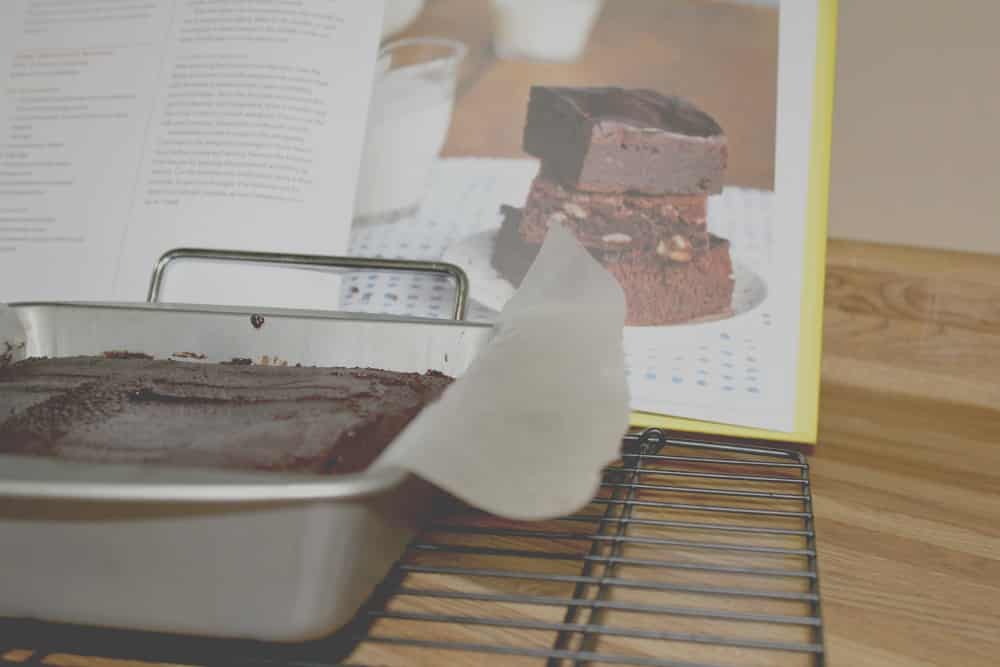 And even before you hit these delectable recipes, they share 50 essential how-to's, from preparing perfect grains to holding a chef's knife like a pro. I tried the onion tip and it works like a charm! No missing fingertips proves that to be true, I think.
Last but not least, I want to talk about the drool-worthy photography. Between the recipes and the kitchen spotlights, I was head-over-heels with the photos in this book. Our kitchen has always been something we planned to renovate ever since we moved in and I am even more excited about changing it now after all of the inspiration from this book.
The Kitchn is the perfect book for anyone that looks to cook, bake, or experiment in the kitchen. It's got tips, tricks, recipes, and inspiration for everyone so you can't go wrong. Even with the ability to look up recipes and how-tos on Pinterest, I love having this handy guide accessible in our kitchen for when we're in the mood to expand our cooking know-how.
I was provided The Kitchn Cookbook for review by Blogging For Books, but was not compensated in any other way. All opinions are 100% my own. Please read my disclosure policy here for more information.
think this post is worth a read? please share! I'd greatly appreciate it :)
[Tweet "The Kitchn: Book Review"]