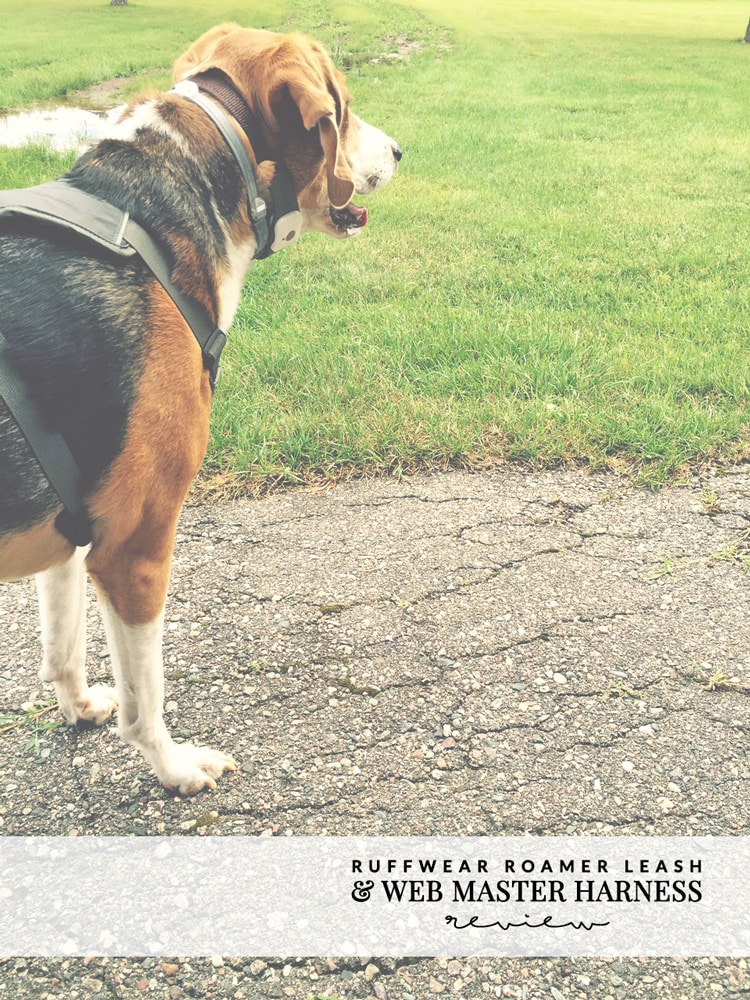 Living in a small town on the edge of country living, we see a lot of dogs without leashes. Some roam our area without an owner, some walk the streets alongside their owner. It's normal and I rarely even think twice about it when I see it other than to remember that sight will never be our pups.
If our dogs aren't in a fenced in area, they're on a leash and usually with a harness. No questions asked. Despite the fact that they're pretty good about coming when called. And even despite the fact that our oldest one would never stray far from us anyway due to her anxiety. But it's still too dangerous to me. The streets may not be as busy here, but the woods are plentiful. The wildlife is abundant. And the majority of the roads are not well-lit at night.
So a few months ago, Sookie was in need of a new harness. The one she had didn't fit her frame and allowed for her to pull out of it when she decided she was done walking with us. I always worried she'd some day pull out of it and figure out she could run free so it was time to get a new one. We searched high and low for one that would be just right. It needed multiple connection points to accommodate her wider chest with her leaner belly and couldn't rub between her armpits. Simple, right? Wrong. It proved to be way harder than we thought until we found the Ruffwear Web Master Harness.
It connected under her chest and her stomach, didn't rub in the armpit area, had extra padding all around the harness, and stayed on her regardless of how she twisted and turned. It was like it was meant specifically for her build and strength. Another bonus was that their size measurements were actually correct compared to the previous ones where we'd have to go a size up or down since she didn't have the standard frame of a dog.
In doing my research for the harness, I had read a lot of reviews that recommended the Ruffwear Roamer Leash as well. And I won't lie – I scoffed at the idea of buying both of these items at first because of the price. The harness was at least 3x the price we paid for her other one and the leashes didn't fair much better. But the reviews were so good that I couldn't say no. And we'd be looking to replace our retractable dog leashes as we knew they weren't the safest for anyway. So we bought the harness along with one leash, saying if it was good enough for Sookie – we'd get another one for Meg.
Well, we now have two of the Ruffwear Roamer Leashes (one in Baja Blue and one in Purple Dusk) so I think that alone speaks for how much we love the leash. First off, it stretches so it can go from 7.3′ to 11′ which is perfect for our mighty explores who love to go ahead of us on the trails. The clip is able to be opened and closed one handed and right above it, an attachment area for poo bags or clip-on items is provided. But my absolute favorite part is the handle.
It looks like a normal handle that you can just walk your dog like you normally would with any other leash. And you can. But you can do so much more. It's expandable which means two things:
You can wrap it around your waist and go hands-free. This has been perfect for our hikes, visiting friends and family that don't have a fence in their yard, and for when we're trying to eat. Because eating is hard with one hand and dogs, guys. It feels like mission impossible and they usually get more food than you do.
You can also wrap it around a tree or pole. We've had picnics with them (again, eating one-handed sucks!) and have even attached them to trees while we're out in the woods so we could access our backpacks or reapply bug spray.
While I don't think Meg will be getting a new harness since she's not much of a Houdini, I know that we're all loyal Ruffwear fans now. I'm sure we'll be testing out some Ruffwear boots this Winter and probably the Ruffwear life jacket next Summer. Both the Roamer Leash and Web Master Harness have made our walks, hikes, and pretty much all of our trips with them so much more enjoyable for everyone.
Want to buy these for your pup?
Ruffwear Roamer Leash : Amazon | Ruffwear